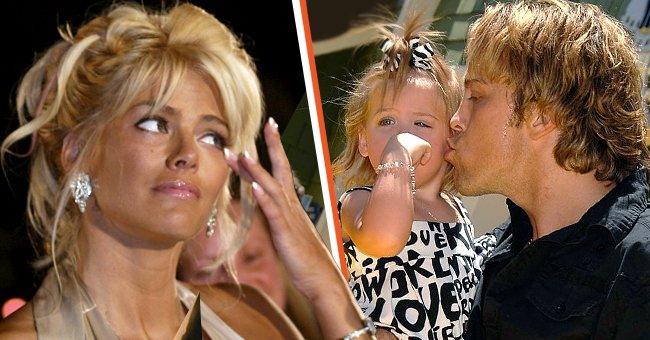 Getty Images
Anna Nicole Smith's Final Words to Her Daughter's Father Were Revealed Years after Her Death
Anna Nicole Smith married 89-year-old billionaire J. Howard Marshall when she was 24. Years after his death, she fell in love again with her daughter's father, Larry Birkhead, but their relationship ended sadly.
Before her demise, Anna Nicole Smith was primarily recognized as an American model, television personality, and actress. Her life on earth was quite eventful, even though she died at the age of thirty-nine.
She attained international recognition after being featured in Playboy Magazine when she became Playmate of the year in 1993.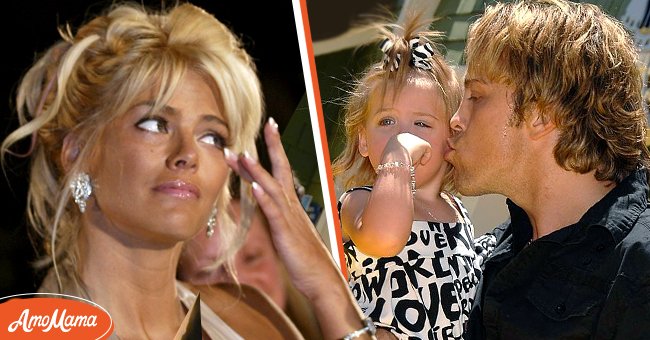 Anna Nicole Smith cries tears of joy as the Maid of Honor for Penny and Joseph Genovese as they renew their wedding vows, poolside at the Seminole Hard Rock Hotel and Casino on July 21, 2005 [left]. Photographer Larry Birkhead and his daughter Dannielynn attend the opening of "The Simpsons" Ride at Universal Studios May 17, 2008 [right] | Photo: Getty Images
Anna enjoyed a stellar career and became even more prominent in 1994 when she married the 89-year-old billionaire and oil tycoon J. Howard Marshall. Despite all the glamour she received, the onscreen personality's life was shrouded in scandals.
Anna's first marriage was on April 4, 1985, with a cook at the Jim Krispy's fried Chicken restaurant named Billy Wayne Smith. At the time she walked down the aisle, the late model was only seventeen years old.
The following year, the couple welcomed their son, Daniel Wayne Smith. However, their union was short-lived, and they called it quits one year after Daniel's birth, and they officially divorced in 1993.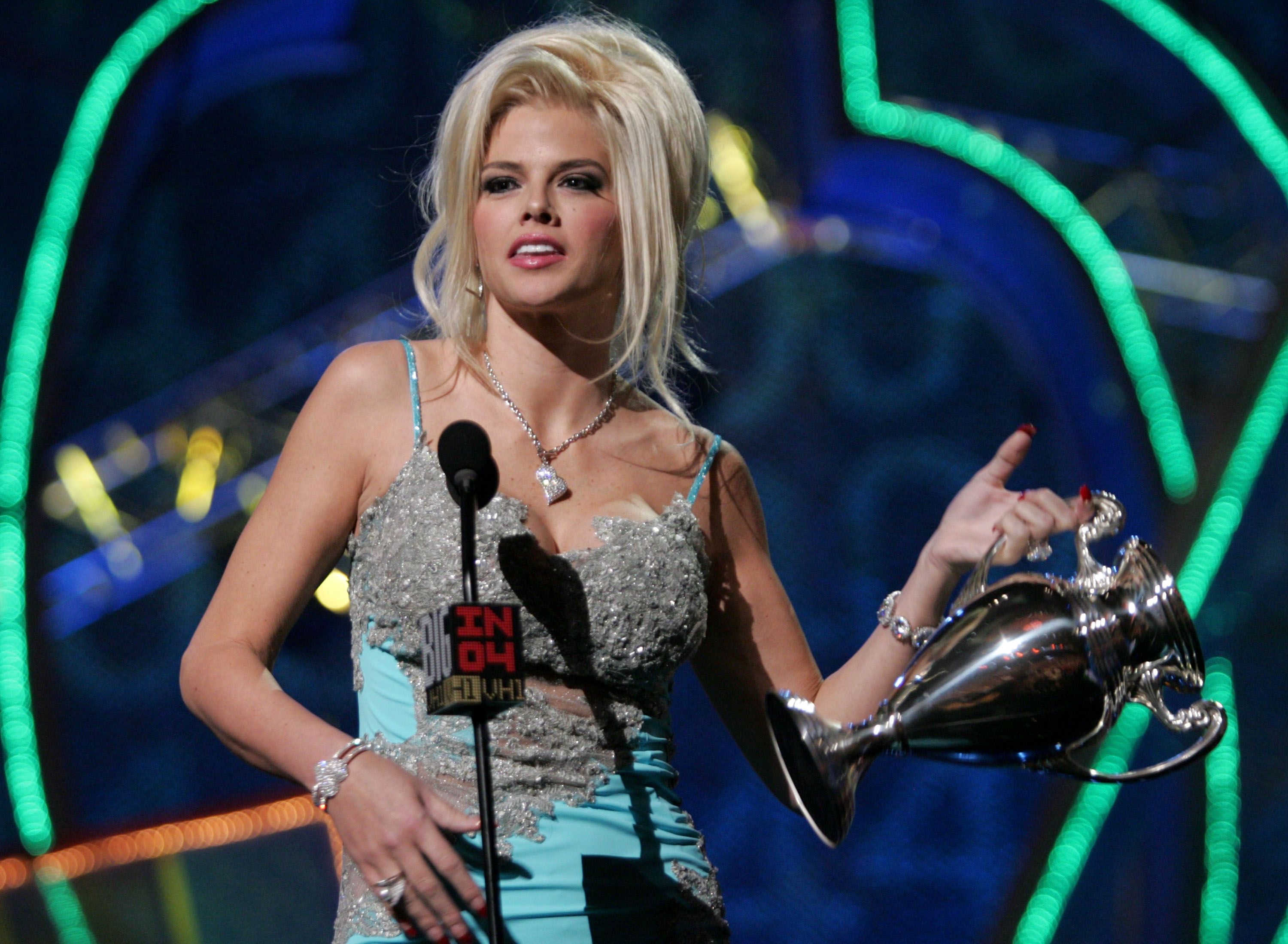 Anna Nicole Smith receiving the Big Makeover Award during the VH1 Big in 2004 | Photo: Getty Images
Anna met Marshall while performing in a strip club in Houston, Texas. Upon their meeting, Marshall was 89 years old and confined to a wheelchair, but it did not stop their love from blossoming.
Shortly after they met, the pair began dating. He asked her to marry him, and the billionaire's wish was granted on June 27, 1994, when they tied the knot in Houston. Anna was only 24 years old.
Marshall reportedly lavished expensive gifts on his beautiful bride, summing up to over twelve million dollars. Anna benefited financially from being the wife of a petroleum tycoon, as it boosted her career and landed more roles.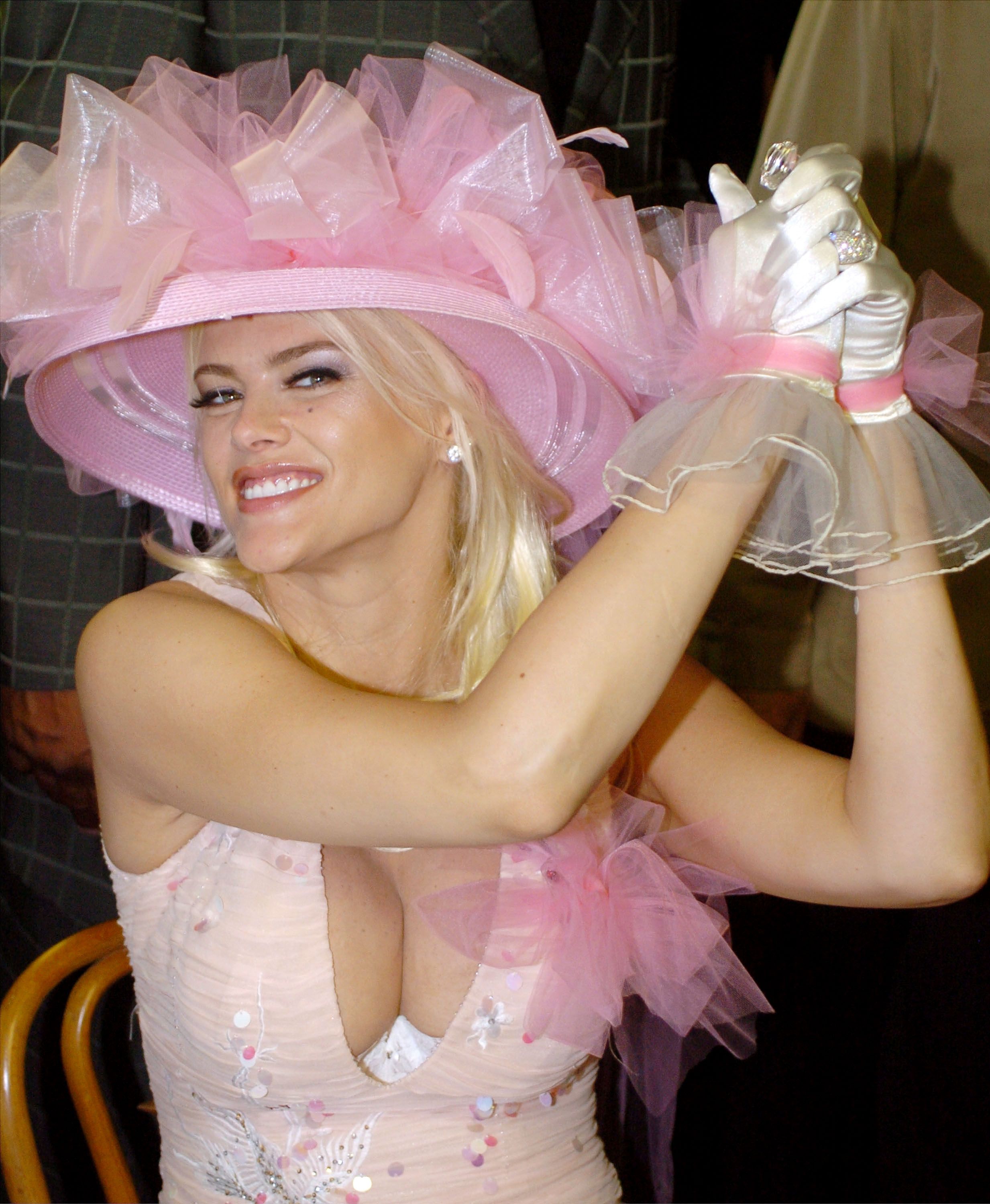 Anna Nicole Smith at the 130th Kentucky Derby on May 1, 2004 | Photo: Getty Images
The age difference between the couple was more than sixty years, and it sparked rumors that the model only married her husband for the financial benefits.
However, Anna always insisted that the rumors were false, noting that she loved Marshall genuinely. Unfortunately, the pair's marriage lasted for only thirteen years, as the billionaire businessman passed away on August 4, 1995.
While many thought Marshall's death would bring an end to the rumors, it only made things worse. And once again, the actress has tagged a "gold digger," and it was believed she did not care about Marshall.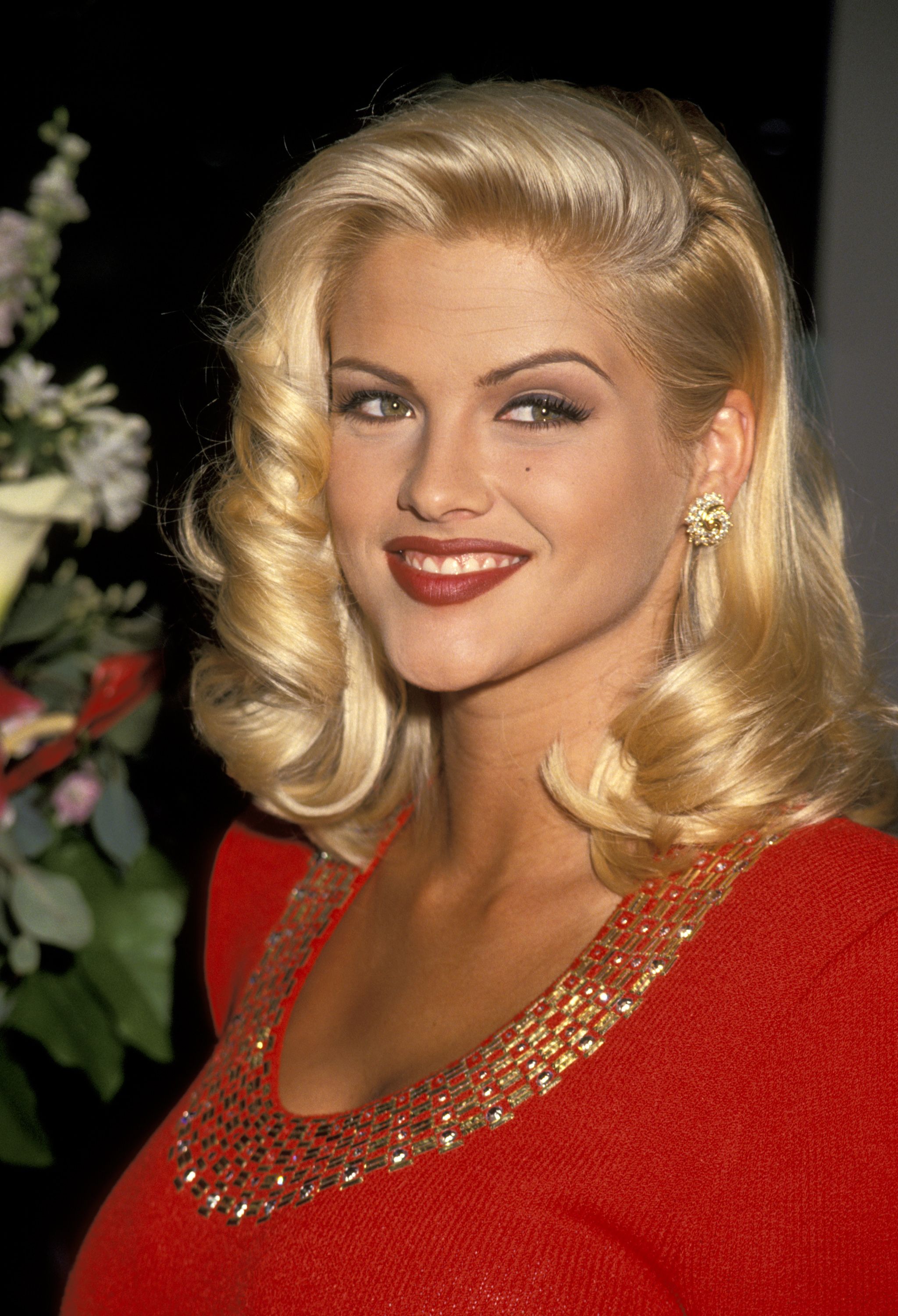 Anna Nicole Smith at the Video Software Dealers Association Convention in Las Vegas in 1993 | Photo: Getty Images
ANNA'S THOUGHTS ON HER MARRIAGE
However, after her husband's death, Anna sat down with ABC News to shed more light on her relationship with Marshall. The mother of two revealed that her deceased husband took her out of a terrible place and cared for her and Daniel.
In return for his kind gestures of love, Anna said she took care of Marshall and loved him for that. The model's love for her husband was also affirmed by Larry Birkhead, the father of Anna's second child.
During an interview, Birkhead said Anna's love for Marshall was real. He noted that she genuinely had a kind of deep love for the dead man.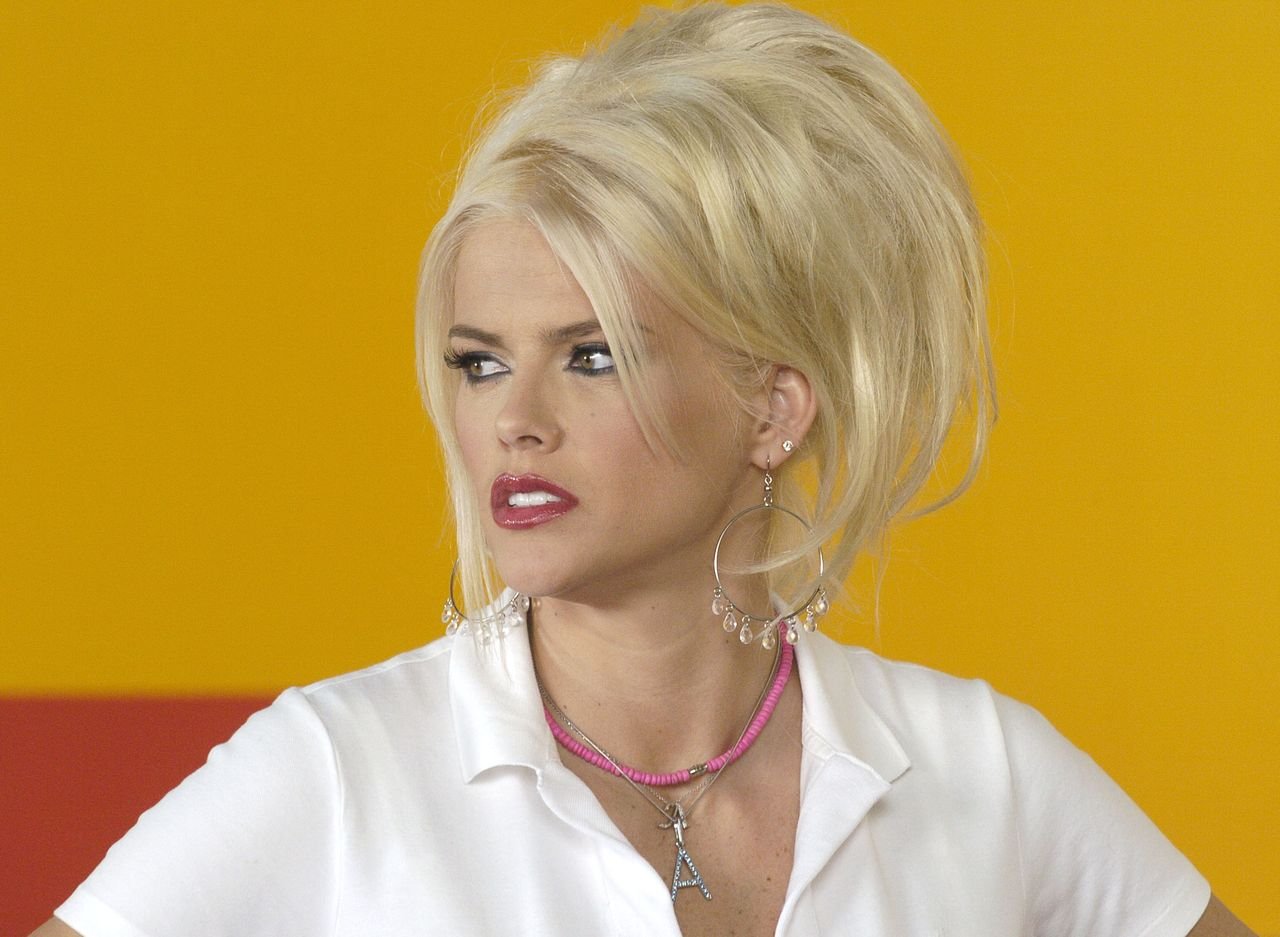 Anna Nicole Smith on the set of Kanye West's Video "Workout Plan" at North Hills Gym in North Hills, California | Photo: Getty Images
Although Birkhead was not aware of Anna's love for her husband, he mentioned that what Marshall did for the model and her son changed her life.
Marshall's death did not stop the supermodel from making the headlines. However, Anna's scandalous lifestyle took a rockier turn when she welcomed her second child with Larry Birkhead, Dannielynn.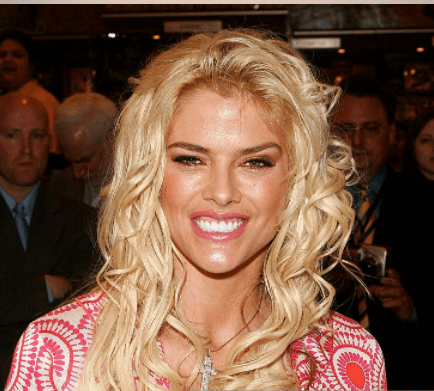 Model Anna Nicole Smith signs autographs at Grand Central Station to kick off the new National Enquirer magazine on April 7, 2005 | Photo: Getty Images
ANNA AND BIRKHEAD'S ROMANCE
Anna and Birkhead met in 2002 while filming the former's reality TV show "The Anna Nicole Show" at the Barnstable-Brown Gala on the Eve of the Kentucky Derby.
A photographer, Birkhead, said when he met Anna for the first time, he saw something different, even though others saw the supermodel as a wreck.
Anna had dropped a ton of weight, generally transformed her life, and was at the top of her game. Soon, the pair became romantically involved, and Birkhead moved to Los Angeles to live with Anna.
Despite the actress's fame, the lovebirds managed to keep their relationship away from the spotlight. Birkhead said Anna did not want him in the spotlight, and all through the time they dated, nobody was aware of their relationship.
Although the pair were in love, there were disagreements like every other relationship. Birkhead said his girlfriend was somewhat controlled, and often, he would pack his bags to leave her and end the relationship.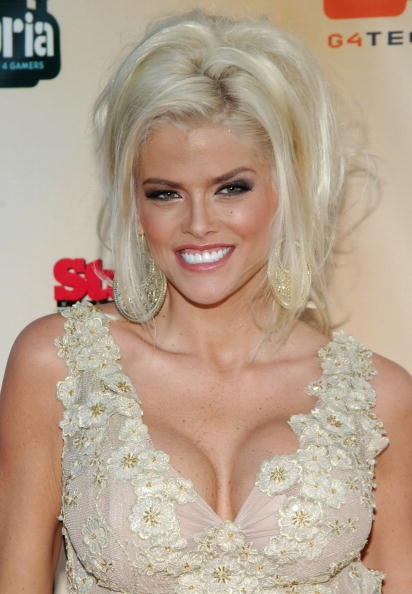 Anna Nicole Smith during "G-Phoria - The Award Show 4 Gamers" in Los Angeles, California | Photo: Getty Images
The pair compared their relationship to the movie "The War of the Roses." Not long after their relationship began, Anna told Birkhead she was pregnant with their beautiful daughter. However, the pregnancy did not make Anna stay.
The pair fought five months into the pregnancy, and Anna took off to the Bahamas, leaving Birkhead behind. On September 7, 2006, the television personality gave birth to Dannielynn.
However, she only played the motherly role for five months before she passed away. On February 8, 2007, Anna died in her hotel room in Florida from an accidental overdose of nine different prescriptions. She was 39.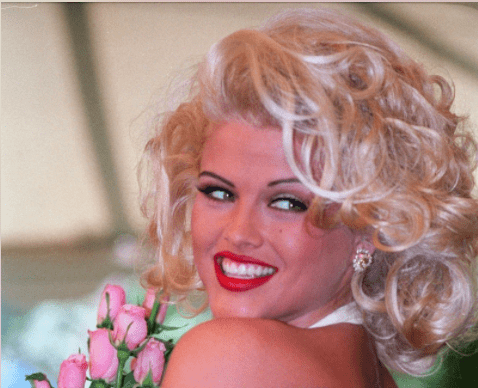 American model, actress and television personality Anna Nicole Smith (1967 - 2007), circa 1990 | Photo: Getty Images
BIRKHEAD'S REVELATIONS AFTER ANNA'S DEATH
Years after Anna's demise, the photographer opened up about his relationship with the model before she died and her final words to him. He told Fox News:
"My goal at the time was to try to get her to come back to the U. S from the Bahamas, and I almost got her to that place of saying she would do it."
He added, "I told her that I was going on a tour with a country artist, this female country artist. She wanted to know all about her. Who is she? What does she look like? It was one of those things where she was kind of getting a little jealous about it, and she started crying about it."
According to Birkhead, later that day, Dannielynn's mother sent him an instant message on AOL instant messenger, telling him not to fall in love again.
Birkhead said the message was followed by a crying face emoji, and Anna signed off. That was the last time he ever spoke to her. Currently, the photographer is a single parent, looking after Dannielynn and living a quiet life in Kentucky.
Please fill in your e-mail so we can share with you our top stories!