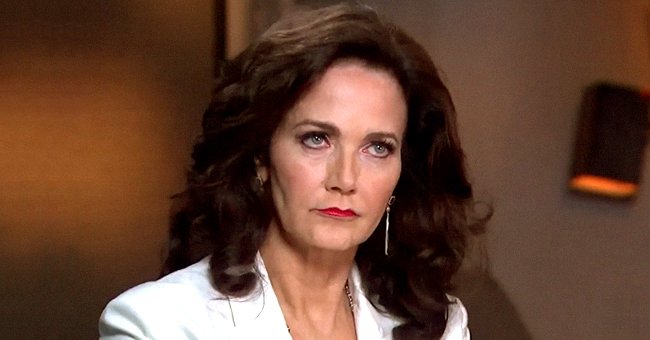 YouTube/The Insider
Lynda Carter Admitted She Still Cries '3 Times a Day' Months after Death of Husband of 37 Years
Lynda Carter, a movie icon, has remained devastated by the death of her husband of 37 years, Robert Altman, a loss she has struggled to comprehend.
Lynda Carter, an American actress, singer, and former beauty queen, has been a fan favorite for over two decades since she stepped into the scene, and while fans admire her beauty, it is her career that has grabbed the spotlight the most.
Carter isn't a stranger to prominent roles and has played a number of them herself, including starring in "Wonder Woman," a part that gained global attention. She also featured in successful roles in movies like "Sky High," "Hawkeye," "The Dukes of Hazzard," "Super Troopers," and others.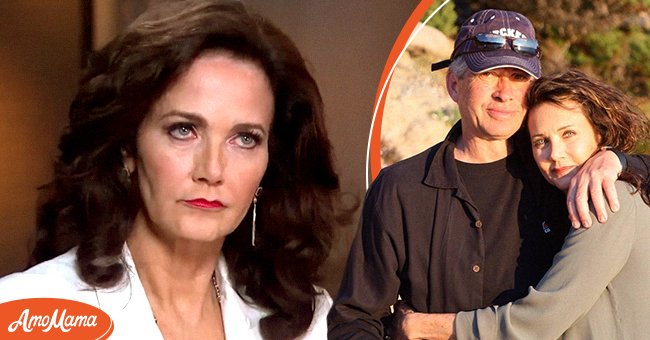 Lynda Carter at an interview [left. The late] Robert Altman and Lynda Carter embracing together [right] | Photo: Getty Images
Before the modern-day effects and enhancement, Carter's acting skills were all it took to grab the attention of her viewers as the acclaimed Wonder Woman. She played the role so well and became one of the most popular superwomen.
Her ability to complete all of her feats without assistance was one of her distinguishing characteristics. Before the current "Wonder Woman" flicks, the actress had a reputation for her strong acting that involved hurling criminals, hopping into speeding cars, and various acrobatics.
Carter's dramatic performance was especially noteworthy because she defied conventional gender clichés by opting for action parts rather than domestic ones. She showed her worth through it all.
While she is a typical Hollywood diva, Carter's life behind the scenes is far from perfect. The former Miss USA has seen both the good, bad, and ugly in her time as a star.
HER FAILED MARRIAGE
One of the biggest regrets of Carter's long life is her choice of her first husband. The actress has often labeled the decision as stupid and naive and has advised others not to follow in her steps.
When she was 25, the 70-year-old tied the knot for the first time. In 1977, she married producer Ron Samuels. Unfortunately, the union was short-lived and ended in 1982, leaving Carter with nothing but bitter tales.
The actress revealed the lesson she learned from her unsuccessful marriage in an interview with Closer Weekly. She urged her fans not to marry the first guy who proposed to them, claiming she made a mistake marrying Samuels.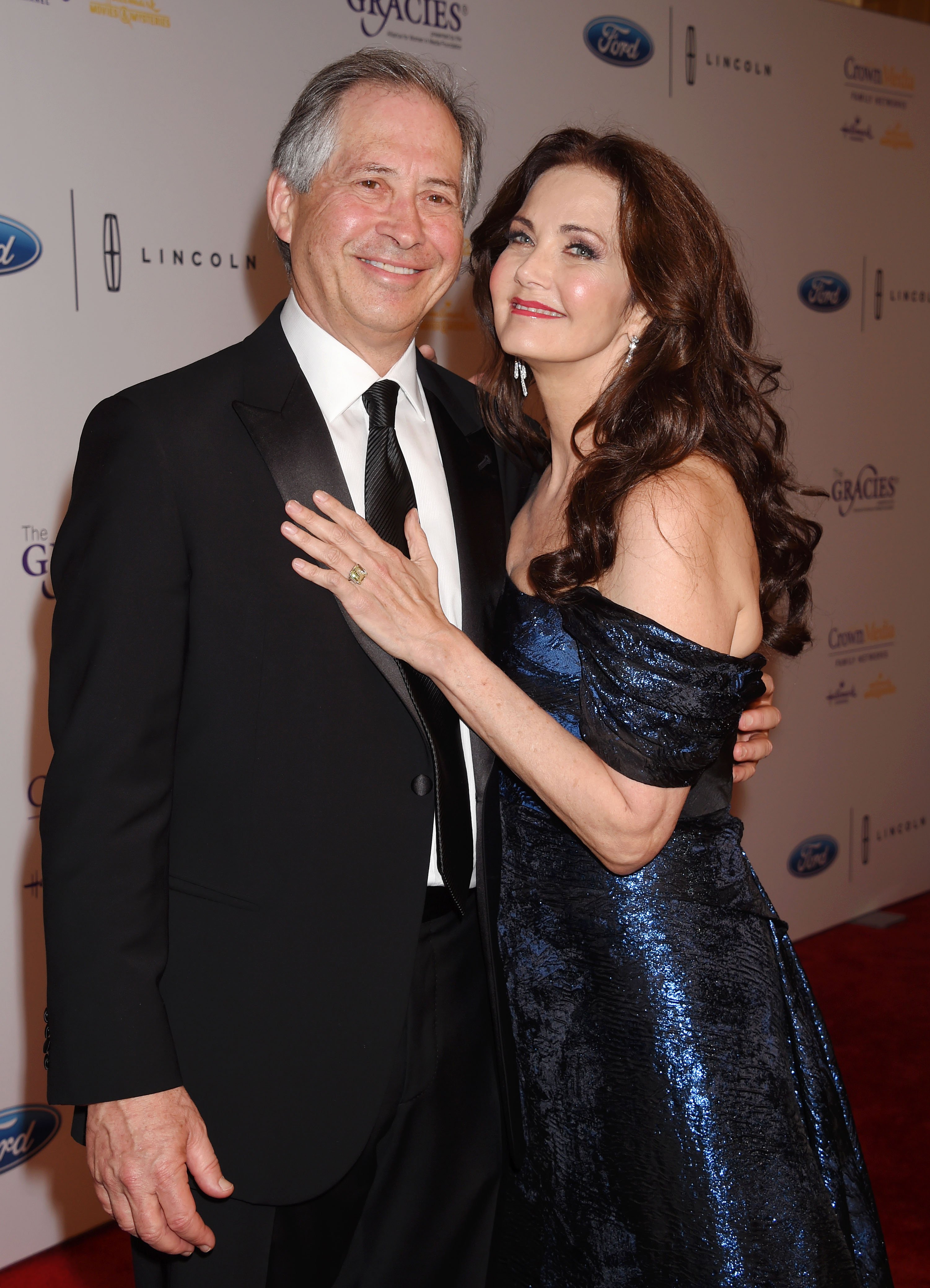 Lynda Carter and spouse/businessman Robert A. Altman attend the 41st Annual Gracie Awards at Regent Beverly Wilshire Hotel on May 24, 2016 | Photo: Getty Images
FINDING LOVE
Carter met Gaming CEO Robert A. Altman shortly after her divorce from Samuels. He was also a lawyer with a George Washington University law degree, and he became a consultant for Maybelline, a well-known cosmetics and makeup firm.
Carter, a spokesperson, and model for Maybelline were also associated with the organization. The two met during an event held at Maybelline's headquarters in Memphis.
When they met, there was an instant attraction, and they clicked right away. Despite their previous dislike for each other, their meeting at the event swiftly blossomed into a whirlwind romance.
Altman proposed to her on the French Riviera a year after they met. The sweethearts strolled down an aisle in a lavish ceremony in Los Angeles' Bel-Air area in 1984.
Altman and Carter did not take time to start a family. The lovebirds welcomed two children, a son James, who works as an attorney like his father, and a daughter Jessica, who works as an attorney, singer, and composer.
The couple worked together to raise their children to the best of their abilities. Carter was a wonderful mother and wife. She put her career on pause and made a lot of sacrifices for her husband and kids.
STANDING STRONG TOGETHER
Altman and Carter proved to be an unbeatable pair. The couple stood together through thick and thin, and their marriage faced a huge storm years after they tied the knot; Altman and his legal partner were charged with bank fraud in the early 1990s.
Despite the public attention the case garnered, Carter stood by her man, and soon Altman was acquitted. Altman also helped his wife overcome her alcohol addiction, which she battled covertly, a few years after he was charged with fraud.
According to the actress, her husband begged her to stop drinking for his sake and their children, and she complied. Carter went to a treatment center near their home and has remained sober since.
According to the Hollywood icon, Altman's sole desire for her was for her to be healthy, happy, and okay.
GRIEVING HER LOSS
On February 3, 2021, Altman died after a long battle with myelofibrosis, a rare blood cancer. Carter paid a touching tribute to her husband on her Instagram page a week later, reminiscing tenderly about their 37 years together. She shared a picture of them with the caption:
"One week ago, my Beloved husband, Robert A. Altman passed away. Robert is the love of my life and will always be. Our 37 years of marriage were an extraordinary gift..."
Months after losing her husband, Carter has tried to get back on her feet, but this has not been easy, and the grief is still as fresh as it was when it first happened.
Carter reportedly said she has been left frightened by the loss of her spouse and has doubted who she is since Altman died. Asides from the confusion, the actress revealed that she sometimes cries three times a day while mourning her husband.
Carter does not mince words when she calls Altman the love of her life. Instead, she remains glad and grateful they spent almost four decades together. The time spent together remains memories she intends to cherish.
THE MUSIC THERAPY
Music has always been a thing for Carter, and since she lost her husband, she has taken to the melodies to recover. The mother of two recently released a song, "Human and Divine," in honor of her husband and their memory together.
Carter said the song was written about her love for Altman and is a song she hopes would connect others to their true loves and help them find happiness the way she did.
Please fill in your e-mail so we can share with you our top stories!