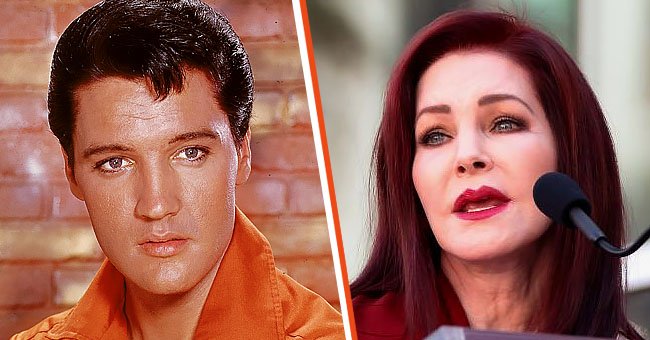 Getty Images
Priscilla Presley Worried about Daughter's Future When Elvis Left Lots of Debt after His Death
Elvis Presley was a money-making machine, but he left a massive debt after passing. His widow Priscilla Presley was so worried about their daughter's future that she made even more money than Elvis.
Lisa Marie Presley is grateful that her dad, Elvis Presley, made millions as a musician. Still, without her mother, Priscilla Presley, all that money would have been gone before she could even inherit it.
Priscilla took control of her late husband's estate to ensure her daughter had a future, and she nailed it. Unfortunately, Lisa Marie made some poor choices that left her in debt. Here's what you need to know about the Presleys' money.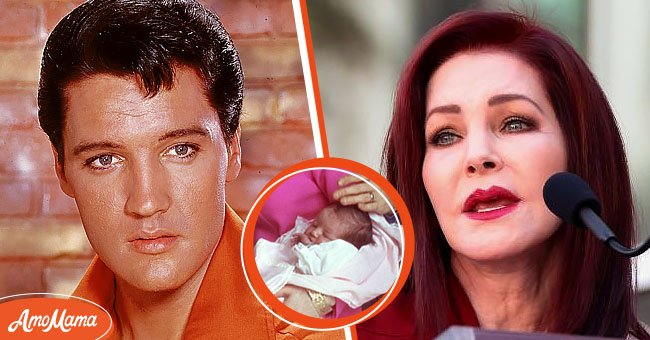 Portrait of Elvis Presley in the 1960s [left]. Priscilla Presley on November 16, 2018 in Hollywood, California [right]. Lisa Marie Presley as a baby [circle] | Photo: Getty Images
MAKING AND SPENDING MILLIONS
Saying that Elvis didn't know how to control his finances would be an understatement. During the six years Priscilla was married to him, she never got involved in money. Still, she knew that the only thing her late husband did with his money was spending it.
He had a big heart – so big that he wouldn't just buy things for himself. Some of his friends, and on some occasions even strangers, would get expensive gifts from Elvis, including Cadillacs.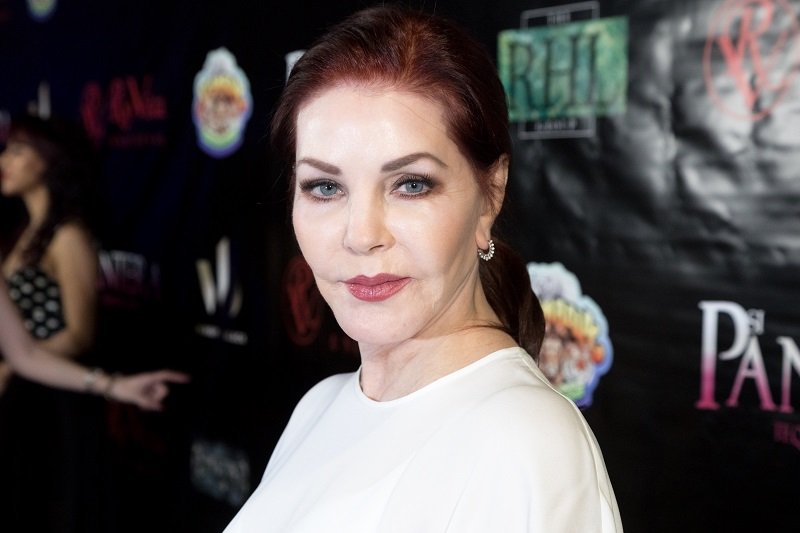 Priscilla Presley on December 16, 2017 in Los Angeles, California | Photo: Getty Images
Whenever his accountant Joseph Hanks or his father Vernon Presley informed Elvis that he was low on money, the musician would make more money, like he had been doing since his hit "Heartbreak Hotel" was released in 1956.
It wasn't like he didn't have enough ways to refill his bank accounts. He could either book another tour (and make approximately $130,000 a night), release a new album (and earn at least $250,000 in royalties), or be part of a film (and pocket about $1 million).
Nowadays, it is impossible to determine how much money Elvis made in his short but impressive career. Estimations have placed his lifetime earnings between $100 million and $1 billion.
WHAT ELVIS LEFT FOR HIS DAUGHTER
Elvis may have been the most successful musician in the 1970s, but he was only human, and when he passed away in August 1977, his bank accounts could no longer get refilled through concerts, albums, or movies.
Although he reportedly left behind an estate valued at $4.9 million, his bills and debts were nothing short of extraordinary. To keep Graceland up and running and pay for taxes, insurance, and security of Elvis' gravesite, they needed $480,000 a year.
Priscilla learned that they could entirely run out of money by 1993.
If that wasn't bad enough, most of the royalties from his songs didn't go to his estate but to RCA as they bought the rights to them for just over $5 million in 1973.
The IRS also discovered that the actual value of Elvis's estate was worth more than $4.9 million, so they made the estate pay $10 million in taxes.
Colonel Tom Parker, Elvis' longtime manager, had a 50% commission on everything he did for the musician. After taking Parker to court, he could no longer make money from Elvis's work.
By the end of the 1970s, the musician's estate was only generating $1 million a year. With no plans to release new music, they expected to make less than $500,000 the following years.
PRISCILLA'S WORRIES
In a short time, Priscilla went from living a lavish life with absolutely no uncertainties about money to worrying about the future of her daughter, Lisa Marie Presley.
Things got more serious when Priscilla learned that they could entirely run out of money by 1993. After admitting that she kept wondering what to do, Priscilla said:
"I worried about my daughter's future and Graceland and the people who had worked for us for 20 years. I couldn't comprehend them not having jobs or a place to stay."
HER SMART MOVE
Priscilla knew something drastic had to be done, so she assumed primary management of her late husband's estate as one of the executors, and it was probably the best financial decision she could have ever made.
She hired a management team, lawyers, and bankers to get as much help as possible before launching Elvis Presley Enterprises and manage the musician's image rights and remaining royalties.
By 2015, almost all [of Lisa Marie's] money was gone.
One of the most impressive things she did was turn Graceland into a tourist attraction. In just ten years, Priscilla helped grow the estate value to over $75 million.
They also made $15 million a year in gross income, more than what Elvis made alive. In 1988, Elvis made more money than Sting, Neil Diamond, and other still active musicians.
What Priscilla did for her late husband's estate was impossible to match. By 1993, the estate was reportedly worth $100 million thanks to merchandising, image deals, and Graceland profits.
ELVIS'S DAUGHTER WAS LEFT IN DEBT AGAIN
Unfortunately, Lisa Marie made some regrettable decisions about the money she inherited from the estate. She created a living trust and appointed business manager Barry Siegel as a co-trustee.
Siegel sold 85% of the trust's interests in Elvis Presley Enterprises, worth approximately $100 million, but only got $65 million for Lisa Marie's trust.
By 2015, almost all her money was gone. However, she sued Siegel in 2018 for $100 million in losses. Lisa Marie claimed he and his financial company hid her trust's actual financial condition and gave her the money for spending.
In turn, Siegel counter-sued Lisa Marie and accused her of "excessive spending." She reportedly spent $39 million between 2005 and 2008. He denied her claims and pointed out that some of his investments created profits. Siegel's lawyer said:
"Since inheriting her father's estate in 1993, she has twice squandered it. The first time, she was rescued from insolvency by a deal she now calls fraudulent and self-serving."
Nowadays, the case is still ongoing. In 2019, a judge sided with her and pointed out that she didn't have to show bank records before 2016. Siegel's legal team considered they could be relevant due to her "uncontrollable spending habits."
Please fill in your e-mail so we can share with you our top stories!