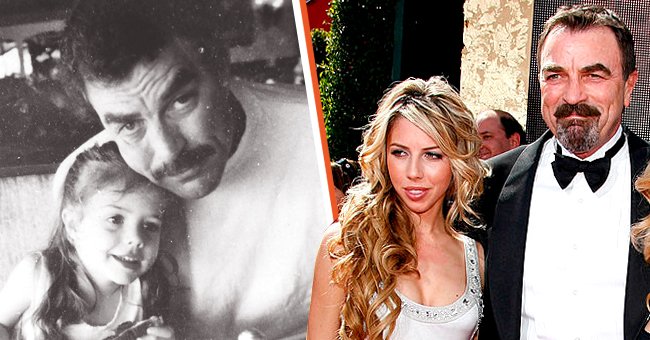 Tom Selleck and Hannah Selleck | Hannah Selleck and Tom Selleck | Source: Getty Images | Instagram/hannahselleck
Tom Selleck 'Encouraged' His Daughter's Lifework - Inside the Evolution of Their Relationship
Famous American T.V. star Tom Selleck and wife Jillie Mack did everything in their power to support their only daughter Hannah on her equestrian career. In return, they formed the best relationship.
Tom Selleck is a veteran Hollywood idol. The talented actor has entertained fans over the years with brilliant acting displays in movies like "Three Men and a Baby" and "Three Men and a Little Lady."
His most iconic role was when he starred as private investigator Thomas Magnum in the famous television series "Magnum P.I." The series was a worldwide hit. His performances earned him an Emmy award in 1984.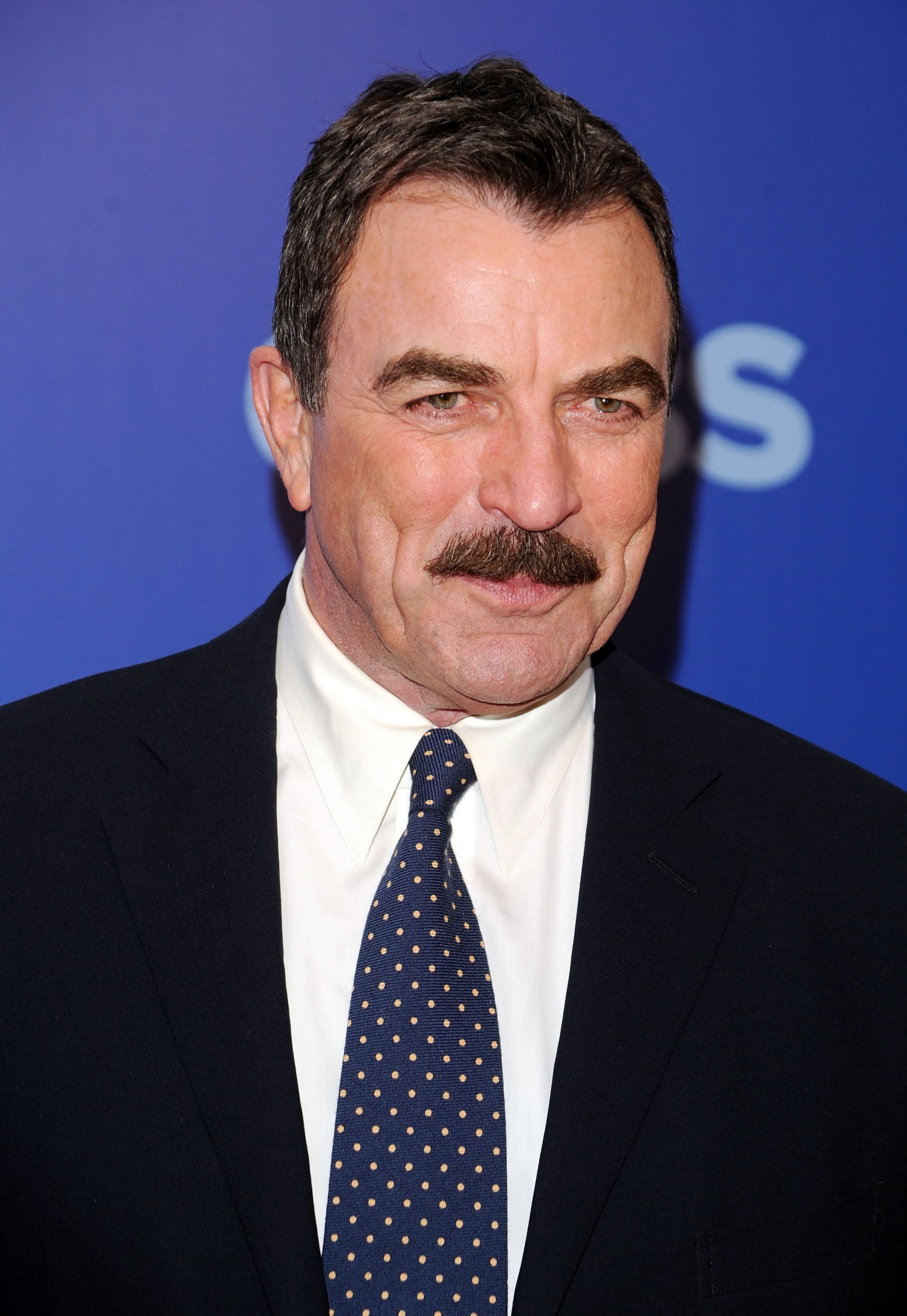 Tom Selleck at CBS UpFront at Damrosch Park, Lincoln Center on May 19, 2010 | Source: Getty Images
Tom considers family and fatherhood more critical than his movie career and, with this in mind, took a break to focus on his wife and raising his child.
That decision yielded dividends as his passion, dedication, and support for their daughter resulted in her becoming a decorated equestrian.
FINDING LOVE
Tom Selleck had just broken up with first wife Jacqueline Ray, a model he had been married to for a decade when he met Jellie Mack at a musical "Cats" performance in the 1980s.
Mack was scheduled to perform in the musical, and when she was about to go on stage, Tom approached her backstage. Mack made the first move and invited him out for a cocktail.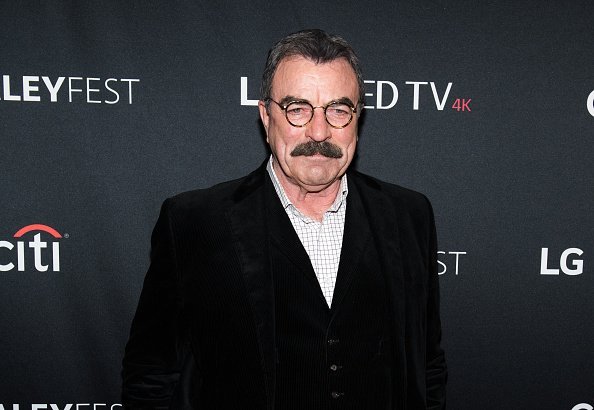 Tom Selleck at The Paley Center for Media on October 16, 2017 | Source: Getty Images
Their date went pretty well, and soon, they were married in a private ceremony in 1987. The actor soon resigned from his role in "Magnum P.I.," A year later, the couple welcomed their daughter, Hannah. Afterward, Tom bought a ranch and moved his family in.
HANNAH'S EARLY LIFE
Hannah was raised on the 65-acre ranch in California, which her father bought just after she was born. The actor is a fan of nature and outdoor activities, and it did not take long before he influenced his daughter.
At age 4, the young girl was encouraged by her parents to try out multiple activities like ice skating, dance, and soccer. Growing up on a ranch also meant Hannah spent a lot of her childhood taking care of horses.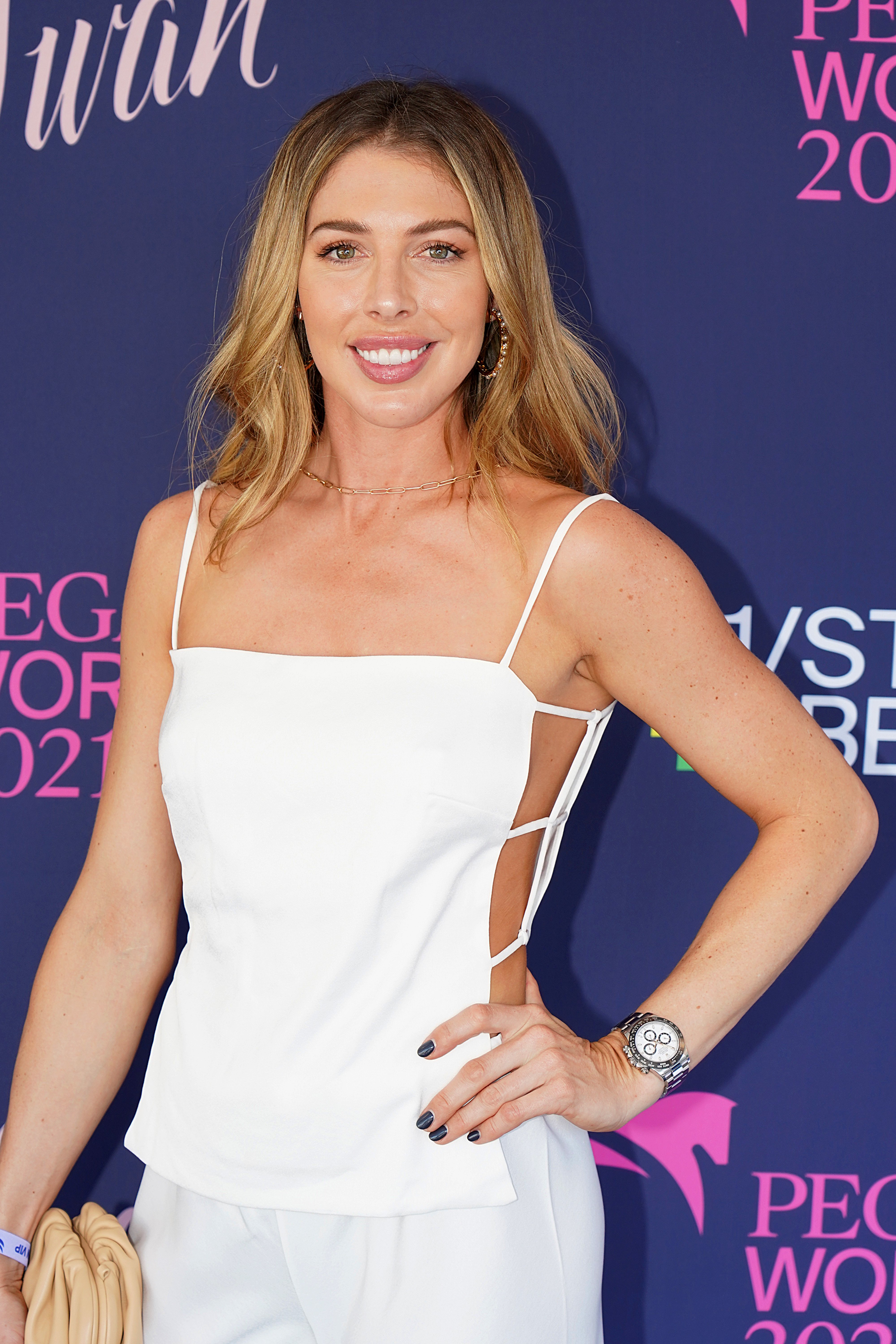 Hannah Selleck attends the 2021 Pegasus World Cup Championship Invitational Series at Gulfstream Park on January 23, 2021 | Source: Getty Images
Hannah rode her first Shetland pony, Sheba, when she was four. Her horse riding lessons continued at the Foxfield Riding School in Westlake Village, California.
Her parents enormously supported her passion for horses and would always cheer her on. They did not force her to try anything else, and she started competing in equestrian sports at ten.
By the time she clocked 14, Hannah had excelled at ballet and horse riding. She was required to pick precisely which of these interested her the most at this stage. Hannah went with horse racing.
Tom, Jillie, and Hannah collectively made this decision as a family. Like many young riders, they opted not to take the home-schooling route and encouraged her to stay in school.
The famous couple wanted their daughter to find something she was passionate about and wanted to raise her like a normal kid.
Hannah attended Loyola Marymount University to stay close to her trainer. It allowed her to ride five or six times a week from Marina del Rey to the farm, which took about an hour.
After leaving college with a degree in Communications, Hannah got a job as an intern at a public relations firm in Beverly Hills. While working there, she could only afford to ride horses on the weekends.
She felt miserable being away from the horses for so long and, after six months, left the job. She got another job with her coach and became an assistant horse trainer.
HANNAH SELLECK'S CAREER
Hannah was initially interested in barrel racing and was eager to learn the ropes and become a barrel racer. Unfortunately, no horse was available for training. It was not long before she shifted focus and found a similar thrill in show jumping.
Tom said he would support her but demanded that she turn professional. He asked her to let go of her amateur status and work for top sports professionals to learn her craft.
Over her career as an equestrian, Hannah has qualified for several grand Prix level competitions and won several medals. The equestrian star finished top-five in St. Moritz, Switzerland; Belgium; the Netherlands; and the Canadian Pacific Grand Prix at the 2015 Longines Masters of Los Angeles.
Hannah also came second at the Spruce Meadows North American tournament, one of her top finishes at the five-star level.
Unfortunately, In 2018, Hannah broke both her fibula and tibia when her stirrup did not release properly in a fall. This injury hindered her from competing for seven months, but she came back in early 2019.
She runs a boutique breeding stable in Hidden Valley called Descanso Farm, collaborating with her father. Tom liked the idea of developing babies and young horses, so he encouraged her to start one.
Hannah and her father own several foals, ranging from 4-year-olds to newborns. They plan to sell them or develop them into top horses for Hannah.
HANNAH SELLECK'S PERSONAL LIFE
Hannah lives what some might call a gypsy life, moving from one place to another to compete. Although she would like to have a family one day, the star is dedicated to her career.
Even though her career does not allow her much leisure time, Hannah makes sure to carve out a little and escape to Palm Beach whenever she can.
The blonde beauty is also an ambassador for Brooke USA, a charity committed to improving the lives of horses, donkeys, and mules in the developing world.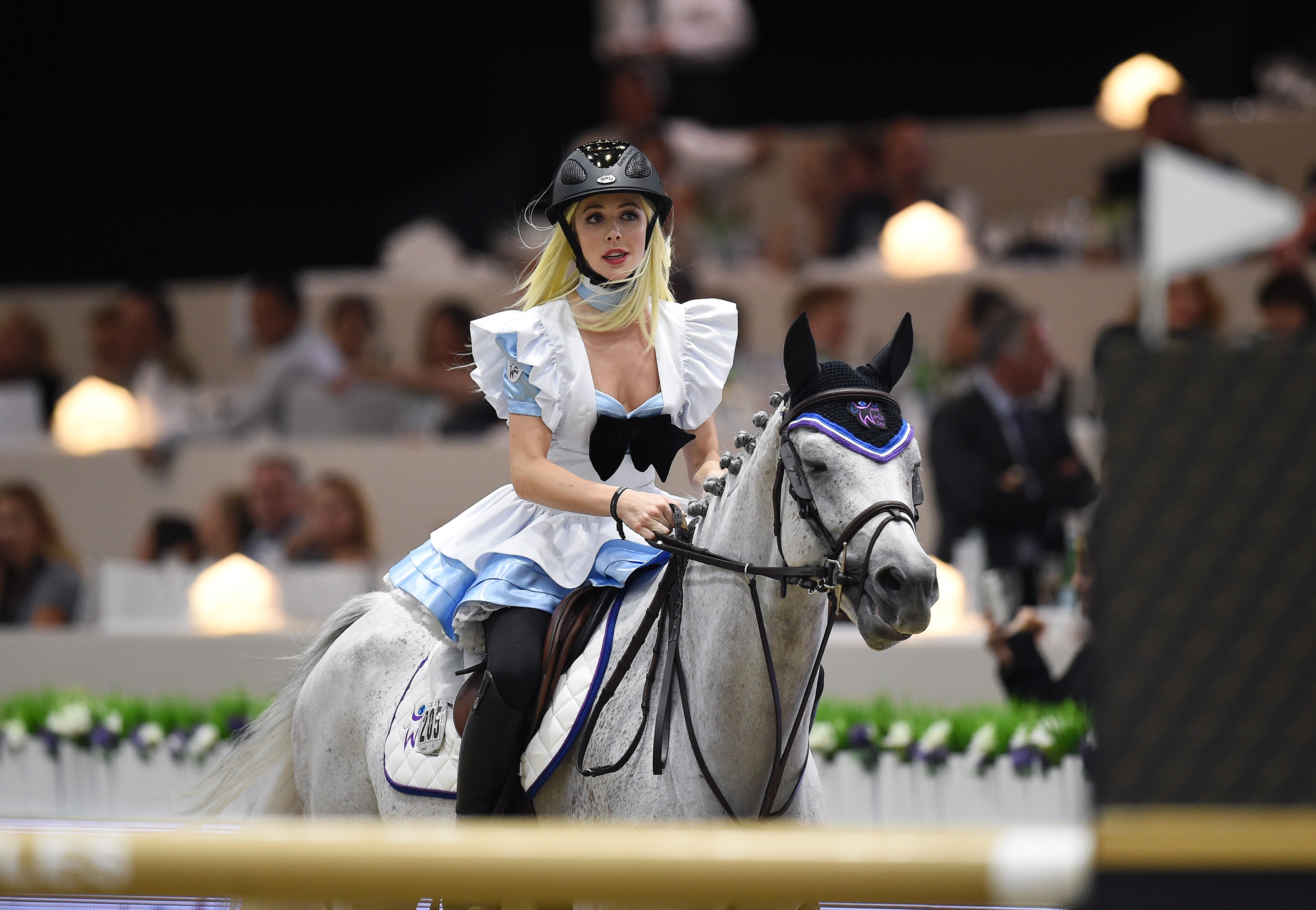 Hannah Selleck performs at the 2nd Annual Longines Masters of Los Angeles on October 3, 2015 | Source: Getty Images
Since her mother is British, she holds dual citizenship, and Hannah considers Britain her second home. She is pretty close with both sides of her family.
Hannah was also planning toward her MBA at Pepperdine University, hoping it will open doors for her career outside the ring.
TOM SELLECK SPEAKS ON FATHERHOOD
Tom Selleck currently stars as the New York City Police commissioner in the series "Blue Bloods" by CBS 2 studios. Tom spoke about his role on "Blue Bloods" and how the studio bosses required him to have a mustache to play his police commissioner character.
The actor revealed he does not get much feedback from fans since social media is common now, and he is not computer savvy. However, he also thinks it is essential for the show to continue holding those family dinners because fans looked forward to it.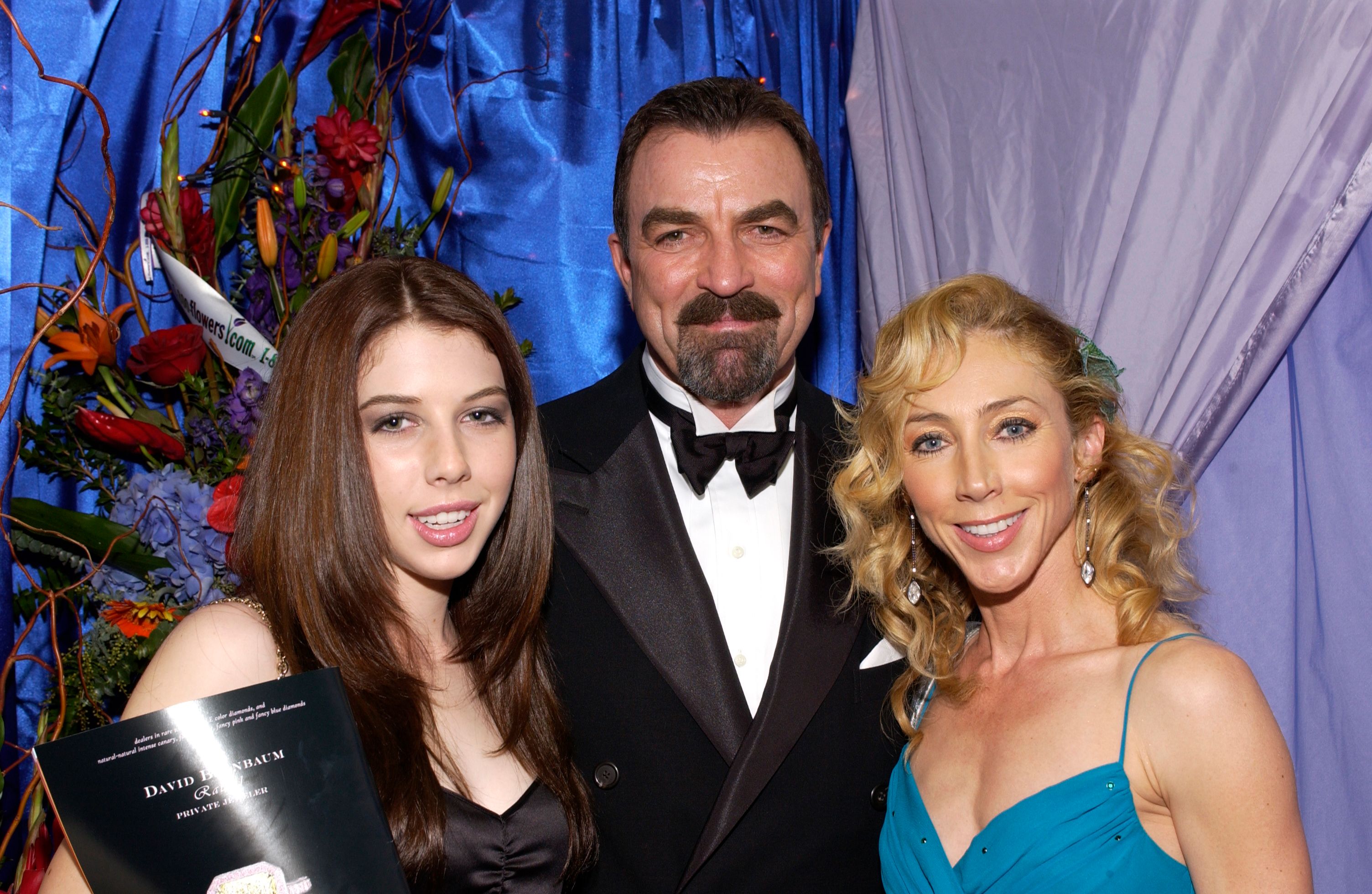 Tom Selleck, daugher Hannah and wife Jillie Mack at the Distinctive Assets Gift Lounge during the People?s Choice Awards on January 9, 2005. | Source: Getty Images
He revealed that he would make time to read to his daughter during filming earlier on in his career. Tom made sure he read only books that depicted the father as a good guy.
Tom admitted he would like to be remembered as a good citizen, loved by his family. He declared that family is more important to him than anything else. The actor said his most important role in life has always been fatherhood and has nothing to do with movies or television.
Please fill in your e-mail so we can share with you our top stories!