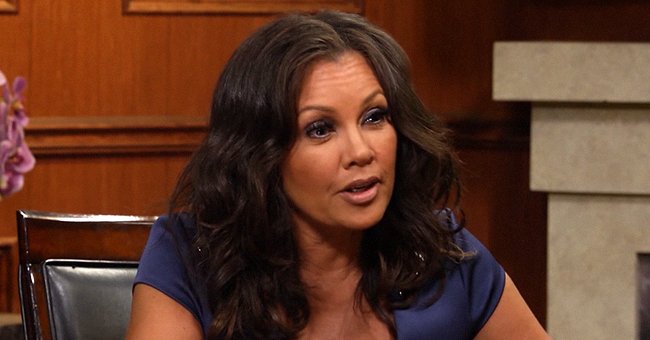 YouTube/Larry King
Vanessa Williams Received Apology over Her Decided Resignation as 'Miss America' Decades Later
Actress Vanessa Williams made Miss America history in 1983 when she became the first African-American to be crowned the prestigious title. She made history again in 1984 as the first to resign.
The 1894 Miss America pageant's winner, a gorgeous 20-year-old Vanessa Williams, made Miss America history as she became the first Black woman to hold the title.
Her first-runner up was Miss New Jersey, Suzette Charles, 20. Both Williams, Miss New York, and Charles were the first Black women to win their state pageants.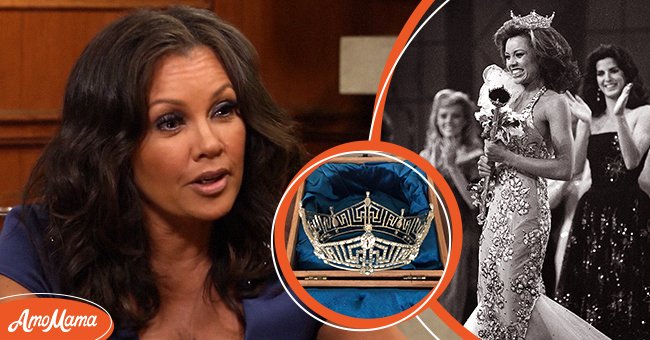 Vanessa Williams pictured during an interview with Larry King [Left] Williams's Miss America crown [Centre] Williams crowned as Miss America in 1983. | Photo: Youtube/Larry King & Twitter/VWOfficial & Getty Images
In front of an audience of 22,600, 53 million TV viewers and her parents, Helen and Milt, Williams won the Miss America crown, and with it, a $25,000 scholarship and a chance to earn over $100,000 during her year-long reign.
The stunning Williams was "astonished" she had won. She said that being the first Black woman to hold the title would open doors for other people of color. She also reflected on what winning meant to her:
"[Winning] makes me realize that if people really want to try for the gold they should go for it."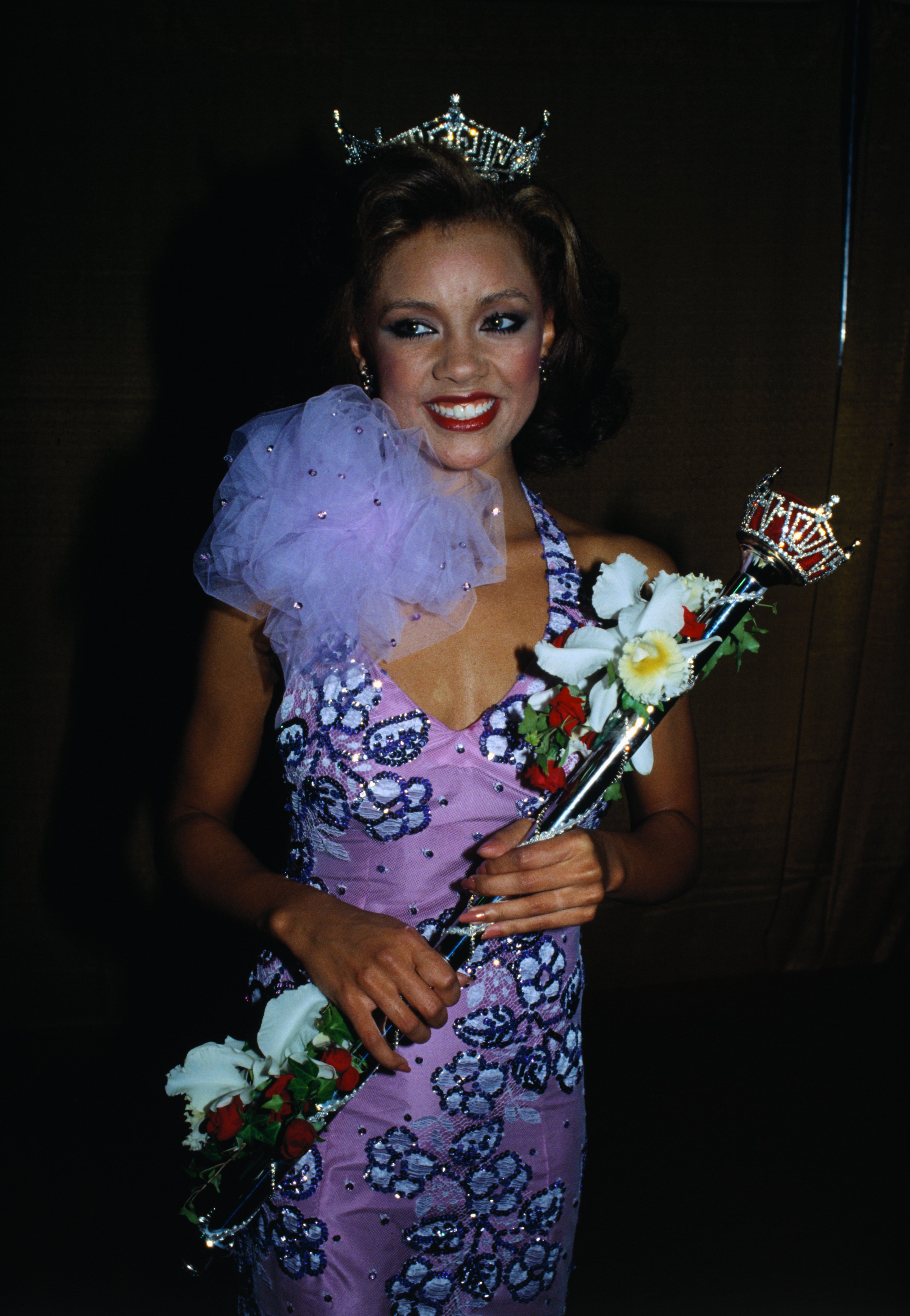 Miss America 1984, Vanessa Williams of New York, is all smiles as she poses for photographs after becoming the 63rd Miss America. | Photo: Getty Images
Both Williams and Charles's wins were an essential marker for racial equality in the pageant. Before their win, only a few dozen Black women had participated in the well-known contest.
According to the Daily News, no women of color had placed higher than Lencola Sullivan from Arkansas, who placed fifth in the 1980s. The pageant contest participants were restricted to whites until the late 1950s.
Furthermore, before Cheryl Brown from Iowa broke the color barrier in 1970, Black women had only appeared on stage once while playing "slaves" to the host in 1922.
Williams, a musical theater major, wowed the viewers and judges with her presentations for the various events during the show, including singing "Happy Days Are Here Again" in the talent section.
During the preliminaries, Williams also made Miss America history as she was the first Balck woman to win two preliminaries, including the swimsuit contest and the talent section.
For the 1984 pageant, Miss Alabama, Pam Battles, Miss Mississippi Wanda Gayle Giddie, and Miss Ohio, Pamela Helean Rigas rounded out the Top Five.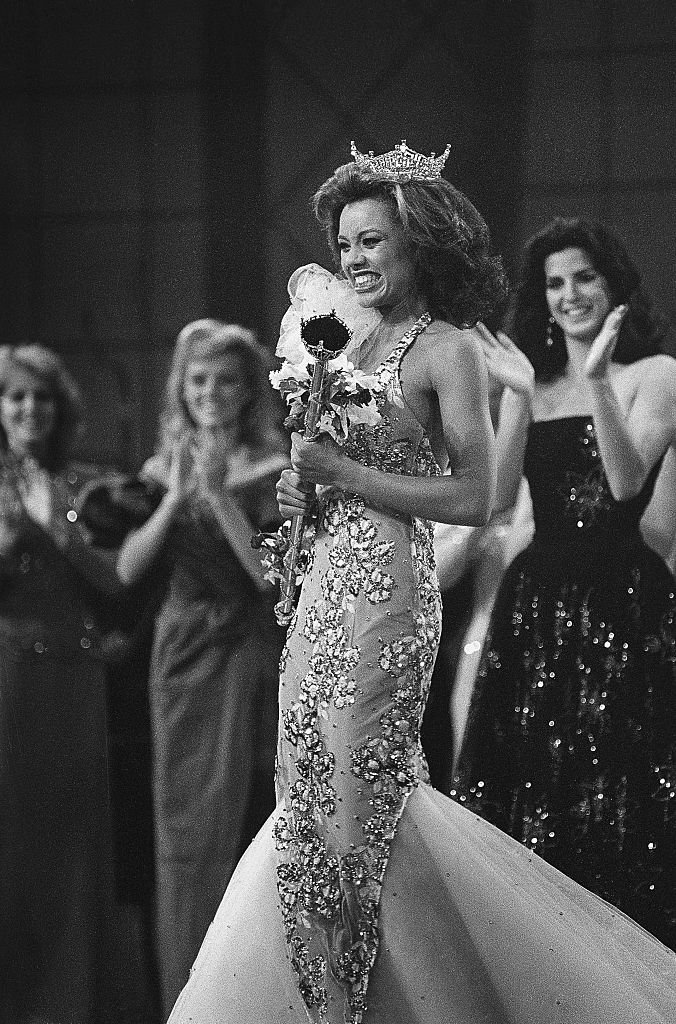 Vanessa Williams on stage after being crowned Miss America 1984. | Photo: Getty Images
THE RESIGNATION
Unfortunately, Williams' reign as Miss America would end two months early as she decided to resign after Penthouse Magazine published nude photos of her.
Williams explained that the photographer Tom Chiapel took the photos of Williams after he had reassured her the pictures would only be seen by him.
Furthermore, she stated that she never consented to the use of the photos by Chiapel or anyone else. But a lawyer from the outlet had a signed model release for the images, and Williams' signature on the form was authenticated.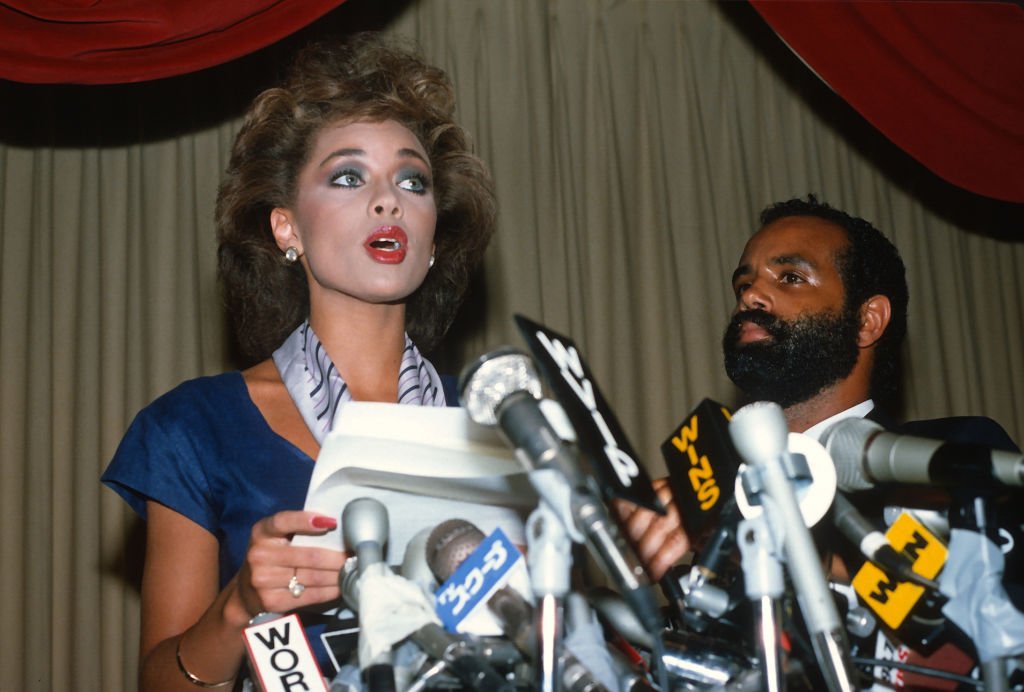 Vanessa Williams resigns her Miss America title July 23, 1984 in New York City. | Photo: Getty Images
Penthouse's publisher Bob Guccione said although he felt sorry for Williams, he did not feel he was responsible for her resigning because his obligation was to his readers:
"As far as I'm concerned, my obligation was to my readers. This was an interesting bit of highly newsworthy information and photographs.''
Williams said in a statement that she wished she could retain the title. However, she had to abide by the pageant's officials' request for her to step down to avoid "potential harm to the pageant and the deep division that a bitter fight may cause."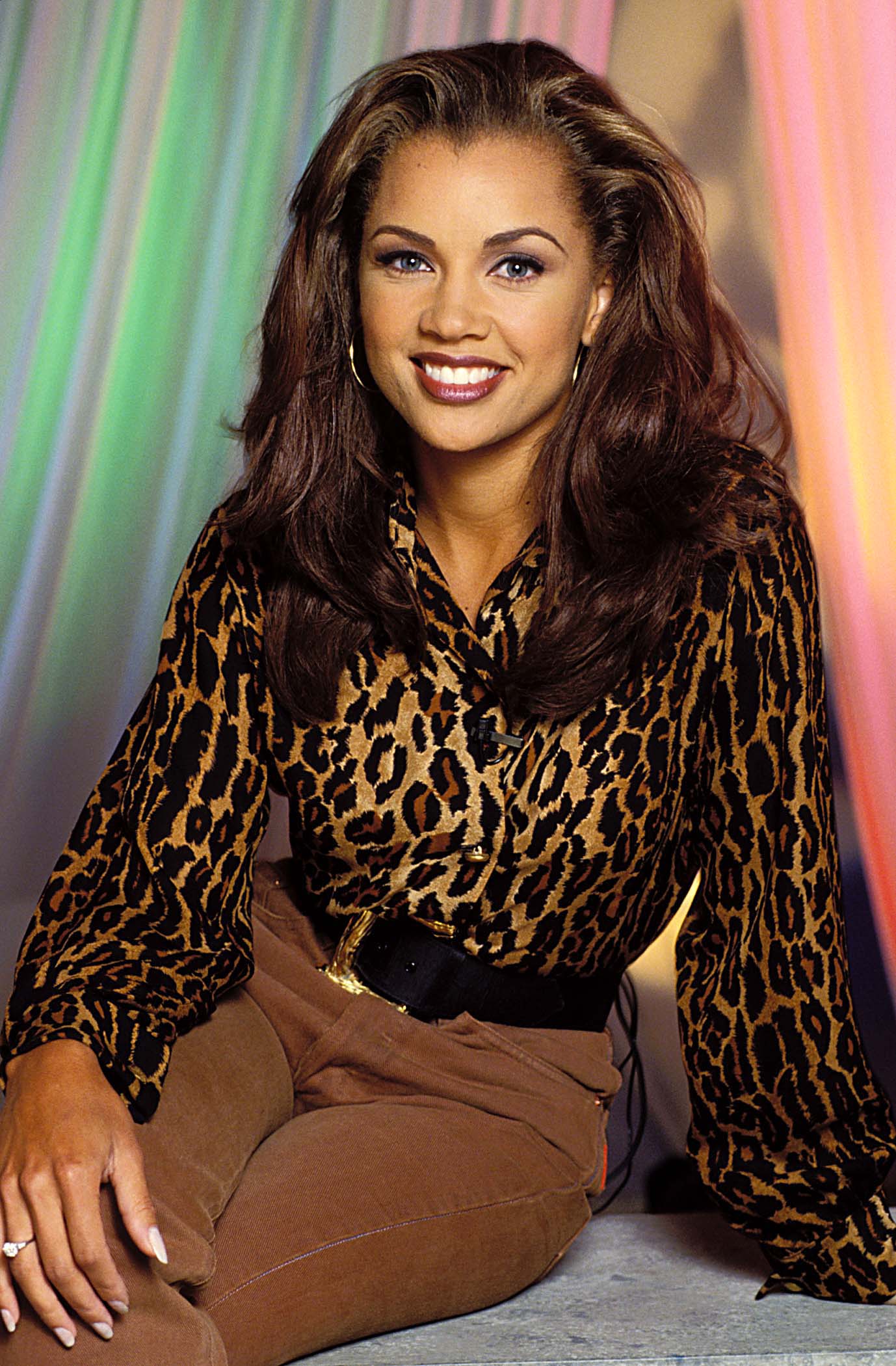 Vanessa Williams pictured during the taping of her VH1 show. | Photo: Getty Images
The "Ugly Betty" actress said that she realized that the nude photos would make it challenging to make appearances as Miss America. Her resignation was the first in the 63-year history of the pageant.
In her place, Charles, the first runner, was crowned Miss America and performed the duties of Miss America for the remaining two months of the reign. She was also awarded $25,000.
Although Williams kept her scholarship and the $125,000 she made during her reign, Albert A. Marks Jr., executive director of the pageant, said there would be no acknowledgment of Williams' reign at the next pageant.
He was complimentary of Williams' reign as he said, "she has fulfilled all of the duties and responsibilities of her position in exemplary fashion."
Marks explained that although she was a "lovely young woman" and others would not crucify her for the nudes photographs, the situation put the organization in a position where they had to protect the contest.
MOVING ON
Although many might think having to resign from the prestigious title might be a career-ending move, Williams's career in the entertainment industry has been very successful.
Williams, a singer too, has been in several TV shows, including "Desperate Housewives" and "666 Park Avenue." She has also made guest appearances in a few reality shows.
Besides a successful TV career, Williams has an equally successful movie career. A few of her movie credits include "Dance With Me," "Bad Hair," and "Eraser."
THE APOLOGY
Later in 2015, almost three decades after Williams had to resign her title as Miss America, the pageant apologized to her after William sang a song during the contest.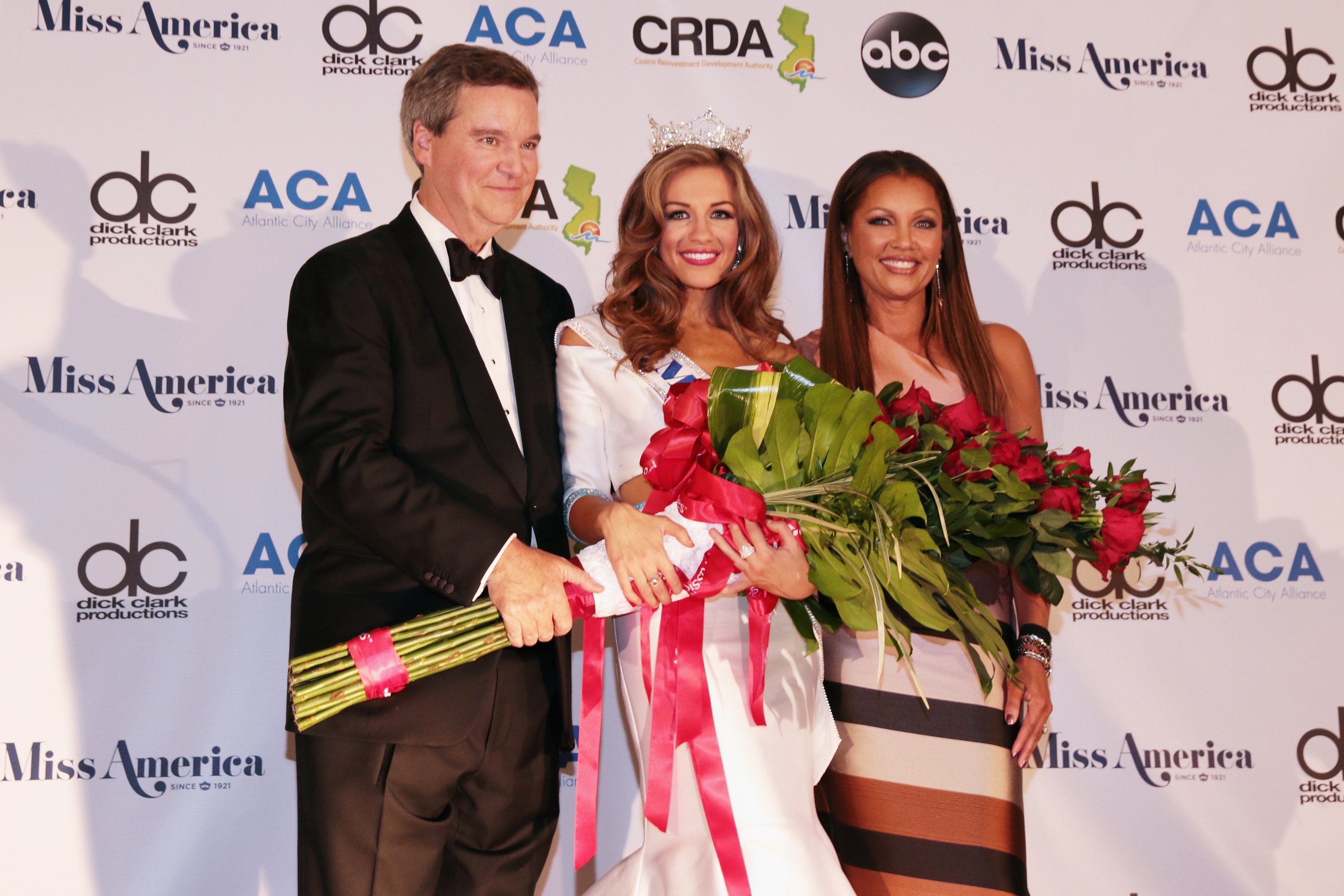 CEO for Miss America Sam Haskell III, Miss America 2016 Betty Cantrell and Vanessa Williams attend the 2016 Miss America Competition, 2015, Atlantic City, New Jersey. | Photo: Getty Images
Williams performed her song "Oh How The Years Go By" during the pageant where Betty Cantrell of Georgia was crowned Miss America. However, the apology to Williams stole the show.
After she was finished singing, Sam Haskell, executive chairman of the Miss America pageant, got on stage with the singer and apologized to the actress for how the organization treated her:
"I want to apologize for anything that was said or done that made you feel any less the Miss America you are and the Miss America you always will be."
Williams said the apology was unexpected but beautiful, and she was honored to be back and welcomed into the organization many years later.
Leading up to the pageant, Williams celebrated her return by sharing photos of her pin and her Miss America crown, which she kept after resigning.
Despite resigning the pageant title that so many women dream of, Williams made a name for herself and is celebrated in the entertainment industry for her brilliant acting skills, strong vocals, and wonderful personality.
Please fill in your e-mail so we can share with you our top stories!