youtube.com/9NEWS
Customer Learns Her Favorite Dunkin' Employee Has Been Evicted, Surprises Her with a New House
When a loyal customer noticed that her favorite Dunkin' Donuts employee was missing from her shift for a few weeks, she was worried. The customer didn't hesitate to reach out and help the employee when she was in need.
A Mount Healthy, Ohio Dunkin' Donuts employee, will be spending this Christmas at home thanks to the kindness and support of a customer she met three years ago. She got the biggest surprise recently and couldn't say thank you enough.
Ebony Johnson was surprised with a fully furnished home after customer Suzanne Burke found out she had been evicted. Burke noticed her favorite employee was away from her job for weeks and wondered what was wrong.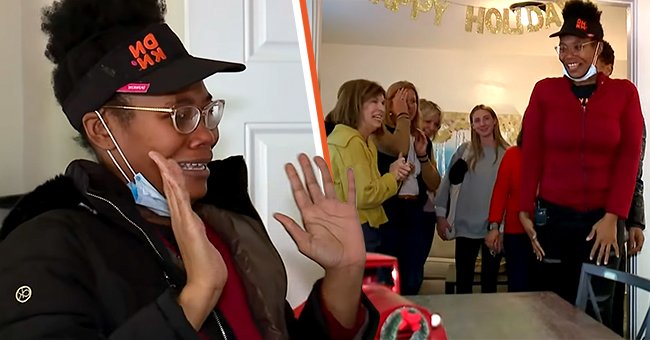 A Dunkin' employee is surprised with a new homes thanks to one of her customers | Photo: Youtube/9NEWS
THEY FOUND HER A HOME
When she discovered Johnson fell on some hard times, she had to do something. Burke shared that she went to Dunkin' every morning. She said she got to know Ebony at the drive-thru window, and she always "provided amazing customer service."
Burke contacted various organizations such as Design to Market and New Life Furniture Bank. They lent a helping hand and were able to find the Dunkin' employee a house and fantastic furniture.
FAMILY WAS OVERCOME WITH EMOTION
The mother was overcome with emotion when she saw her new home for the first time. Her children were equally as excited. Johnson thanked all of the donors and her customer, Burke, for her help and generosity.
Her Christmas miracle was possible thanks to Jo Potvin of Design to Market. Potvin shared that it was the "perfect time" to spread joy, and it felt good to contribute to improving someone's festive season.
THE HOME LOOKED GREAT
Dana Saxton of New Life Furniture Bank added that it was "as much a gift for us as it is for them." The home looked stylish and was ready for the family when they walked in through the door. Johnson's kids had a few comments of their own.
Her son said: "So nice, so nice," while her daughter stated: "Hey, this is our beautiful living room." The mother thanked God for the surprise. She noted that it answered her prayers because she asked for a home to spend this Christmas in.
THE KIND GESTURE TOUCHED MANY
Burke expressed that she simply wanted to help the employee "improve her life and the life for her kids." She stated that her goal was to find Johnson "stable housing" to allow her to continue working.
The kind gesture also touched netizens. One user wrote: "Beautiful story, there is more good than evil in this world." Another added: "This really is so incredibly kind and generous." The Johnson family will undoubtedly have a joyful festive season with lots to be grateful for.
Please fill in your e-mail so we can share with you our top stories!