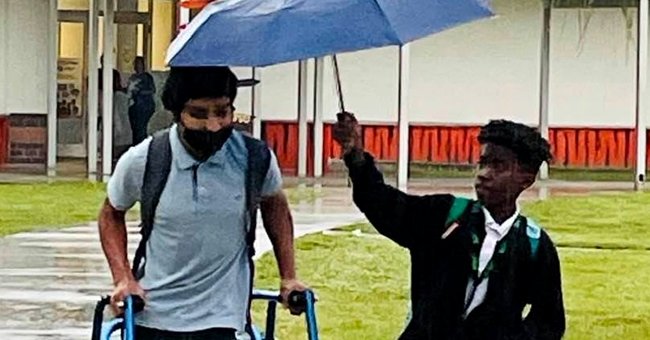 facebook.com/MattDevittWeather
Boy Shares His Umbrella with a Friend with Cerebral Palsy — Principal Captures the Sweet Moment
A picture of two middle school students enjoying a moment of kindness has become the biggest thing on social media. The school's principal surprisingly captured the unique moment.
Social media is often the hub for sharing daily life experiences, but stories that feature kindness and charity often garner plenty of attention as everyone loves to see something lovely.
The latest story making rounds on the internet was shared by a touched school principal who quickly rose to fame after sharing a touching moment between two middle school kids.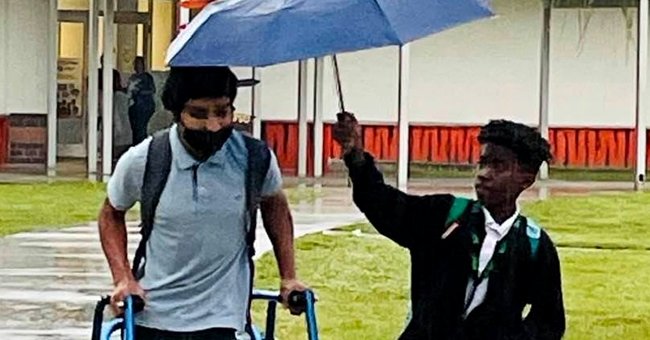 Lamar and his schoolmate Jerry Hernandez sharing an umbrella | Photo: facebook.com/MattDevittWeather
As it rained heavily during a school day, Lamar and his schoolmate, Jerry Hernandez, who has Cerebral Palsy, were pictured walking, and the content of the picture has gained huge attention online.
While there is nothing absurd about two kids under the rain, seeing Lamar share his umbrella with his disabled mate was enough to warm the hearts of viewers and remind everyone of the existence of kindness.
Cerebral Palsy is known to affect the cognitive movement of its victims, and it would have been difficult for Hernandez to cope with the heavy downpour on his own without the help of Lamar.
Hernandez walks with the assistance of a walker. That was why he found walking on a rainy day particularly tough. Lamar observed his struggles, took a step forward and offered him his umbrella.
He was quick to offer assistance without being asked. The school's principal witnessed this brave move and took a photograph of the touching scene, and it became a hit on Facebook, where it was shared.
The post was captioned, "Heartwarming scene Friday in Southwest Florida at Clewiston Middle School. 8th grader Lamar spreading kindness to a fellow classmate during a rainy day. Well done young man!"

A netizen's comment on the heartwarming photo | Photo: facebook.com/MattDevittWeather
Several people have commented on the moment, with many praising Lamar for his kind heart. Hernandez also mentioned that the act of kindness from his friend touched him.
Hernandez's mom, Escobar, once held concerns that her son would be bullied in school, but after seeing the picture on Facebook, she became relieved that her son received love and care.
A single picture was used to capture this simple gesture of love. That picture demonstrates the power of caring for others. Escobar believes that we need to see more of this type of kindness. She believes the world needs more youngsters like Lamar.

A netizen's comment on the heartwarming photo | Photo: facebook.com/MattDevittWeather
Hernandez believes the picture feels normal to him, but he believes it means so much more to others which is why it has received wide praise and has been shared over a thousand times on Facebook.
The two friends met over a year ago and attended several classes together, but they probably never imagined their friendship would be a trending topic on social media.
Please fill in your e-mail so we can share with you our top stories!