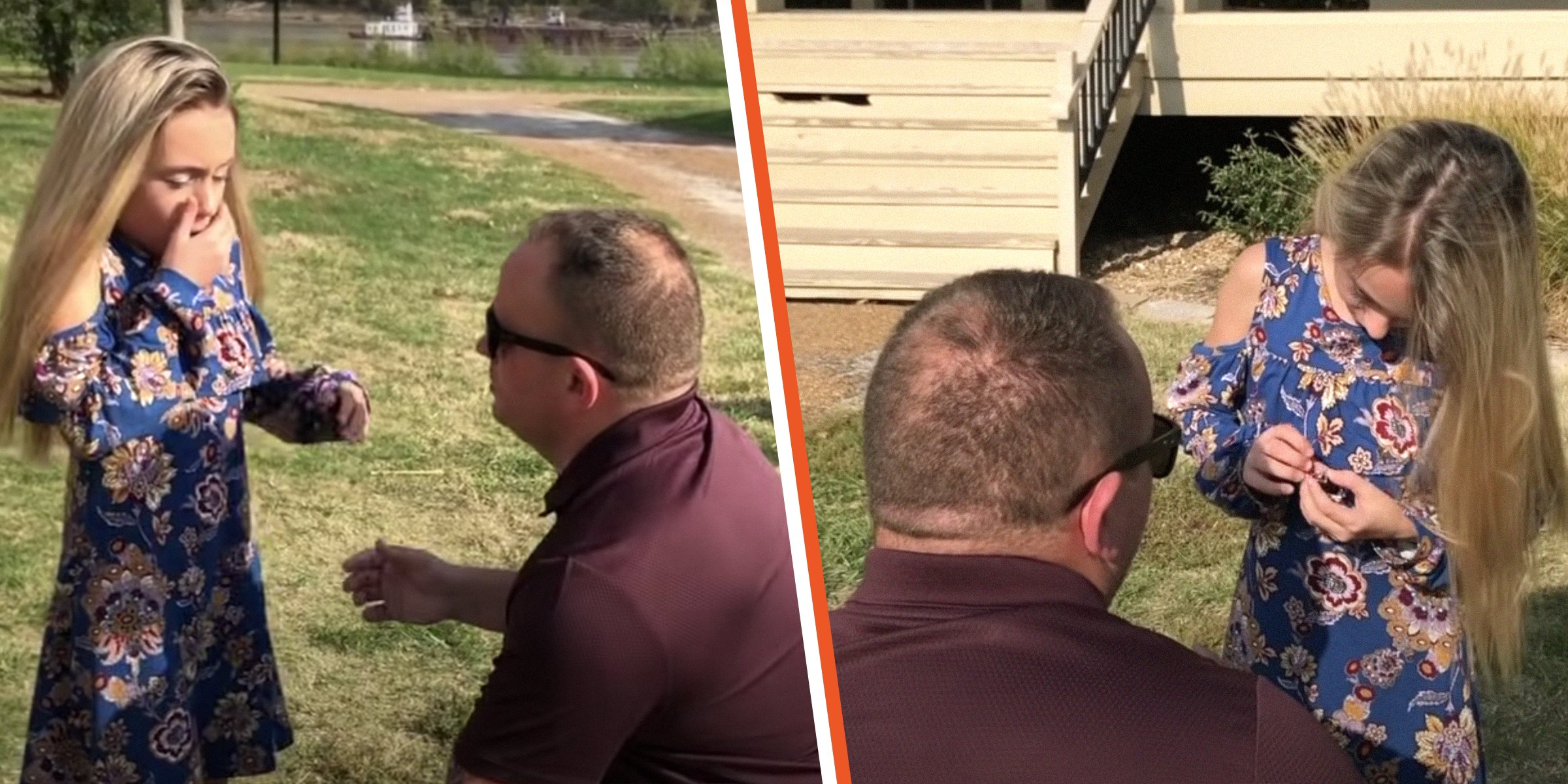 Tim Bobbitt and Kylee | Source: YouTube.com/Tim Bobbitt
Stepdad Interrupts Family Photoshoot and Kneels Down in Front of His Wife's Daughter
When a man invited his wife's daughter to a family photo shoot, she thought it would involve striking a few poses for the camera. But minutes later, she was astonished when she saw him kneeling in front of her with something in his hand.
Families come in all shapes and sizes. Whether people prefer living in nuclear family systems or blended ones, both tend to have their own challenges, which can be overcome with love, patience, and understanding.
Knowing how to give space, accept each other, and build a loving and solid relationship might sometimes take longer than expected. But once people start seeing beyond their differences and coming together in love, "blended" takes on a profound meaning.
The story we're sharing today encapsulates a similar theme and will hopefully add that much-needed cheer to your gloomy days. Without further ado, let's delve deep into the story of two people who forged a forever connection far deeper than blood.
Finding Love
When Tim Bobbitt first met his future wife, Annie Bobbitt, he instantly knew that the two of them were meant to spend the rest of their lives together. Over time, they began dating, and without question, the pair fell head over heels for each other.
As the couple started spending more time together, they were introduced to their family and friends. It was then that Tim met an extraordinary person in his girlfriend's life, her little daughter, Kylee.
Kylee listened intently as her favorite human summed up all their happy moments and how much he cherished them.
Tim watched Annie take care of Kylee as a single mother and appreciated his girlfriend every step of the way. But without realizing it, he also forged a lovely bond with the little girl and thoroughly enjoyed her company.
A Beautiful Connection
Luckily, Kylee also valued Tim and loved having him around. The pair did nearly everything together, from watching movies and playing video games to riding roller coasters, dancing in the living room, and embarking on shopping sprees.
Annie couldn't help gushing over her daughter and partner, forming a beautiful connection. Tim tucked Kylee in bed every night, sang her lullabies, and attended all her cheerleading and dance events as a happy father would.
Falling for Another Girl
Inevitably and without planning, Tim fell in love with another adorable girl, Kylee. The two became best buddies and couldn't bear being apart. Their close relationship helped pave the pathway for Tim and Annie's future relationship.
Finally, the fateful day arrived in 2017 when Tim was ready to marry the love of his life. As he and Annie stood at the altar on their wedding day to say their vows, they didn't expect to be interrupted by an unusual happening.
A Special Request
It turned out that little Kylee had made her way to the altar with an envelope in her hand. She handed it to Tim and asked him to open and read it in front of the guests. The couple's family and friends watched in awe as Tim opened the envelope.
The groom then took out the hand-written note and started reading it. Much to his surprise, it contained a special request from someone who meant the world to him. Kylee had asked Tim to adopt her and be her stepdad officially.
What followed next was a round of countless emotions and happy tears as Tim and Annie showered their little girl with tender hugs and kisses. While Tim had undoubtedly played the role of Kylee's father in every way, he never forced her to call him "dad."
His happiness knew no bounds as it slowly sank in that the little girl who meant everything to him wanted him to be her father forever. After the wedding concluded, Tim and Annie began working secretly to grant their adorable girl's heartfelt wish.
A Family Photoshoot
It took a long time for the man to complete the adoption paperwork and get everything ready.
Then one fine day, several weeks later, the Bobbitts told Kylee that they had organized a family photoshoot to click a few lovely pictures that they could look at and cherish for the rest of their lives.
The little girl was delighted and dressed up for the special occasion. Tim did his homework and stole a few private moments with Kylee. He asked her to pose for the camera as he captured her photographs.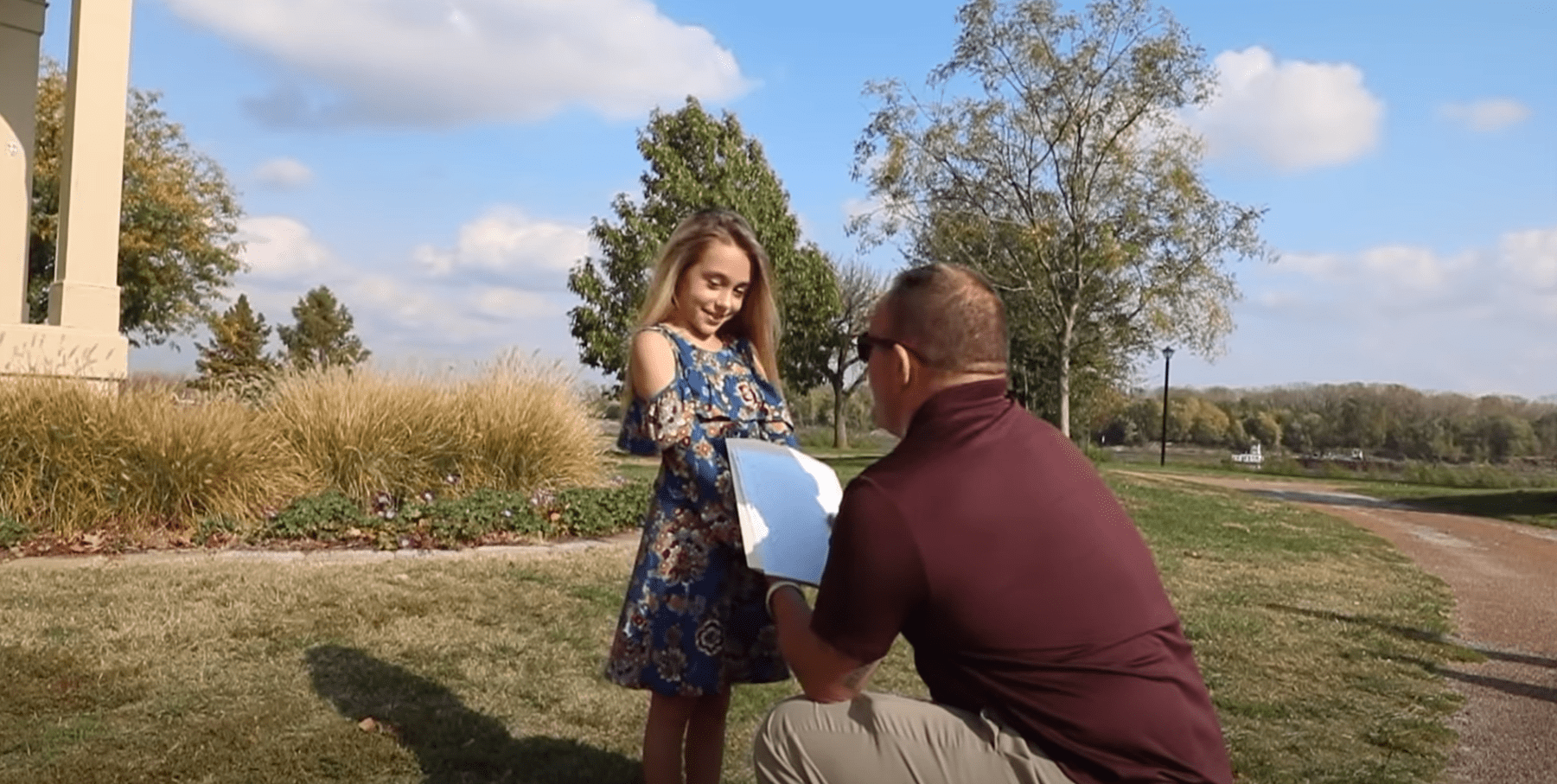 Tim kneels in front of Kylee during their family photoshoot to read a letter. | Source: youtube.com/Tim Bobbitt
The Great Announcement
After a while, she complained of the wind ruining her hair. "Stay right there," instructed Tim as he moved from behind the lens, kneeled in front of her, and took out a letter of his own. He scanned the expressions on Kylee's face and began reading the letter.
Kylee listened intently as her favorite human summed up all their happy moments and how much he cherished them. But she could have never anticipated what was about to come. After a while, Tim looked at her and continued:
"But most of all, Kylie, I look forward to the day I walk you down the aisle, on the day you get married because that's what fathers do. And the reason why I could say that is because today, with all of our family and friends, I get to adopt you."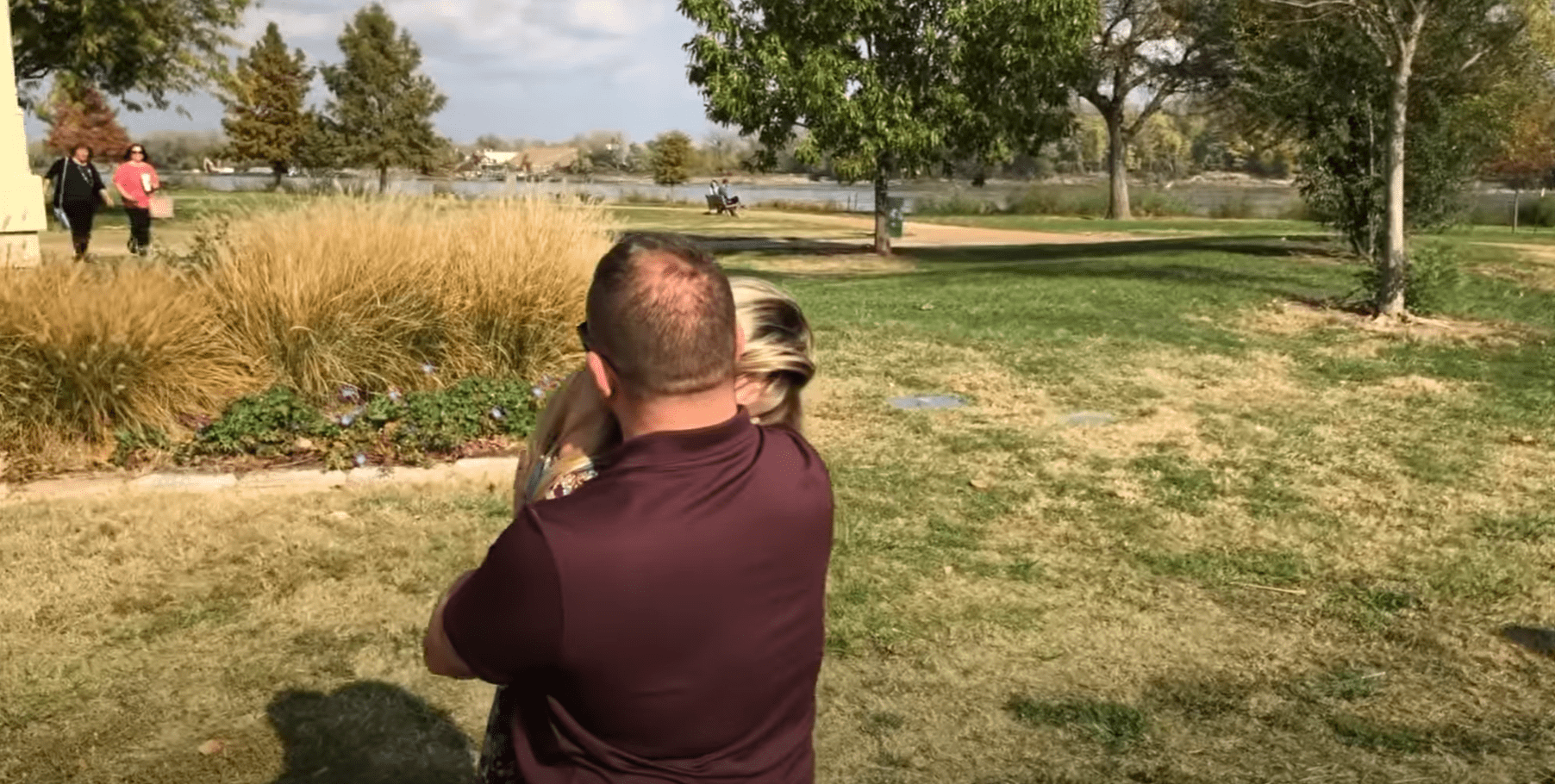 Tim and Kylee share an emotional hug. | Source: youtube.com/Tim Bobbitt
Genuinely Heartwarming
As soon as he was finished reading the heart-touching note, Kylee clutched her mouth as tears streamed down her face. Her stepfather wrapped her in a warm hug and then told her he had another surprise.
Tim had staged the family photoshoot to announce the great news to his little princess, and he shared the heart-melting video on his YouTube channel in November 2017. The clip became a viral sensation online, garnering more than 9 million views.
Tim took out a beautiful ring for his step-daughter with steady movements, which she quickly put on before hugging him again. When Kylee turned to look behind, she saw her mom and the entire family celebrating the joyous occasion.
Undoubtedly, this incredible daddy-daughter duo's heartwarming bond shows that DNA does not determine genuine love and that heart-to-heart connections are sometimes more profound than blood ties. Please share this story with your family and friends.
Please fill in your e-mail so we can share with you our top stories!