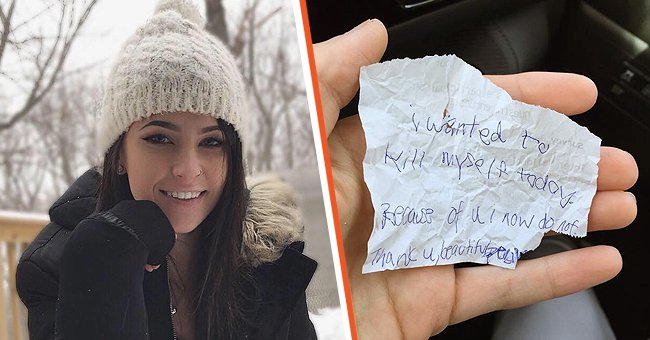 facebook.com/caseyx014
Young Woman Buys Homeless Man a Coffee and Bagel, Stops Him from Taking His Life
One morning in 2015, a woman saw a homeless man near Dunkin' Donuts. She couldn't resist the urge to talk to him and even bought him a coffee and bagel. Before leaving, he left her a touching handwritten note.
We can make a world of difference in people's lives by showing them kindness and love. This is why random acts of kindness never go unnoticed, comforting people in stressful times.
A woman from Guilford, Connecticut, United States, didn't know that her brief conversation with a stranger would change his life for the best.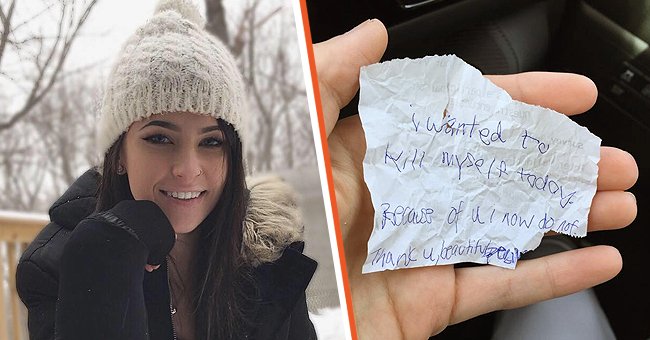 [Left] Casey Fischer. [Right] The heartfelt note Chris wrote for her. | Photo: facebook.com/caseyx014
A STRANGE ENCOUNTER
On May 21, 2015, Casey Fischer noticed a homeless guy heading to a Dunkin' Donuts store. He stood on the side of the road, picking up change. Fisher also revealed:
"Eventually I saw him stroll into Dunkin, as he was counting his change to buy something, I began to get super annoying and talked to him over and over again even when he didn't really want to talk (sic)."
Assuming he had at least $1 in change, the kind woman bought him a coffee and bagel. She then asked him to sit down so they could talk.
SHOWING EMPATHY
The man accepted her invitation and shared details from his past. He added how people were often mean toward him because of his homelessness.
After listening to him, they were so touched that they gave food and hot drinks to the homeless people sleeping on the streets.
As it turned out, he had gone through a rough patch. He told Fischer that drugs had turned him into a person he hated and how he lost his mother to cancer. Ironically, he never had the chance to know his father.
THE HEARTWARMING NOTE
As the conversation progressed, Fischer discovered that his name was Chris. Chris's life struggles deeply moved her. She also expressed:
"Chris was one of the most honest & sincere people I've ever met."
After an hour or so, Fisher realized she was running late for class and waved goodbye to Chris. Before she left, Chris scribbled something on a paper, apologized for bad handwriting, smiled, and disappeared.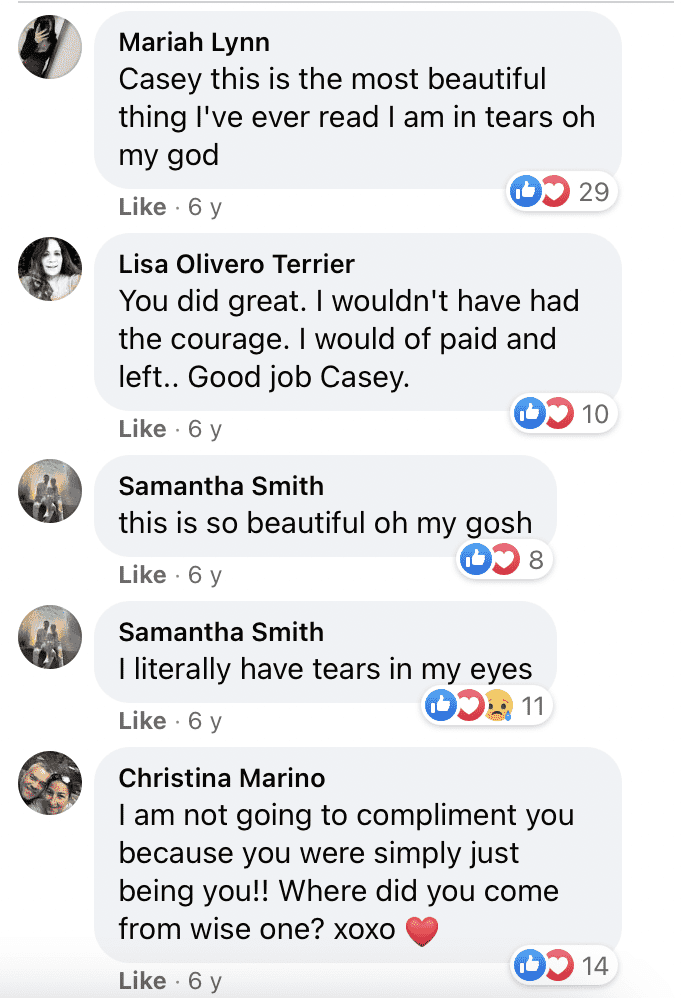 Netizens praised Fischer for her act of kindness. | Photo: facebook.com/caseyx01
SAVING A LIFE
After he left, Fischer quickly opened the crumpled note, which read:
"I wanted to kill myself today. Because of u, I now do not. Thank u, beautiful person (sic)."
Fischer shared the heartwarming incident on Facebook, where her post went viral, amassing around 439K likes and 186K shares. Many netizens commented on the touching post, praising Fischer for her kind heart.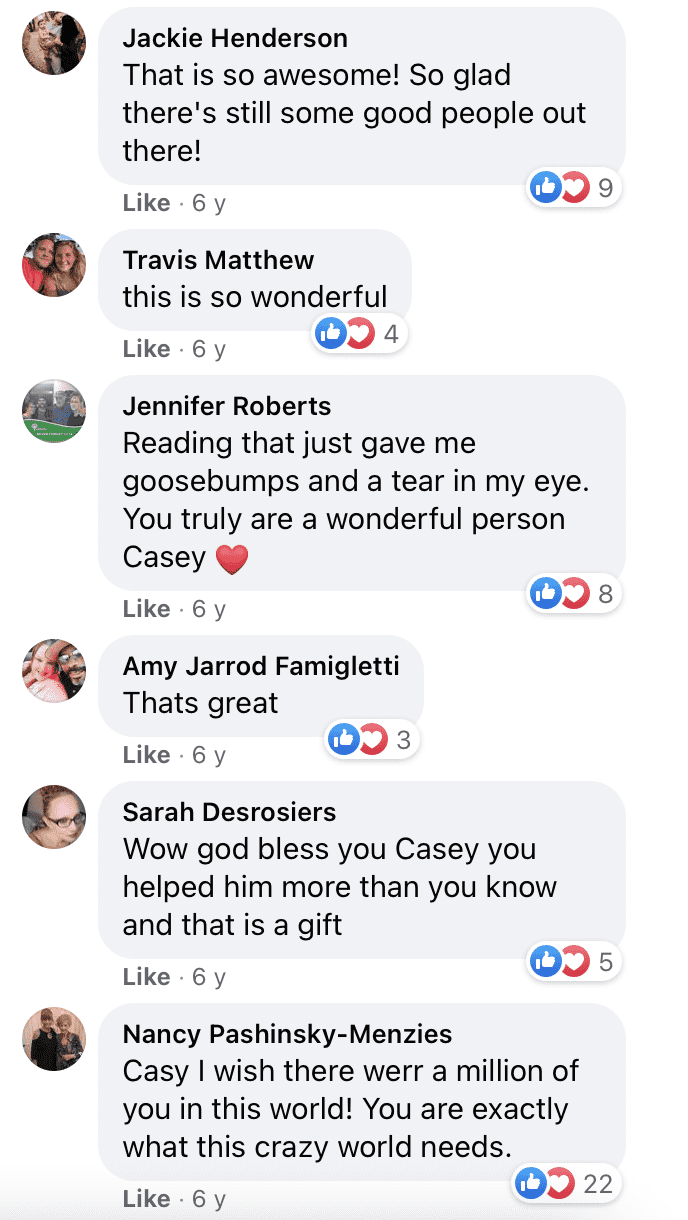 Netizens praised Fischer for her act of kindness. | Photo: facebook.com/caseyx01
STORE STAFF'S ACT OF KINDNESS
It seems Fischer isn't the only one who showed kindness to a homeless man. Sheffield Tesco, U.K., staff members refrained from calling the cops on a homeless ex-soldier stealing from their shelves.
Instead, they realized he was hungry and gave him a roast turkey dinner, cake, tea, and clothing. Most importantly, they were empathetic toward him and even spared time to hear his story.
The homeless person's story inspired the store management, encouraging them to help more people like him. After that, they turned to the homeless people sleeping rough on the streets and handed them food and hot drinks.
The store's management arranged a van filled with food, from crisps and bakery items to fresh fruits. Homeless individuals also enjoyed sandwiches with tea and coffee. Rachel Liszka, the store's community champion, also shared:
Often people turn their noses up at them and call them drunks and drug addicts, but they haven't brought it on themselves. More often than not it's the circumstances and it cannot be helped (sic)."
Instead of frowning and humiliating a homeless person, we should warmly greet them and practice empathy. Fischer and Sheffield Tesco's sweet gestures prove that all we need is kindness and love.
Please fill in your e-mail so we can share with you our top stories!