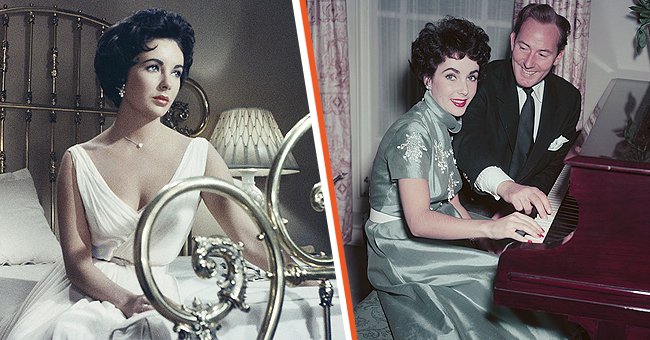 Getty Images
Inside Elizabeth Taylor's $15.9m Home She Bought with 2nd Husband & Lived in Her Last Years
Before Elizabeth Taylor died, she experienced many beautiful experiences with friends and family in her luxury home. Several years after her demise, the house was put up for sale for the first time. Inside the luxury property.
Only a few stars in Hollywood can boast of the fame and outstanding achievements enjoyed by British-American Actress Elizabeth Taylor. She began her career in the movie industry as a child star and evolved into one of the biggest names in the entertainment industry.
Born on February 27, 1932, the star was one of the most sought-after actresses throughout the Hollywood golden age. Her violet eyes, charming body, rich jewelry collection, several relationships, and marriages made it impossible to overlook her personal life.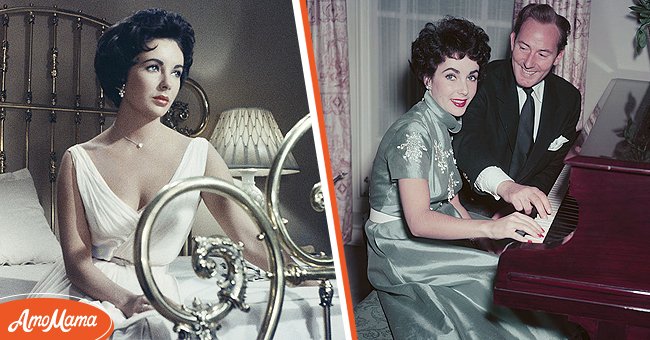 Actress Elizabeth Taylor stars in the MGM film, 'Cat On A Hot Tin Roof', 1958. [Left] | Elizabeth Taylor and her husband Michael Wilding pictured sitting together at a piano at home in their apartment in England circa 1952. [Right] | Photo: Getty Images
ELIZABETH TAYLOR'S CAREER
Taylor's career as an actress spanned over six decades. She was noted for her boldness in taking on emotionally challenging roles and her ability to portray comedic roles on occasion.
Some of her movie credits include "Cleopatra," "The Flintstones," "Little Women," "Giant," and many others. While her career was a huge success, the actress's personal and marital life often stole the headlines and kept her public for many wrong reasons.
Taylor was married to seven men and got divorced eight times in her lifetime. Even though her marriages ended, the star said she was lucky to have known great love.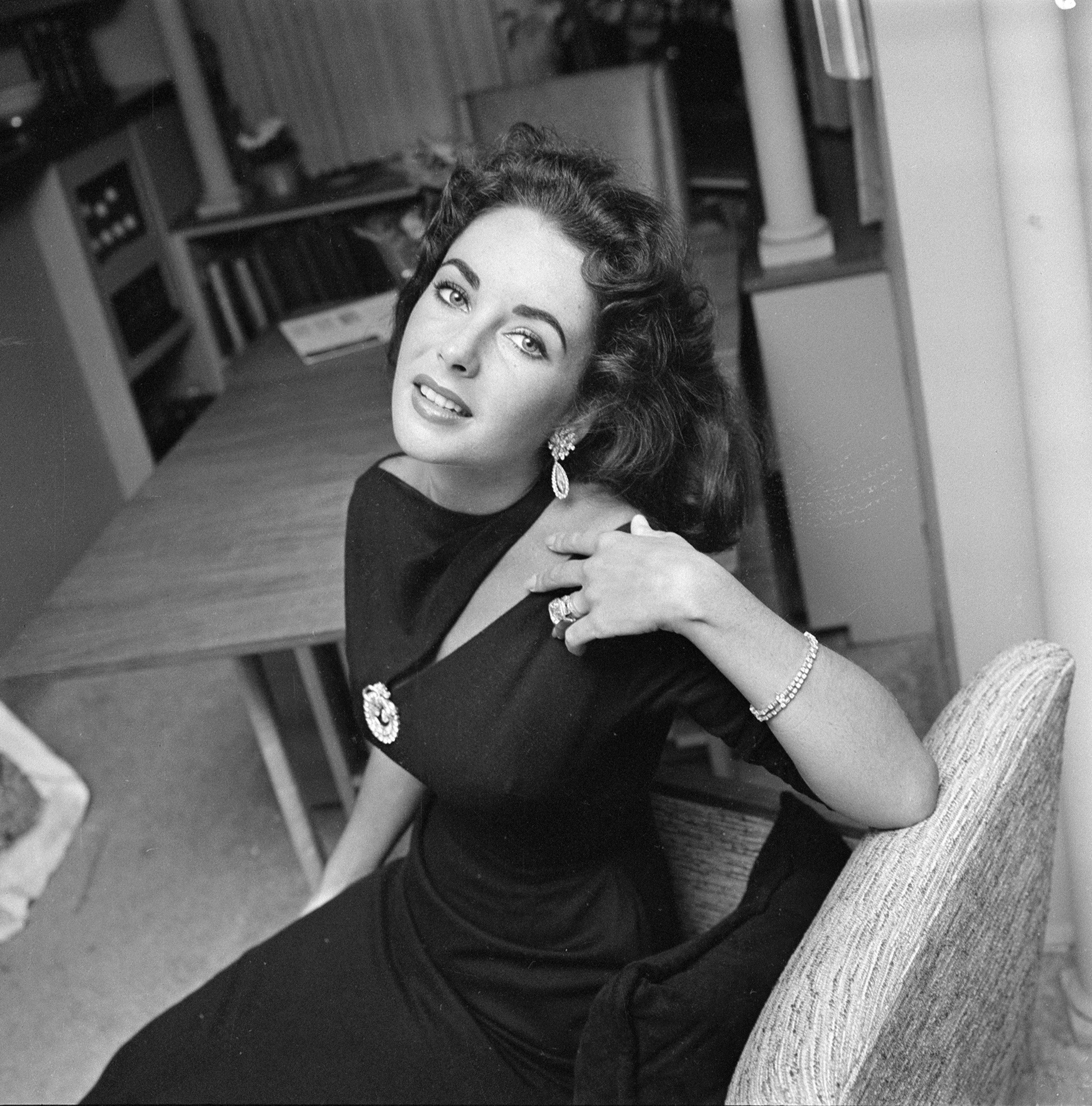 Elizabeth Taylor pictured in her home in Beverly Hills, 1957. | Photo: Getty Images
ELIZABETH TAYLOR'S DEATH
Sadly, at 79 on March 23, 2011, Taylor passed away at the Los Angeles Cedars-Sinai Hospital after battling congenital heart failure. She was surrounded by her four children, Michael, Christopher, Lisa, and Maria, on her death bed.
In addition to her kids, the Oscar-winning actress was survived by ten grandchildren and four great-grandchildren. Apart from her impact in the movie industry, her entrepreneurial spirit and advocacy in the fight against HIV/AIDS were greatly celebrated.
The family held a private funeral and requested contributions to the Elizabeth Taylor AIDS Foundation.
THOUGHTS ABOUT TAYLOR'S HOME
Friends and celebrities alike also had nice things to say about the mother of four, especially regarding her hospitality in her last years. Before Taylor passed away, she lived in a lavish mansion in Bel Air, California, where she hosted many celebrity friends and family.
The house left many unforgettable memories talked about even after Taylor died. A family friend, Doris Brynner, described the mansion as a "house house." She also said the actress's home was always full of children, animals, and family.
Naomi Wilding, Taylor's granddaughter, revealed that the Hollywood legend loved having her grandchildren around, and they would talk about different things, including boys.
Another friend of the "Giant" star, Sharon Stone, explained that the entertainer's home reflected her caring and embracing of her friends.
Tim Mendelson, the former personal assistant trustee of the Elizabeth Taylor Foundation, said when he came to the actress's home for the first time, he was surprised to see that she opted for a ranch-styled and casual home. The man said the apartment was warm and set up for people.
ALL ABOUT THE LUXURY PROPERTY
Taylor purchased the mansion in 1954 with her second husband and British Actor, Michael Wilding. A report revealed that the couple took an interest in the luxury home and decided to buy the pristine property after trespassing to see it for themselves.
The mansion, built-in 1953, not only became home to the couple, but they also raised their two young sons, Michael and Christopher. Sadly, the family of four only lived in their Bel Air home for three years, following the divorce of Taylor and her husband.
The lavish property was introduced to the market for the first time in 21 years at $15.9 million.
The actress's former home sits on two acres of land and covers about 7,761 square feet. It beams with elegance and class, as the exterior features a lovely zen landscape area, palm trees, a panoramic pool, and a spa.
It also boasts a three-car garage, a large car park, an open patio, and a fountain courtyard. As much as the exterior of the luxury property screams beauty, the interior is also a spectacle.
The mansion has six bedrooms, seven bathrooms, four fireplaces, an art studio, atrium, a large office, and guest room/maid quarters.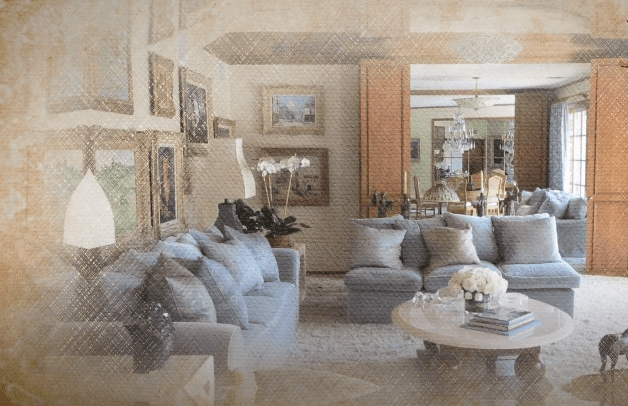 A photo of Elizabeth Taylor's luxury Bel Air mansion. | Photo: YouTube/Darren Julien
PICTURES OF THE MANSION
In 2010, social documentary photographer Catherine Opie began a project documenting the interior and exterior of Taylor's glamorous property.
Apart from sharing the magnificent sight with the public, Opie aimed to create a portrait of the actor through her personal belongings, including her Chanel shoes and prized jewelry collection.
The photographer's job was a success with a total of 129 pictures, displayed in the book "700 Nimes Road."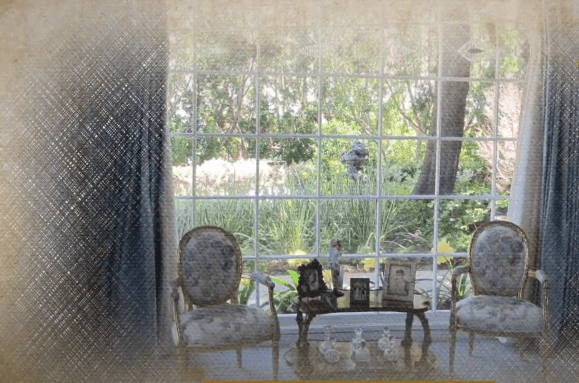 A photo of Elizabeth Taylor's luxury Bel Air mansion. | Photo: YouTube/Darren Julien
THE SALE OF TAYLOR'S PROPERTIES
Following her death, the actress's jewelry collection, which included over 300 individual jewels, was auctioned off at a record-breaking sale of $137.2 million.
Several years later, Taylor's grandson and a trustee of the actress's estate and foundation, Quinn Tivey, was involved in many projects that brought his grandmother's legacy to the spotlight once again.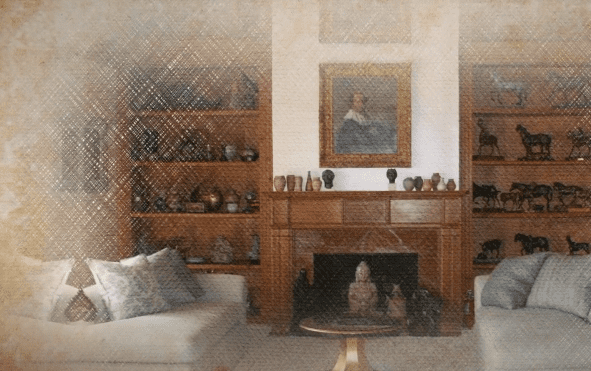 A photo of Elizabeth Taylor's luxury Bel Air mansion. | Photo: YouTube/Darren Julien
In December 2019, the young man was part of the project "Property from the Lifestyle of Elizabeth Taylor." The project featured the sale of home items, clothing, and other valuable items owned by the icon — bed linens, home furnishings, tableware, and fine art.
At the auction, Tivey also included designers such as Christain Dior, Gucci, and Oscar de la Renta clothing. According to a report, Taylor's love for philanthropy and her passion and activism for highlighting awareness of HIV/AIDs brought about the plan for the event's catalog.
THE SALE OF TAYLOR'S MANSION
In 2018, the lavish property was introduced to the market for the first time in 21 years at $15.9 million. The owners who purchased the property at two million dollars paid Architect Budd Holden to update the interior.
Holden decorated the interior with geometric bedrooms, a wood-framed living room, floor-to-ceiling windows, coffered ceilings, wood paneling, and a wood cabinet kitchen with stainless steel appliances.
The buyer(s) of the mansion are lucky and blessed to purchase a property that bears top-notch designs and priceless memories.
Please fill in your e-mail so we can share with you our top stories!