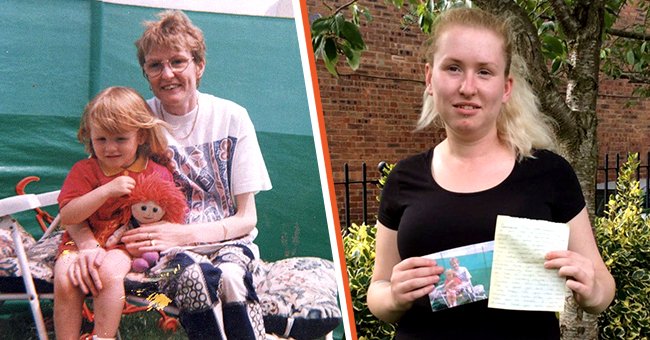 twitter.com/BBCTees | twitter.com/redbookmag
Daughter Reunites with Mother's Letter 15 Years after Her Death: 'Don't Forget Me'
A dying mother penned a heartfelt goodbye letter to her little girl and tucked it inside a book. While the youngster never found the letter, it was discovered inside the same book at a second-hand bookshop years later.
Memories of our loved ones can last a lifetime. Often, people find comfort in looking at old photos, notes, and other special items left behind by their deceased members.
But imagine the trauma of losing something memorable that served as the last memory from your beloved? While you may have stopped thinking about it over time, you'll always yearn to see it again.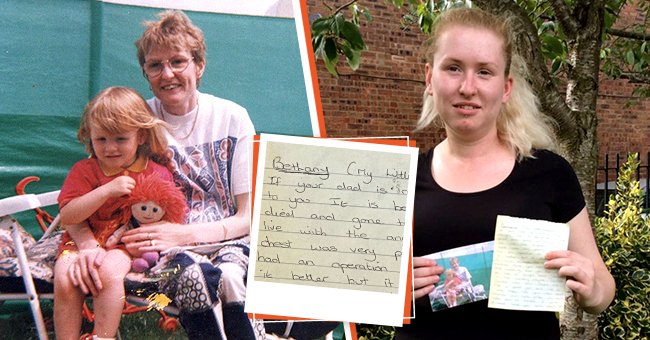 [Left] Little Bethany pictured with her mother. [Inset] Bethany's mom's letter. [Right] Bethany holding her mom's letter. | Photo: twitter.com/BBCTees | twitter.com/redbookmag | twitter.com/ChickenSoupSoul
THE MISSING LETTER
When Bethany Gash lost her mom, Lisa, in 2001, she was devastated. But when her father read her mother's farewell letter to her, it offered a welcome respite. Sadly, the letter went missing one day, and Gash thought she'd never see it again.
Surprisingly enough, the letter landed in the hands of Gordon Draper, the owner of Bondgate Books in Bishop Auckland, County Durham, England.
One day back in 2016, Draper was going through a pile of books at his store when he spotted an envelope. Inside the envelope, he found a hand-written letter addressed to Bethany.
AN OLD PHOTOGRAPH
Alongside the letter was an old picture of a lady with short hair and spectacles and a little girl sitting next to her. Draper was touched by the dying mother's heart-rending message for her daughter. He told CNN:
"I don't think there's anybody out there that won't be moved from reading the letter."
After his remarkable discovery, Draper took the letter to his local news station, BBC Tees, asking for help to locate the girl to whom the letter was addressed. BBC Tees then shared the letter and picture on social media.
PRICELESS REACTION
Miraculously, Gash saw the post and immediately responded. She was overwhelmed and at a loss for words because she never thought she'd reunite with the letter.
Thanks to Mr. Draper's attentive eye and kind heart, Gash was finally reconnected with her late mother's fondest memory.
The then 21-year-old girl added that she last saw the letter in 2001 when her father read it aloud. She believed the book hiding the letter went missing during a house move, and eventually, Mr. Draper found the letter.
A KIND DEED
Soon afterward, Draper recognized the lady in the photo and said she was his regular customer. He said he was glad he returned the letter to its rightful owner. An over-excited Gash told BBC:
"It's absolutely overwhelming considering something so small can mean so much to someone. A lot of people would just disregard it as something stupid, just a little old letter."
Mr. Draper also revealed Gash's mother entered the bookstore to buy many children's books 15 years ago. Perhaps this was why Lisa left her last message to Gash tucked away in a book.
A HEARTFELT FAREWELL NOTE
The letter was an emotional goodbye from a mother to her daughter. It said that if Gash's dad was reading it, that meant her mom had gone to live with the angels. It said Lisa had passed away after a chest operation that went poorly. Further, it read:
"I hope you don't forget me because I'll always be your mam."
Lisa reassured Gash she'd always watch over her and love her wholeheartedly. Thanks to Mr. Draper's attentive eye and kind heart, Gash was finally reconnected with her late mother's fondest memory.
Please fill in your e-mail so we can share with you our top stories!