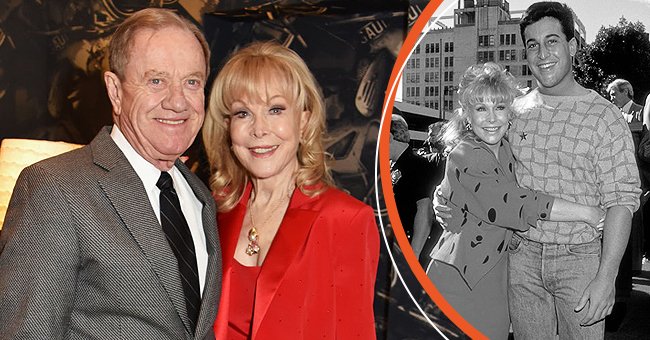 Jon Eicholtz and Barbara Eden (left). Eden and her son Matthew Ansara (right) | Getty Images
Barbara Eden's 3rd Husband Helped Her Survive Loss of Son Who Died 2 Months before His Wedding
Barbara Eden is well known for having a successful professional life, but she's experienced some tragedies in her personal one. One of them was her losing her son before his wedding.
Barbara Jean Morehead was welcomed by her parents in Tucson, Arizona, on August 23, 1931, before being known by the name Barbara Eden, now-90. In high school, she was a cheerleader.
She also performed as a pop singer when she was a teenager. In 1949, the future star graduated from San Francisco's Abraham Lincoln High School before starting her successful acting career.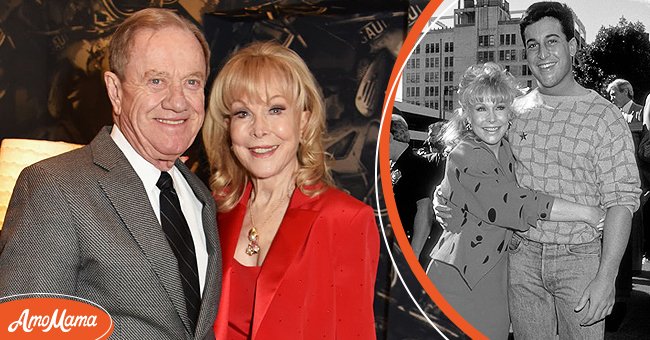 Jon Eicholtz and Barbara Eden at the press night after party for "Ruthless! The Musical" on March 27, 2018, in London, England, and Eden with her son Matthew Ansara at the "Hollywood Walk of Fame Ceremony" on November 17, 1988, in Hollywood, California | Photos: Getty Images
EDEN'S ACTING BACKGROUND
From the 1950s to the 1960s, Eden was featured in several television shows and movies. In 1956, she had her first movie role, uncredited, in "Back from Eternity" before starring on TV.
The following year, she appeared on TV in "How to Marry a Millionaire," based on a film of the same name. Eden also featured on "Perry Mason," "I Love Lucy," "Gunsmoke," and "Route 66."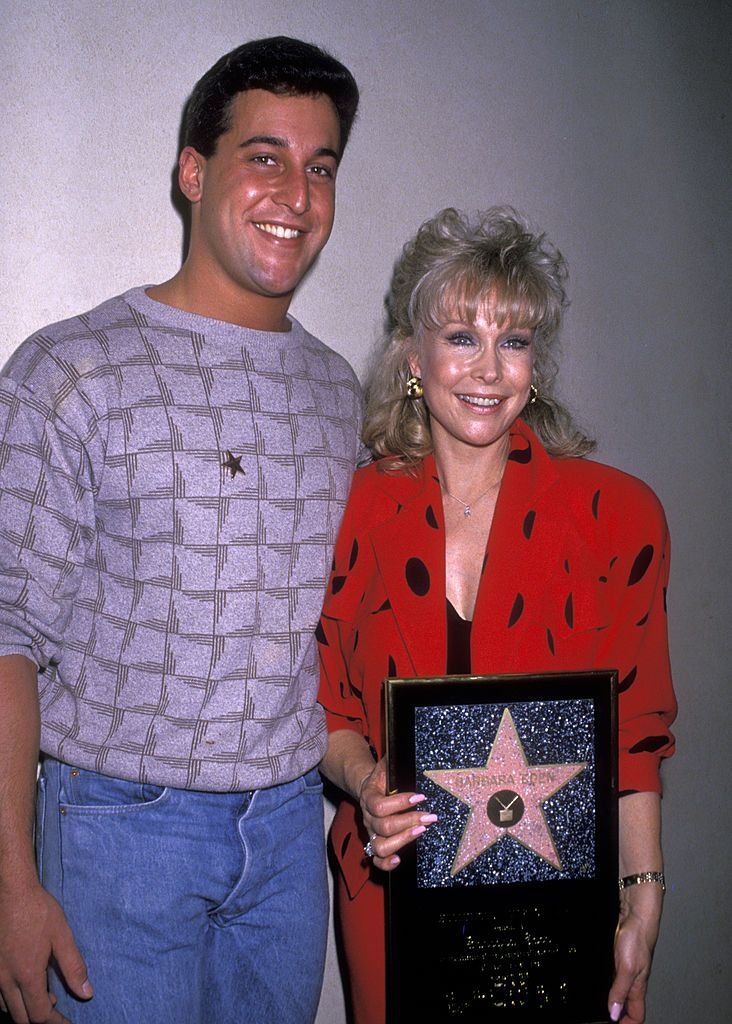 Matthew Ansara and Barbara Eden at the "Hollywood Walk of Fame Ceremony Honoring Barbara Eden with a Star" on November 17, 1988, in Hollywood, California | Photo: Getty Images
BARBARA'S MOST POPULAR ROLE
She also almost landed her own TV show when she starred in the pilot for a series called "The Barbara Eden Show," but it never aired, unfortunately. Her most famous role was in the 1965s sitcom "I Dream of Jeannie."
The actress landed the role after the writer, Sidney Sheldon, picked her up because of the success of "Bewitched." Her fan-favorite show ran from 1965 until its end in 1970.
EDEN'S SONS
While working on "I Dream of Jeannie," Eden became pregnant with her first and only child, Matthew Michael Ansara, welcomed on August 29, 1965. Matthew's father was the star's first husband, Michael Ansara.
Sadly, the actress's marriage to her husband only lasted from 1958 until its end in 1974. According to Nicki Swift, in 1971, Eden told the Sydney Morning Herald that she lost another son during her first marriage.
The star confessed to the publication that she'd delivered a stillborn son. The loss threw her into depression and contributed to the end of her 15-year marriage to her first husband.
BARBARA'S BOND WITH MATTHEW
In October 2021, the actress told People that becoming a mother was the most wonderful thing to ever happen to her. She called her son a miracle and said she had goosebumps when she thought about his birth.
MATTHEW'S BATTLE WITH ADDICTION
Eden discovered her son had an addiction problem when he was supposed to be attending City College. She found his books lying in the kitchen and decided to drive down to drop them off for him thinking he'd forgotten them.
That's when the star found out Matthew wasn't attending college and wasn't even signed up as he wasn't on the school's roster. The actress confronted him, and he got very upset, and he stomped out of the house.
MATTHEW'S DRUG TEST
Eden's friends felt Matthew's behavior was suspicious and urged the actress to get him a drug test. The test came back positive, but the star's son denied the results vehemently for a while.
After that, Eden's son was in and out of rehabilitation for 14 years. Eventually, Matthew reached a point where he wanted to be clean and sober, and by then, he'd already met someone he loved and was engaged to her.
EDEN'S SON'S DEATH
Sadly, on June 25, 2001, Matthew passed away from a drug overdose at age 35. According to Eden's publicist Gene Schwam, at the time, the actress was "in shock" and "devastated" by the news.
The tragedy hit Eden hard as she was assisting him in preparing for his September 1, 2001, wedding to Leanna Green. Her son had worked as an actor and a fitness trainer at the time of his death.
Matthew had been in great shape as a bodybuilder and wasn't suffering from any illnesses when he died. Luckily, Eden was already with her third husband when her son died, and the partner served as her support during her grief.
According to Eden's spokesman, Matthew was found dead in a suburban Los Angeles' Chevron service station. An attendant at the station found him before paramedics pronounced the actress's son dead at 9:15 p.m.
BARABA'S SECOND HUSBAND
After her first marriage failed, Eden ended up tying the knot again on September 3, 1977, with Charles Donald Fegert. The star stayed with Fegert for five years until their separation in 1982 and subsequent divorce the following year.
THE THIRD HUSBAND
Eden remained single for a while after her second marriage, but she found love again soon enough. The "Harper Valley PTA" alum walked down the aisle with her third husband, Jon Eicholtz, in January 1991.
In 2021, Eden and the architect and real estate developer had been together for 30 years. During an August 2021 Closer Weekly interview, the star opened up about what made their relationship last so long.
SECRETS TO LASTING MARRIAGE
She told the publication that a couple had to like each other and one had to choose their partner over themselves at times. Eden was even willing to watch things like sports just because Eicholtz was into it, and she loved him.
She [Barbara Eden] urged people to be willing to see the other person's point of view no matter how hard it was.
The actress said a successful marriage did not always involve people who liked the same things. The Golden Globe Award nominee also noted that her husband also made sacrifices like putting up with her working schedule.
The star said her husband didn't mind that she had a hectic schedule. Instead, Eicholtz liked what his wife did to earn a living, and the pair were in a happy marriage together, as seen with the actress's posts on social media.
Eden believed another thing that made for a good couple was their willingness to walk in each other's shoes so they could get along well. She urged people to be willing to see the other person's point of view no matter how hard it was.
Please fill in your e-mail so we can share with you our top stories!