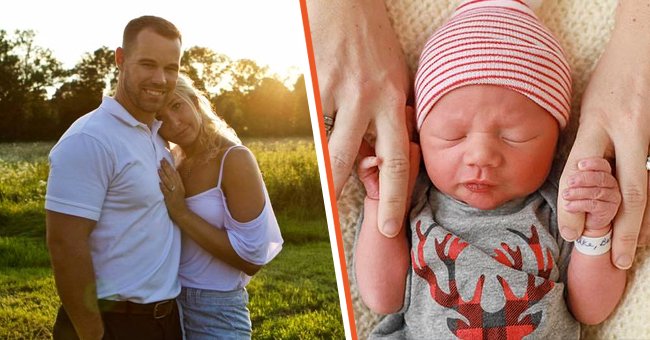 Haley Parke and her husband, JB Parke [left] Haley Parke and her new baby. | facebook.com/haley.stino
Mom Gives Birth to Son Only Hours before Her Husband's Death from Cancer
What began as a moment of joy for Haley Parke turned into sadness, as she lost her husband to cancer a few hours after she welcomed their son. Here's the whole story.
A Connecticut woman identified as Haley Parke has revealed what can only be described as a bittersweet moment in her life as the first few moments of her newly born son's life turned out to be her husband's last hours.
In a Facebook post that has gone viral, Haley revealed that her son, whom she shares with her husband, JB Parke came three weeks earlier than expected on December 2, 2021.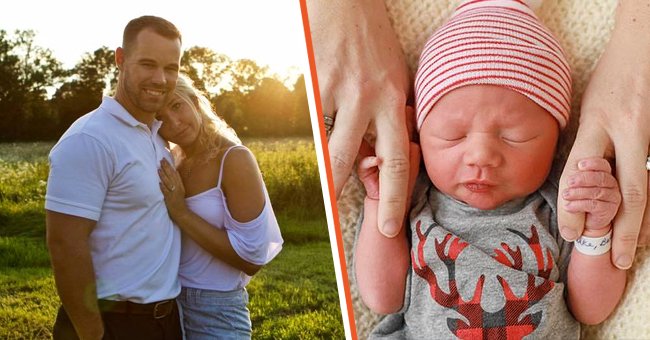 Haley Parke and her husband, JB Parke [left] Haley Parke and her new baby | Photo: facebook.com/haley.stino
Four days before the birth of their son, JB was admitted to the same hospital due to cancer complications. At first, the couple was given six months to be together, but shortly before the baby was born, the lovebirds found out they only had days to be together.
During an interview with Today, the mother of two explained that the doctors told them that cancer had spread to JB's lymph nodes, and his lungs were filled with fluid.
As a result of the sad news, the couple decided that their unborn child would meet his father before he passed away. So, they asked the medical team and were given the go-ahead for an induction. Haley wrote:
"With our second son's due date, 3 weeks away, my husband and I knew asking for an induction was the right thing to do."
She further added, "Without hesitation, the team of ICU doctors communicated with the head of high-risk labor and delivery doctors. They offered me an induction as soon as I was ready."
As the process to welcome the child through induction started three weeks early, JB's health deteriorated swiftly, and the medical team was forced to deliver the baby through a C-section.
As soon as the baby boy was born, he was rushed to JB's room and was placed on his chest.
Within 20 minutes, the couple welcomed their son. According to Haley, she had faith that her husband would fight to stay alive until the baby came, and he did.
As soon as the baby boy was born, he was rushed to JB's room and was placed on his chest. Immediately, his vitals improved, and he acknowledged the baby.
JB went on to spend his last moments on earth with his child, drawing his last breath as he held his wife's hand with the newborn nestled on his chest.
Since they had not chosen a name, Haley decided to name her son John Beeson Parke (JB) in honor of her late husband. The proud mother also added that the infant was born weighing seven pounds and four ounces at 20 inches long. She tagged his birth as a miracle.
Haley also said if her husband were alive, he would have been proud of her. A GoFundMe page has since been set up to raise money to cover the expenses of JB's funeral.
Please fill in your e-mail so we can share with you our top stories!