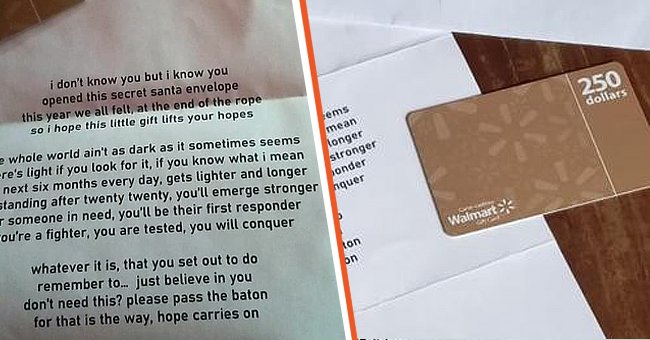 instagram.com/lishisawesome | facebook.com/christina.ignaciodeines
400 Families Receive $195 Gift Cards and Letters of Hope from a Secret Santa
An anonymous Saint Nicholas left envelopes containing a heartwarming poem on staying hopeful amidst the darkness and $195 (C$250) Walmart gift cards on 400 doorsteps in the Canadian city of Edmonton.
Ever since the global pandemic hit the world, our lives have been anything but easy. Enduring successive lockdown and quarantine regimes has been daunting, and believing in Santa's magic has been even more difficult.
But despite the mayhem, there's always something to be grateful for, for it's only in darkness that the light of hope shines the brightest. Fortunately, a Secret Santa reminded Canadian folks of the same holiday spirit.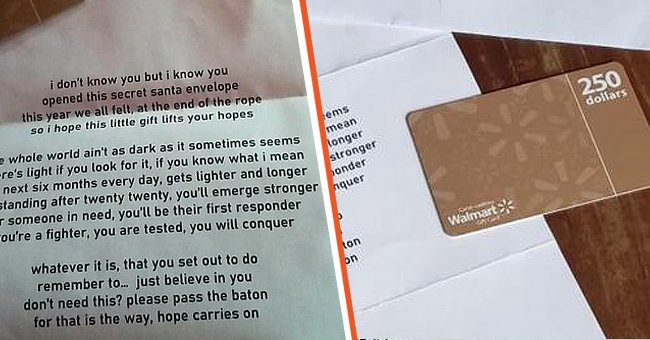 The heartwarming poem on hope, courtesy of Secret Santa. [Left] Secret Santa's $195 (C$250) Walmart gift card for the Edmonton neighborhood. | Photo: instagram.com/lishisawesome | facebook.com/christina.ignaciodeines
AN UNEXPECTED SURPRISE
On the morning of Christmas Eve 2020, people in west Edmonton were surprised to find an unexpected gift on their doorsteps. A secret gift-giver handed out approximately 400 envelopes just in time for the festive season.
The envelope came from a "Secret Santa" and contained an inspirational rhyme on championing hope during hard times. Also present was a $195 (C$250) Walmart gift card, cheering on the families to celebrate the holidays wholeheartedly.
If the generous benefactor aimed to make people believe in Santa, they succeeded. Amongst the many receivers of St. Nick's Christmas present was Elisha Tennant, who was awestruck when she picked up the letter from the steps of her Edmonton home.
ASTONISHED AND GRATEFUL
Tennant couldn't hold back her tears and shared that it was heartwarming and touching someone would do that for her. Like her, many others in west Edmonton and the adjoining North Glenora neighborhood received the same gift.
Meanwhile, people in the Edmonton neighborhood tried searching for their anonymous benefactor, checking cameras and information online.
Some receivers were so overwhelmed that they immediately spread the word through social media. Soon, people outside Canada became aware of Secret Santa's benevolence.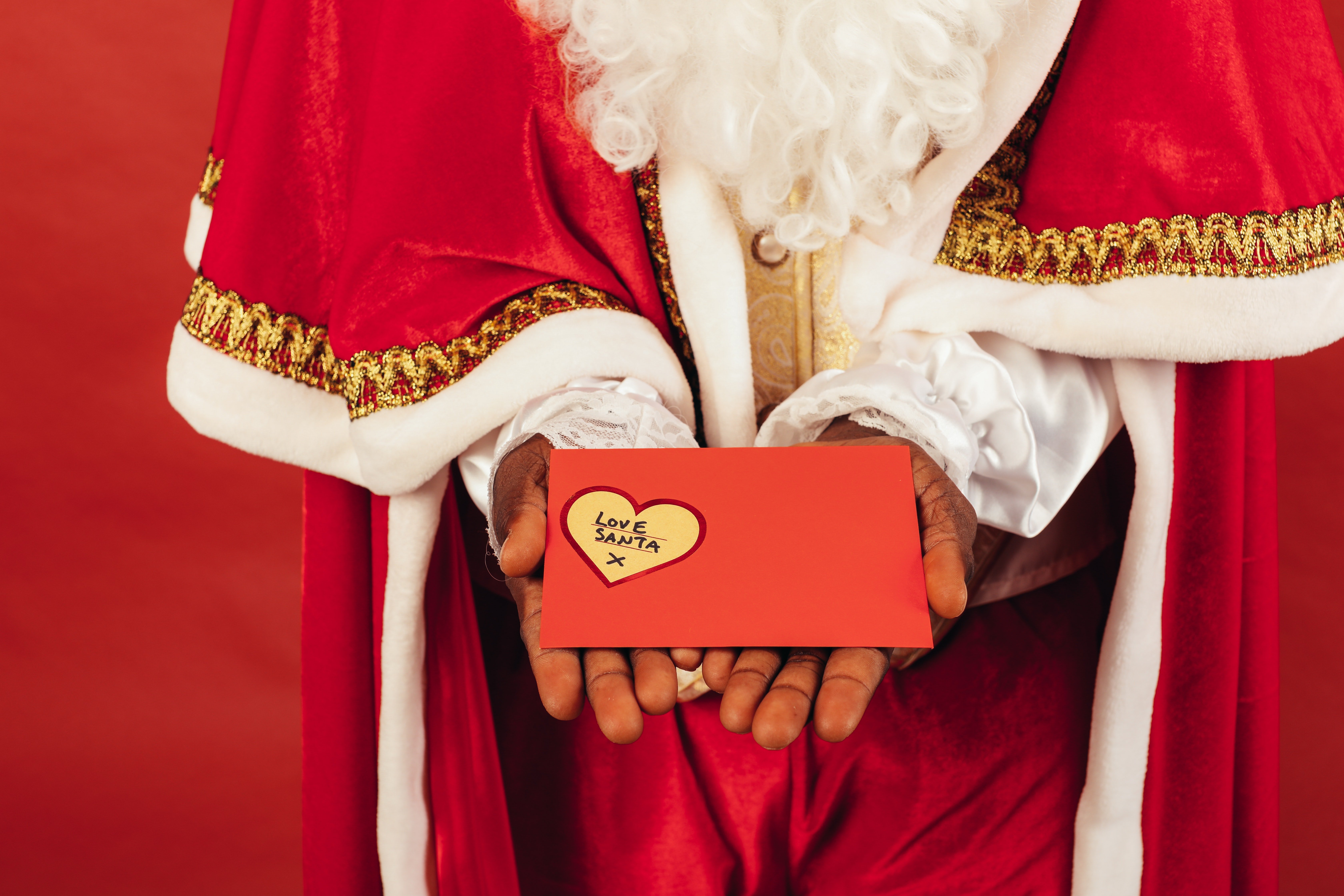 A person wearing Santa's outfit and holding a red envelope with a heart inscription on it. | Photo: Pexels
HOLDING ONTO HOPE
Fortunately for Tennant, who lost her job during the pandemic and had a mother on a fixed income, the surprise gift made a huge difference. She told CBC News:
"To have something like this, I mean, that's a month of groceries for us."
Secret Santa's three-paragraph long poem contained a positive message for the receivers, reminding them to keep looking for light and stay strong in difficult times.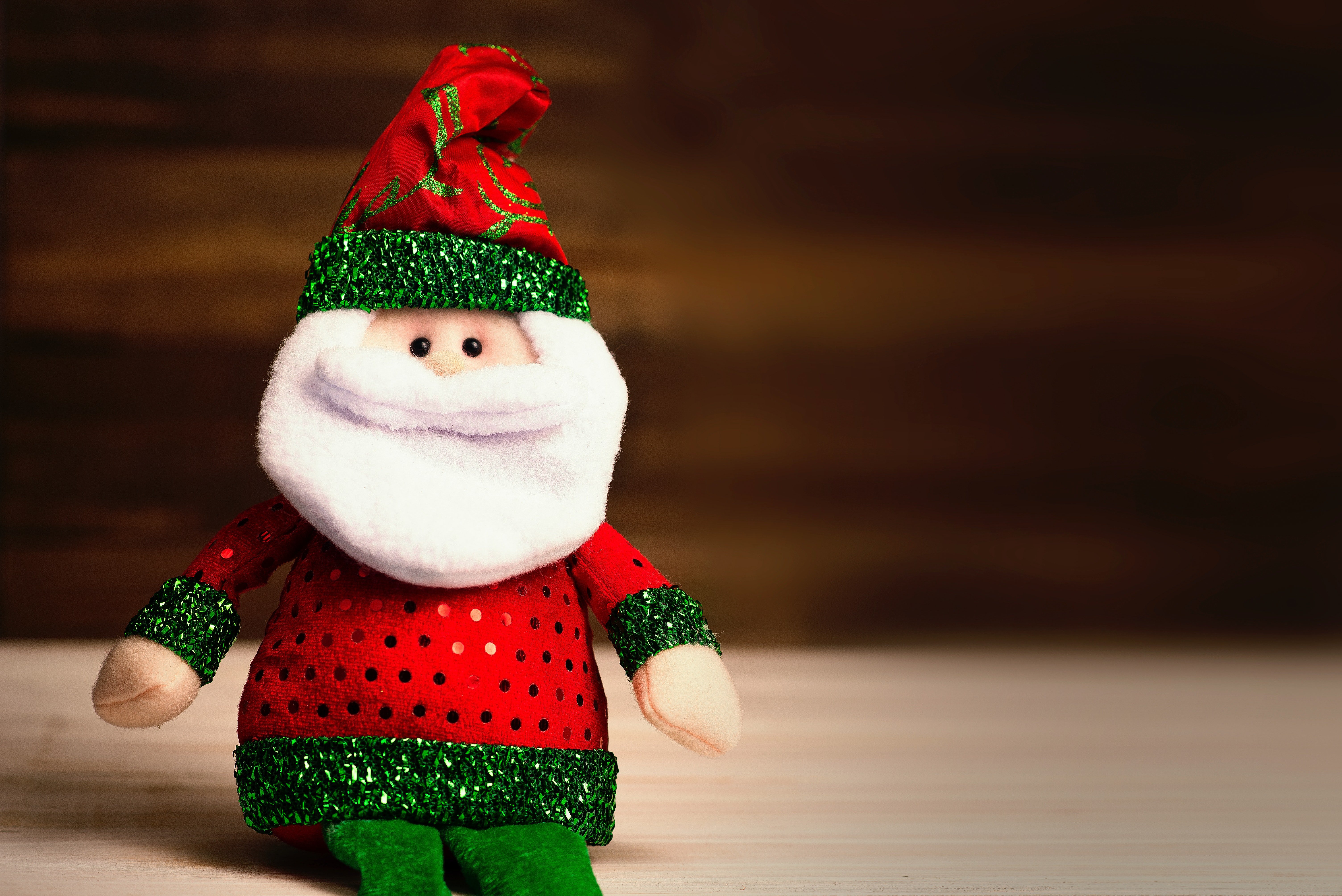 Santa Claus' plush toy. | Photo: Pexels
SHARING THE JOY
The inspirational rhyme encouraged its recipients to be fighters and first responders and pass on the goodness to those in need. It further read:
"Whatever it is that you set out to do, remember to just believe in you. Don't need this? Please pass the baton, for that is the way hope carries on."
Christina Ignacio-Deines, living in Edmonton's Alberta Avenue neighborhood, also received the anonymous letter. While she was out of work as an event planner, her husband's income supported the family, so she decided to "pass on the baton."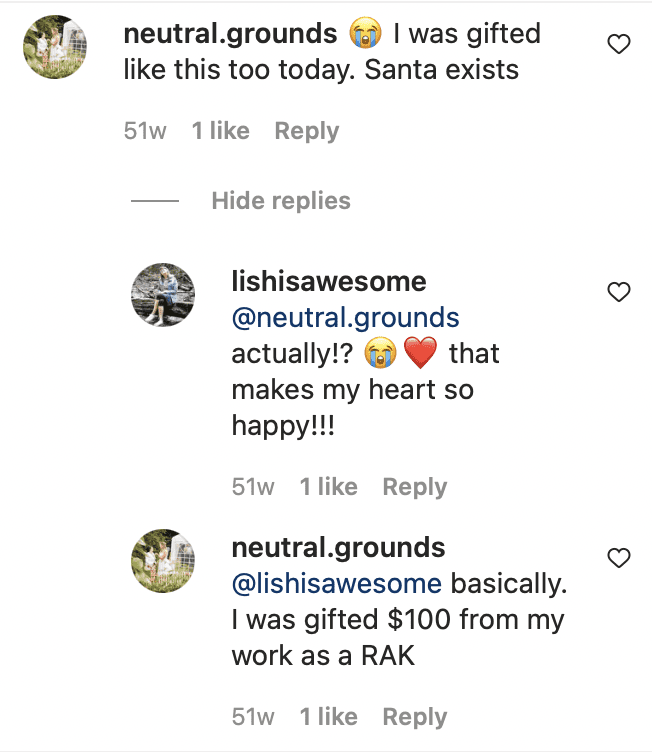 A user commented on Elisha Tennant's Instagram post about receiving an anonymous gift from Secret Santa. | Photo: instagram.com/lishisawesome/
THE SECRET BENEFACTOR
She left the gift card at the non-profit Bissell Centre, which helped people struggling with poverty. Ignacio-Deines was told her donation would be used to buy socks and undergarments for people at the shelter set up in Edmonton Convention Centre.
Meanwhile, people in the Edmonton neighborhood tried searching for their anonymous benefactor, checking cameras and information online. CBS News found the Secret Santa's email at the bottom of the letters and reached out.
Secret Santa replied and accepted sending 400 gift cards in the west and Alberta Avenue neighborhoods. But they chose to stay anonymous.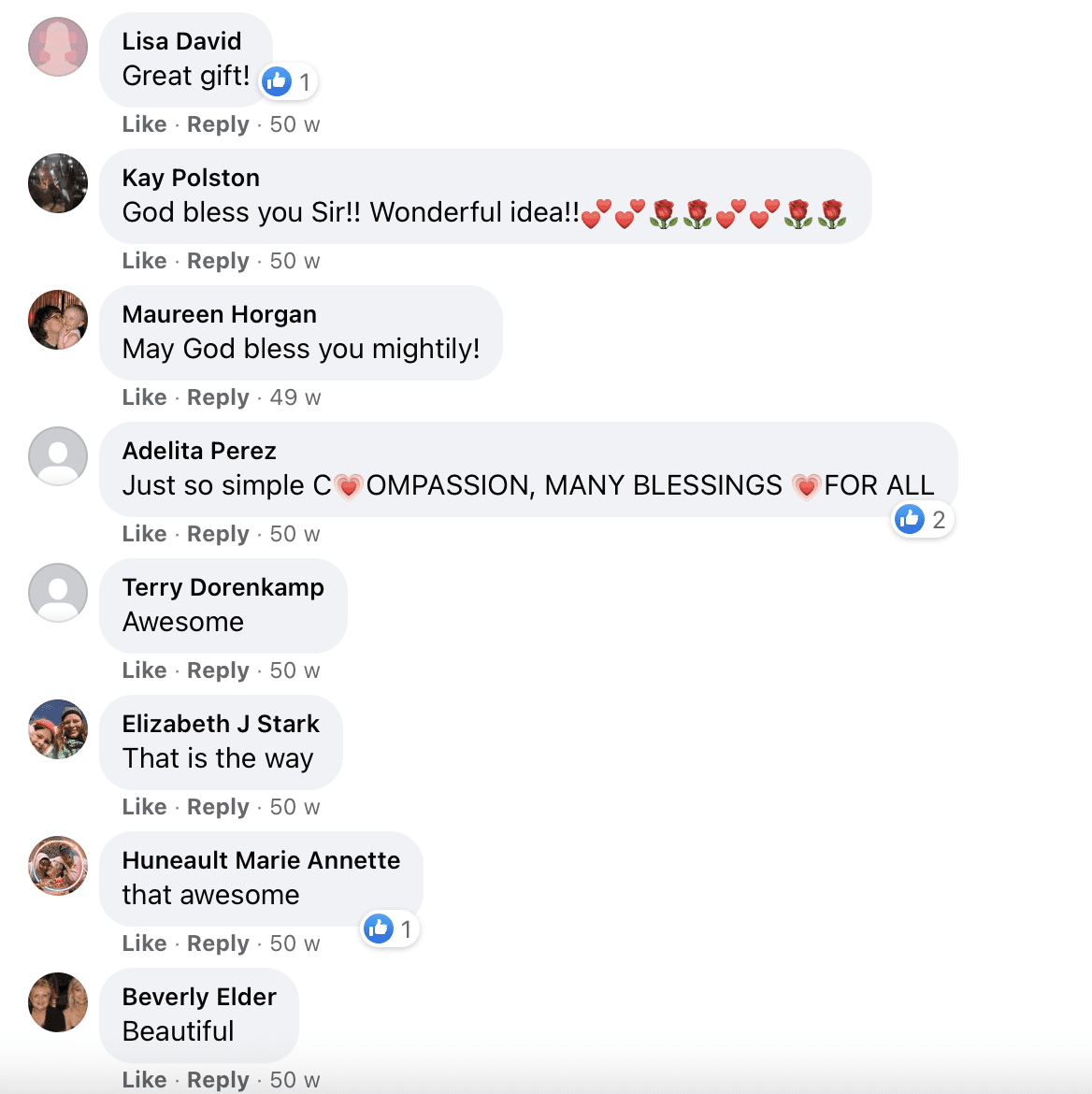 Netizens react to Secret Santa sending gift cards to Canadian folks in Edmonton. | Photo: facebook.com/thegoodnewsnetwork
THANK YOU, SECRET SANTA
The mysterious benefactor shared that they had the means to help people out, knowing the challenging year they had endured. Secret Santa also wrote:
"I hope the gifts gave people a sense that the world is good and there is a brighter future not far ahead."
Undoubtedly, we need more people like this big-hearted Secret Santa who make us believe in the real spirit of giving and sharing. We hope the light of hope continues to shine on amidst the darkness, now and forever. Merry Christmas!
Please fill in your e-mail so we can share with you our top stories!