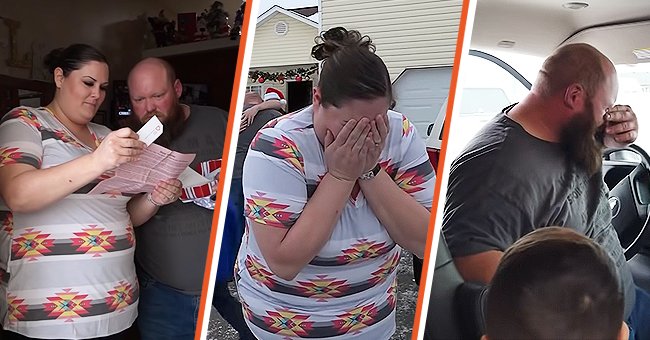 youtube.com/East Idaho News
Struggling Parents-Of-12 Moved to Tears as Stranger Gifts Them a New Van for Christmas
The parents of 12 children, many of whom were adopted, received a much-needed break when an anonymous donor called "Secret Santa" sent elves from a local news station to deliver them a brand new 15-seater van.
Who doesn't love Saint Nicholas? Growing up, we heard countless stories about a warm-hearted man clad in a bright red coat with a long, white beard going in his sleigh to surprise kids with heartwarming gifts.
While many of us have known Santa only through books and movies, there are places where he's busy spreading holidays cheer. Surprisingly, a native east Idahoan has been doing this and much more for the community for over six years.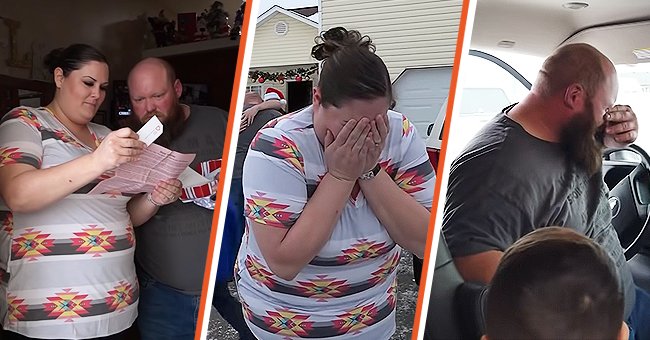 Misty and Ben read the $10,000 gift certificate. [Left] Misty breaks down upon seeing the new van. [Center] A teary-eyed Ben sitting in the driving seat. [Right] | Photo: YouTube.com/East Idaho News
THE ASHLEY FAMILY
Misty and Ben Ashley adore kids. They are parents to 12 children, ranging in ages from one to 17. Many of them are adopted, while the rest are in the process of getting adopted.
The struggling parents work diligently to provide for their children. Ben gets up around 4 am and doesn't return home until 10 pm. Misty works evening shifts and gets back around 1 am.
Despite their challenging routine, they never complain and always stay positive. They purchased a 15-seater van from the junkyard a few years ago. Sadly, it broke down and had been parked in their driveway for several months.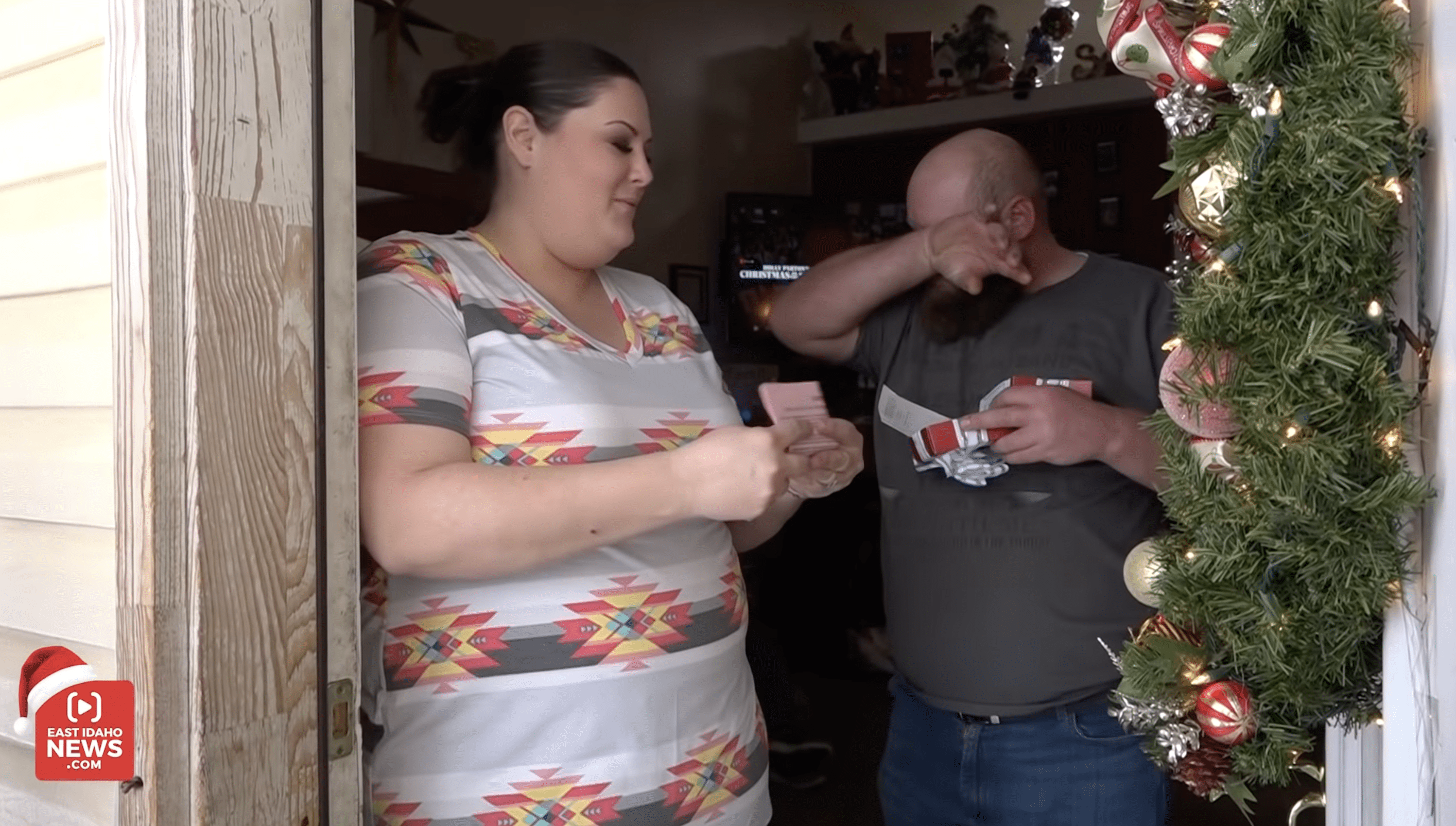 Misty and Ben became emotional after opening the box containing a $10,000 gift voucher. | Photo: YouTube.com/East Idaho News
SECRET SANTA
The Ashleys received a tranquil respite when a generous donor learned about their circumstances. Known as "Secret Santa," the anonymous donor is a real man who donates hundreds of thousands of dollars a year to help his community members.
As soon as mom Misty saw the huge white van, she put her hands on her mouth and cried tears of joy.
Secret Santa works in coordination with the East Idaho News media site and has been aiding his community since 2015. The news agency helps nominate recipients and deliver gifts on Santa's behalf.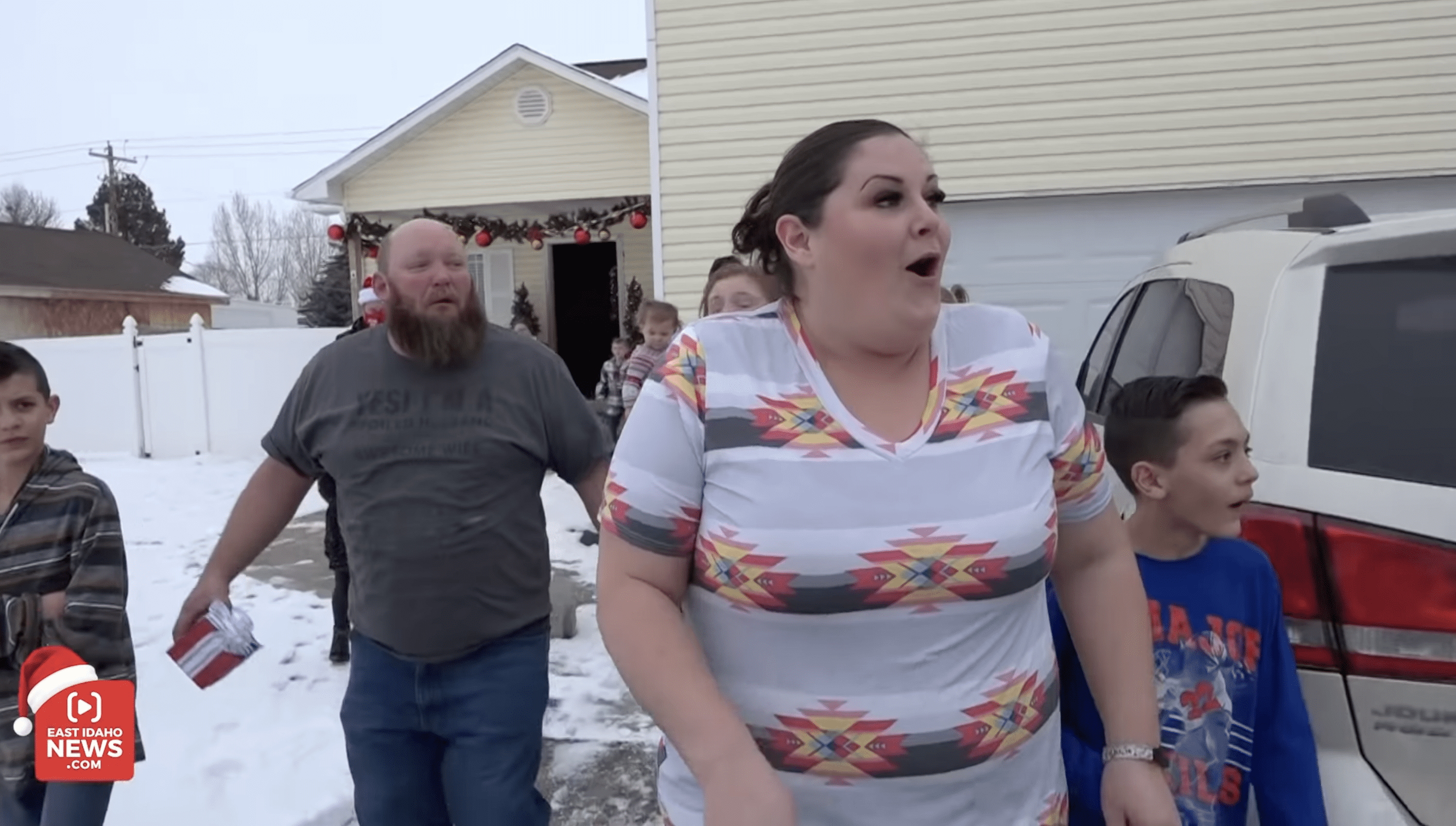 Misty and Ben were shocked to see a brand new van in their driveway. | Photo: YouTube.com/East Idaho News
SURPRISE, SURPRISE
For Christmas 2020, East Idaho News' reporter, Nate Eaton, presented the family with a brand new 15-seater van and a $10,000 gift certificate to buy furniture for their large brood. Before knocking on their door, Eaton announced:
"Secret Santa has a big gift for this next family and when I say big, I mean big (sic)."
When Misty and Ben answered the door, he handed them a gift voucher box, and the couple immediately became emotional. Eaton then asked them to wear their shoes and follow him in the driveway.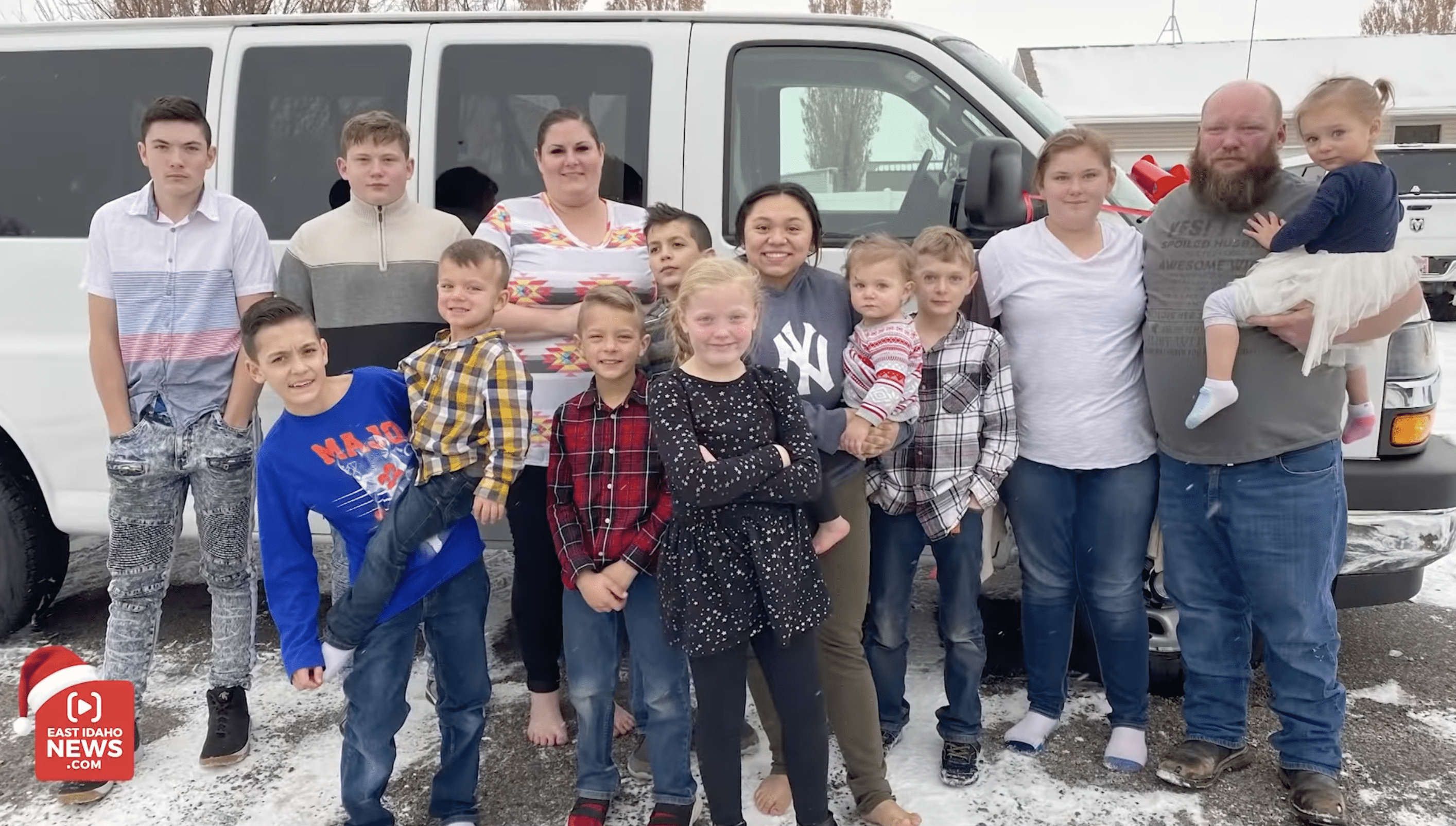 Ben and Misty Ashley with their 12 children. | Photo: YouTube.com/East Idaho News
HEARTWARMING REACTION
As soon as mom Misty saw the huge white van, she put her hands on her mouth and cried tears of joy. As Ben sat in the driving seat, he couldn't hold back his tears and wiped them with his t-shirt. The teary-eyed father uttered:
"Thank you."
Eaton told the Ashleys that they couldn't find a more deserving family. The kids climbed into the van excitedly, which perfectly fit the entire brood. Hopefully, the family would drive around and indulge in recreational activities.
Thanks to Secret Santa's generosity, the Ashleys finally heaved a sigh of relief and had a memorable festive season. If this heartwarming Christmas miracle story inspired you, don't forget to share it with your loved ones.
Please fill in your e-mail so we can share with you our top stories!