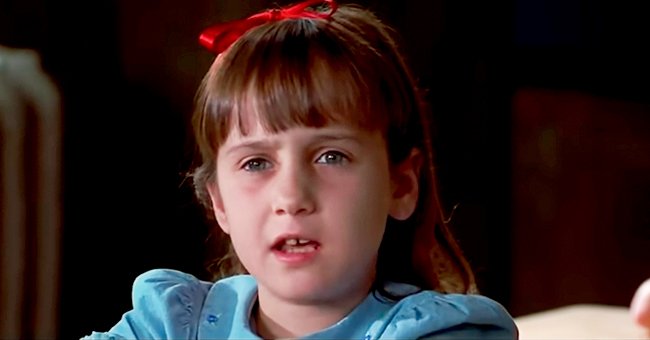 Youtube.com/Movieclips | Instagram.com/marawilson
'Matilda' Star Mara Wilson Was 8 & Already Famous When She Tried 'To Deal With It' When Her Mom Died
When Mara Wilson was just a child, she lost her mother to cancer and learned to process the grief. Luckily, she had her co-stars by her side, who gave her lots of support.
Mara Wilson was born to parents Mike and Suzie Wilson. The couple was why the actress got into the acting industry at a very young age, although there was some hesitance from her mother.
One of Mara's most famous roles that she is known for is in the film "Matilda." What some fans might not know about her is that she has a dual heritage.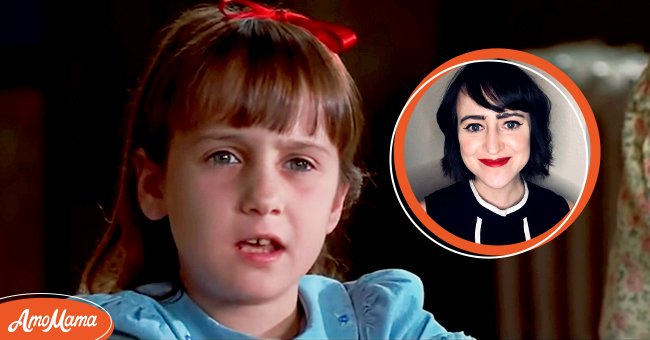 Mara Wilson acting in "Matilda" in 1996 in a clip shared on YouTube on April 21, 2017, and her grown up in an Instagram post on December 21, 2021 | Photos: YouTube/Movieclips & Instagram/marawilson
On May 27, 2012, an adult, Mara, took to her Twitter account where she revealed that she was half Jewish and a quarter Irish. She said she was raised in a Jewish-Irish family during a past appearance on "Running Late with Scott Rogowsky."
GETTING INTO ACTING
Born on July 24, 1987, in the San Fernando Valley, Mara was the second last child out of five children. Her oldest brother, Danny, successfully landed some small film parts and a few TV commercials as a child.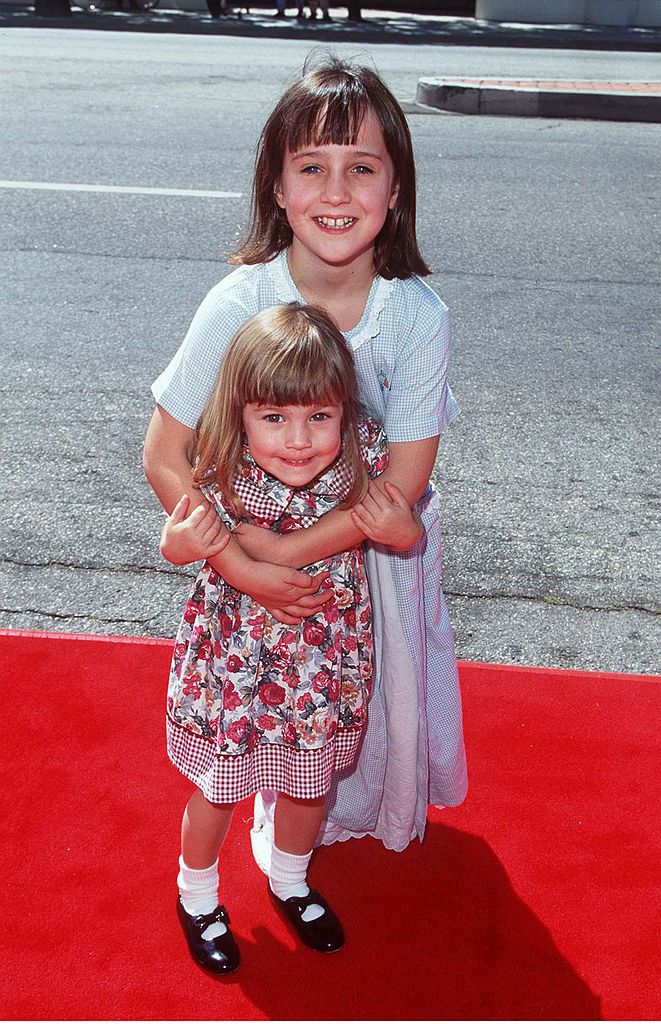 Mara and her younger sister Ana Wilson at the "Matilda" Los Angeles premiere on July 28, 1996 | Photo: SGranitz/WireImage/Getty Images
Danny was the one who inspired Mara to get into acting, but initially, her parents had told her she couldn't do it. They told their daughter that acting was more complicated than it looked, and she wouldn't always get the parts she auditioned for.
Mara was four at the time and was determined to follow in her brother's footsteps. Suzie decided to test the little girl's determination by putting her through a series of mock interviews before signing her up with an agent.
PROVING HERSELF
Suzie gave the older boys papers and pens and challenged her little daughter. Mara's brothers would praise her at the end of the interviews but informed her she hadn't gotten the job.
However, instead of giving up, Mara would turn to her mother and say it was okay before asking to try for another one. She started working in commercials before landing a recurring role on "Melrose Place."
SUZIE'S SUPPORT
Mara eventually landed a role on "Miracle on 34th Street," where she co-starred alongside Elizabeth Perkins. The actress shared that what made Mara such an excellent star was Suzie, who didn't fit in with other stage mothers.
SACRIFICES MADE FOR MARA
Perkins also noted how Suzie treated Mara like any one of her five children. Mara's parents not only made sure to get her to and from auditions, but they helped her with her acting career.
Even though she was a child actor, the star's parents made sure she went to college. Her mother served as her manager, and Bonnie Liedtke served as the young actress's agent for ten years.
Mara's parents made sure she remained normal and humble despite the fame. The money she made on film sets was put into a savings account that she couldn't access.
At one point, Mara was shopping for dorm room supplies at target and got into a fight with her father because she wanted to buy expensive items. She was also paying for her tuition, and Mike said:
"'Do you understand how much sacrifice it took on our part to get you those places?'"
THE REALITY OF MARA'S ACTING JOB
The "Mrs. Doubtfire" actress's father shared how they had to drive her everywhere and be on set because she wanted to act. He told her how that was work for them, and they never got paid and didn't want her money.
That conversation sobered Mara up, and that's when she realized that her parents had made a lot of sacrifices for her. The star's parents constantly tried to keep her from getting a big head.
THE TOILET INCIDENT
Liedtke recalled an incident on a Chicago set where Mara needed to go to the toilet. Staff reacted by radioing in two ADs to escort the actress, but her mother screamed at them that she was only going to the bathroom.
According to the actress's book, "Where Am I Now?" Suzie insisted that her daughter needed to be a normal child, and that was one lesson Mara held on to. Sadly, tragedy struck the family soon enough.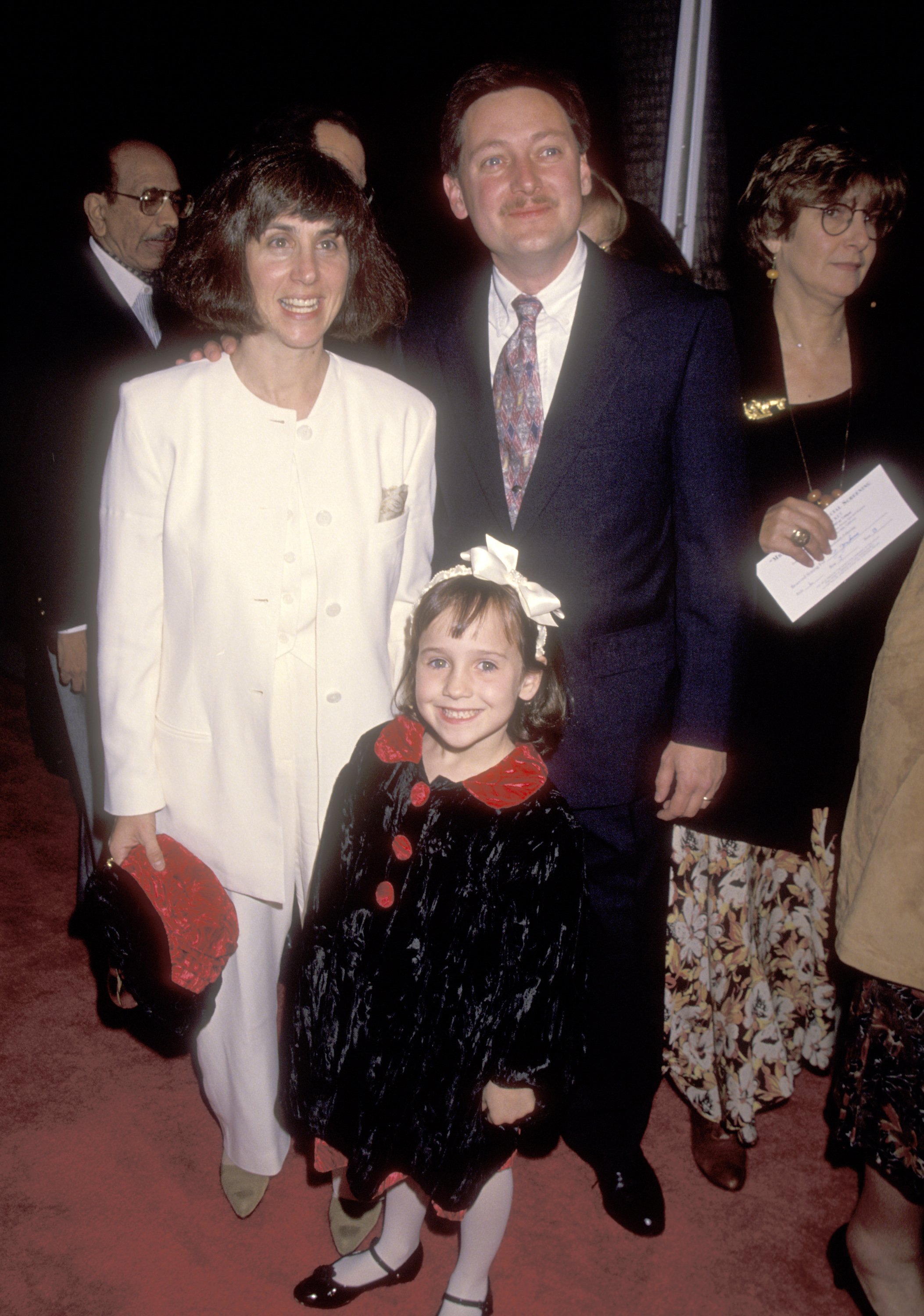 Suzie Shapiro, Michael Wilson, and Mara Wilson at the "Mrs. Doubtfire" Beverly Hills premiere on November 22, 1993, in Beverly Hills, California | Photo: Ron Galella, Ltd./Ron Galella Collection/Getty Images
SUZIE'S CANCER BATTLE
In February 1995, Suzie was taking a shower when she noticed a mass in her right breast. On March 10, 1995, she had a mammogram and a biopsy, which revealed that her lymph system, and probably more, was infected with cancer.
They ["Matilda" co-stars] would invite Mara [Wilson] over and take care of her to help get her mind off things when Suzie was sick.
That night, she and Mike gathered their children together in the living room and told them the bad news. Suzie later found Mara weeping in bed and had to console her.
The doctor's diagnosis wasn't good, but Suzie started undergoing treatments like intensive chemotherapy and a radical mastectomy. Mara continued going to shoots while her mother got treatment in hospitals.
The actress heard a crew member talking about a friend dying from the disease, and Mara defiantly declared that not everyone died of cancer! When Suzie battled the worst of the disease, Embeth Davidtz visited Mara, only to have her state:
"'I have this grief in front of me, and I don't know how I'm going to deal with it.'"
MARA'S MOM'S DEATH
Sadly, Mara lost her mother to cancer when she was just 8. However, she, fortunately, had the support of her "Matilda" co-stars and onscreen parents, Rhea Perlman and Danny DeVito.
While going through fame and the loss of her mother, the two actors lend their support. They would invite Mara over and take care of her to help get her mind off things when Suzie was sick.
Please fill in your e-mail so we can share with you our top stories!