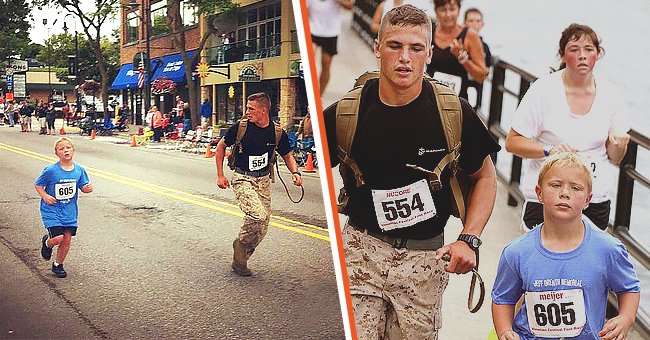 twitter.com/runmichigan | facebook.com/SEAL Of Honor
Marine Set to Win Marathon Slows Down When a Nine-Year-Old Boy Asks 'Will You Run With Me?'
They say the race is only for the swift, but a young marine proved that being the last on the team should not be a problem, especially when it involved slowing down to help a 9-year-old boy who needed encouragement.
Marine Lance Cpl. Myles Kerr upheld the tenets of his office after meeting a 9-year-old — as a marine, he is expected to assist and show compassion when necessary.
In 2013, the officer, 19, had engaged in the Jeff Drenth Memorial 5K in Charlevoix, Michigan, when he met a young chap named Boden Fuchs. The boy appealed to the uniformed man to run with him after feeling abandoned, and Kerr, who was trying to catch up, granted his wish.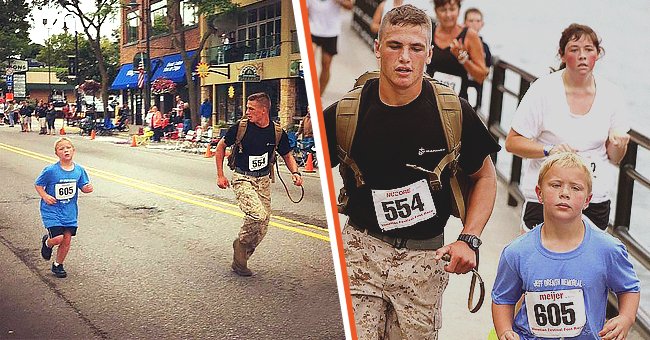 Marine Lance Cpl. Myles Kerr and Boden Fuchs. running the race together | Photo: twitter.com/runmichigan facebook.com/SEAL Of Honor
HOW THE MARINE MET BODEN FUCHS
Kerr had been left behind by his pals when he met the young runner who was ten years his junior. As the marine ran past him, he noticed the little guy walking and asked if he was okay. Fuchs, who had also been left behind, confided in the 19-year-old, asking the officer to run with him.
The young adult paired with the younger runner and convinced him to keep racing until they crossed the finish line. Kerr later located his running partner's family before they said their goodbyes.
THOUGHTS ABOUT THE MARINE'S ACTIONS
After seeing the 2013 photo shared by a close source to the marine, many internet users went crazy with their reactions. They could not get over the fact that a young man would take an interest in the boy while racing with his fellow mates.
The photo was shared on Facebook, and an overwhelming audience that ran into the thousands liked and commented on the post. The comments continued to drop as the years went by.
A glance at the comment section displayed comments from other Facebook users dated two years ago, still gushing over the young adult.
Fuchs's parents also admired the officer who teamed up with their son at the race. They showcased their gratitude by purchasing a $100 voucher for the officer at a local restaurant.
On the other side, Kerr did not think that what he did was worthy of attention. He added that when they got to the finish line, he thought it would be cool to take a photo with the young runner, so when his recruiter caught a shot of the boys in action and posted it, it was not to stir any frenzy.
While he was not expecting the overnight celebrity status, the young man was thankful that he was recognized. Days later, he returned to his base to serve his country.
Please fill in your e-mail so we can share with you our top stories!