Instagram.com/valerykaufman | Instagram.com/jaredleto
Jared Leto & Valery Kaufman Started off as Friends - They Have Reportedly Been Dating 'Off and On' for Years
Jared Leto has often chosen to keep his private life away from the prying public eye, but reports say that he is dating his on and off girlfriend of many years, Valery Kaufman.
For years, the frontman for "Thirty Seconds To Mars" Jared Leto has been rumored to have been dating the runway model.
In recent years, they have grown closer, even been romantically involved. But theirs started as a friendship that has overcome the test of time.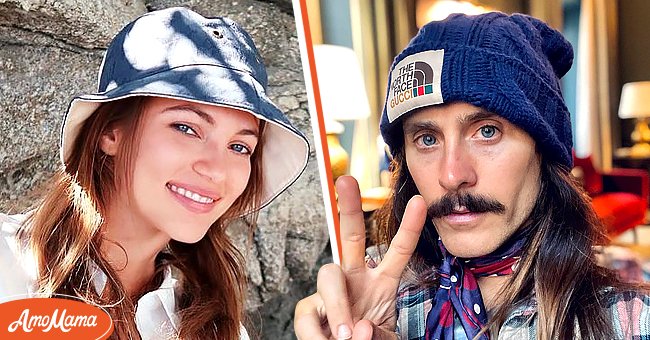 Left: Model Valery Kaufman | Instagram.com/valerykaufman. Right: Actor Jared Leto | Photo: Instagram.com/jaredleto
The two have been spotted together from as far back as 2015. A source disclosed that the two never hung out alone at the time. Valery and Leto often preferred to hang out in the company of others and never went on solo dates.
Things have, however, taken a different path, and the two are spending more time together. The two are said to be going strong, and in 2020, they were pictured rock climbing, putting any doubts on their romance to rest.
Reports say that the "Suicide Squad" star has introduced Kaufman to his mother, Constance Leto, and the two hung out last year.
MEET VALERY KAUFMAN
Kaufman is not only big on social media. The model who has amassed a following of over 488,000 fans on Instagram is a model who began her career in modeling years ago as a child.
Initially, the beauty, who is Russian, thought she would be going into acting but says she started sending out her pictures to modeling agencies.
Ford was the first agency to contact her, but she later moved to "The Society." As of today, Kaufman holds the title of one of the top models in the industry.
She is signed with big agencies such as Modus Model Management, Select Model Management London, Elite Paris, and The Lions New York.
To add to her already impressive résumé, Kaufman has also walked the Victoria Secrets Fashion Show in Paris and even attended the Cannes Film Festival.
LETO TURNS 50
And now, fans are hoping that she will take another step and make her relationship with Leto official. The two, who are 24 years apart, seem to be headed in the right direction.
But more than their relationship taking a turn for the better, Leto celebrated another milestone in his life. Unbelievable as it may look, the actor turned 50! Sharing the news on his Instagram, the "Fight Club" actor posted a photo of himself shirtless.
In the post, the "Dallas Buyers Club" actor held on to a plate with a slice of rainbow cake on it and thanked his millions of followers for the beautiful birthday messages.
Please fill in your e-mail so we can share with you our top stories!