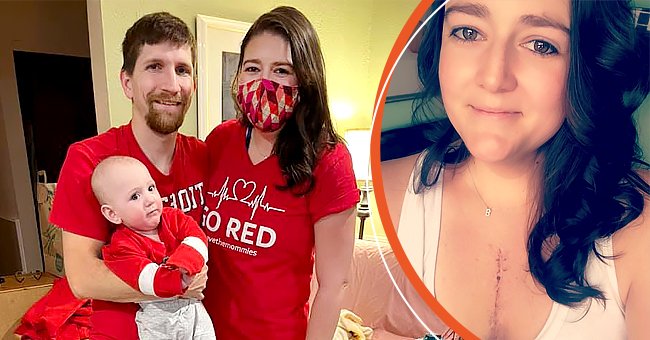 instagram.com/newheart_secondchance facebook.com/nfsnook
'The Gift of Life': Mom Writes Powerful Letter to Secret Donor after Life-Saving Heart Transplant
This Christmas was an emotional one for a Michigan lady who penned a heart-melting note of gratitude on the first anniversary of the day a heart donor saved her life.
Not all heroes wear capes, and Michigan mom Nicolette Somers will totally agree. She got first-hand experience when a major organ donor saved her life and helped her return home to her new baby.
A few days before Christmas in 2020, Nicolette was close to losing her life. At the time, she recently became a mom-of-one, and three months into motherhood, doctors discovered an abnormality.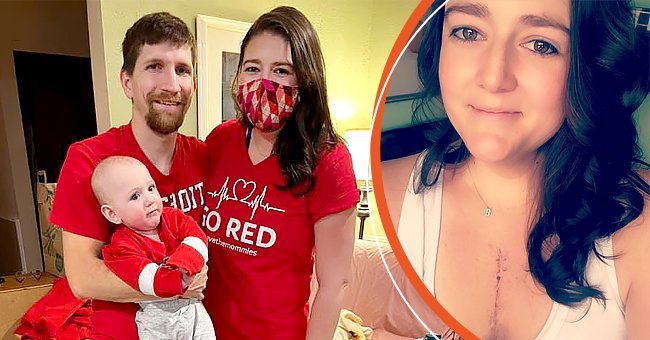 Nicolette Somers takes a picture with her husband and child [left] Nicolette Somers in a selfie | Photo: instagram.com/newheart_secondchance facebook.com/nfsnook
The 30-year-old was diagnosed with peripartum cardiomyopathy (PPCM.). This is considered a rare form of heart failure that happens during pregnancy. Nicolette had to stay at the hospital and missed her son's Christmas.
Doctors also told her that it could take 11 months before a heart donor could be found. However, there was a miracle just nine days into the donor search. Nicolette was told about an organ donor, and in the next few days, she underwent surgery and survived the would-be long wait.
The heart beneficiary never met her donor, but she has shown that she would continue to be grateful for the "gift of life." This Christmas, Nicolette remembered her donor and penned the most soul-stirring open letter to them. She addressed the letter:
"Last Christmas, I was given the ultimate gift - the gift of life. Without it, I wouldn't be able to watch my son grow up. I will be forever grateful for the selfless act of my donor and their family…."
Nicolette described it as her "Christmas miracle" while adding that she was often in awe of how she received the gift of life. She described ger donor as a selfless person who gave "the greatest gift anyone could give."
She addressed the letter in the second person narrative, noting that her donor helped her remain in her young son's life when her own heart gave out. Nicolette wrote that she would tell her son the story of how a stranger saved her life.
The pleasant letter went on as Nicolette penned that her hero was in her thoughts daily, and she hoped she was making them proud. She added that she was using her second chance in life to spread awareness on PPCM.
Besides publicly expressing her feelings, Nicolette can't stop thinking about the donor's family and wishes to meet them someday. She doesn't know any details about the individual except that they passed a few hours before the transplant.
The genesis of Nicolette's heart complication was after she had her son and experienced swelling in her face and legs. She noted that it got worse, and with time, she could not breathe properly anymore.
Her health issues saw her go in and out of the ER a few times until it was clear that she needed to undergo a transplant. These days, Nicollete is glad she has her life back.
For her first Christmas as a family woman, she and her loved ones went all out, decorating their house and their tree way back in November because, for them, Christmas held a whole new meaning.
Please fill in your e-mail so we can share with you our top stories!