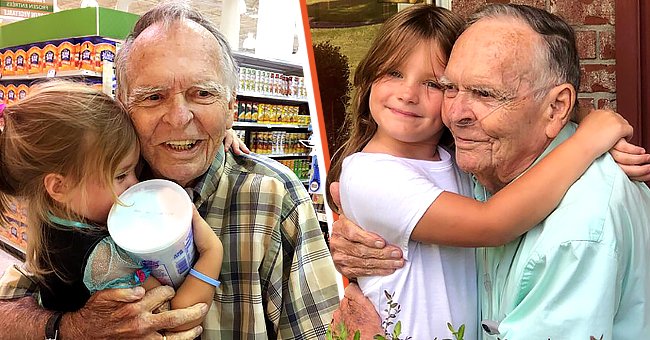 facebook.com/WhatTaraWoodDo twitter.com/KMOV
4-Year-Old Girl Asks Elderly Widower at Grocery Store for a Hug, Saves Him from Loneliness
From love stories to songs about heartbreak, we all define soulmates in a romantic capacity. However, some of the most beautiful bonds can be found through friendships, especially those we never expected.
With the pandemic and our collective lockdown, we all know what it feels like, at least to some extent, to experience loneliness.
More than that, we understand what a relief it can be when that loneliness is finally or temporarily soothed. This solace can manifest through something as simple as a quick hug or a socially distanced coffee with a friend.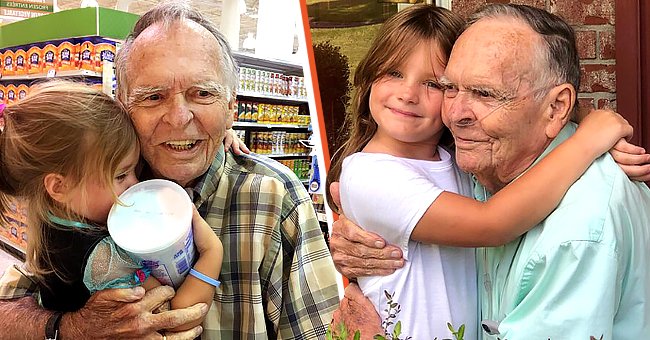 Norah and Dan Peterson [left]; Norah and Dan Peterson [right].│Source: facebook.com/WhatTaraWoodDo twitter.com/KMOV
A LIFE OF MISERY
In 2016, this isolation is precisely what one lonesome elderly man, Dan Peterson, was already and deeply familiar with.
In a bittersweet way, she was right.
His wife had passed away, leading him into a severe depression. However, one day in a grocery store, this all changed.
A TWINKLE OF HOPE
He was in the store when an adorable little girl named Norah, whom he had never met, asked him for a hug. The two took a photo together as he teared up. The then-4-year-old's mother, Tara Wood, said:
"And so they posed together, and then they hugged each other like they were long lost friends."
The two eventually did become actual companions when the mom learned about "Mr. Dan" and the fact that he had lost his spouse. He referred to the little girl and his new best friend as a "light that just lit me up."
KINDRED SPIRITS
Although many believed the friendship would be short-lived, the duo remained bonded with long hello and goodbye hugs -- a signature of their companionship. Speaking about the first day they all spent together, Wood recollected:
"He and Norah chatted like they had known each other forever...it was just like the most natural thing in the world."
You May Also Like: Kids Use Ring Video Doorbell to Send Touching Messages to Their Military Dad Who Is Far from Home
From birthdays to weekly visits, The mother expressed that she believed he would be part of their family and that they would all remain connected until his dying day. In a bittersweet way, she was right.
ONE LAST EMBRACE
Mr. Dan passed away in 2020, having hugged his best friend Norah for the last time the day before. Almost prophetically, Wood had spoken about their hugs prior to his death, saying:
"It was the first thing she did when we walked in. It was the last thing she did when we left."
In this case, of course, the widower was the one who left, leaving behind an enchanting and unique companionship as if something out of a storybook.
Please fill in your e-mail so we can share with you our top stories!