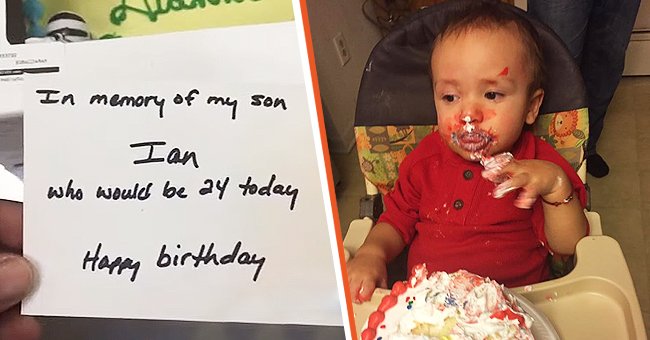 facebook.com/erica.withers.1 | youtube.com/WXII 12 News
Stranger Buys Little Boy a Birthday Cake and His Mother Finds a Note Inside
In 2020, a mom of four was overcome by emotions after she opened her son's birthday cake and realized that a stranger had paid for it. Here's why the cake was paid for.
Kindness is said to be a language that even the deaf understands. A woman's kind act quickly made her a local hero after paying for a little boy's birthday cake in honor of her son, who had passed on.
Losing a child is a dreadful experience for any parent. While some feel helpless about their grief, others are inspired to perform an act of generosity to others in honor of their loved ones.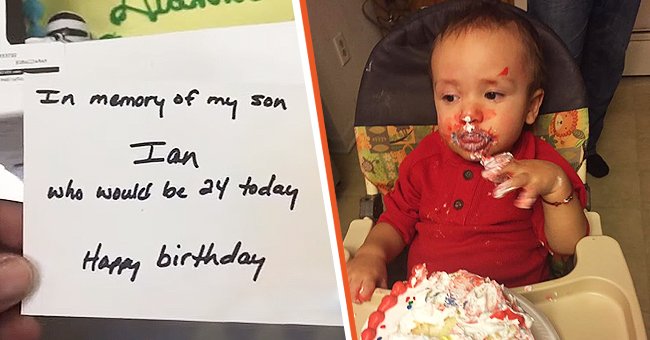 A photo of the anonymous birthday note [left] The birthday boy with birthday frosting on his face [right] | Photo: facebook.com/erica.withers.1 youtube.com/WXII 12 News
Erica Withers met the surprise of her life after asking her fiance to get her son's birthday cake. She never imagined that an incredible story of kindness that would leave her speechless awaited her.
A TOUCHING SURPRISE
When she got the cake, she realized that a stranger had paid for it. The best part of the story was that the stranger left a touching note that read, "In memory of my son Ian who would be 24 today. Happy Birthday."
Withers, who had four sons and was marking the first birthday of her youngest son, was moved to tears so much that she went in search of this mystery person.
Speaking to WXII 12 News, the mom of four said, "All I could think of is 'Wow, she is strong. She's going around on her son's birthday on a day that should be very difficult for her, and she's going around the city spreading joy, making people happy.'"
KINDNESS STILL EXISTS
Withers continued to applaud the stranger on her kindness, saying she respected her for having the courage to be kind despite her grief. The good samaritan not only paid for the boy's safari birthday cake but also his smash cake, leaving his family stunned.
The stranger left other families in awe of her goodwill as she also paid for three more cakes at that bakery, as well as a family's birthday cupcakes in Lewisville.
Withers believed that the event was a lesson to remind her that despite the bad things going on around her, they were still amazing people in the world who cared deeply about others.
ANOTHER TALE OF LOVE
Like Withers, Carolyn Mick was also pleasantly surprised last year when she ordered a cake from her neighborhood grocery store for her fiftieth birthday. She then discovered that someone had paid for her cake when she went to the store to pick it up.
Mick assumed it was a misunderstanding. However, the cashier informed her that the birthday cake had been paid for and then handed her a note from an unknown person.

A netizen's comment on Carolyn's Facebook post. | Photo: Facebook/Carolyn P Mick
The lady who only identified herself as Tyler's mom noted that it would have been her son's 35th birthday, but it was his fifth in heaven, meaning it had been five years since he passed on. She then wished Mick a ton of good memories to last a lifetime.
Mick took to Facebook to thank the kind individual for the generosity, and other members from the community group were moved by the story. Some indicated that they knew who the stranger was.
The stranger was later identified as Toni, who some said lost her son when he was 29 years old. The story, much like Withers', served as a reminder that kindness is always an act everyone needs.
Please fill in your e-mail so we can share with you our top stories!