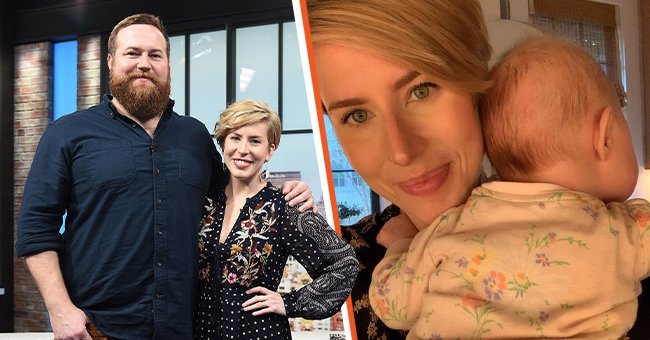 Ben and Erin Napier | Erin Napier with one of her daughters | Source: Getty Images | Instagram.com/erinapier
Ben and Erin Napier Are Doting Parents to 2 Daughters — Meet Their Adorable Children
Erin and Ben Napier's love story is something straight out of a storybook. The two who star on the HGTV's "Home Town" met in college, and their timid love culminated into much more, including a family and a hit show.
The Laurel residents were Jones County Junior College students when they met. Erin was a shy yet artistic girl and was the school yearbook editor. On the other hand, Ben was the goofy and friendly guy that the yearbook would write about.
They had both noticed each other and had mutual crushes, but it was the yearbook photo that finally brought them together. Within days of knowing each other, the duo became inseparable. They both felt they had found "the one."
Three years into their relationship, Erin was at the bookstore when her friend handed her a leather-bound book, insisting that she read it. The book in question was about college sweethearts, and the more she perused the pages, the more the story related to her life.
She soon realized the story was her own, and Ben was the mystery writer. The last page asked her to go upstairs if she wanted to know how the story unfolded. And upstairs she went.
Shaking from the excitement, Erin found Ben, who went down on his knee and asked for her hand in marriage as a friend recorded the unique proposal on camera. In November 2008, the two exchanged vows and have been together ever since.
PARENTS TO TWO BEAUTIFUL GIRLS
The couple, whose show chronicles them as they strive to draw attention to their hometown, Laurel, does not only host the second highest-rated series premiere in network history, they are parents to two beautiful girls.
They welcomed their first child, Helen, in 2018. Announcing the news on her Instagram, Erin shared that Helen had arrived two weeks early. However, since she came into their lives, she has been a source of joy for the two.
As a toddler with artistic parents, Helen appeared to have adopted her parents' talents and often featured on her parents' show, either painting or helping out in the background as her parents work.
When she's not painting like a pro, she loves to dance with her family. Despite the love the family has received over the years from viewers, they are not immune to internet trolls. Erin had to take dire action after followers made fun of her daughter.
The reality star deleted Instagram photos of her daughter after some followers began posting cruel comments about Helen's hair. Vexed, Erin told off the bullies, writing:
"If you feel you may be a person capable of communicating this way, please see yourself away from my account, or I'll be glad to help you do that. 😘"
As if the trolling was not enough for little Helen, the little girl broke her foot in a frightening accident in January 2021. According to Erin, the doctors had to rebreak then reset the little girl's legs.
She posted a photo of Helen's leg in an entire cast, noting how a fun day at the park had turned into a freak accident. However, she added that they'd returned home, and Helen felt much better.
In addition to their already cute family, Erin and Ben welcomed their second baby, Mae, in May 2021. The happy couple shared that their daughter was born weighing 7 pounds, 1 ounce, and was 19.5 inches long.
They also shared beautiful monograms of the little girl wrapped in a blanket, adding that Helen was already excited about being a big sister and even had her nails done for the occasion.
And while the couple was excited to welcome their little girl, they also looked forward to seeing the relationship and bond that their two girls would have, adding that the sisters were already in love with each other.
Erin posted a photo of herself bottle-feeding her infant to keep her fans updated on her daughter's milestones. She disclosed that she could not breastfeed but added that her daughter had maintained a healthy weight.
She gave a shout-out to other mothers in her position, asking them not to listen to any criticism about how they chose to feed their babies. She wrote:
"Just a little encouragement for you mamas who weren't able to breastfeed, like me. Don't let anyone make you feel less than or belittled because of it."
STAYING AWAY FROM THE INTERNET
The "Home Town Takeover" star kept her fans updated on the girls' milestones, but the parents never show their children's faces on social media as a rule of thumb.
Because internet bullies already tried to criticize Helen, Erin and her husband feel strongly about protecting their daughter's image. When commenters asked her why she often hid her daughter's face, she said it was their personal choice whether or not to show their daughter's face.
She said Helen's image and privacy were theirs to protect, and they were the only people that would decide when to share pictures of their daughter. The star also disclosed that she always had a complicated relationship with social media.
In 2020, she announced to her fans that she would take a break from social media to focus on her mental health. She wrote that the more she learned about social media, the more scared she got. Earlier that year, she turned off the comment section.
"The more I learn about social media, the more it frightens me, so I'm going to make an effort to spend less time here. People weren't built to know the opinions of thousands or even hundreds of their "friends." The real world is a much nicer place, honestly." She wrote.
Ben, a woodworker, and Erin, a graphic designer by trade, continue to charm their little town of Laurel as they continue reviving historic houses and bring up their little family, away from the prying eye of social media.
Please fill in your e-mail so we can share with you our top stories!