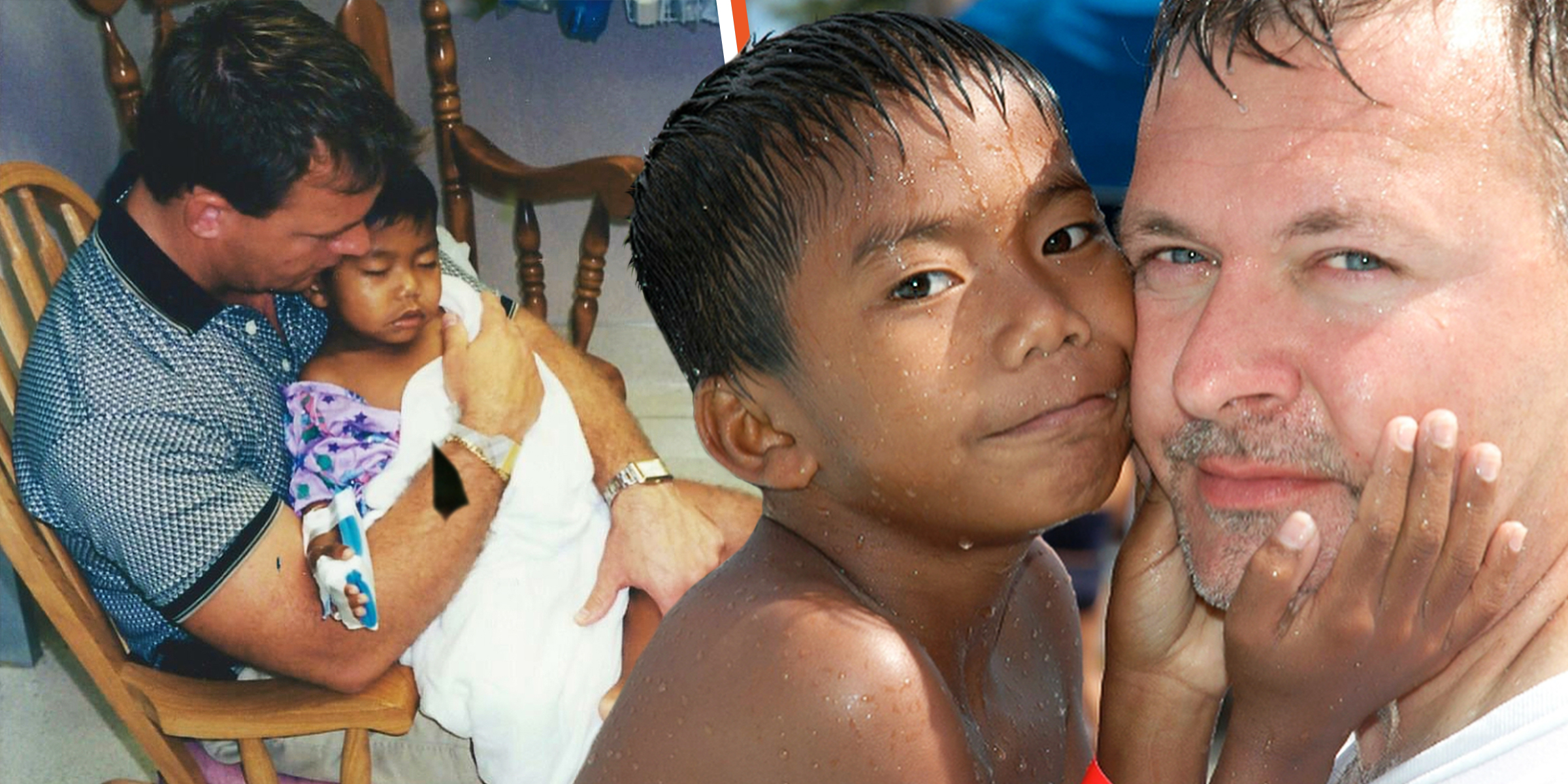 Jerry Windle and Jordan Windle, 2000 | Jordan Windle and Jerry Windle, 2018 | Source: Instagram.com/jordanpiseywindle
Single Dad Adopts Sick and Starving Boy — He Becomes an Olympian 21 Years Later
Jerry Windle simply wanted to raise a child, even though he was a single gay man. When he adopted Jordan in Cambodia, he had no idea that his son would become a global inspiration.
About two decades ago, Jerry Windle was a single man in his mid-30s whose life had been going through turmoil. His mother had passed away, so he decided to make a career change and move to Florida from California.
He had wanted to become a father for many years. He had been trying to adopt a child, but the opportunities to adopt, especially as a single, gay man, were very few. He casually browsed through a magazine article while waiting at the doctor's office in Florida, changing his life forever.
Despite the difficulties he had experienced trying to adopt, the magazine article describing another single gay man's Cambodia adoption story reignited lost hope.
Jerry's Journey to Fatherhood
Jerry quickly contacted a Cambodian orphanage, and an agency sent through a picture of a little boy named Pisey, which meant "little darling" in Cambodian. The hopeful man knew that little child would be his son.
He sent back a photo of himself and a necklace asking for them to be forwarded to the child. Jerry requested that the agency explain to the boy that he is his father and would come through to take him home.
Months later, the single man arrived in the country to begin his journey to fatherhood. He met baby Pisey and called him Jordan, and they fell in love immediately. Jordan was a sickly two-year-old who weighed only 16 pounds.
Jerry wasn't even sure how long the baby would survive. "I promised him that I would do everything that I could, that he wouldn't ever have to suffer again. I would make every sacrifice I could as a parent to get him every opportunity," said Jerry.
Five months after Jerry started his adoption process, in June 2000, he was finally able to bring his son back to Fort Lauderdale, Florida. Little did he know that he'd taken in a future athlete.
Jordan's Incredible Diving Skills
When Jordan turned seven, he developed a love for diving. While at an aquatics summer camp, the little boy was allowed to jump off a diving board, and the next time his father left him there, the man who ran the event told Jerry he had to get his son into the sport.
The camp orchestrator envisioned that Jordan could become a national champion and maybe even an Olympian. Jerry allowed his son to follow this new passion and signed him up for lessons at an aquatics summer camp.
Sadly, Jerry could not watch his son compete due to COVID-19 restrictions. But that did not get Jordan down.
Just two years later, he won his first junior national championship — a rare feat that further cemented his passion for diving. Jordan worked consistently to hone his diving skills. When he turned 16, he revisited his birth nation, Cambodia, to participate in a diving exhibition.
He even spoke with some of the children he inspired with his skills and life story. "Being able to speak to them, through a translator, and share where I came from in my life and how I was able to become who I am today because of my dad was awesome," said the adopted boy.
The Journey to the Olympic Stage
Six years after the life-affirming experience of traveling back to Cambodia, Jordan proudly represented The United States of America at the Tokyo 2020 Olympics. He fulfilled his camp leader's vision by becoming an Olympian diver 21 years later.
The young man promised to represent Cambodia in his heart and even had his birth country's flag tattooed on his arm, and he could not wait to show it off. Jordan previously competed twice at the Olympic trials but failed to qualify. On his third try, he placed second in the 10-meter platform dive earning him a spot in Tokyo.
Jordan wanted to use this opportunity to inspire people. He said, "[There'll be] a lot of people, a lot more eyes on me, but if anything, it just makes me excited to be able to perform at my best and show that all this hard work can hopefully pay off."
Sadly, Jerry could not watch his son compete due to COVID-19 restrictions. But that did not get Jordan down. His plans to enjoy the Olympics remained intact, with him saying:
"I wish he was there, but that doesn't really change what I'm going there to do: To have fun, show off a little bit, and put on a show for everyone. That's going to be my intention, and I'm hopefully going to make him proud."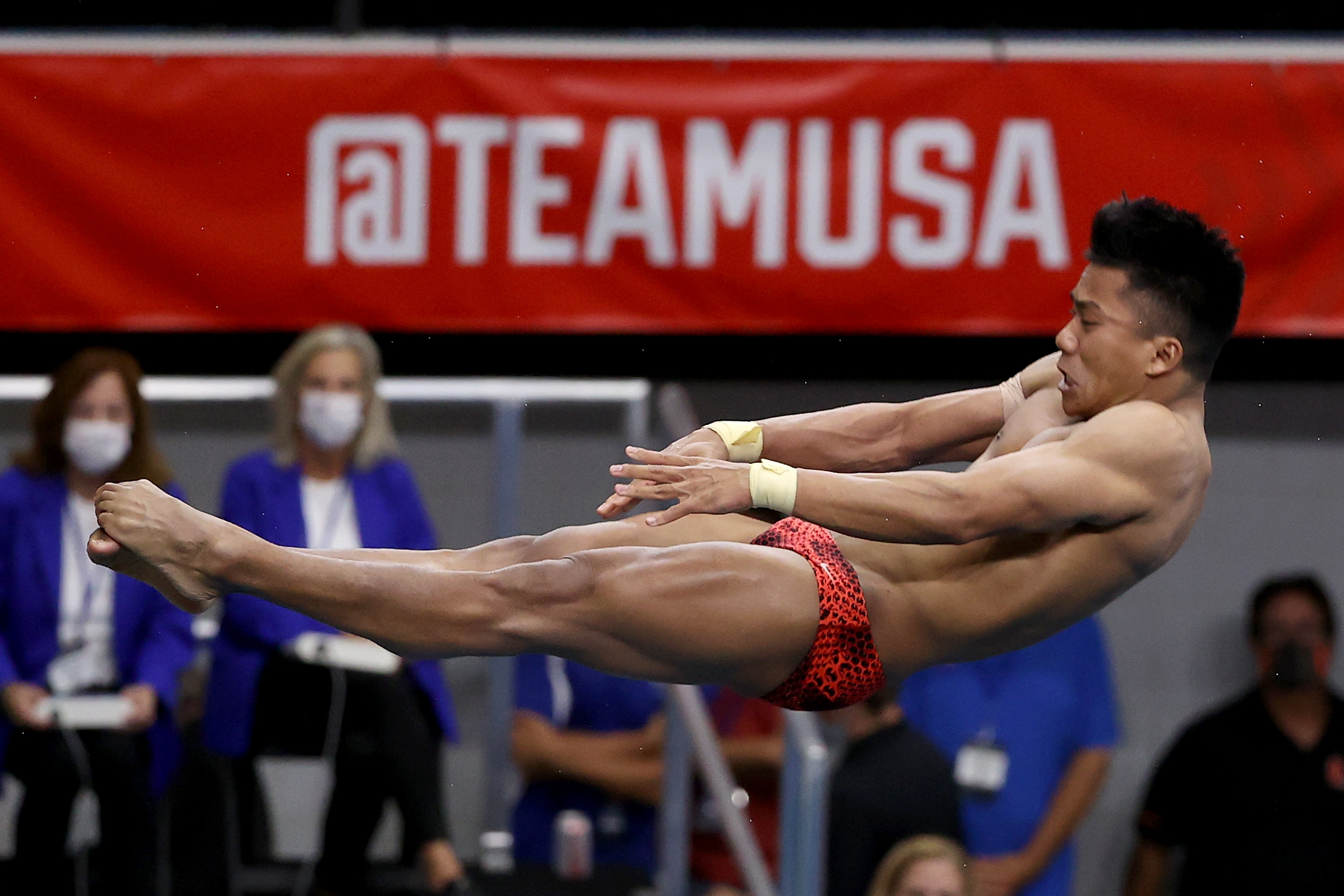 Jordan Windle competes in the men's 10-meter platform final during the US Olympic Trials on June 12, 2021, in Indianapolis, Indiana | Source: Getty Images
Jerry's son also vowed to think of him while competing. When asked why he dove, Jordan revealed that it is "purely" for his father because he knew how much the parent loves watching him perform.
The man's son thought if his father hadn't made the sacrifices he did and shown love and support, he wouldn't be where he is. The Olympic competitor thanked Jerry for all his accomplishments and said the journey he's been on with his father is incredible and ongoing.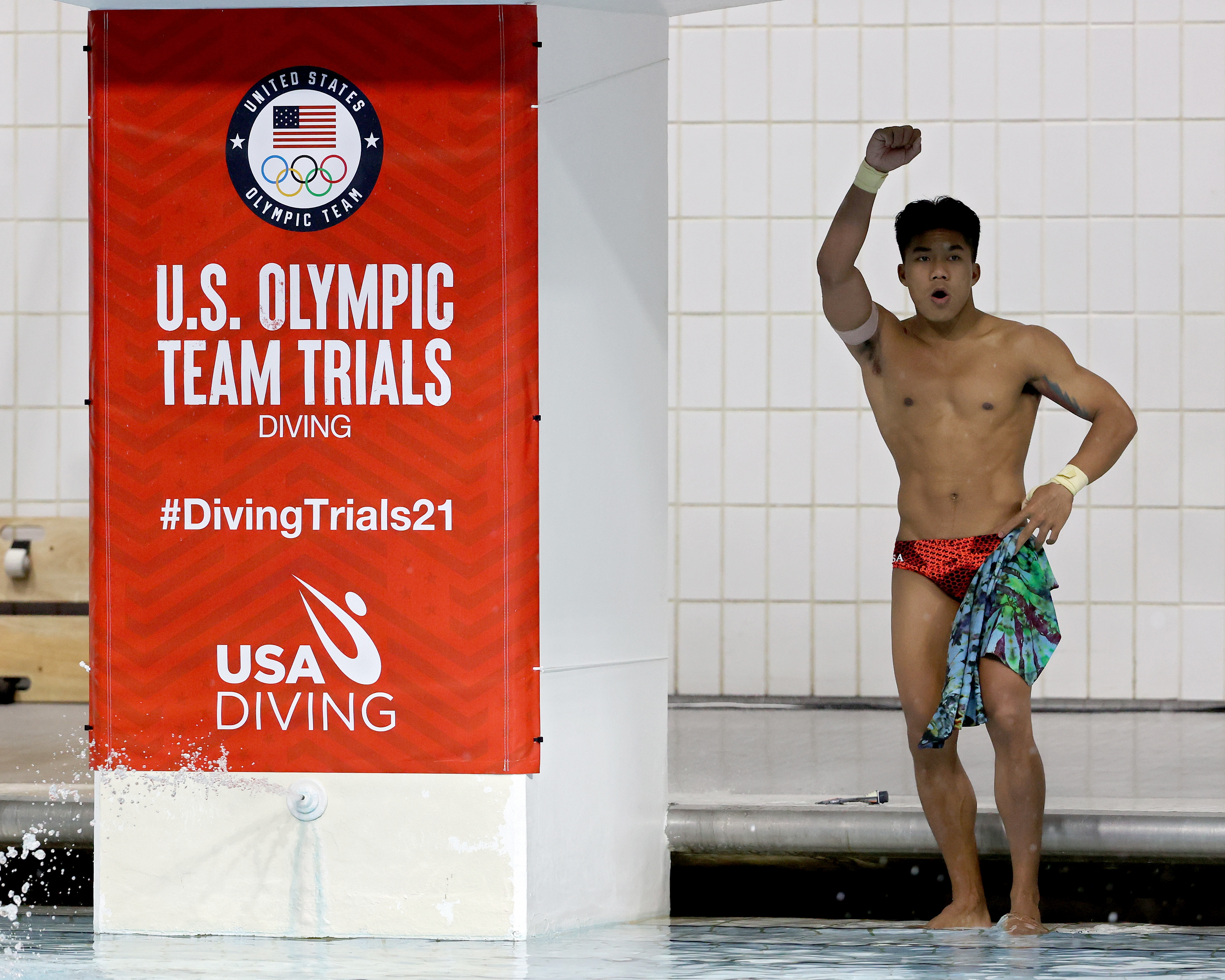 Jordan Windle competes in the men's 10-meter platform final during the US Olympic Trials on June 12, 2021, in Indianapolis, Indiana | Source: Getty Images
The father-and-son duo even co-authored a book titled "An Orphan No More: The True Story of a Boy." The book portrays the power of love through animal characters, a perfect read for the whole family.
From the moment Jerry made the promise to give his son every opportunity he could, he changed Jordan's life forever. Jordan's resilience and determination remain an inspiration.
Even though Jerry was sad to be absent from the Olympics, he is proud of his son's accomplishments. During this year's Father's Day, Jordan took to social media to honor one of his biggest supporters - his father.
What Message Did Jordan Have for Jerry in Celebration of Father's Day?
On June 18, 2023, Jordan shared two Instagram images with the first one showing him as a child sitting in his father's lap during the festive season. The second picture showed Jerry holding a much smaller Jordan up in his hands while the little boy smiled and held his hands up.
In the post's caption, the athlete wished his father a happy Father's Day and declared his love. He vowed to see Jerry soon and urged him to go "have some fun," until then noting how the parent deserved "joy" for all the hard work he put into others.
If this story warmed your heart, you might like this one about a single gay dad who adopted a little girl with Down Syndrome after being rejected by 20 families. You can read the complete story here.
Please fill in your e-mail so we can share with you our top stories!