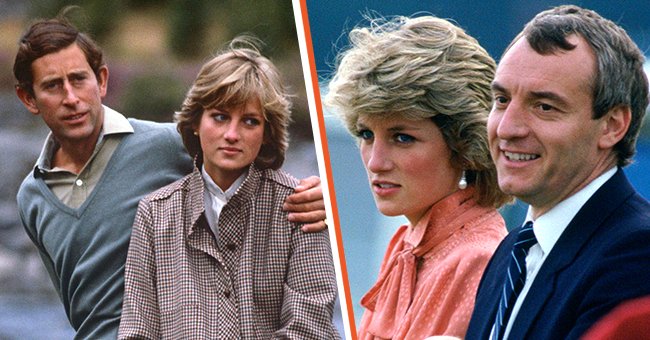 Lady Diana Spencer and King Charles III | Lady Diana Spencer and Barry Mannakee | Source: Getty Images
Princess Diana Wanted to Run Away from Husband & Live With Her Bodyguard Who Made Her 'Happy', Reports Claimed
After their official separation in 1992, King Charles III and Princess Diana admitted they had extramarital affairs in interviews. The videotapes screened in the US and showed to the public detail Princess Diana's private life. Here is everything you need to know about her lover.
Late Princess of Wales, Diana, and the previous Prince of Wales, Charles, had a tumultuous marriage that dissolved because of an affair. The former couple married in July 1981 and divorced in 1996.
Their union made headlines worldwide because of their marital troubles, including their divorce and its aftermath. Princess Diana was in a loveless marriage and found comfort in her bodyguard.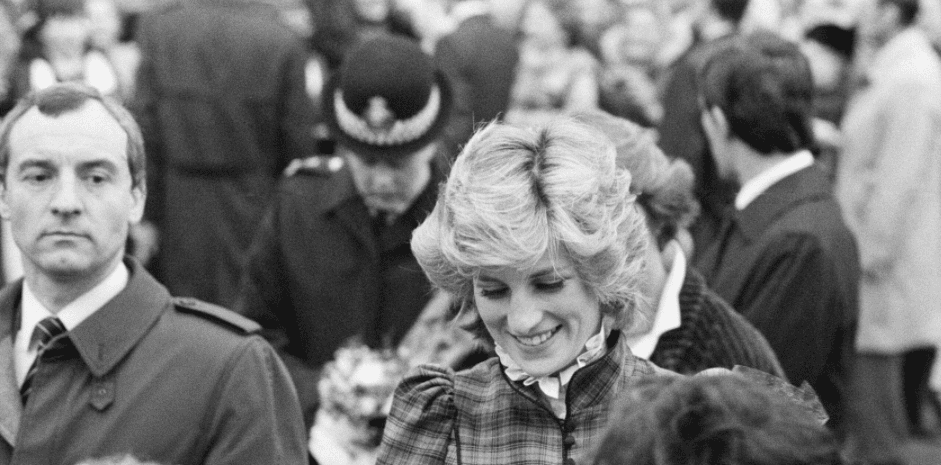 The Prince and Princess of Wales visit Mid Glamorgan in Wales, behind Princess Diana is bodyguard Barry Mannakee wearing a diagonal striped tie and overcoat/mac on January 29, 1985 | Source: Getty Images
HER BODYGUARD BARRY MANNAKEE
Barry Mannakee was assigned to be Princess Diana's bodyguard in April 1985. Mannakee had been working at the Royalty and Diplomatic Protection Group since 1983. In "The Diana Chronicles," Tina Brown described the qualities considered in a search for him:
"Someone very strong, very sane, and very married. Someone who could steer her out of trouble."
According to the biography, Sergeant Mannakee, then 37, came into the royal's life when she felt vulnerable as she was still trying to live with the friction in her marriage but was unwilling to give up on love.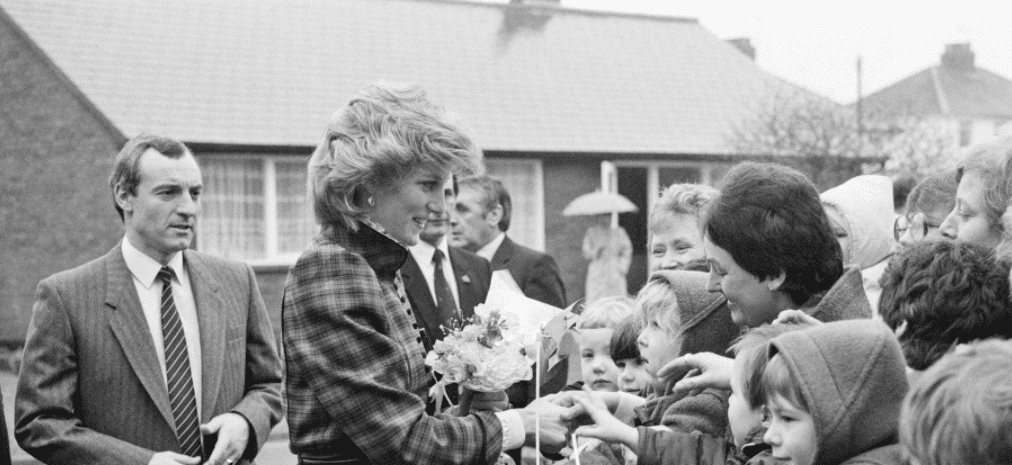 The Prince and Princess of Wales visit Mid Glamorgan in Wales, behind Princess Diana is bodyguard Barry Mannakee wearing a diagonal striped tie and overcoat/mac on January 29, 1985 | Source: Getty Images
Mannakee, a London native, was a family man married to Susan Miller, and together, the couple had two children, teenage daughters.
Brown described him as a cocky individual with kind eyes and later called him dark and handsome with a helpful, spontaneous warmth.
Meanwhile, biographer Sally Bedell Smith wrote in her 1999 book on the royal that Mannakee had a witty personality and could put the princess instantly at ease.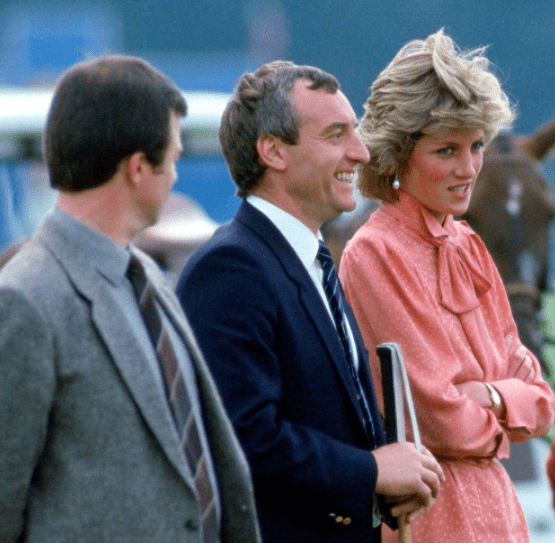 Diana, Princess of Wales, laughing with her police bodyguard, Barry Mannakee, whilst watching a match at Guards Polo Club on June 20, 1985 in Smiths Lawn, Windsor | Source: Getty Images
Mannakee and Princess Diana grew close after a fishing accident at Balmoral Castle. Notably, the pair knew each other before he got assigned.
However, the duo's relationship deepened while on a fishing expedition in 1985 at the large estate house in Scotland where the Royal Family spend their summers annually.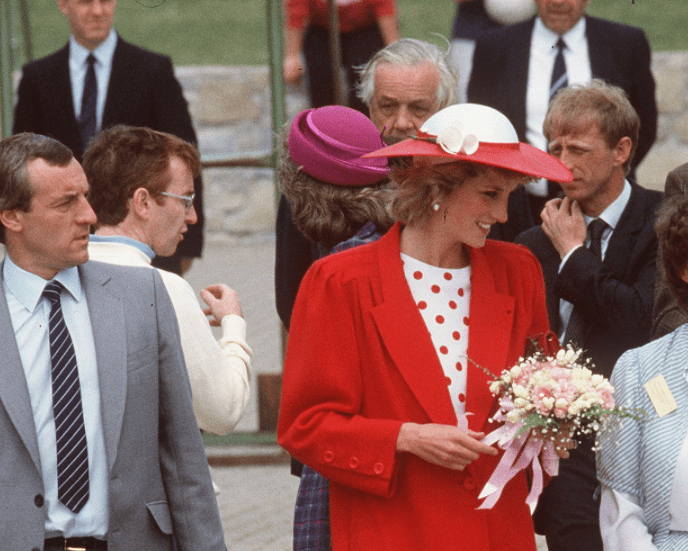 Diana, Princess of Wales, wearing a red jacket with a white and red polka dot dress and a matching hat, with her bodyguard Barry Mannakee (grey suit) at an International Deaf Youth Rally at Atlantic College on June 5, 1985 in Llantwit Major, United Kingdom | Source: Getty Images
Brown, a 69-year-old journalist, recalled the incident in her book that the princess watched her husband doing what he loved when a salmon hook from a careless cast embedded her eyelid.
According to her, Mannakee stepped in as a personal protector and took Lady Diana back to the house, adding it was him who drove the car and consoled her, not her spouse.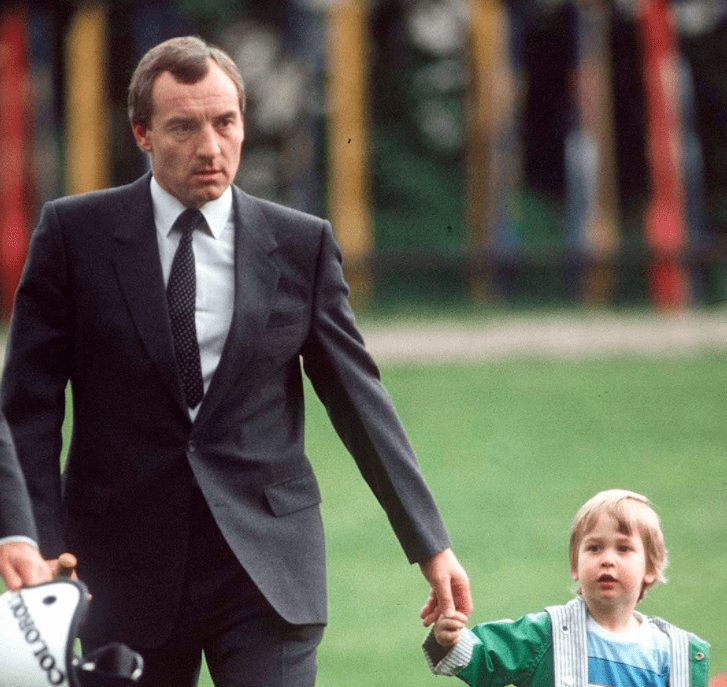 Prince William at almost 3 years old with his police bodyguard Barry Mannakee | Source: Getty Images
Brown revealed the bodyguard continued to show emotional support to the princess, including ahead of speaking events. Mannakee himself recounted one incident with the royal, per Brown's book:
"She kept saying she couldn't go ahead with it and just collapsed in my arms. I hugged her and stopped her crying. What would you have done?"
In tapes released after her death, Princess Diana described her attachment to Mannakee, explaining that his presence made her happy:
"I was like a little girl in front of him the whole time."
The royal was so infatuated with Mannakee that at some point, she revealed that she wanted to run away with him. A videotape screened in the US showed Princess Diana saying she wanted to ditch her spouse King Charles III and live with her bodyguard.
Though she never mentioned Mannakee by name in the tapes, the biographical details align: from how they met and details of his passing. The princess once said:
"When I was 24 or 25, I fell deeply in love with someone who worked in this environment. I was quite happy to give all this up… to go off and live. He kept saying he thought it was a good idea too."
Princess Diana explained that she was open and honest about her feelings for the former police dog handler, sharing she became happy whenever he was around. As her biggest support system, Mannakee was constantly there for the royal:
"I just needed someone to tell me I was all right, and he mentally kicked me outside and made me go and do my engagements because I used to scream in this room."
In the recorded tape, Princess Diana also recalled the blunt response she received from King Charles III when she confronted him about his affair, telling her:
"I refuse to be the only Prince of Wales who never had a mistress."
It remains unknown whether the previous Princess of Wales confronted the heir to the British throne when she was already in love with Mannakee or before.
The princess and her bodyguard flirted with each other. Mannakee outright broke the protocol of keeping his distance from the royal.
Ken Wharfe, his successor, wrote that he had tea with Princess Diana in her private drawing-room, which was unusual. The twosome was also overheard flirting.
"'Barry, how do I look?' She would ask him coquettishly. 'Sensational, as you know you do. I could quite fancy you myself.' 'But you already do, don't you? Escort me to my car,'" Brown wrote.
The royal admitted she played with fire with their relationship and eventually burned. Brown added the princess and Mannakee were caught in a compromising position in July 1986. Soon after, he lost his job as her bodyguard. "It was all found out, and they chucked him out," she said in the tapes.
The late Princess of Wales never confirmed that her romance with Mannakee became physical in the interview, and Wharf supported the claim in a documentary, saying:
"I think Mannakee was a shoulder to cry on."
However, her ex-boyfriend James Hewitt said that the princess confirmed she and Mannakee were lovers. Brown also noted that she believed that two had a physical affair.
DIANA TOOK HARD MANNAKEE'S DEATH HARD
Tragically, on May 22, 1987, Mannakee then, 39, got struck by a 17-year-old inexperienced driver while riding a motorcycle. Princess Diana learned the devastating news while she was arriving at the Cannes Film and was shattered saying:
"This was the biggest blow of my life."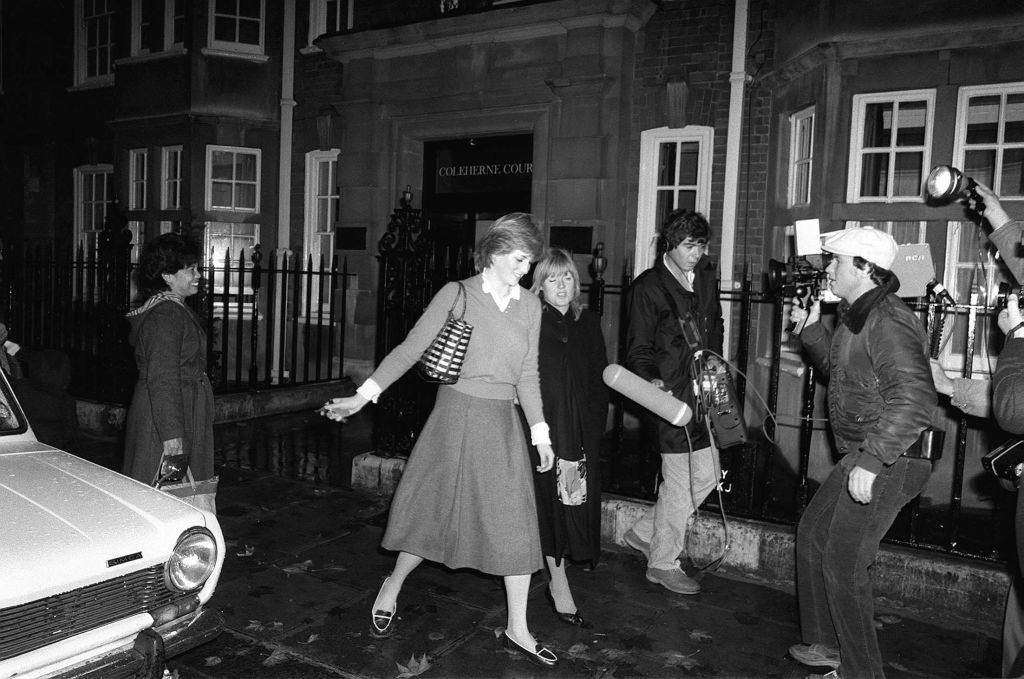 Lady Diana Spencer who is engaged to Prince Charles is hounded by the media at her flat in Coleherne Court in November 1980 | Source: Getty Images
She explained that she went through the high-profile event having to show face to thousands of press. The princess always had the suspicion that Mannakee was murdered due to their relationship and told voice coach Settelen she thought he got killed in cold blood.
Wharfe disputed her claims stating he did not believe Mannakee was killed, adding there was no reason for him to be killed and that he merely died tragically in a road traffic accident.
Following his death, the royal visited the area where his ashes were scattered and laid flowers. She said she also had dreams about him. Sadly, Princess Diana died the same way her lover did. She got killed in a car accident in Paris in August 1997
Please fill in your e-mail so we can share with you our top stories!
news.AmoMama.com does not support or promote any kind of violence, self-harm, or abusive behavior. We raise awareness about these issues to help potential victims seek professional counseling and prevent anyone from getting hurt. news.AmoMama.com speaks out against the above mentioned and news.AmoMama.com advocates for a healthy discussion about the instances of violence, abuse, sexual misconduct, animal cruelty, abuse etc. that benefits the victims. We also encourage everyone to report any crime incident they witness as soon as possible.