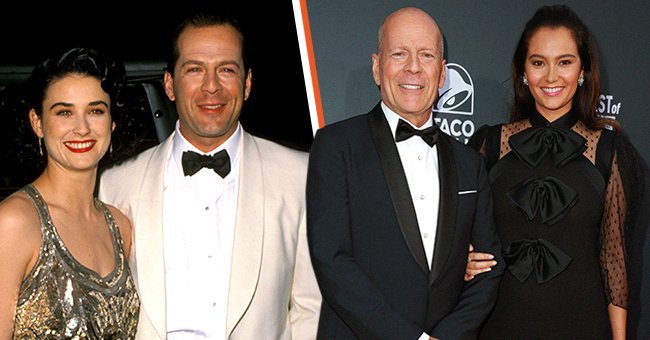 Getty Images
Bruce Willis Still Loved Demi Moore after Marrying Wife of 12 Years Who Became a Close Friend of the Actress
Bruce Willis and Demi Moore were married for about ten years before they divorced. Their union produced three children, and even after he remarried, he still loved Demi Moore, who has become friends with his wife.
Demi Moore was born Demetria Guynes. She dropped out of high school and tried modeling before acting. After starring in a few soaps, she made her biggest career breakthrough in 1990 when she starred in "Ghost."
Walter Bruce Willis launched his acting career in the 1980s but made his big break in 1988 with "Die Hard" and has since starred in other movies like "The Sixth Sense," "Ocean's Twelve," "Sin City," and "RED," among others.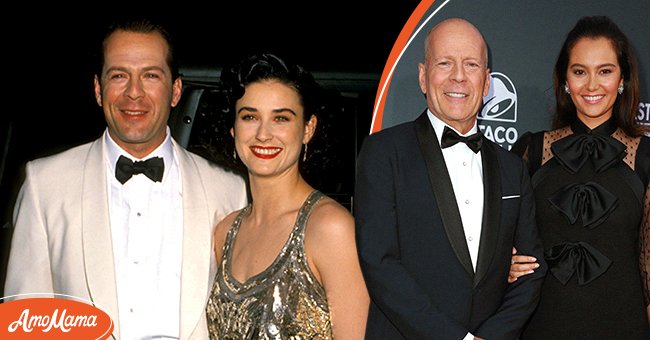 Bruce Willis And Demi Moore at the Warner Bros. Studios in Burbank on June 2, 1990 [left], Bruce Willis and Emma Heming at the Comedy Central Roast of Bruce Willis on July 14, 2018 [right] | Photo: Getty Images
BRUCE WILLIS AND DEMI MOORE'S 13-YEAR MARRIAGE
Willis and Moore met in 1987 at the premiere of "Stakeout." The movie starred Moore's ex-fiance, Emilio Estevez, and Moore felt Willis was "cocky, dark, and handsome."
Willis was completely focused on Moore that night, and Estevez noticed it. As the evening progressed, Moore revealed that Willis was so attentive, and she was stunned to find out later that he had a date that night with another woman.
Moore became charmed by Willis, and before the night was over, he asked her on a date. He walked her to her car, got her number, and that began a whirlwind romance.
Willis showered Moore with attention, and she said it was hard not to feel good. She believed he wrapped her fear and anxiety in his love.
On November 21, 1987, they were married at the Golden Nugget casino in Las Vegas. Willis convinced Moore to tie the knot over the weekend four months after they met.
They later had a much more lavish ceremony, officiated by the late Little Richard and photographed by Annie Leibovitz. The wedding was paid for by film studio TriStar for the massive publicity the wedding would generate.
After the birth of their first child, Moore and Willis started having issues because Moore wanted to go back to work while Willis wanted her to be a stay-at-home mom.
Eventually, they realized that they were more passionate about having kids than being married. Moore then claimed in 1990, Willis told her he no longer wanted to be married.
However, they went on to have two more children, and it seemed their relationship troubles were over. The couple ended their union in 1998 when Moore's mother began dying, and their divorce was finalized in 2000.
Willis believed that their marriage didn't work because they changed and grew at different rates, and they had their marriage under a huge magnifying glass all the time.
Despite their divorce, Moore and Willis raised their children together, and the three children they have are all grown up.
FINDING LOVE AGAIN AFTER 10 YEARS
In 2007, Willis met his wife, a Malta-born model, Emma Heming, at a mutual trainer's gym. In the early 1990s, Heming won "The British Elle Supermodel" and has modeled for some of the biggest fashion houses in the world.
After Heming and Willis met, she started to transition her modeling career into other business opportunities and has created a shoe accessory, a home fragrance line, and fragrances for men and women.
After meeting at the gym, they went on one date before Heming was ready to move back to New York, and then they fell madly in love.
His meeting Heming made Willis realize that love was truly the answer. He had spent the previous ten years after his divorce single, dating a string of models, and was unhappy for the most part.
Willis said he was in a dark place and never thought that being with someone else was the answer. He would say he was alone but not lonely, but he was kidding himself.
When he started hanging around Heming on a day-to-day basis, his life became much happier. Despite their age difference of over 20 years, they have a lot of things in common.
In March 2009, they married at their home in Turks and Caicos. However, they repeated the ceremony a week later because the first ceremony wasn't legally binding in Beverly Hills.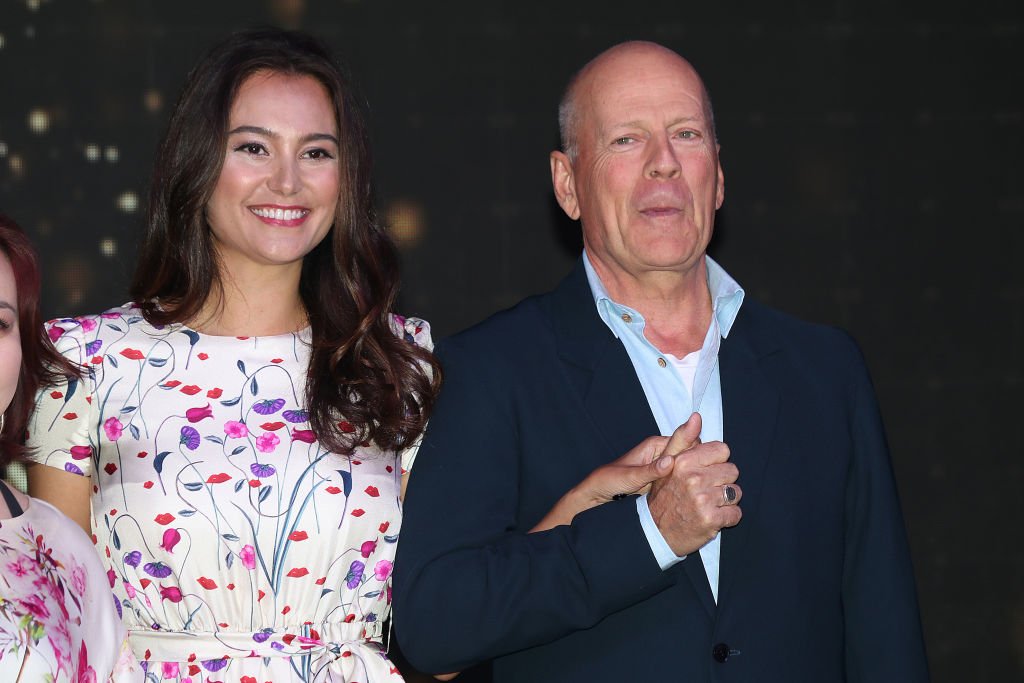 Emma Heming and Bruce Willis attend CocoBaba and Ushopal activity on November 4, 2019, in Shanghai | Photo: Getty Images
CLOSE RELATIONSHIP WITH MOORE
At their first wedding, Heming and Willis invited Moore, and she honored them with her presence. Ten years later, when they renewed their vows, Moore was also there with her children. About Moore, Heming said,
"She welcomed me into her family like I welcomed her into ours. Again, I have so much respect for her."
She further revealed how much respect she has for how Willis and Moore worked through their divorce to put their children first.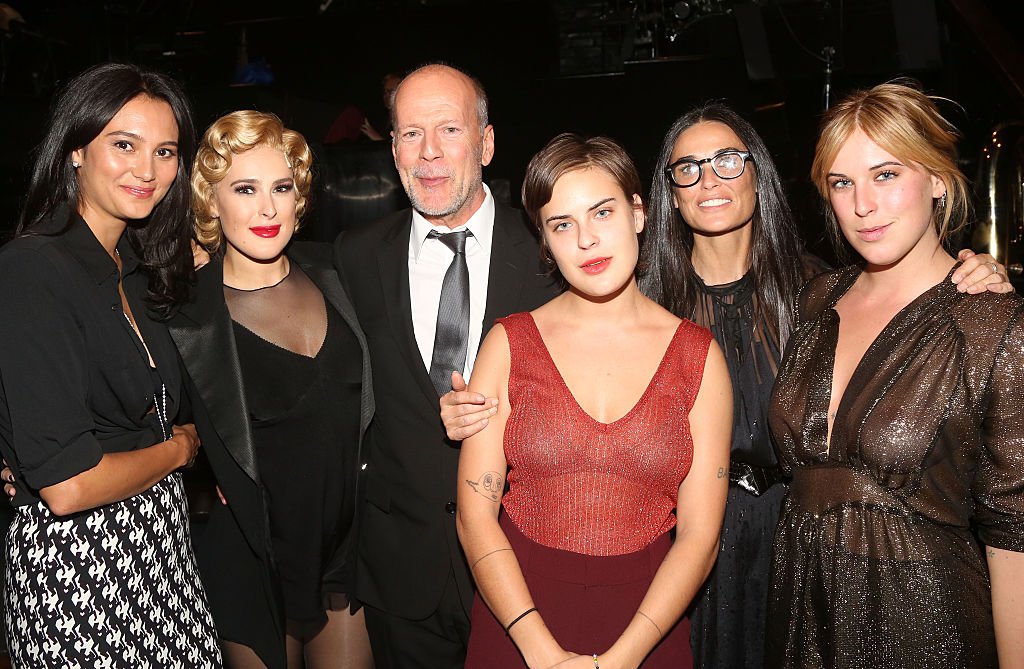 Emma Heming, Rumer Willis, Bruce Willis, Tallulah Belle Willis, Demi Moore, and Scout LaRue Willis pose backstage as Rumer makes her broadway debut on September 21, 2015, in New York | Photo: Getty Images
By watching that, she learned and grew so much. For Heming, she needed Moore to be there with them through their celebrations.
She loved having her there and wouldn't have done it without her. Over the years, Willis said their families have become like a tribe. He said,
"Demi and I made a choice to put the kids first, and we're really lucky that it turns out we all have fun together. I still love her, and I have a lot of respect for how she lives her life."
On International Women's Day 2021, Moore took to her Instagram page to celebrate the women who inspire her, and Heming made Moore's list.
Moore revealed that she sees Heming as a family and is honored to call her a friend in her caption. She praised Heming's business, drive, determination, passion and called her a beautiful mother dedicated to her family.
A BIG & HAPPY BLENDED FAMILY
Willis is a father to five daughters. Willis and Moore share Rumer, Tallulah, and Scout, and with Heming, they share Mabel Ray and Evelyn Penn.
When Heming met Moore's children with Willis, she said it felt daunting because she had never dated a man with kids before. She met them very early on and was nervous.
However, she's glad to have been blessed because it has been comfortable and fun from the first day. Also, in the early days of the coronavirus pandemic, they were quarantined together with their daughters.
Their daughter Rumer said she's incredibly grateful that both of her parents have made such an effort her entire life that she never felt like she had to choose between them.
Please fill in your e-mail so we can share with you our top stories!