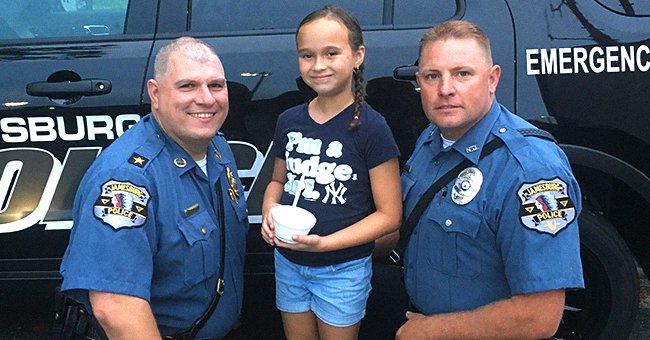 facebook.com/Jamesburgpolice
8-Year-Old Spots a Police Officer and Secretly Buys Him a Meal
When an eight-year-old girl enjoyed a meal with her mother, she decided to do something unexpected for a man sitting at another table at the restaurant. She asked her mother to assist her and made the man's day.
Mikayla Raji and her mother Mimi didn't know how one meal at a restaurant in Helmetta, New Jersey, would change their lives. The youngster noticed a police officer eating a few tables away from them in 2017.
She was drawn to him and asked her mother to pay for his meal. Mimi agreed, and the duo secretly took care of Officer Joseph Quinn's bill. Mikayla's adoration for police officers was linked to her family.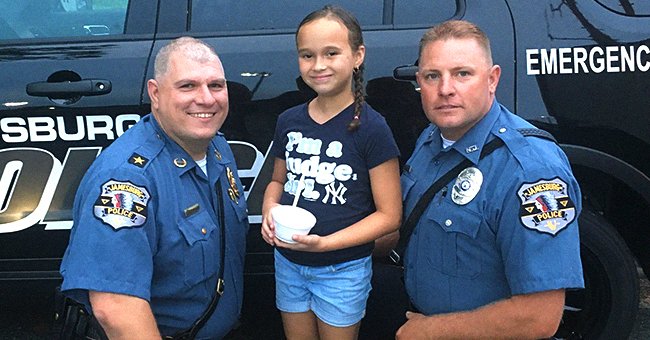 Mikayla Raji with two police officers | Photo: facebook.com/Jamesburgpolice
SHE LOOKED UP TO OFFICERS
Both of her parents were police officers, and her father had lost his life on the job in 2008. Now a retired officer, Mimi was touched by her daughter's kind gesture. Mikayla never met her dad as he died when Mimi was pregnant with her.
"[Mikayla] looks up to police officers, she knows they put their lives on the line for us."
While Mikayla's kindness was kept anonymous, Officer Quinn used his police connections to find out who had paid for his meal—he was stunned when he discovered that it was a generous eight-year-old.
The officer decided to pay it forward, and Mikayla was invited to join their Memorial Day parade. The department also set up a GoFundMe page to help pay for her education.
The police department hoped to help the "wonderful kid with a big heart." On Facebook, they told Mikayla she was welcome to visit their headquarters whenever she wanted to.
"Your dad would be so proud of the person you are. If you ever need us for anything, you can guarantee we will be there for you."
Netizens also praised Mikayla and her mother. One user wrote: "Very proud of Mikayla and how her Mom Mimi is raising her daughter right."
Another person added: "Great story. Mikayla, you are an amazing little girl. Keep spreading your kindness and smiles." Her small gesture went a long way and showed just how much joy can come from one thoughtful action.
ANOTHER CHILD PAID FOR A COP
Children like Mikayla look up to police officers for their bravery and dedication. In a local restaurant in Lakeland, Florida, another youngster surprised an officer with a kind gesture. This time it was nine-year-old Noah who paid for a cop's meal.
The young boy dreamed of becoming a cop one day and was inspired by Officer Eddie Benitez. In 2017, he paid for his meal and left a special note on the bill. It read:
"I want to be you when I grow up. Thank you for your service."
The gesture made the officer's day and motivated him to continue doing good police work. Both Noah and Mikayla made the world a better place by spreading kindness and generosity.
Please fill in your e-mail so we can share with you our top stories!