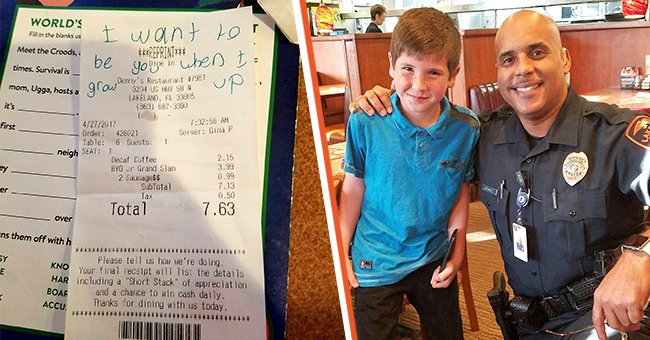 facebook.com/LakelandPD
'I Want to Be You:' Officer Finds His Restaurant Check Paid with a Handwritten Note on It

A police officer was enjoying his breakfast at a local restaurant in Lakeland, Florida when the unexpected happened—someone offered to pay for his meal. The kind-hearted gesture touched his heart and went viral online.
In 2017 a nine-year-old joined his mother at Denny's for her "Bring Your Child to Work Day." The youngster was delighted when he saw a police officer eating at one of the tables. Noah always admired officers and the great work they did.
He dreamed of joining the police force when he was older and watched the cop in admiration. Noah asked his mother if he could go over and say hello to the officer. Mom, Amanda Cantin, agreed to his request.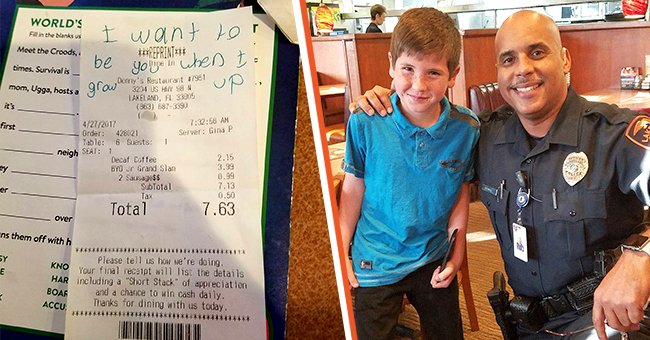 A young boy pays for a police officer's breakfast and tells him that he wants to be like him | Photo: Facebook/LakelandPD
HE PAID FOR THE BREAKFAST
Cantin shared: "He said, 'Mom, there's a police officer down there, can I go say hi?'" However, that's not all young Noah wanted to do. Despite his young age, Noah was a selfless and mature boy that put others before himself.
He wanted to pay for the police officer's breakfast. With an upcoming birthday, he had received some money as a gift. Noah didn't keep it to himself. He had other plans, and they were not what anyone was expecting.
IT MADE THE OFFICER'S DAY
He made Officer Eddie Benitez's entire day by paying for his meal. Noah only had one request. He wanted to write the officer a special message. On the receipt, he wrote:
"I want to be you when I grow up. Thank you for your service."
The mother helped her son spell the kind-hearted message and was proud when he paid for the officer's Grand Slam breakfast and cup of coffee. She shared that Noah had wanted to be an officer since he was five years old.
THE PHOTO WENT VIRAL
Benitez was stunned by the encounter. When the youngster made his way toward his table, he was confused. Cantin stated:
"He didn't understand why this little boy was walking down there with his tab. His face was very shocked."
Officer Benitez could not believe the kindness and also had one request to make. He asked Noah to take a photo with him. The pair posed for the picture, and the Lakeland Police Department shared it on their Facebook page.
THE ONLINE REACTION
Quickly the post gained traction as hundreds of netizens commented. One user said: "To appreciate the police work in that way is really heartwarming." Another added: "So touched by Noah's good heart!"
Noah expressed that he planned on making the world a better place when he was grown up, and his act of paying for the police officer's breakfast showed that he was well on his way to getting that right.
Please fill in your e-mail so we can share with you our top stories!