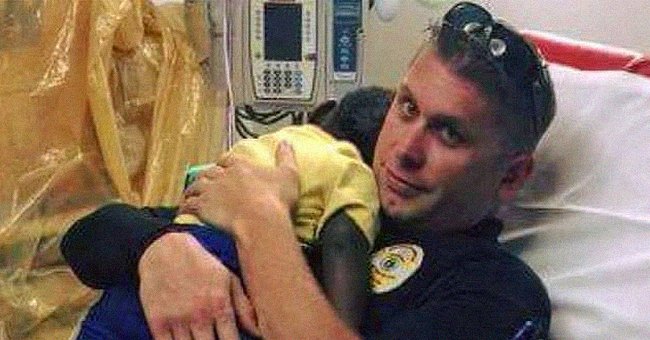 facebook.com/JohnTesh
Emotional Story behind Viral Photo of Police Officer Comforting Little Boy on a Hospital Bed
A photograph of a police officer holding a baby gained widespread attention. Netizens were touched by the love visible between the two, and many wanted to know more.
In 2016, a Georgia officer was spotted as he comforted a 16-month-old boy on a hospital bed. The sweet moment took place in Savannah but traveled far and wide thanks to social media.
Officer James Hurst received a call alerting him to a child in need. The baby was found outside a hospital without any guardians nearby. The Savannah-Chatham Metropolitan Police Department officer escorted the child inside.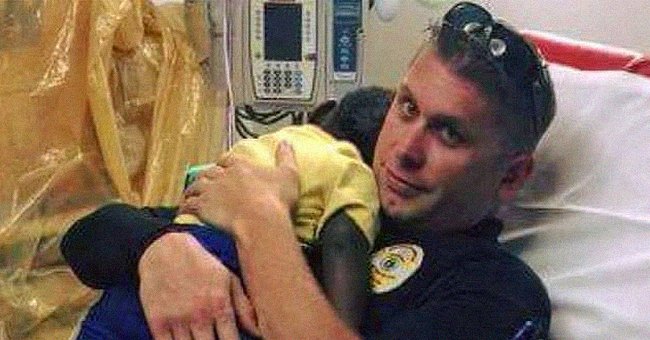 A photo of a police officer comforting a baby goes viral | Photo: Facebook/JohnTesh
IT MADE HIM FEEL SAFE
When medical staff began examining the baby, the little one became emotional. However, Hurst stepped in and calmed the youngster down. He remained with the child and picked him up to make him feel safe and comforted.
Hurst said: "I just knew this child needed somebody to be there for him. It was just human instinct. The hospital staff was taking great care of him [but] he was sobbing and crying."
PRAISED FOR HIS COMPASSION
After the officer embraced and consoled the baby, he was asleep on his chest in no time. The sweet moment was captured and posted on the Police Department's Facebook page.
With thousands of likes and shares, people praised the officer. One user wrote: "Thank you, officer Hurst, for your compassion to this little boy. Obviously, he felt he could trust you and was comfortable and secure."

Commenters react to a viral photo of a police officer comforting a baby | Photo: Facebook/JohnTesh
THE ONLINE REACTION
Another person added: "You are an angel of this world. We need more people like you in it. Thank you for caring when this little guy needed someone to just make him feel safe. I bet that boy will remember you always as his hero."
Others wanted to know more about the officer, and commenters who knew of him shared their experiences. One netizen shared that he was an officer who always went above his call of duty.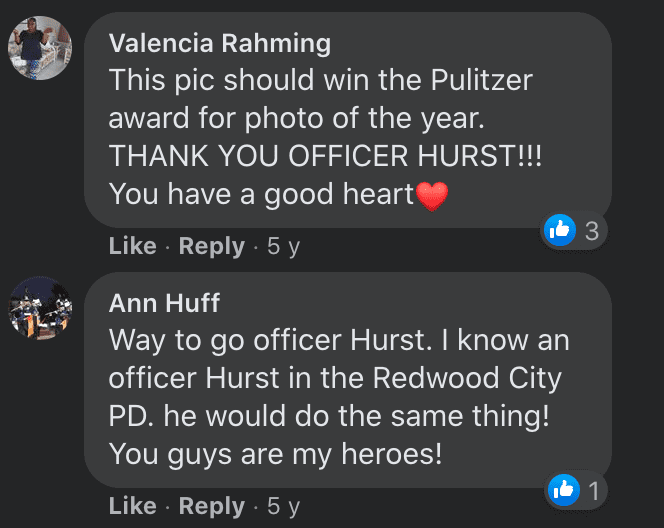 Commenters react to a viral photo of a police officer comforting a baby | Photo: Facebook/JohnTesh
JUST DOING HIS JOB
Hurst, on the other hand, simply put forward that he was doing his job. The father of two said the gesture had little to do with his police badge.
The officer expressed: "It had to do with being a human being ... What kicked at me was really just humanity ... I felt bad for him. So it was my empathy for him and just trying to be there for him because he had nobody else."
HELPING WHEN IT MATTERED
Hurst said he comforted the little one just like he did with his own kids, and it worked. The kindness he displayed got the police officer the recognition he deserved for doing more than was required of him.
The online community called Hurst a hero and an angel. By lending a helping hand and a gentle embrace, he made a terrified and lonely child feel safe when he needed it the most.
Please fill in your e-mail so we can share with you our top stories!