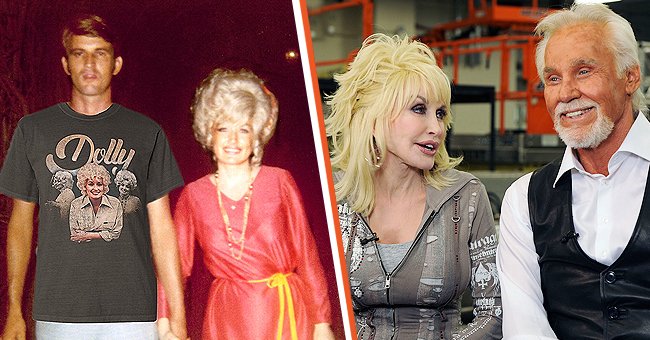 Getty Images | twitter.com/DollyParton
Dolly Parton Was Another Man's Wife & Not Kenny Rogers' 'Type' - They Had 'Tension' & Shared Stages for Years
Kenny Rogers and Dolly Parton shared a close bond but never dated despite people thinking something there was between them. Find out more about their special friendship.
Kenny Rogers and Dolly Parton are two of the world's most iconic musicians ever. The pair enjoyed hugely successful music careers and were a force when they teamed up for songs.
Parton and Rogers' friendship started when their careers were becoming relatively successful. Then, they teamed up to record their duet "Islands in the Stream" in 1982.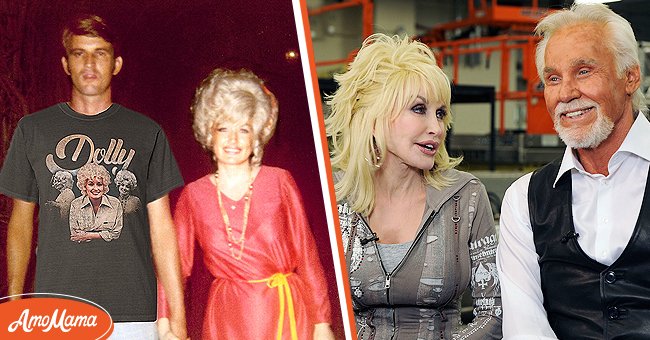 Kenny Rogers and Dolly Parton at a young age [left], Dolly Parton and Honoree Kenny Rogers Backstage at the Kenny Rogers: The First 50 Years show at the MGM Grand at Foxwoods on April 10, 2010 [right] | Photo: Getty Images twitter.com/DollyParton
In a reported interview, Parton explained how she knew who Rogers was before their duet. She revealed that she first knew about him during his time with the group First Edition.
She heard the song "I Just Dropped In To See What Condition My Condition Was In" and thought Rogers was very clever.
Also, she loved how his voice sounded and followed him afterward to know more about him and his music. Parton further revealed that she loved all of Rogers' songs and sound.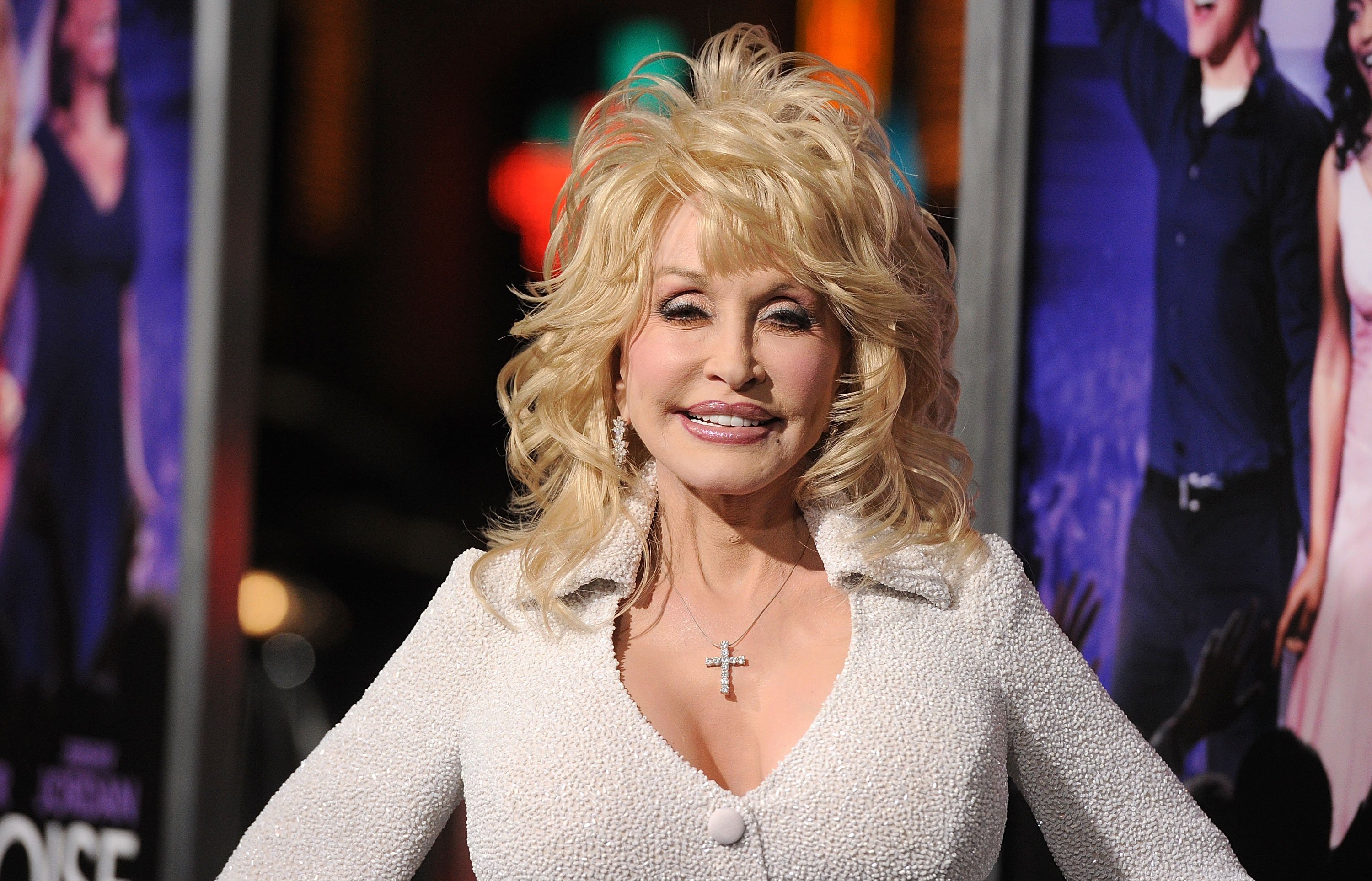 Dolly Parton at the premiere of "Joyful Noise" held at Grauman's Chinese Theatre on January 9, 2012. | Photo: Getty Images
In a 2013 chat with People, Parton said she and Rogers did not become close until after they started touring together following the release of their duet "Islands in the Stream." She explained:
"We had met before 'Islands,' but we weren't friends. We became friends when we started working together and touring."
In his lifetime, Rogers also shared memories of his friendship with Parton. In a 2017 chat with People, he narrated how they came together to sing "Islands in the Stream."
He revealed that everything started when Barry Gibb wrote the song and gave him to record. Rogers sang the song for four days and did not like how it sounded.
He conveyed his feelings to Gibb, who told him the song just needed some final touches. However, Rogers said he did not like the song anymore, but Gibb told him they needed Parton on the song.
Rogers recalled how he met Parton. Then, he had a recording studio, and she was downstairs. His manager, Ken Kragen, told him he had seen Parton, and Rogers told him to get her.
Kragen went and came back with Parton. Rogers recalled how the song was never the same again when Parton walked in and started singing it. He concluded:
"It [the song] took on a personality of its own."
Besides "Islands in the Stream," which peaked at number one on the Billboard chart in 1983, Parton and Rogers recorded other hits like "Real Love," "Love Is Strange," "Once Upon A Christmas," and "You Can't Make Old Friends."
LIFE-LONG CONNECTION BETWEEN DOLLY AND KENNY
Parton and Rogers never shied away from discussing their friendship. During an exclusive video chat with CMT's Cody Alan in 2017, the "Jolene" crooner described her close bond with Rogers in the most loving way. She said via After MidNite:
"Kenny's friendship means more to me than our hit records. Actually, we're kind of like soul mates."
Parton said that she is from Tennessee, while Rogers was from Texas. Hence, they always sang the old famous country song "T for Texas, T for Tennessee" to each other.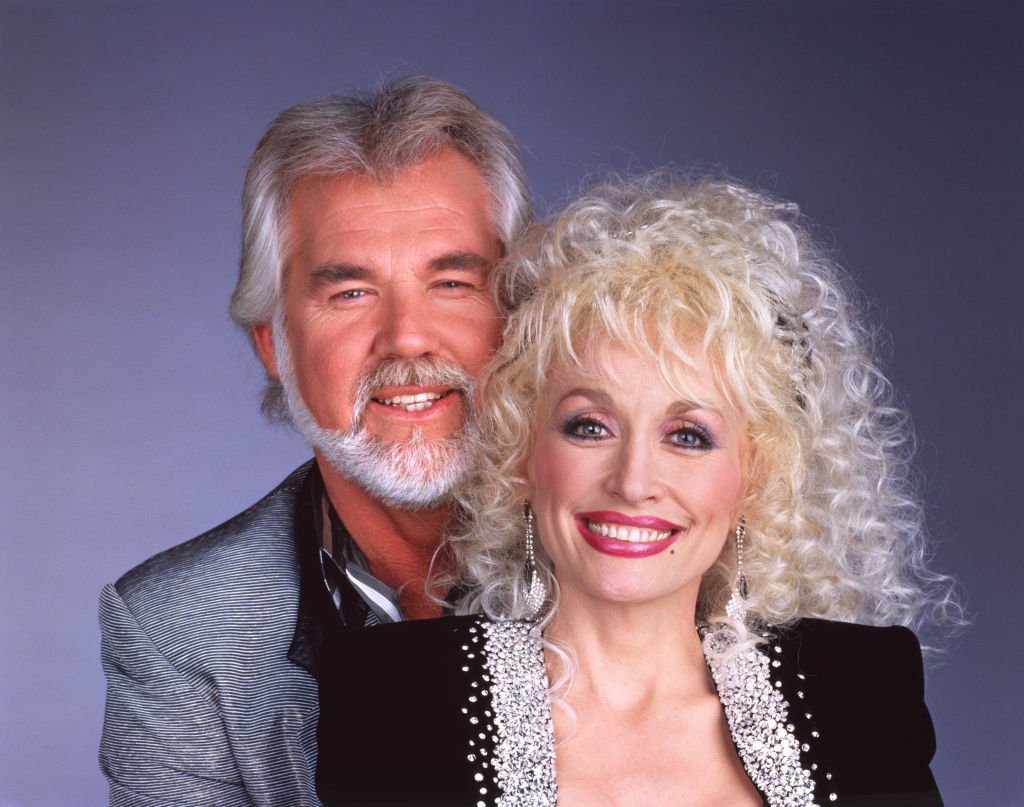 Kenny Rogers and Dolly Parton in 1987 | Photo: Getty Images
She also disclosed that she loved his singing and voice and never got tired of hearing him sing. Parton said her and Rogers' voices blended well and expressed pride in their musical achievements.
During the interview, she also said Rogers was dear to her and discussed his retirement from music, saying she could not believe he wanted to retire.
However, Parton said she was proud she would be there with her friend to see him retire in grand style and promised to give him all kinds of trouble on the night of his retirement.
During a chat with People, Parton also revealed how she and Rogers ate and hung out. She further revealed that they found they liked each other and disclosed how their bands were like family members. She concluded:
"Kenny was always like a relative to me."
HAVE THEY EVER BEEN A COUPLE?
Due to the nature of Parton and Rogers' friendship, it was not surprising for people to think they dated. However, despite lingering rumors that they were a couple, both singers explained why they never became lovers.
During a 2017 chat with Today, Parton and Rogers were asked why they never became a couple in real life. Rogers responded by joking Parton was hard to look at for him while she said she was not his type. Rogers added:
"I'm a believer that tension is better if you keep it than if you satisfy it. And then secondly, she said no to me."
Parton explained, "Nah. You know what, we were almost like brother and sister. And it would almost be like incest. So we just never went there." During an appearance on "Fox & Friends" in 2013, Rogers also addressed rumors that he had an affair with Parton. He said:
"[Parton] and I worked together for two years on the road. Everybody always thought we were having an affair. We just flirted with each other for 30 years, you know. But it keeps the tension."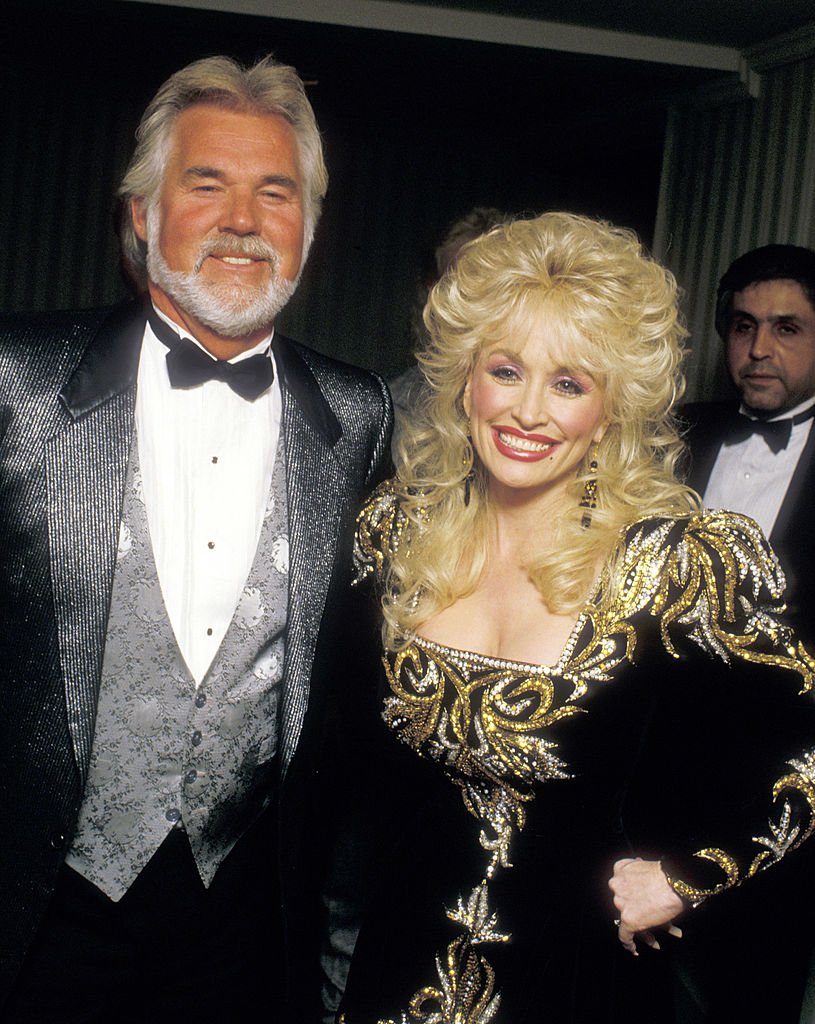 Kenny Rogers and Dolly Parton attend The RP Foundation Fighting Blindness Humanitarian Award Dinner Honoring Frank Bennack, Jr. on April 19, 1988 | Photo: Getty Images
He opened up about their hit song, "You Can't Make Old Friends," and described Parton as an old friend during his appearance. He revealed that the song was written for both of them.
In the end, Parton and Rogers remained good friends and never dated as they did not want to ruin their friendship. Also, they had so much going on in their lives, which they joked about during an interview.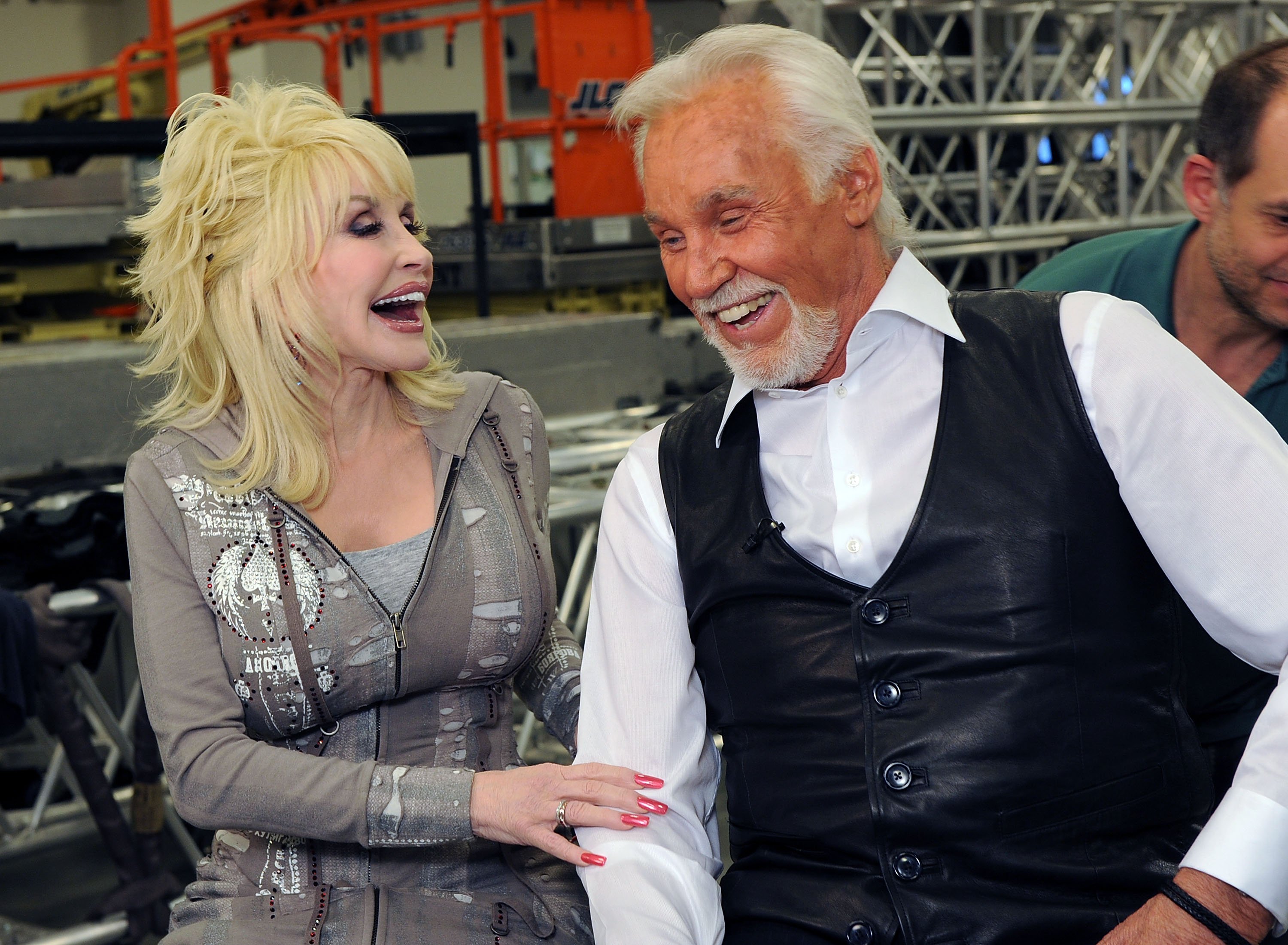 Dolly Parton and Honoree Kenny Rogers Backstage at the Kenny Rogers: The First 50 Years show at the MGM Grand at Foxwoods on April 10, 2010 | Photo: Getty Images
For instance, Rogers said Parton had been married for 40 years, referencing her long-term marriage to Carl Dean, while she joked referencing Rogers' five marriages:
"And he's been married about 40 times! I couldn't catch him between wives!"
Parton has been married to Carl Dean since 1966. Despite their 55-year marriage, the couple is hardly seen together due to Dean's preference to stay out of the spotlight. The couple has no children of their own.
Meanwhile, Rogers was married five times and was often described as a "gambler of love." His first marriage was to Janice Gordon from 1958 to 1960. Afterward, he tied the knot with Jean Rogers in 1960, but they divorced in 1963.
In 1964, Rogers married Margo Anderson, but their union ended in divorce in 1976. His fourth marriage was to Marianne Gordon in 1977, but it ended in 1993.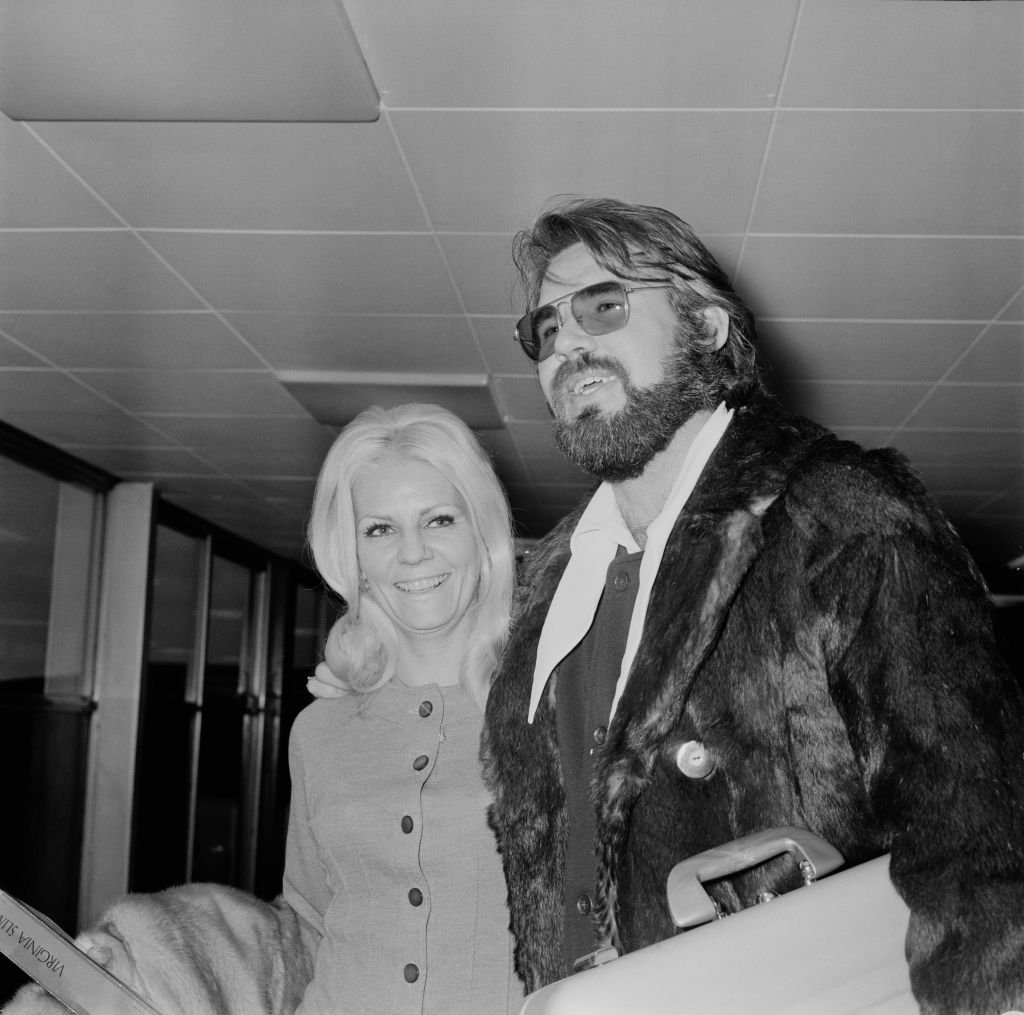 Kenny Rogers with his wife Margo Anderson at Heathrow Airport, London, UK, 24th March 1970. | Photo: Getty Images
Rogers' longest marriage was to Wanda Miller. They tied the knot in 1997 and remained together until his death. Through his five marriages, Rogers became a father of five children. He shared a child with Janice, another with Anderson and Marianne, and twin sons with Miller.
Rogers died at 81 on March 20, 2020. His longtime friend Parton mourned his death with a touching video tribute, which she captioned:
"You never know how much you love somebody until they're gone. I've had so many wonderful years and wonderful times with my friend Kenny, but above all the music and the success I loved him as a wonderful man and a true friend."
Many other country music stars joined Parton in paying tribute to Rogers, who would always be remembered for his indelible legacy.
Please fill in your e-mail so we can share with you our top stories!