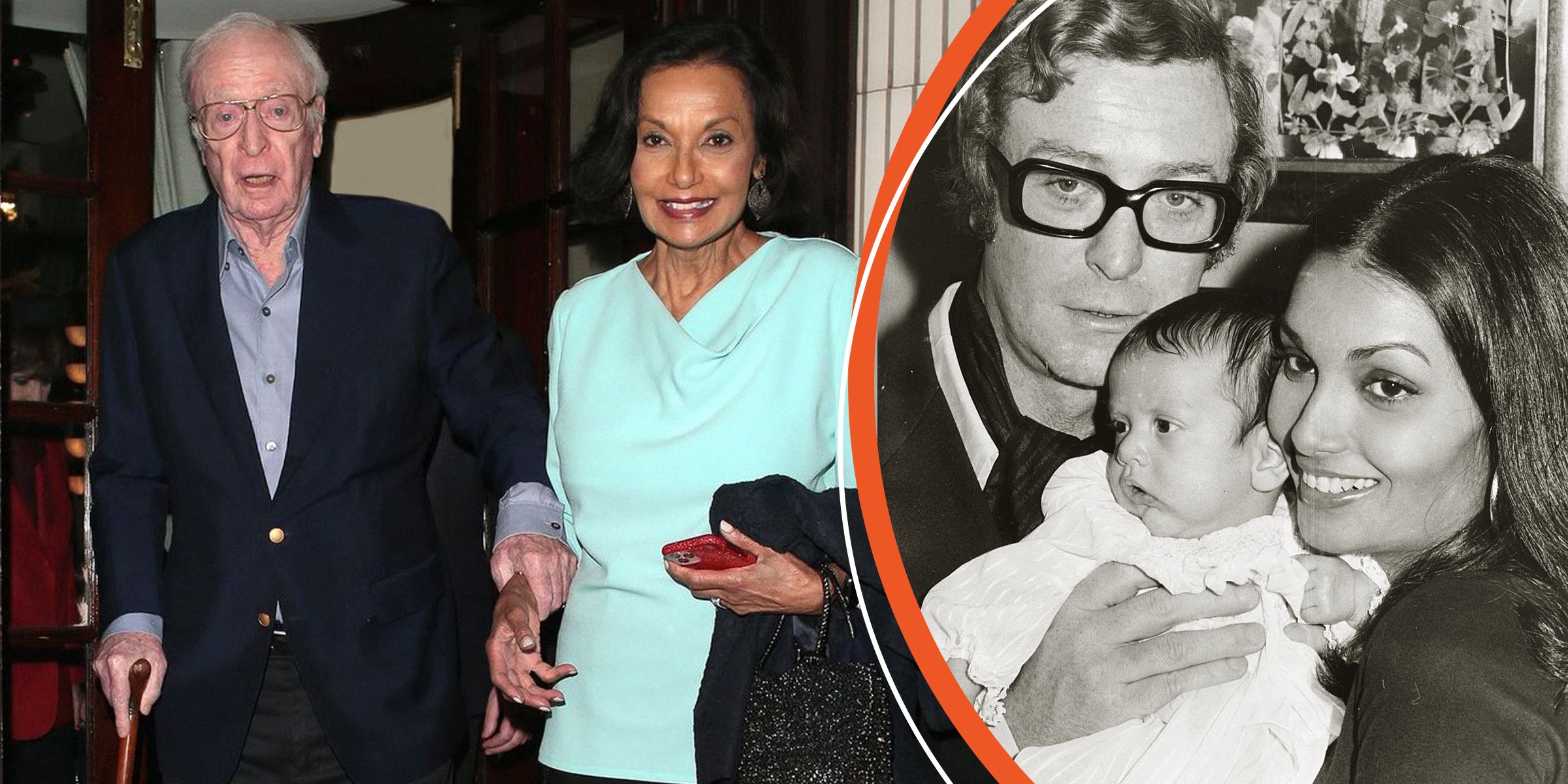 Michael Caine and Shakira Baksh | Michael Caine and Shakira Baksh with their daughter | Source: Getty Images
Michael Caine Fell for Wife of 50 Years in '8 Minutes' - He Called Her 11 Times before She Agreed to Date
Michael Caine fell hopelessly in love when he first saw his wife, Shakira Baksh. However, getting her to love him back wasn't an easy task. Here is a look at how their romance eventually kicked off.
Michael Caine has been married for decades to Shakira Baksh, who he first saw in a coffee commercial. Although the couple's bond has grown stronger for years, it took the English actor several moves to win Baksh's heart.
It is safe to say Michael and Shakira have one of the longest-standing romances in Hollywood's history. Over the years, Michael, who seizes every opportunity to gush over his relationship, has been quite open about the bond he shares with Shakira. In January 2023, Michael and his wife celebrated their 50th anniversary.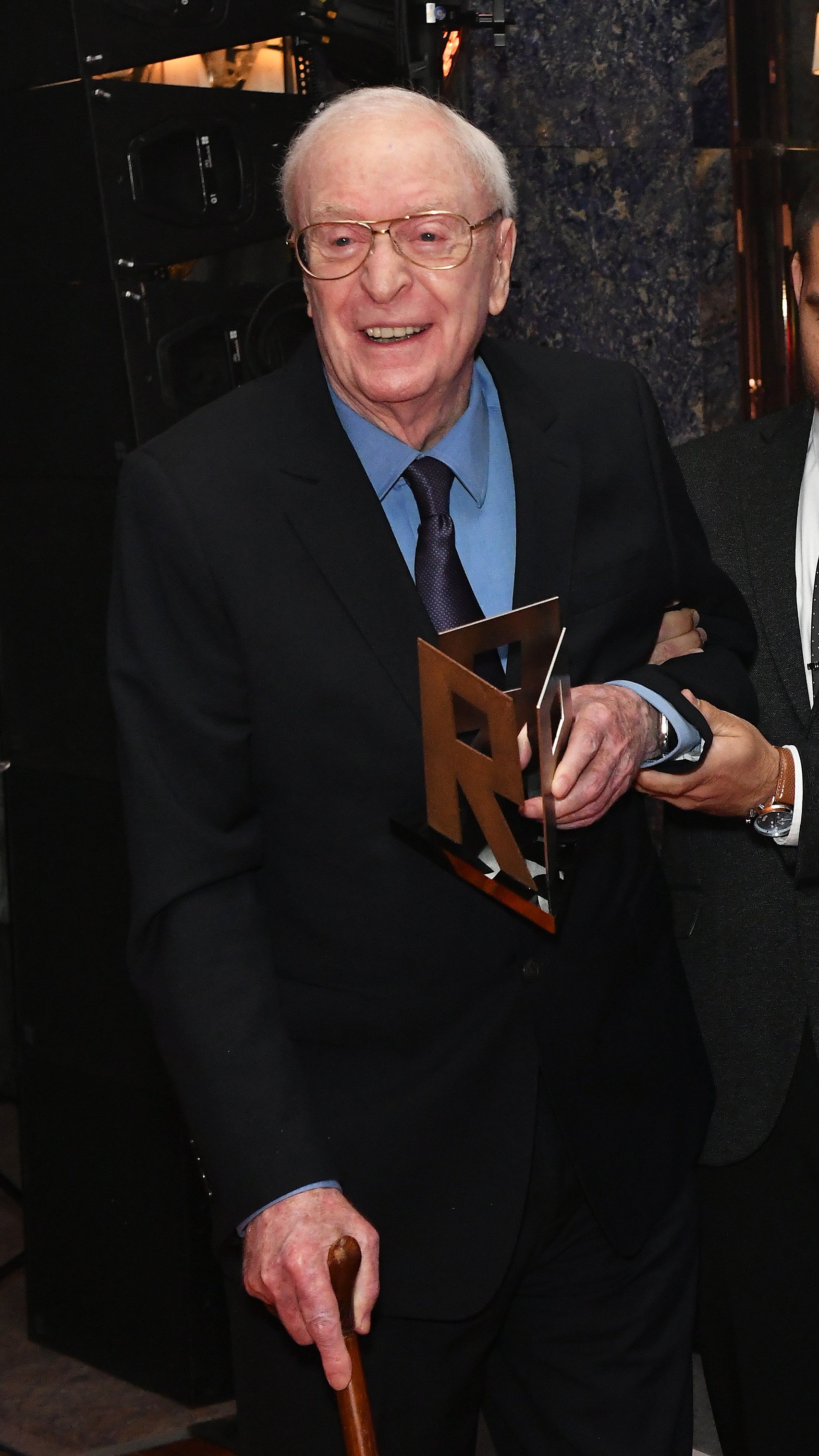 Sir Michael Caine attends the Raindance Film Festival opening night gala party at The Dorchester on October 27, 2021 in London, England | Source: Getty Images
While Shakira and Michael currently have a beautiful relationship, Michael did not always experience such plain sailing when he was in relationships, especially marriages.
Why Did Michael's First Relationship End in Tears
Before Michael met Shakira, the actor had passed through challenging times in his career and personal life. His first marriage was to actress Patricia Haines, but it fell apart seven years after.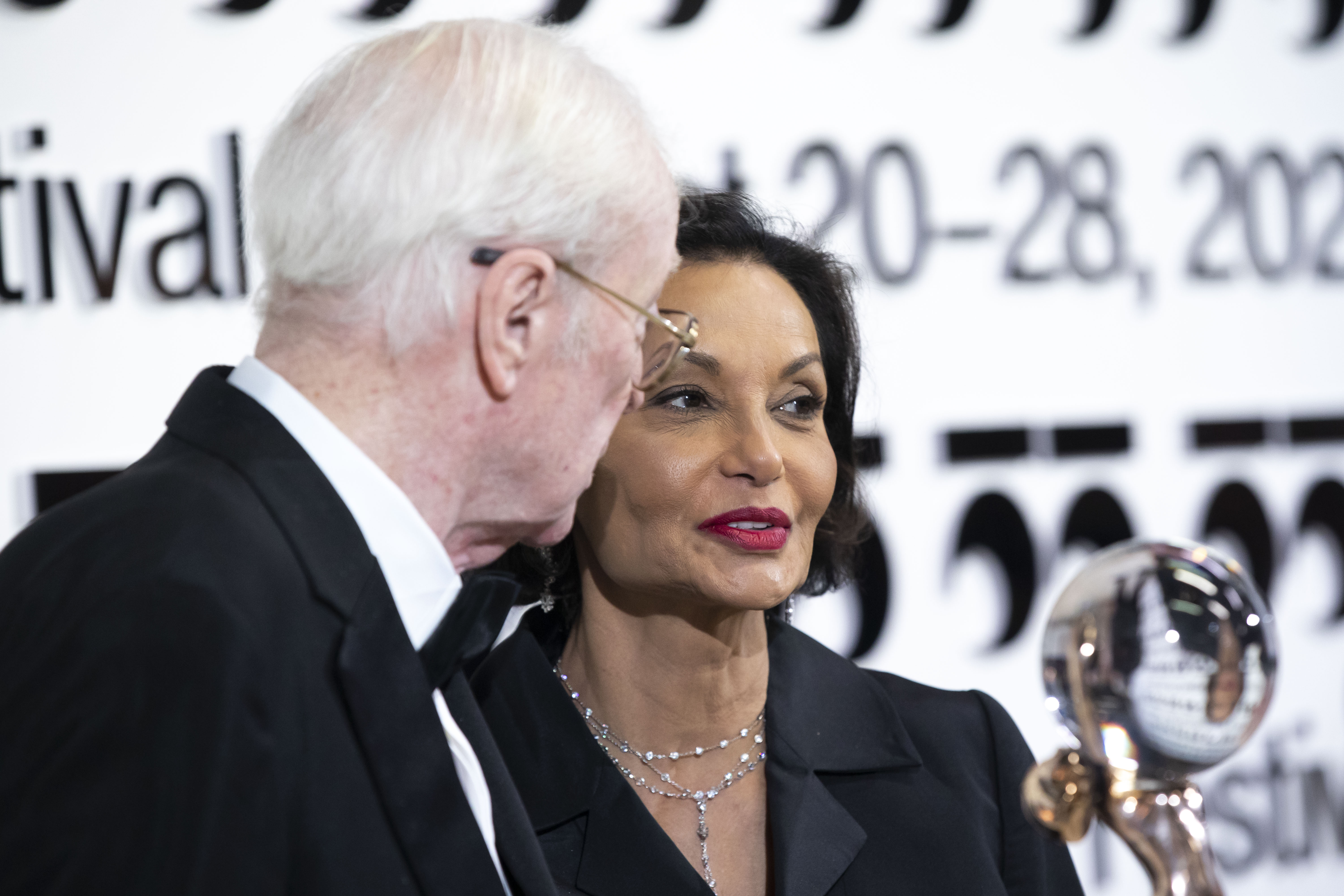 KARLOVY VARY, CZECH REPUBLIC - AUGUST 20: Michael Caine and his wife Shakira Caine attend the 55th Karlovy Vary International Film Festival on August 20, 2021 in Karlovy Vary, Czech Republic | Source: Getty Images
Michael met and married Patricia at twenty-two and married a while later. However, Michael was ashamed that he was unable to support his wife in his chosen career and ended his marriage to her.
After this, Michael worked hard for a few more years before landing his breakthrough role. When Michael met Shakira years after his divorce, he was already a famous movie star.
However, Michael isn't the only one who had a rough start, as Shakira also had a share of turmoil. Shakira, a native of Guyana, left school when she was 16 to take a job as a secretary.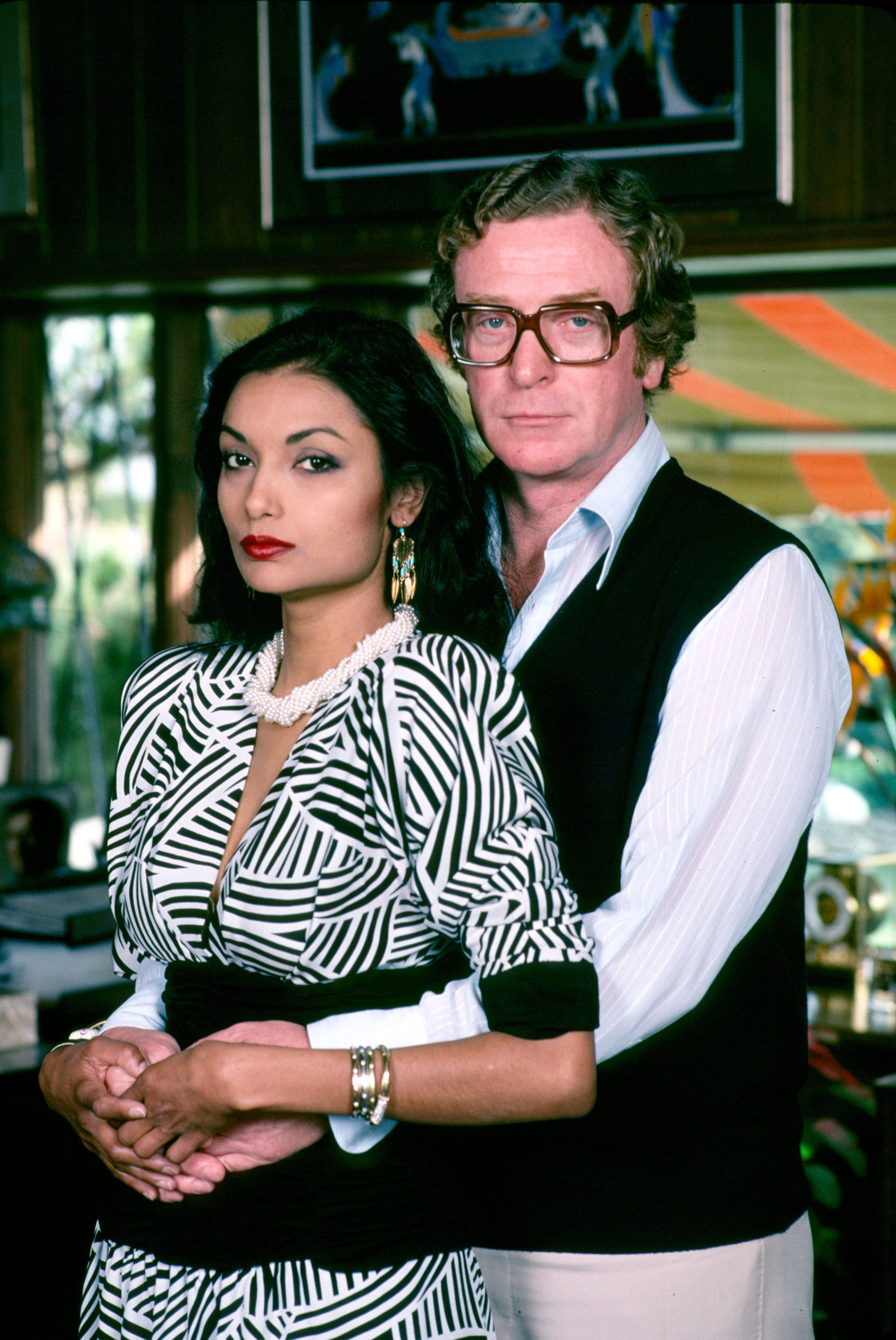 Michael Caine and wife Shakira at their Beverly Hills Home on Davies Drive | Source: Getty Images
She worked at an American branch office for a while before it got destroyed due to the anti-American protests at the time.
Determined to have a better life, Shakira decided to become a model. Taking part in a beauty contest gave her a chance to grow, and before she met Michael in the '70s, Shakira had already won the title of "Miss Guyana."
Caine's Love Life
As one of the British film icons, Michael has been a chauvinist and a gangster. But away from the screen, the 90-year-old actor has been a loving husband to Shakira for more than four decades. Michael saw his future wife for the first time on TV in the 1970s.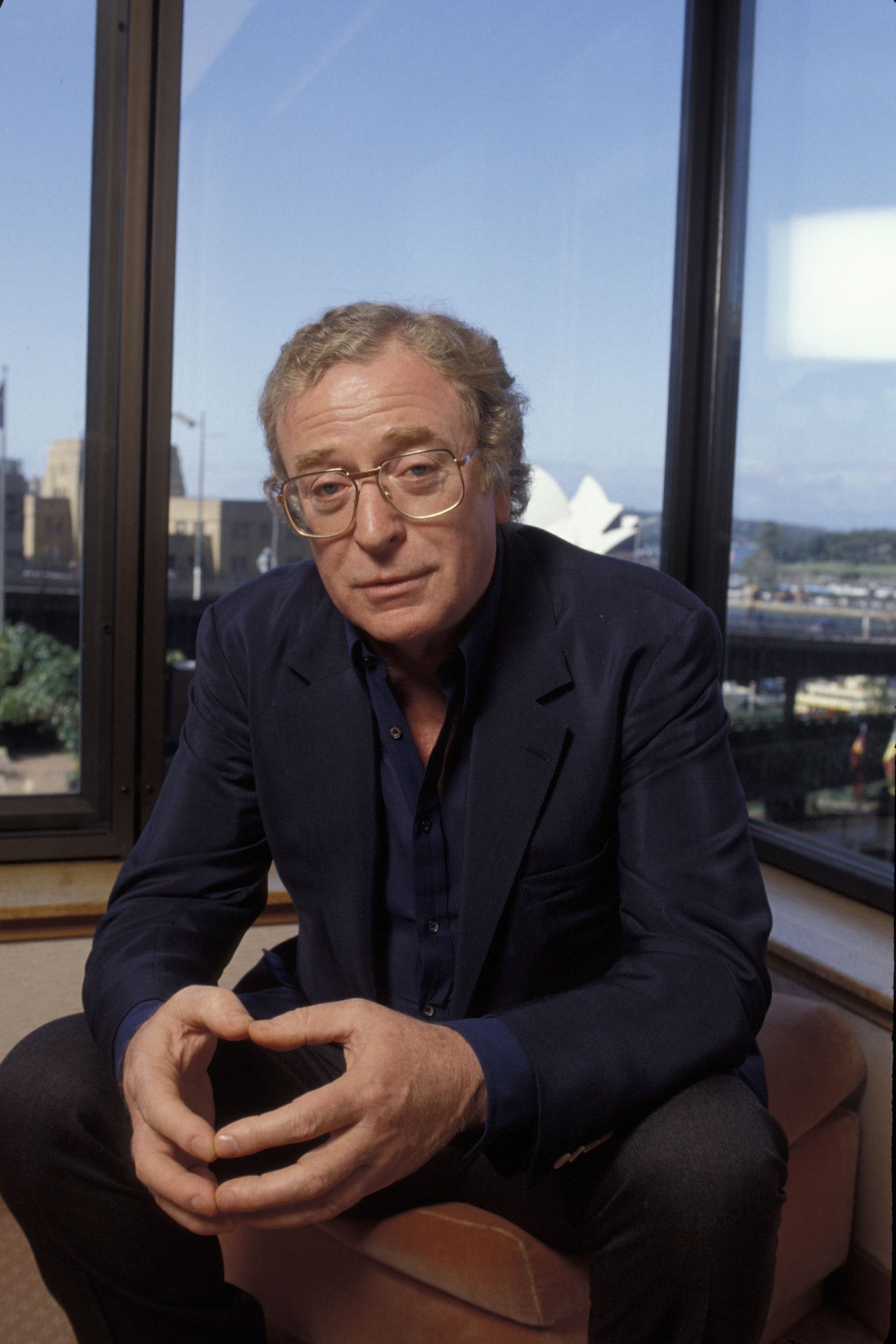 Portrait of English actor Michael Caine, circa 1992. | Source: Getty Images
He was immediately captivated by Baksh's beauty, and he decided to track her down. However, when the English actor first saw Shakira in the coffee commercial, he thought she was far away in Brazil, which did not stop him from seeking her out.
Thankfully for Michael, the former model and one-time Miss Guyana was not on the other side of the world but only a few miles away. When Michael eventually got Shakira's number, it took another endeavor to start a conversation with her.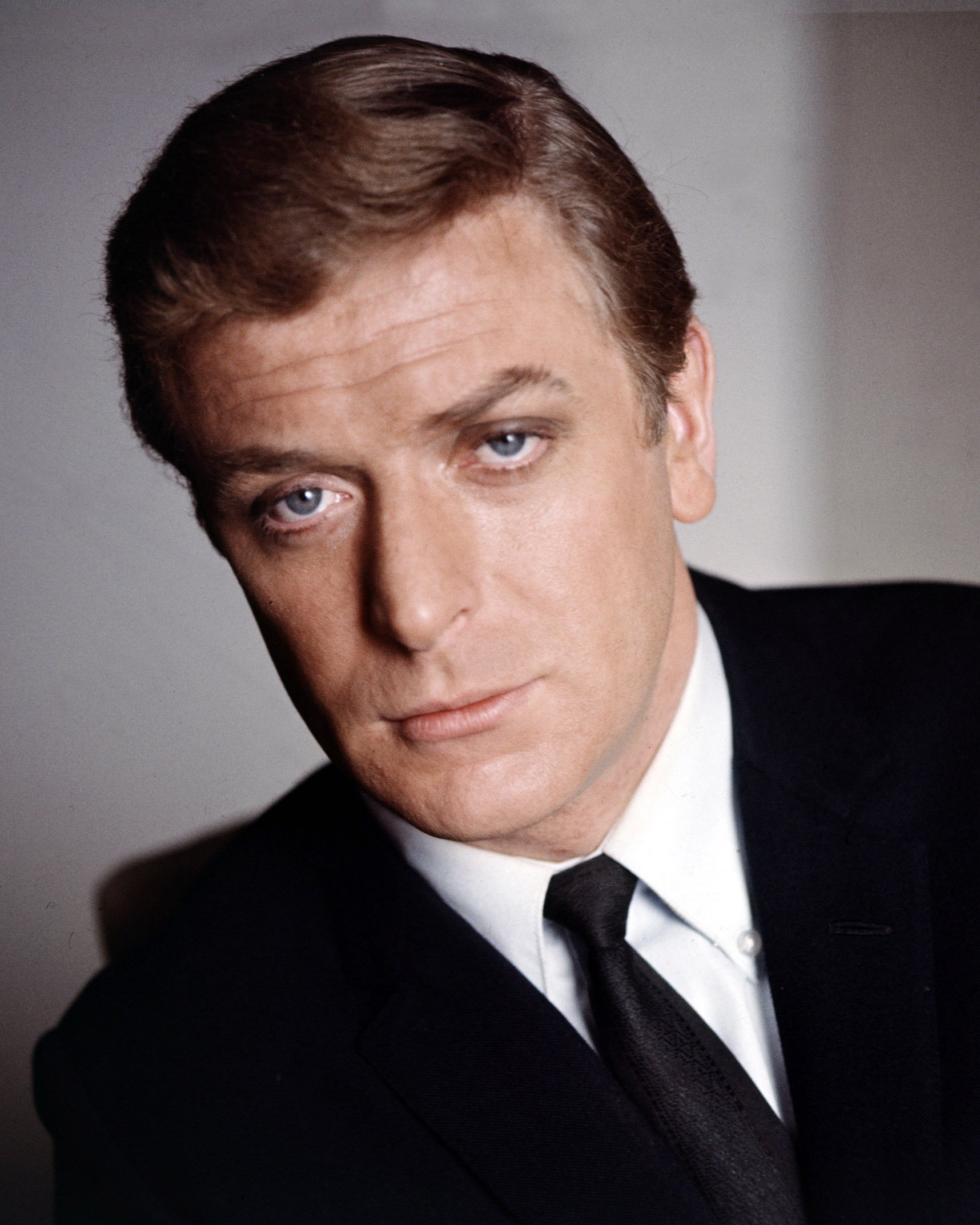 Portrait of English actor Michael Caine, circa 1966. | Source: Getty Images
Michael said: "I found out her number and phoned her. And phoned her and phoned her. It was really weird because the last night I phoned her, when she finally answered, was the last night I was going to phone her."
He also admitted that he fell for his wife in a matter of minutes, but it took his wife a while longer. He said he fell in love in eight minutes, whereas his wife fell in love in two hours.
The actor also added that if Shakira had refused to go on a date with him the first time, he would have forgotten about it. But Michael is thankful Shakira has made the last 50 years blissful.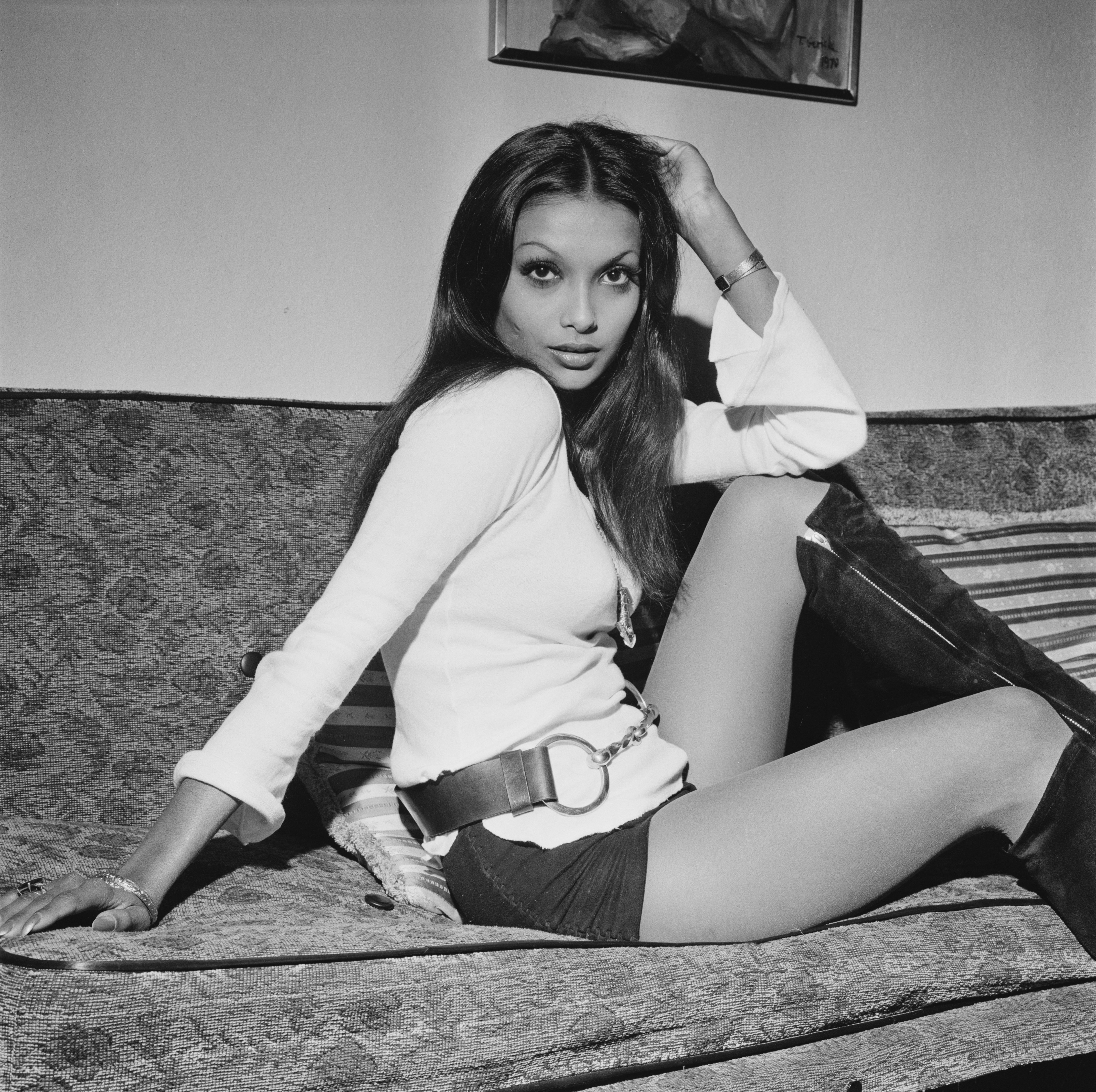 Actress and model Shakira Baksh, in UK, on 10th December 1971. | Source: Getty Images
Shakira's Impact on Michael's Life
Although Michael is one of the world's most recognized actors, he is most proud of his relationship with Shakira, who has made him a better version of himself.
When the couple met, Michael was a chronic smoker, and he drank a bottle of vodka every day, but Shakira became his saving grace. Once speaking on his journey to sobriety, Michael said:
"She didn't tell me to give up drinking; I just wanted to be sober and alive with her."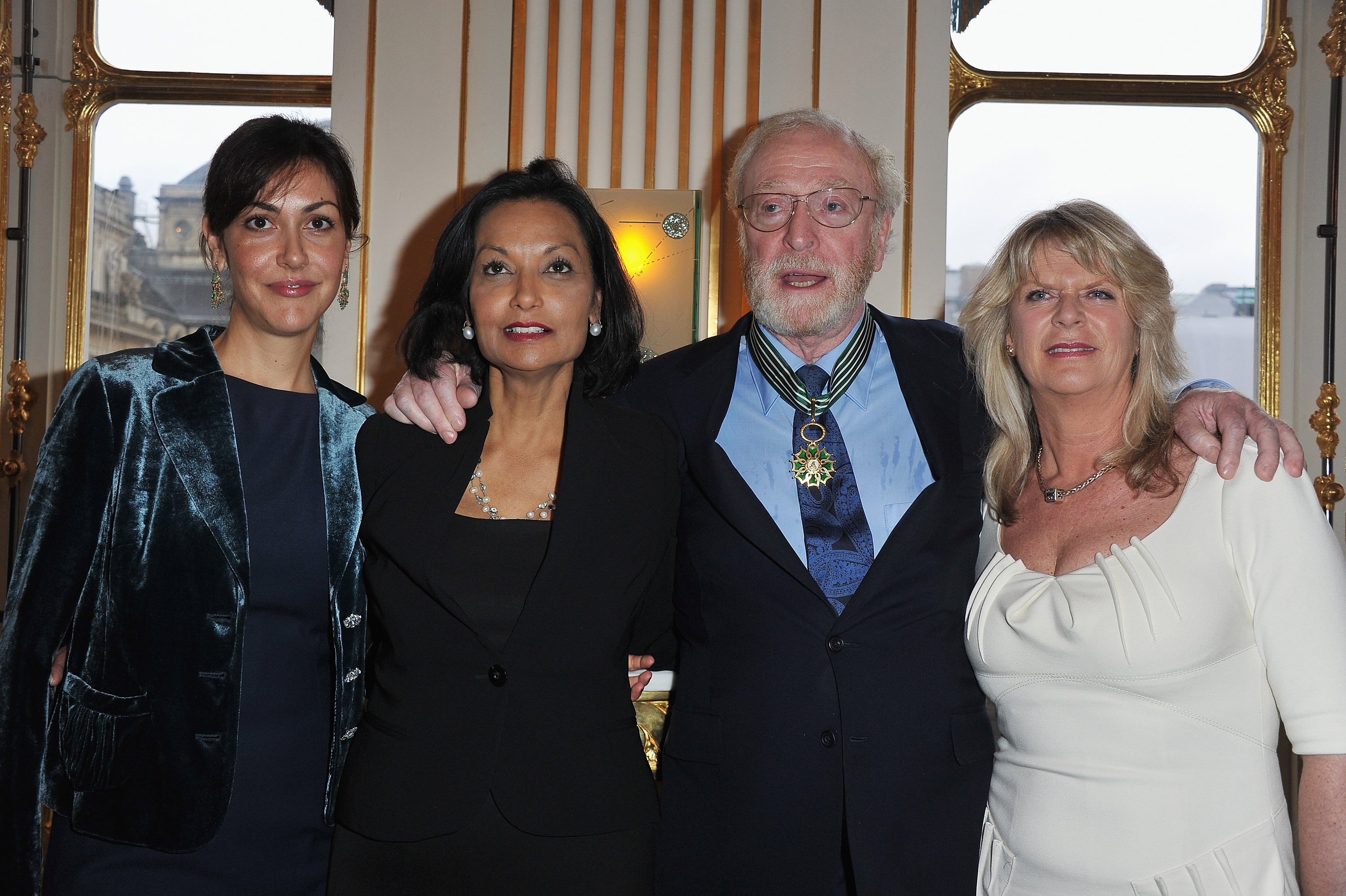 Actor Sir Michael Caine poses with daughters Natasha (L) and Dominique (R) and his wife Shakira (2ndL) after being awarded "Commandeur des arts et des lettres" by French Culture Minister Frederic Mitterrand at Ministere de la Culture on January 6, 2011 in Paris, France | Source: Getty Images
Michael says Shakira saved his life, and after he decided to remain sober, he only drank a bit of wine during dinner. The couple has been married since 1973, and they are parents and grandparents.
Michael's Devotion to Wife, Daughters, and Grandkids
Since Michael and Shakira walked down the aisle, the duo stopped at nothing to show off their beautiful family. They have created a wonderful life together.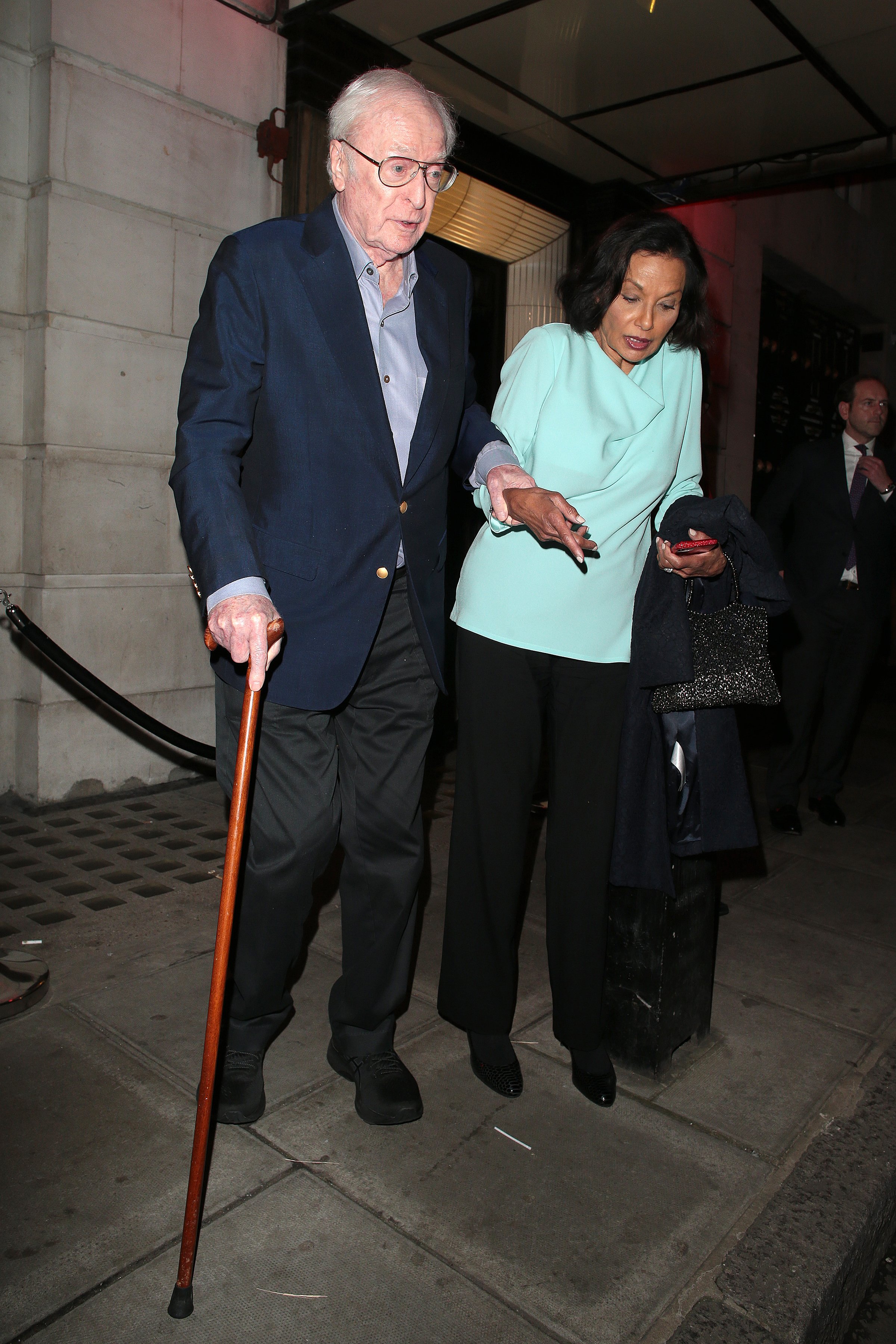 Michael Caine and Shakira Caine are seen on a night out at Langan's Brasserie in Mayfair on December 15, 2021 in London, England | Source: Getty Images
Once speaking on their relationship, Michael revealed: "We don't need anybody else except the family. We're very happy in our own company. And we all of us, no matter how nice and loving and lovely we are, all have a slightly bad side. Shakira is the only person I ever met who didn't have a bad side. There's no bad side. It's all good."
They had their daughter Natasha shortly after marriage. Michael also shares his daughter Dominique Caine with his ex-wife.
For Michael, family means everything, and the actor has a close relationship with his daughters. The actor once gushed about being a "great father" while he explained that family is the "best organization there is."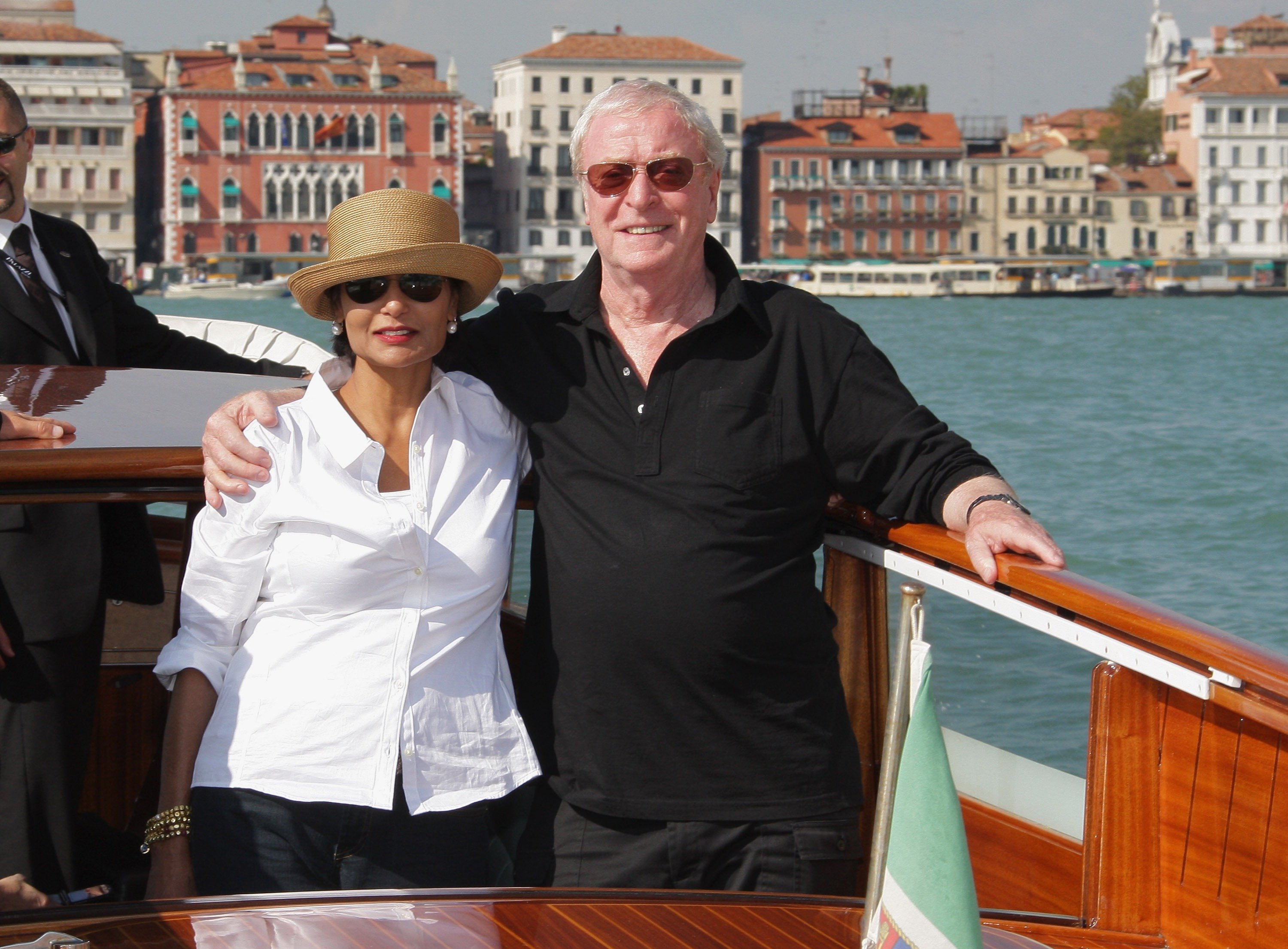 Michael Caine and wife Shakira are seen in Venice during day 4 of the 64th Venice Film Festival on September 1, 2007 | Source: Getty Images
Michael's first child Dominique did not join him in Hollywood but became a horse farm owner. Natasha has also stayed away from the spotlight, but she is known for being a doting mother to their grandchildren.
Michael and Shakira's marriage has withstood the test of time, and their bond keeps getting stronger. Years after walking down the aisle, becoming parents and grandparents, the 90-year-old "Going In Style" star decided to share the secret to having a long-lasting marriage.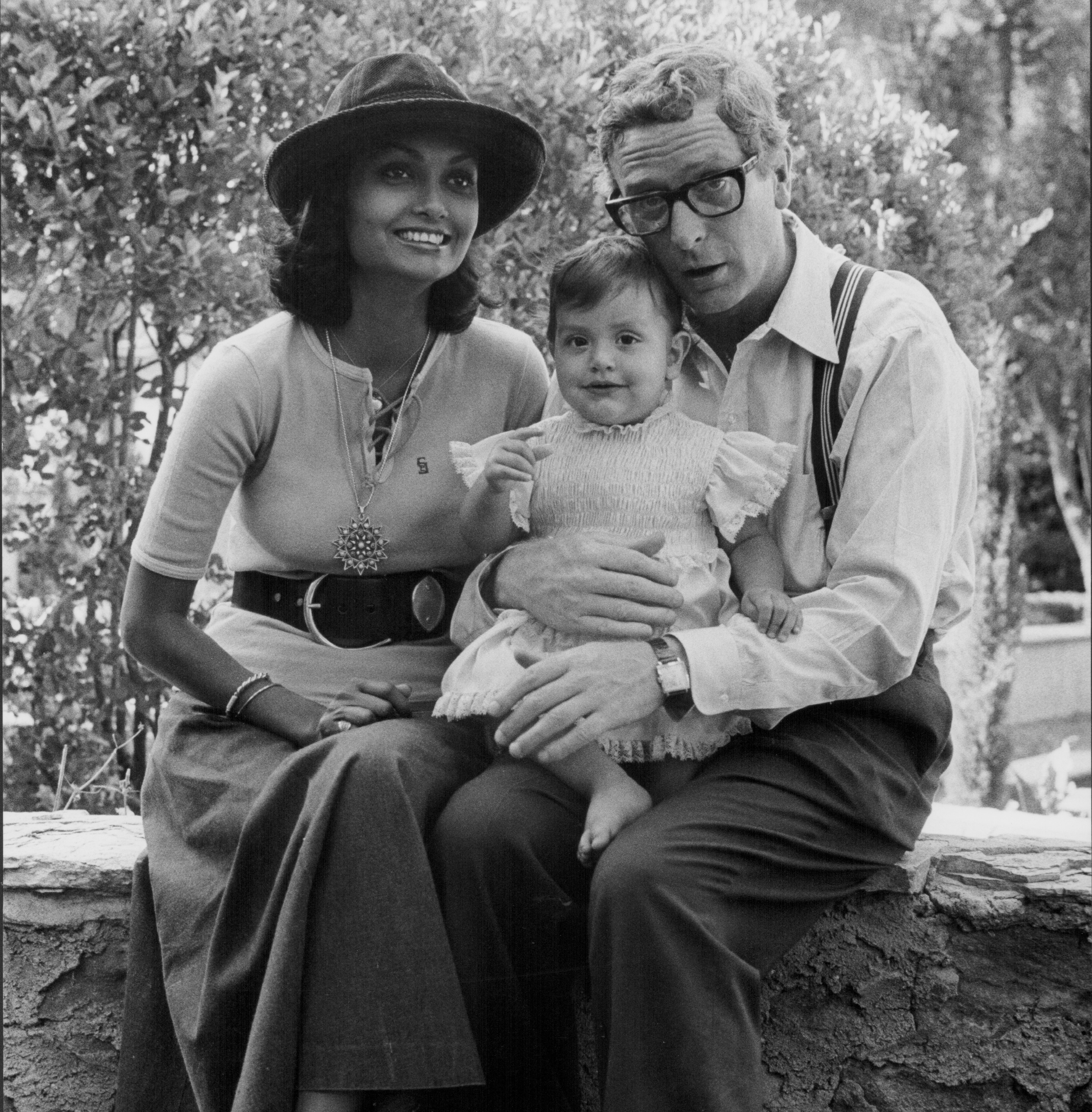 Actor Michael Caine with his wife Shakira Caine and their baby, behind the scenes of the movie "Peeper," circa 1976. | Source: Getty Images
In an interview, talking about aging, staying healthy, and trying marijuana, the movie icon decided to bless young couples with the secret of his decade long-marriage, and he says:
"The secret of a good marriage is two bathrooms. You never want to share a bathroom with a woman, or you end up with a little corner for your shaving things and stuff. I am older than she is, and I need more space."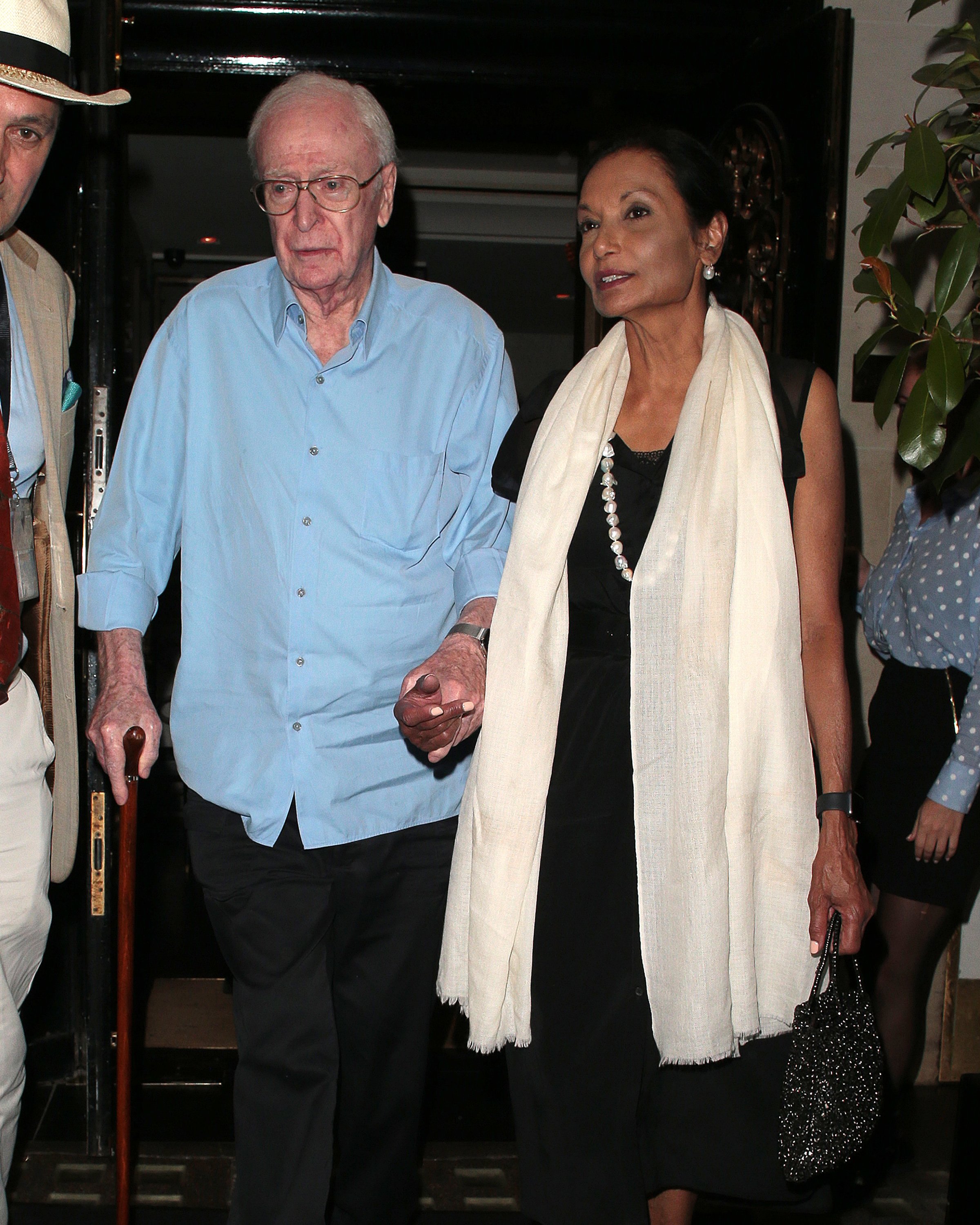 Michael Caine and Shakira Caine seen on a night out at Scott's restaurant in Mayfair on July 24, 2019 in London, England | Source: Getty Images
While Michael's words may seem funny to many viewers, his theory has worked for him and Baksh, who now enjoy being grandparents.
When Michael and Shakira's daughter Natasha gave birth, it was a wonderful time for the couple, and Michael could not contain his joy. Once reflecting on how it felt to see his grandson for the first time, Michael said he was "besotted."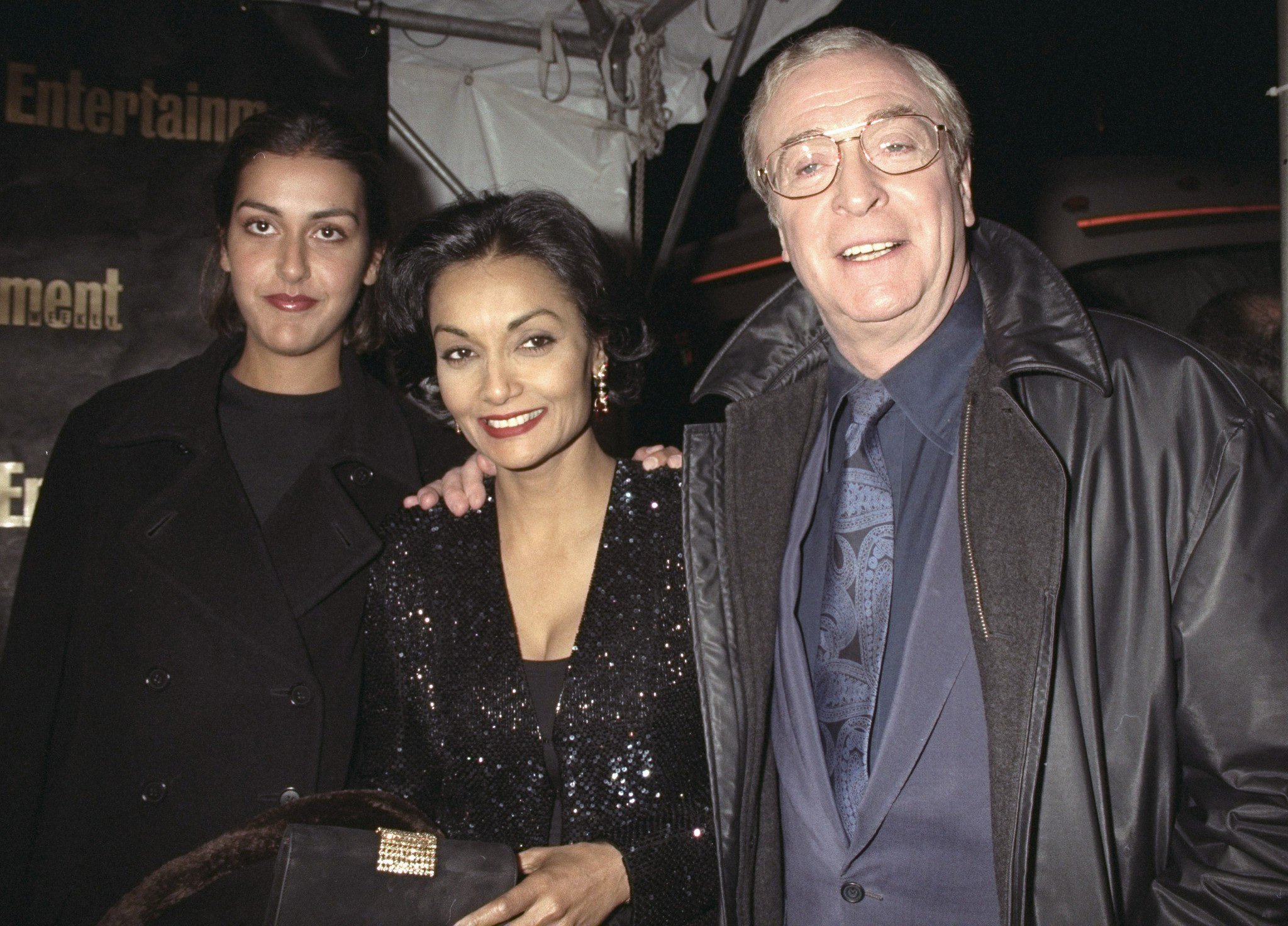 Michael Caine, with wife Shakira and daughter Natasha, attending Entertainment Weekly's Oscar party at Elaine's. | Source: Getty Images
The happy grandpa said he talks to his little grandson and keeps him warm and secure with his "big hands." The movie icon also revealed that his affection towards his other grandchildren is the same.
Michael says that his marriage to Shakira has lasted as long as it has because he married the most wonderful person in the world and she always went with him on location when he was filming.
Michael's health is now not what is used to be. He walks with a frame and is unable to do all the things he used to do, but one thing he has not given up on is going on dates with his wife and they shine together.
Please fill in your e-mail so we can share with you our top stories!