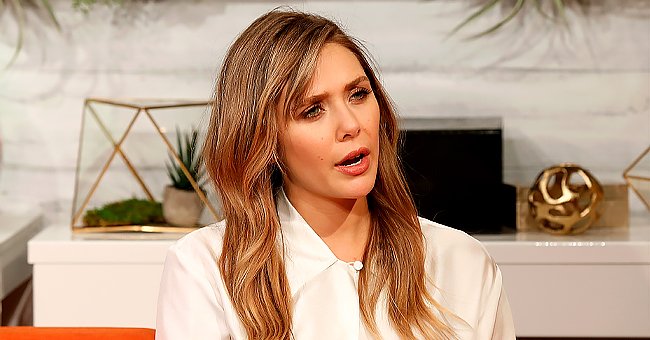 Getty Images
The Olsen Twins' Sister 'Didn't Want to Be Associated' With Them & Wanted to Change Her Name
Mary-Kate & Ashley Olsen are widely known for playing the sweet Michelle Tanner in "Full House." However, the twin sisters have another sibling who nearly changed her name.
Fame is a common result of being in Hollywood. As an effect, some families are widely considered Hollywood royalty due to their long presence in the entertainment industry. The Olsens are one such family.
Twin sisters Mary-Kate and Ashley Olsen were just infants when they were cast to play the adored toddler Michelle Tanner in "Full House" alongside Bob Saget. The girls grew to become two of the biggest child stars of the '90s.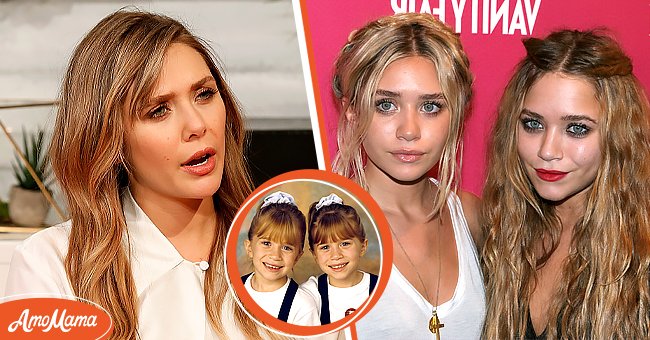 Elizabeth Olsen attends BuzzFeed's "AM To DM" on October 10, 2019 [left]. Little Mary Kate (left) and Ashley Olsen [middle]. Mary-Kate Olsen and Ashley Olsen during 7th Annual Free Arts NYC Art + Photography Benefit Auction [right] | Photo: Getty Images
However, Ashley and Mary-Kate are not the only Olsens to embrace fame. Their younger sister, Elizabeth, is also a superstar in her own right. However, she was almost discouraged by the success of her older sisters.
Many kids today might wish for Mary-Kate and Ashely's supposedly glamorous lifestyle, but the sisters said they do not want their experience on anyone. Despite their fame, the Olsen girls had an unusual childhood.
While other kids their age went to school and socialized with their peers, the sisters were well-known child stars who devoted most of their time to work.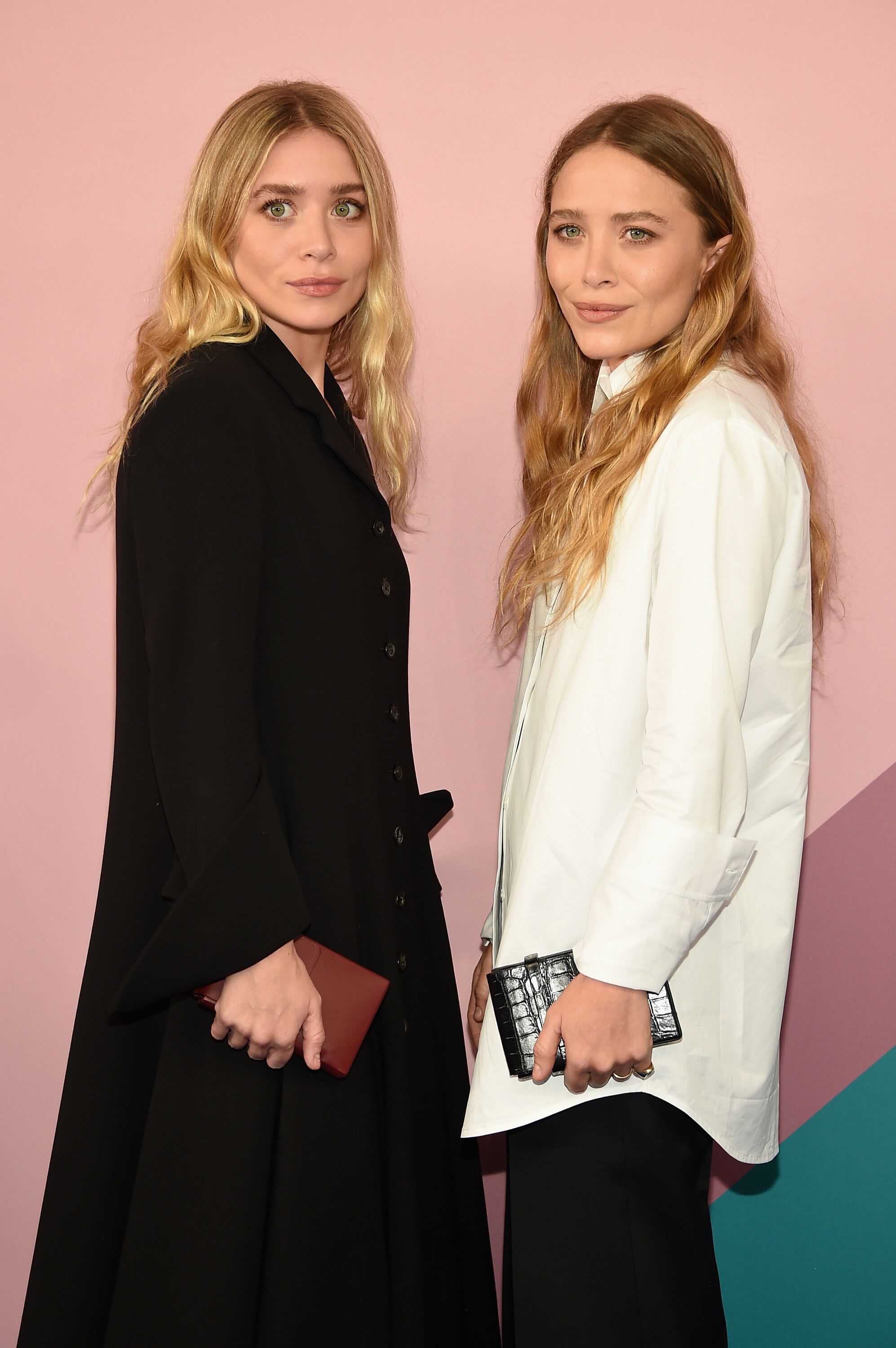 Ashley Olsen and Mary-Kate Olsen at the 2017 CFDA Fashion Awards in New York. | Photo: Getty Images
The Olsen twins began working on a movie set at just nine months old. Then, in 1987, they joined the cast of "Full House" to play Michelle, the show's youngest Tanner daughter. The Olsen twins took turns playing Michelle, and she grew to be one of "Full House's" most popular characters.
Following the conclusion of "Full House" in 1995, Mary-Kate and Ashley created their brand and starred in their films. They appeared in several well-known films, including "Passport to Paris," "Our Lips Are Sealed," "Holiday in the Sun," and "New York Minute."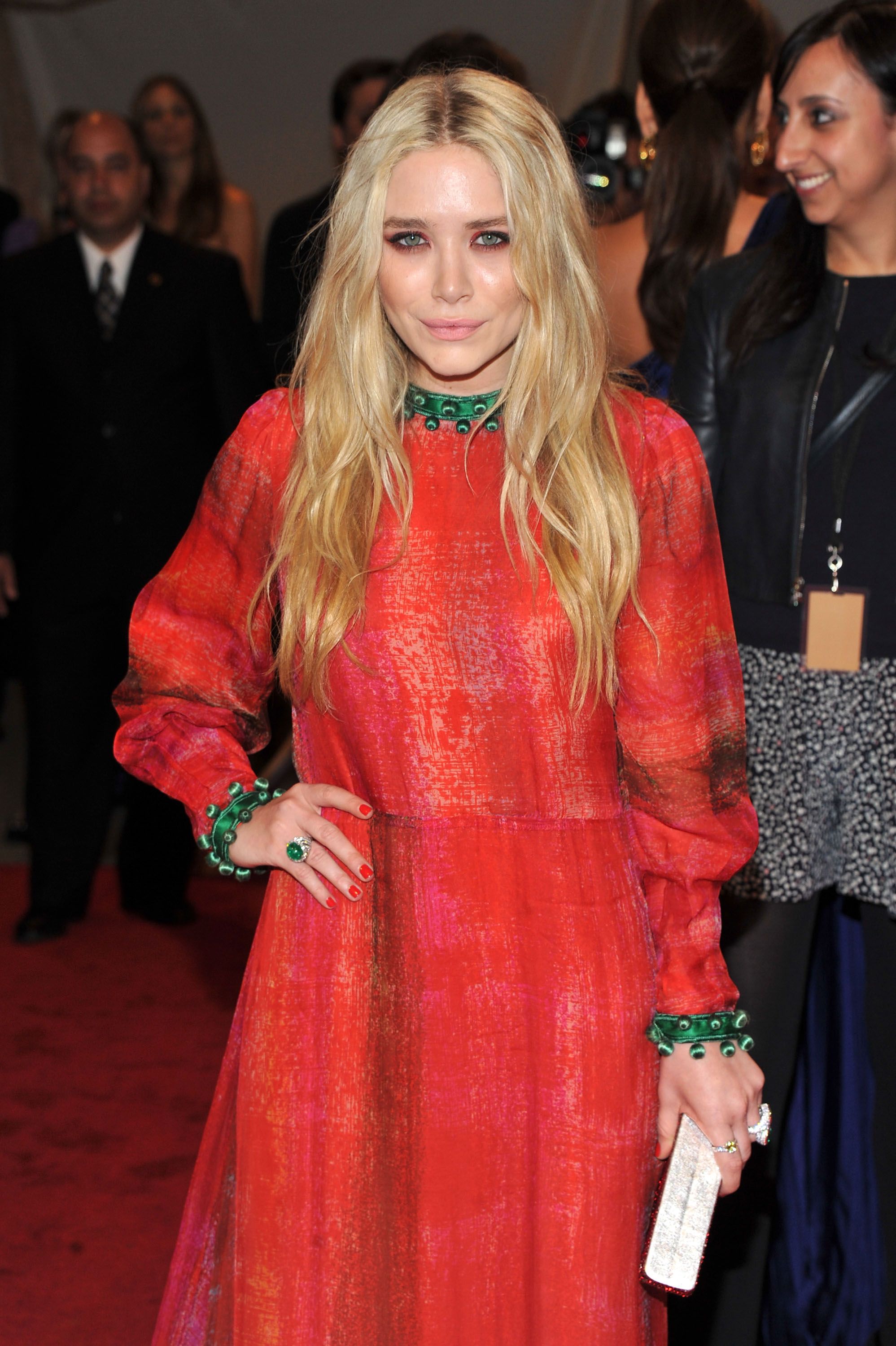 Mary-Kate Olsen during the "Alexander McQueen: Savage Beauty" Costume Institute Gala at The Metropolitan Museum of Art on May 2, 2011 in New York City. | Photo: Getty Images
Away from filmmaking, the Olsen twins had a commercial empire that included books, magazines, toys, games, and clothing. Their vast careers earned them the millionaire status before they were ten.
The girls undoubtedly enjoyed the glamor of Hollywood, which included traveling around the world, rocking designers' clothes, and enjoying the thrill of their fans. However, their childhood was not their favorite experience.
The biggest challenge they faced was the prying eyes of the Los Angeles paparazzi, which followed them everywhere. The sisters recalled when they were photographed in swimwear during their vacation. The invasion of their privacy left a bitter taste in their mouths.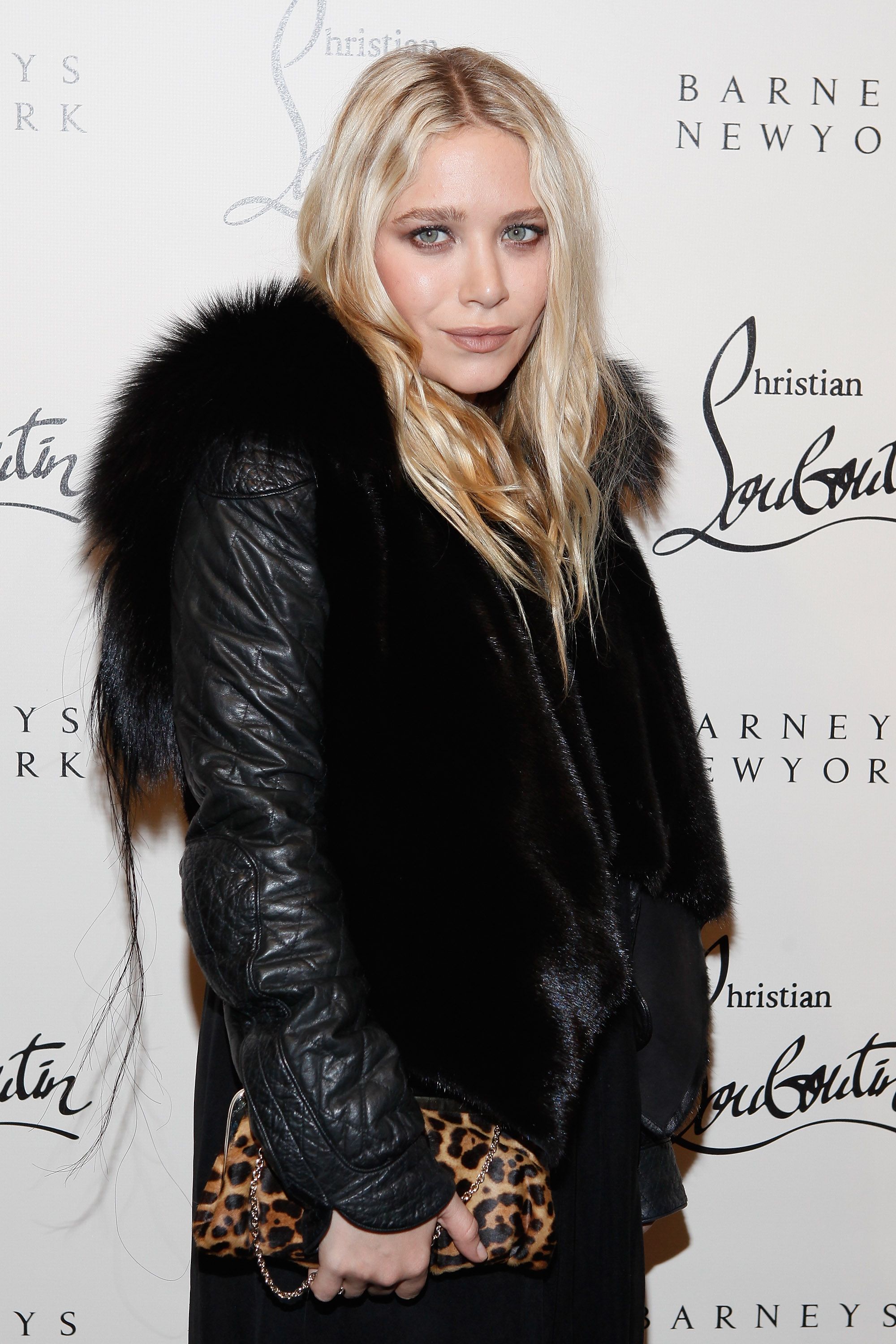 Mary-Kate Olsen during the Christian attends the Louboutin Cocktail party at Barneys New York on November 1, 2011 in New York City. | Photo: Getty Images
Mary-Kate and Ashely are not the only famous Olsen girls. Their younger sister, Elizabeth, has a thriving career as an actress. The 32-year-old is known for playing the Scarlet Witch in the "Avengers" franchise.
Elizabeth grew up surrounded by Hollywood culture since her sisters were popular film stars. However, unlike her siblings, she had a normal childhood and waited until she was much older before embracing fame.
The beauty had her breakthrough in 2011 with her role in the film "Martha Marcy May Marlene." Since then, Elizabeth has featured in other hit movies, including "Kill Your Darlings" alongside her role in the 2014 hit movie "Godzilla."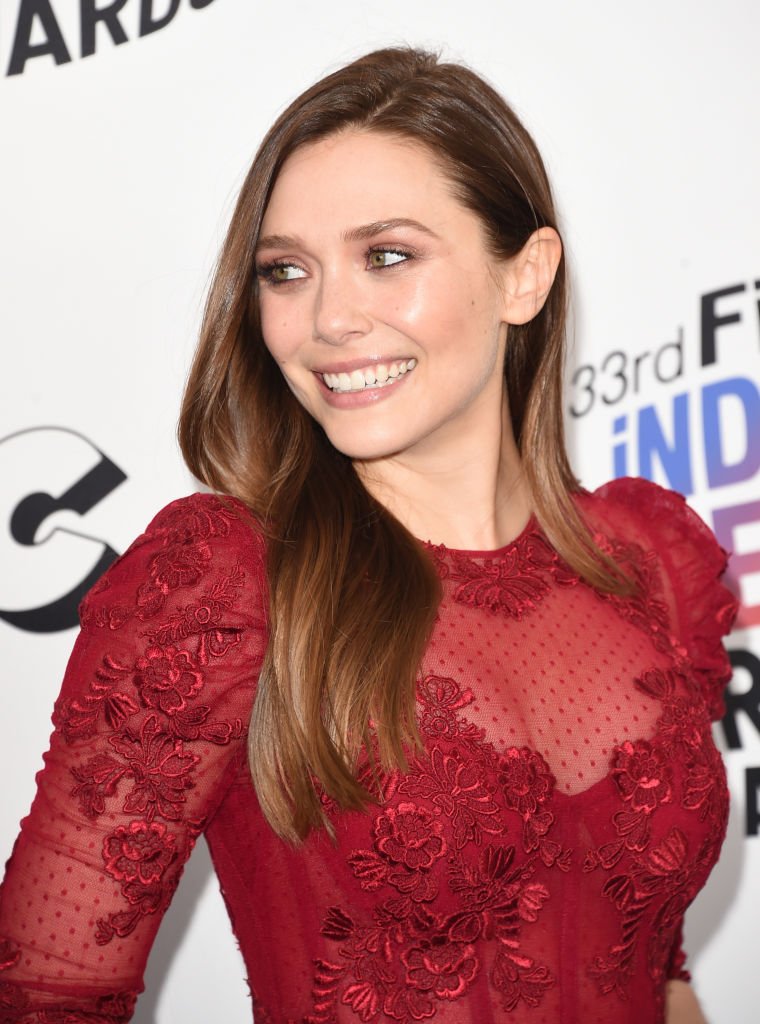 Actress Elizabeth Olsen attends the 2018 Film Independent Spirit Awards on March 3, 2018 in Santa Monica, California | Photo: Getty Images
Elizabeth, nicknamed "Lizzie," is mainly featured in her sister's movies. According to her, it was mostly an after-school activity. She was offered minor roles in films like "How the West Was Fun."
Speaking of why she chose to wait before pursuing an acting career full-time, Elizabeth noted that she was unwilling to give up her love for sports and ballet for an acting career during her pre-teen years.
Seeing her older sisters sacrifice their childhood for fame was a scary experience for the young Elizabeth. Her father, David, later hit the final nail on the coffin. He asked her to list the pros and cons of being an actress or enjoying extracurricular activities, and she realized that she wanted the latter the most.
Elizabeth's career almost did not reach the peak it currently enjoys. According to the 32-year-old, she almost quit acting due to the abuse and privacy breach she saw her sisters suffer.
Mary-Kate suffered a health scare in 2004 and was diagnosed with an eating disorder. However, her sickness received widespread media coverage, mostly putting the young actress in the wrong light. This experience made Elizabeth wary of walking into Hollywood.
Recalling the incident, Elizabeth said, "That was when the media was what I found to be abusive to my sisters, and I thought I really didn't want to be in the industry."
She further added, "They turned 18, and what was going on in her life—I'm talking about Mary-Kate—was all over the news. They would follow us shopping, and [Mary-Kate and Ashley] would almost get into car accidents because of the paparazzi, and I didn't want to be part of it. I just thought, "This is such bulls--t."
While she was 14-years-old, Elizabeth recalled having a change of heart. Her academic grades were good, especially her math skills, so she thought she would become an accountant instead of an actress.
However, the "Godzilla" actress continued acting and landed some critical roles that threw her into the limelight. Speaking of her early days, Elizabeth remarked, "I went through a phase when I first got into college where I was thinking if I don't get a manager or agent, I'll ask the girls [Mary-Kate and Ashley] to help me."
She further stated, "I was OK with that idea, but I never needed it. It's like my brother [Trent, a screenwriter]. He really doesn't want to use any connections that he actually has."
ELIZABETH ALMOST CHANGED HER NAME
Growing up with the "Olsen" name for many could be a good thing, but for Elizabeth, who also wanted a piece of the Hollywood cake, she struggled to make a name for herself.
The name almost made her feel like her career was under the shadows of her famous big sisters' fame. So she almost opted for "Elizabeth Chase" to distance herself from her twins.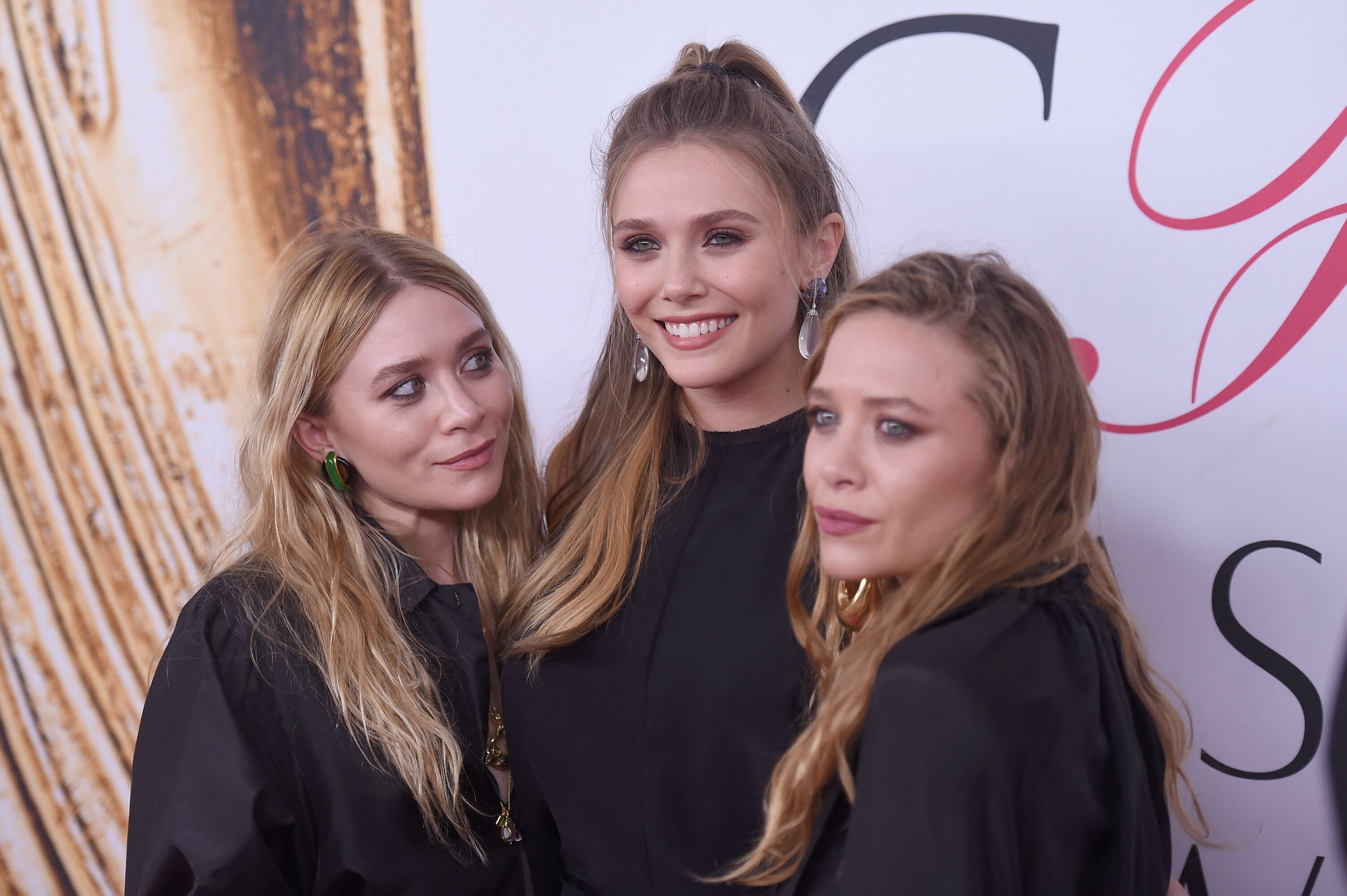 Elizabeth, Mary-Kate and Ashley Olsen at the 2016 CFDA Fashion Awards in New York. | Photo: Getty Images
Speaking to Glamour, she said, "I thought, 'I don't want to be associated with [Mary-Kate and Ashley],' for some reason. I guess I understood what nepotism was like inherently as a 10-year-old."
She further added: "I don't know if I knew the word, but there is some sort of association of not earning something that I think bothered me at a very young age." Elizabeth admitted that such thoughts were deeply rooted in her insecurities as a 10-year-old.
Elizabeth's success is not down to her talents alone; she equally enjoyed the support and counsel of her family, including her older and famous sisters, Mary-Kate and Asley.
Elizabeth's career was properly launched in 2011 after she featured in "Silent House," "Martha Marcy May Marlene," and "Peace, Love & Misunderstanding." Her role in "Martha Marcy May Marlene" earned her the tag of the performer of the year.
Her carer picked up the pace in 2012 as she starred in two films: "Red Lights" and "Liberal Arts." The following year, she co-starred in the drama "Very Good Girls" with Dakota Fanning and "Kill Your Darlings" with Daniel Radcliffe.
Elizabeth has continued to make significant strides in her film career. She starred in the international smash remake "Godzilla" in 2014, and the following year, she starred in "Avengers: Age of Ultron," which grossed more than $1.4 billion worldwide. She has remained in high demand since then.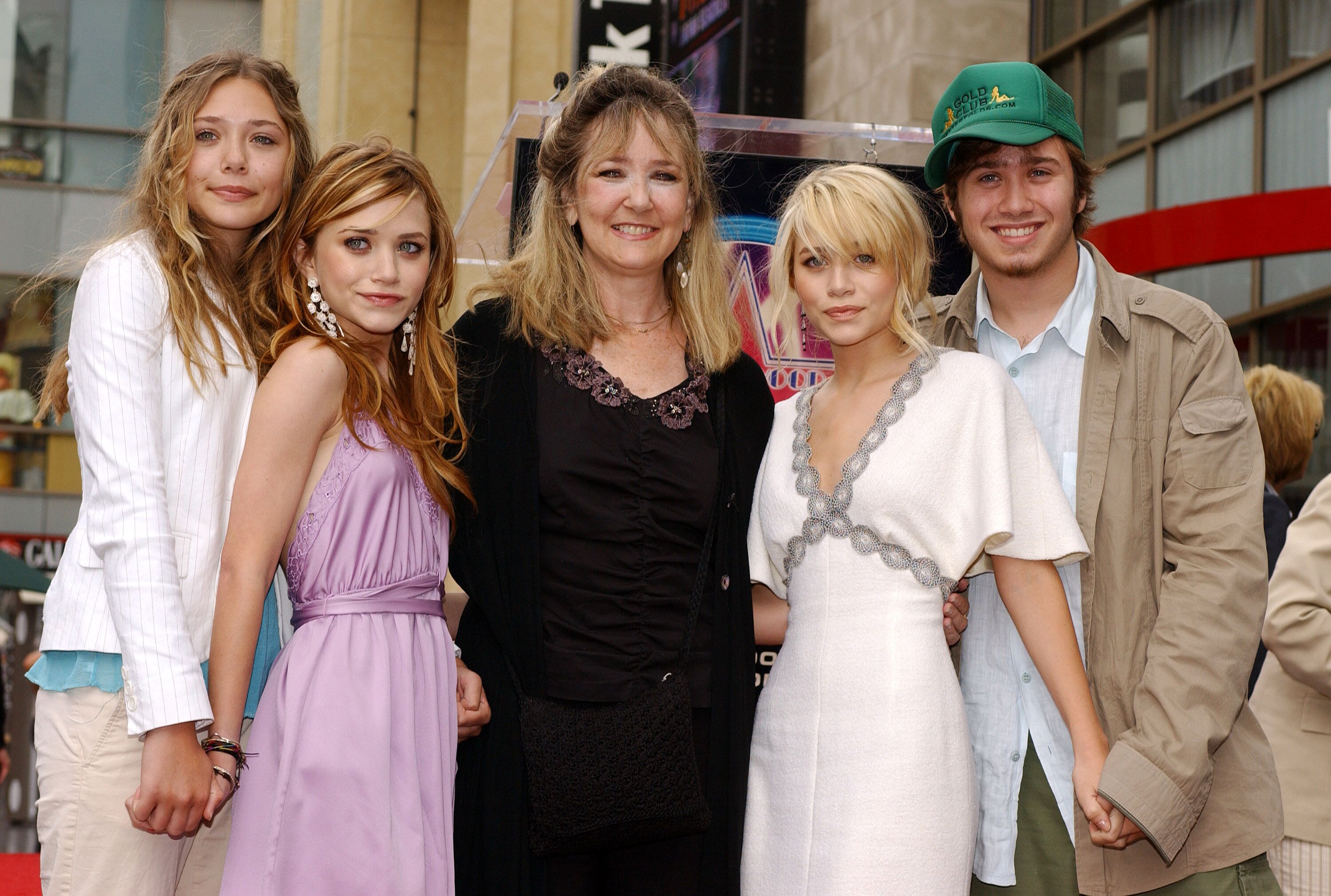 The Olsens: Elizabeth, Mary-Kate, mother Jarnette, Ashley and brother Trent Olsen, at the ceremony honoring Ashley and Mary-Kate with a star on the Hollywood Walk of Fame in 2004. | Photo: Getty Images
RELATIONSHIP WITH HER SISTERS
Elizabeth openly admits that her older sisters, Mary-Kate and Ashley, often offer career advice, but she rarely takes it. However, the sisters enjoy a close bond apart from their striking resemblance.
The "Avengers" star claimed she preferred to learn from her pitfalls and grow her craft. However, she greatly admires her two sisters, who now excel away from the camera.
Please fill in your e-mail so we can share with you our top stories!