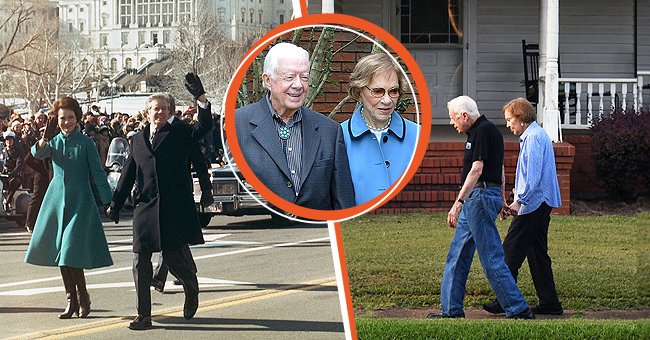 Getty Images
Jimmy Carter Never Had 'Ambition to Be Rich' - He Lives in a $167K House & Shops at the Local Dollar General
Even though Jimmy Carter served as the 39th President of the United States, he never had ambitions to be rich and currently lives in a two-bedroom home in a small town in Georgia.
Born in October 1924, Jimmy Carter grew up between Plains and Archery, two Georgia towns. His dad owned a peanut farm, and his mom worked as a registered nurse.
Jimmy met his wife, Rosalynn Carter, only one day after her birth. He never wished to be wealthy, but he and Rosalynn now live in a cozy $167,000 house. Read on and see some details of Jimmy's life and photos of his home.
AVERAGE CHILDHOOD IN A SMALL TOWN
Jimmy's parents were proud Baptists, so he grew up surrounded by peanut farming, talk of politics, and religion. When he was four years old, his family moved from Plains to Archery, a sparsely populated rural town.
It was so underdeveloped that mule-drawn wagons were the dominant way of transportation when the Carters settled down. Not every home had electricity and indoor plumbing, either.
Still, Jimmy was determined to make the most out of it. He performed great at school, avoided trouble, and started working at his dad's store at 10.
In 1941, Jimmy graduated from high school. It might not be a considerable milestone nowadays, but he became the first person from his dad's side of the family to do it.
After studying engineering at Georgia Southwestern Junior college, Jimmy joined the Naval ROTC program. In 1943, the Naval Academy in Annapolis, Maryland, accepted him.
During one of his summer breaks, he reconnected with Rosalynn, his future wife, whom he met when she was a newborn.
Jimmy's mother helped deliver Rosalynn in August 1927 and took her three-year-old son to meet her one day later. Jimmy fell in love with Rosalynn in the early 1940s, and they tied the knot in June 1946.
Jimmy and Rosalynn returned to Plains and live in a $167,000 two-bedroom ranch.
WORKING HARD TO BECOME POTUS
After working on submarines and moving frequently, Jimmy left the Navy in 1953 following his father's passing from pancreatic cancer. He returned to Georgia to take care of the peanut business and eventually became active in community politics.
In 1962, Jimmy became Georgia's Senator. Four years later, he ran for governor and lost. He ran again in 1970 and defeated Carl Sanders to become Governor of Georgia.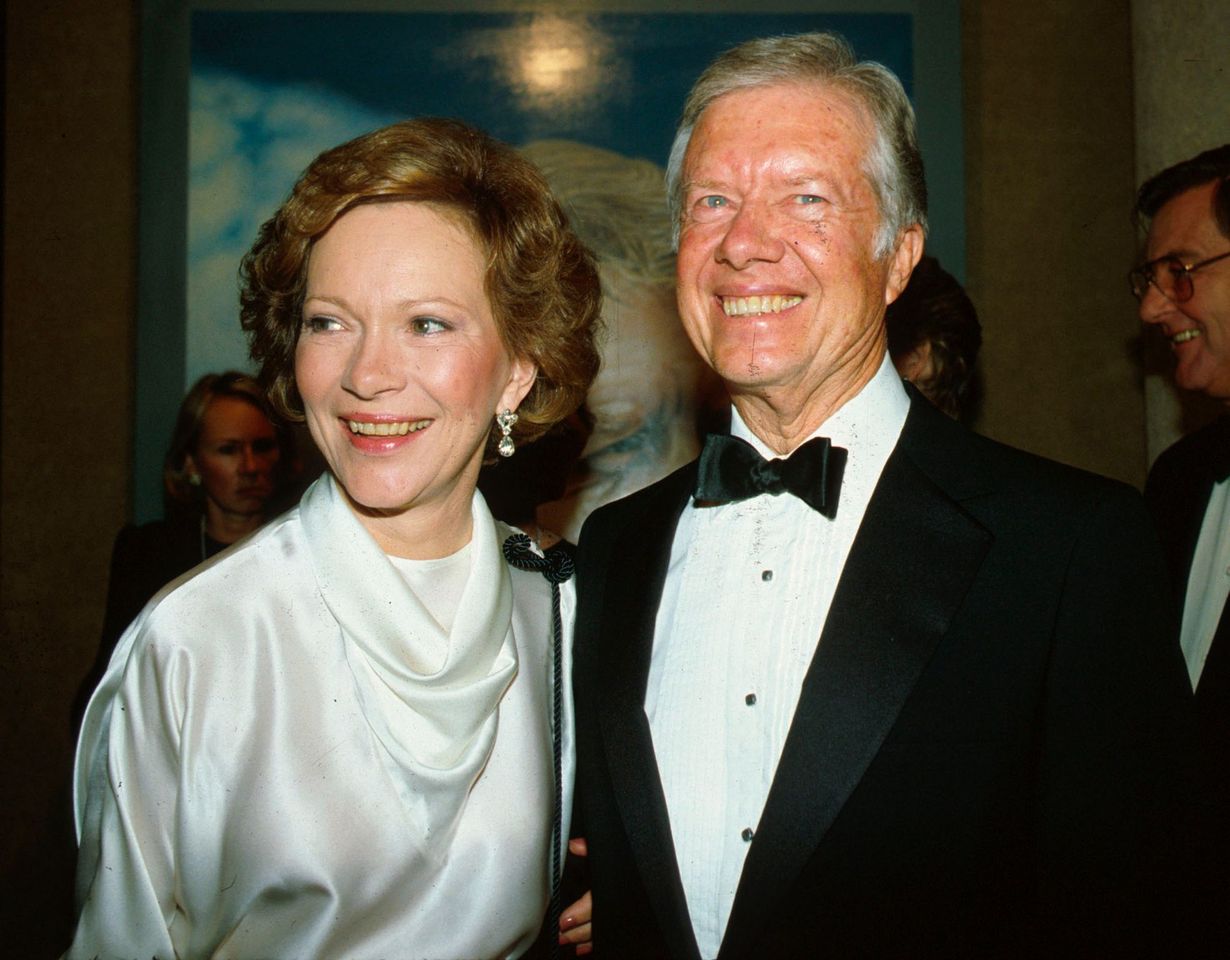 Jimmy Carter and Rosalyn at the Sotheby's Auction in New York City, on October 4, 1983 | Photo: Getty Images
His political aspirations didn't end there, and in January 1977, he became the 39th President of the United States. He was in office until 1981 and received the 2002 Nobel Peace Prize for finding peaceful solutions to international conflicts and advancing democracy and human rights.
Rosalynn was crucial in Jimmy's one-term presidency. She focused on the performing arts, mental health, the elderly, and the community, and she served as the Honorary Chairperson of the President's Commission on Mental Health.
She even acted as an adviser to the President and attended cabinet meetings when they discussed subjects she considered of her interest.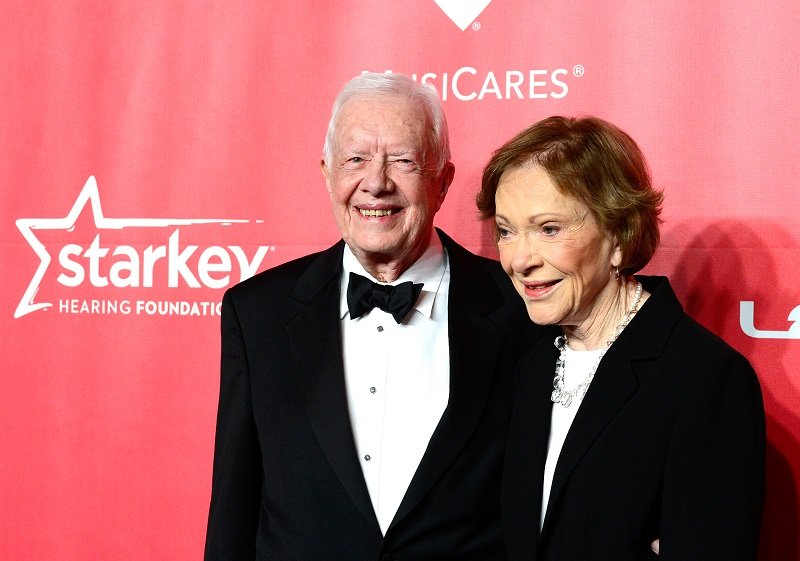 Jimmy Carter and Rosalynn Carter on February 6, 2015 in Los Angeles, California | Photo: Getty Images
JIMMY AND ROSALYNN'S LIVES AFTER THE WHITE HOUSE
When Jimmy left Washington in 1981, he and Rosalynn established the Carter Presidential Center in Atlanta. He also served as a diplomat in several countries.
He promoted the return of the Miskito Indians in Nicaragua, tried to mediate an agreement with the Eritrean People's Liberation Force in Ethiopia, and reported illegal voting procedures in Panama.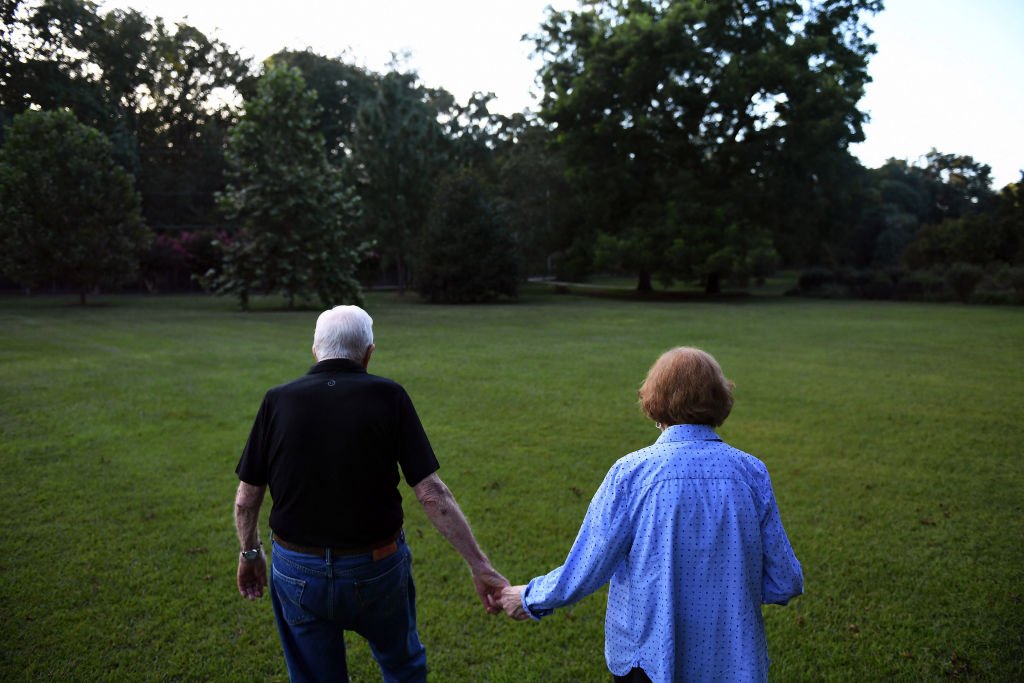 Jimmy Carter and Rosalynn Carter on August 04, 2018 in Plains, Georgia | Photo: Getty Images
After ending his presidential term, one of Carter's most memorable deeds was negotiating with North Korea to end nuclear weapons development.
Apart from that, he published several books, novels, and a collection of poetry. Jimmy and Rosalynn returned to Plains and live in a $167,000 two-bedroom ranch.
[Jimmy] never wanted to "capitalize financially on being in the White House."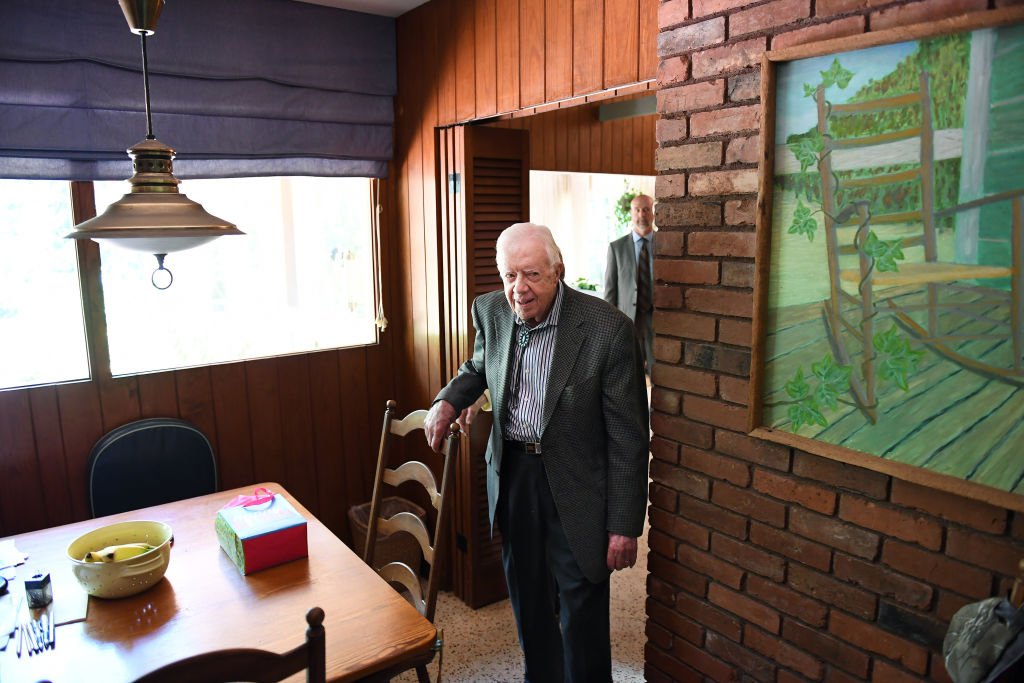 Jimmy Carter on August 05, 2018 in Plains, Georgia | Photo: Getty Images
People reported that his pension, office, and other expenses cost the US government $456,000 (other former POTUS like Bill Clinton and Barack Obama have $1 million budgets).
The Carters also live a quiet life. Jimmy spends some of his time in his study, swimming in the property's pool, and building furniture or painting in the garage. Rosalynn prefers to practice tai chi and meditate in the mornings.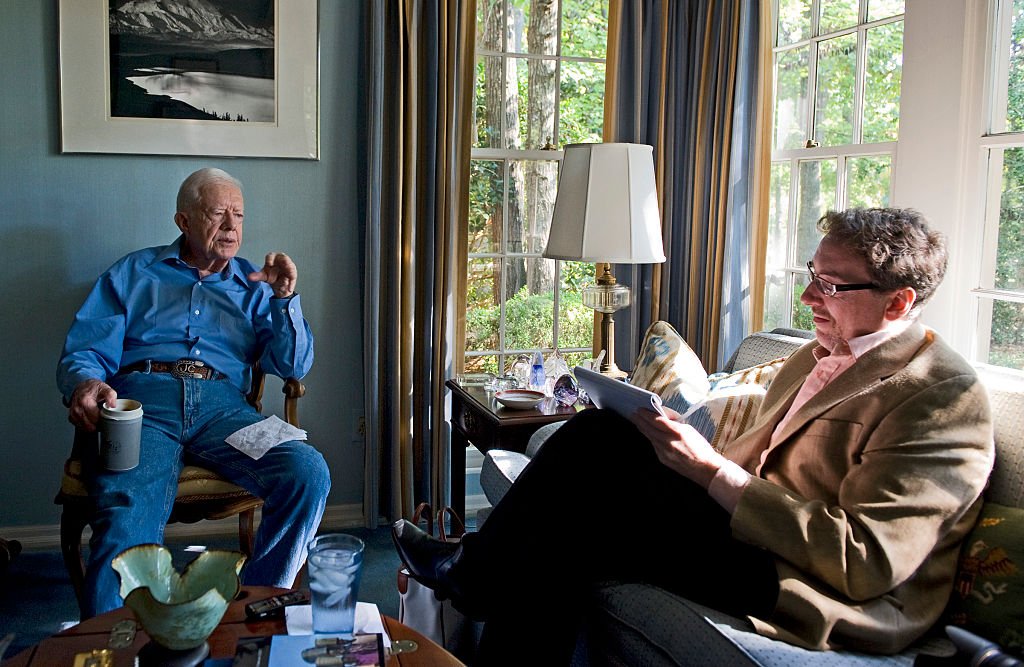 Jimmy Carter on October, 11, 2010 in Plains, Georgia | Photo: Getty Images
Depending on the day, the former first couple prepares their yogurt and watches Atlanta Braves games or "Law and Order." Their Saturdays are pretty similar, too.
They walk to their friend's house next to three Secret Service agents and have dinner on paper plates and plastic cups. Apart from the $210,700 annual pension he receives as a former president, Jimmy earns money from his book sales.
Jimmy Carter and Rosalynn Carter on August 04, 2018 in Plains, Georgia | Photo: Getty Images
Unlike his predecessor Gerald Ford (and many other former presidents), Jimmy didn't join corporate boards or give speeches for hefty paychecks. The former peanut farmer never wanted to "capitalize financially on being in the White House." Jimmy explained:
"I don't see anything wrong with it; I don't blame other people for doing it. It just never had been my ambition to be rich."
THE CARTER FAMILY AND SECRETS TO LONG MARRIAGE
Nowadays, the Carters have a massive family. Their four children, Amy, Jack, Donnel, and James, have kids on their own and successful careers in politics and technology.
In Jack's case, he is a businessman and politician who ran (and lost) for the Senate in Nevada in 2006. His two biological children, Jason and Sarah, are also involved in politics.
Donnel, also known as Jeff, cofounded a former computer-mapping company in the 1970s. He had three sons, Jeremy, Joshua, and James, but Jeremy passed away in 2015.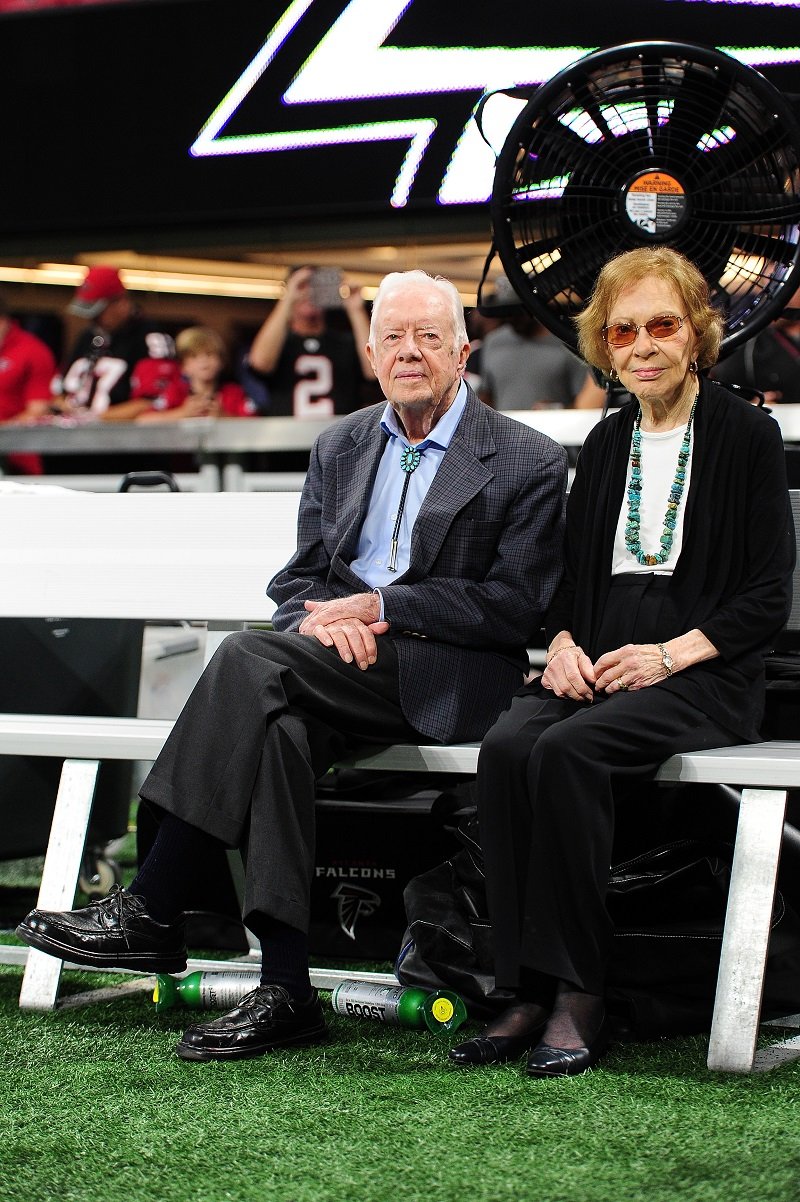 Jimmy Carter and his wife Rosalynn on September 30, 2018 in Atlanta, Georgia | Photo: Getty Images
James has been a political consultant for many Democratic candidates and has been married three times. He has a son, James IV, and a daughter, Margaret, from two different relationships.
Amy, Jimmy's youngest kid, has also been active in politics. She participated in protests during the 1980s and 1990s before working with her father on his children's book. Amy lives with her husband, James, and son, Hugo, in Atlanta.
Jimmy admitted in 2015 that he had 22 grandchildren and great-grandchildren. Although their family is huge, they hold everyone together and enjoy family life by going on vacations every year between Christmas and New Year.
They also give "plenty of space" to each other and do activities together, like playing tennis, downhill skiing, fly-fishing, and birdwatching. What an incredible love story!
Please fill in your e-mail so we can share with you our top stories!