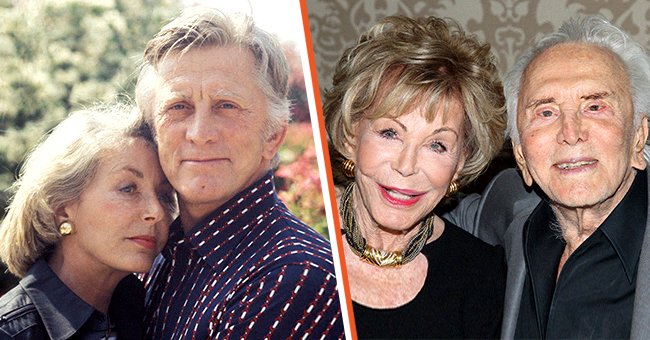 Anne and Kirk Douglas | Source: Getty Images
Kirk Douglas Was Married to a 'Terrible' Woman for 65 Years — She Knew All about His Extramarital Affairs
In his wild Hollywood years, classic movie icon Kirk Douglas was that hunk who explored his virility despite being married to whom he described as the "most difficult woman."
Kirk Douglas was Hollywood royalty in its full form, and even before his death, the mantle passed down to his children, including the Oscar-winning Michael Douglas.
However, Kirk stood out during his lifetime due to his sterling physique and prominent cleft chin, making him Hollywood's ultimate sweetheart. The actor's breakout role was in "The Strangers' Love," and from there, he moved on to gain critical acclaim.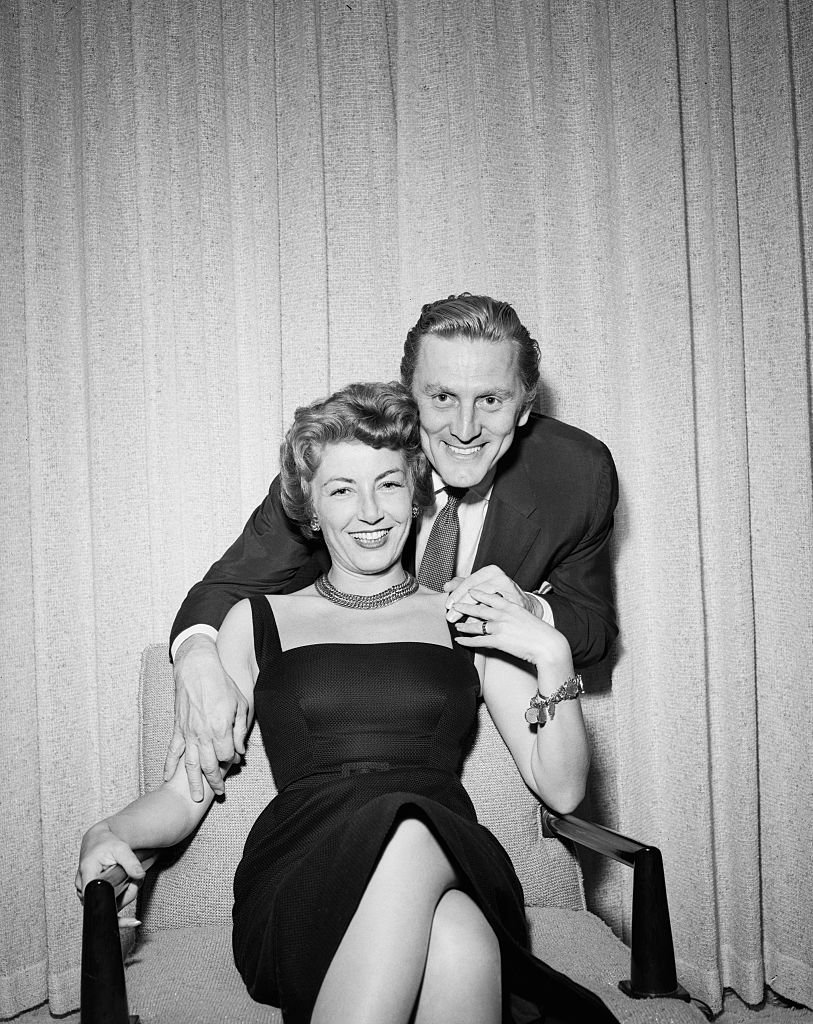 Kirk Douglas and his wife Anne Douglas. | Source: Getty Images
However, Kirk also had many adventures that led to affairs, despite being married to Anne Buydens, which challenged and fascinated him. Here's a look through his documented trysts.
Encountering & Falling in Love with the "Most Difficult Woman" He'd Ever Met
Kirk Douglas was married to his wife Anne Buydens until the day he took his last breath, but many decades before their lasting union came to fruition, he was just a Hollywood star perplexed by her rejection.
Kirk and Buydens met in 1953 during a sour meet-cute that didn't end in his way. The pair's first introduction is detailed in their co-written book, "Kirk and Anne: Letters of Love and a Lifetime in Hollywood."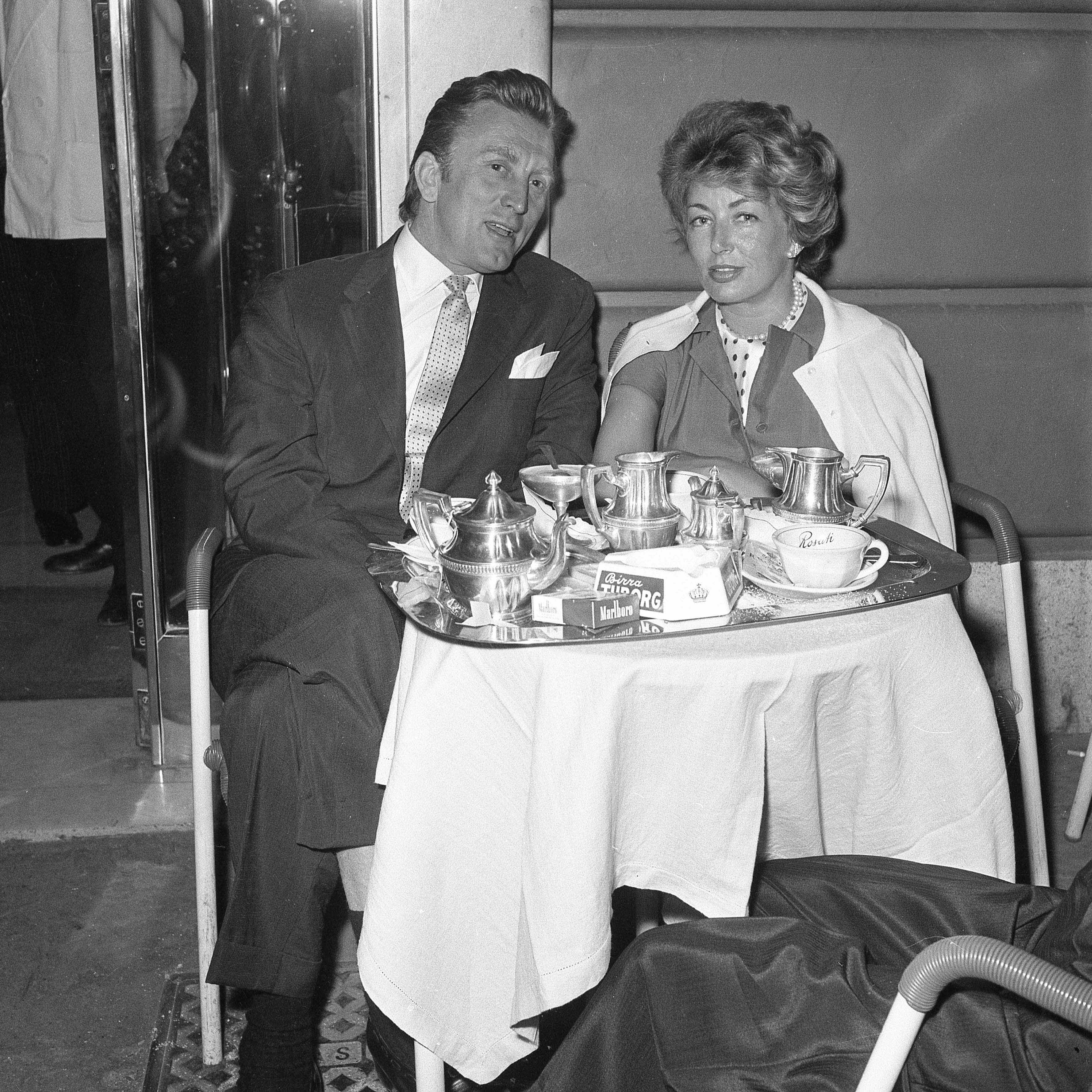 Anne Douglas and her husband Kirk Douglas at the coffee bar in Via Veneto, Rome 1958. | Source: Getty Images
At the time, Kirk was a divorcee, having dissolved his marriage with Diana Dill two years earlier. "The Vikings" actor once recalled that he thought Buydens was "terrible!" the day he met her. The stellar actor said about her, during a joint interview:
"She was terrible! She was the most difficult woman I ever met. I mean, I was a big movie star! And I invited her to dinner and she said, 'Oh thank you very much, but I'm so tired —'"
In Buydens' account of their first meeting, she noted that Kirk had been searching for a bilingual publicist, and she went for the job. However, he seemed interested in her, way beyond work level.
She explained that after Kirk led her to his dressing room, nicknamed "the lion's den." he asked her out to dinner, and she declined. Buydens opted out of dinner to make scrambled eggs at her home.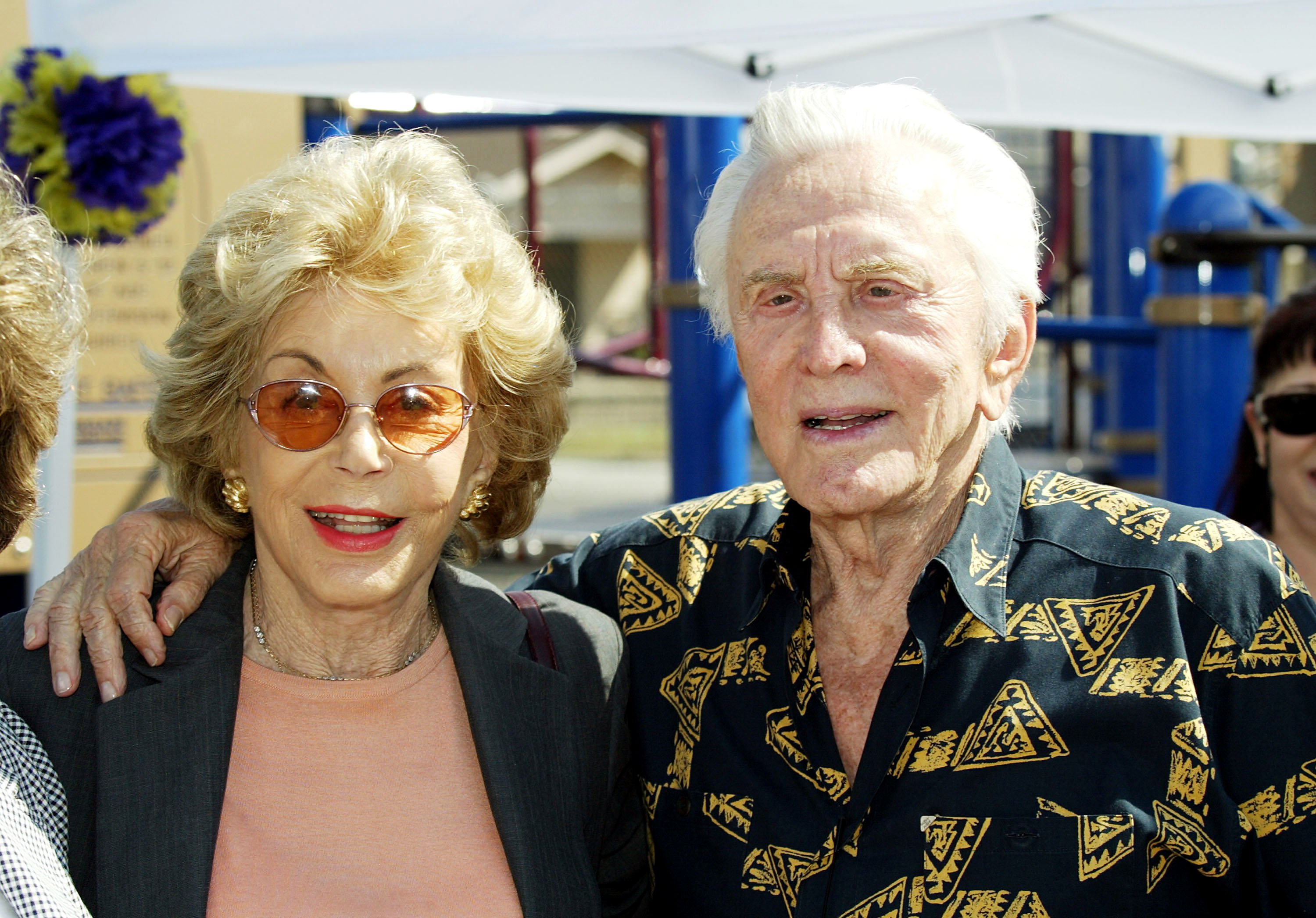 Anne Douglas and her husband Michael Douglas. | Source: Getty Images
The "Spartacus" actor chipped at this point that he was taken aback by Buydens' answer and even swore in his thoughts. He recalled that her rejection was so shocking that the dressing room erupted in laughter.
After employing her, Kirk made sure their relationship remained platonic, and he also stopped trying to impress her. But deep down, the "Paths of Glory" actor wanted Buydens and "was determined to win her over."
The actor wrote in an article that Buydens was not like his previous lovers. Things eventually got warmer between the pair, although Kirk was engaged to another woman. But he knew he would "ve lost without," so he broke off his engagement.
Through all the cheating issues and endurance, Kirk and Buydnes were married for 65 years until their deaths.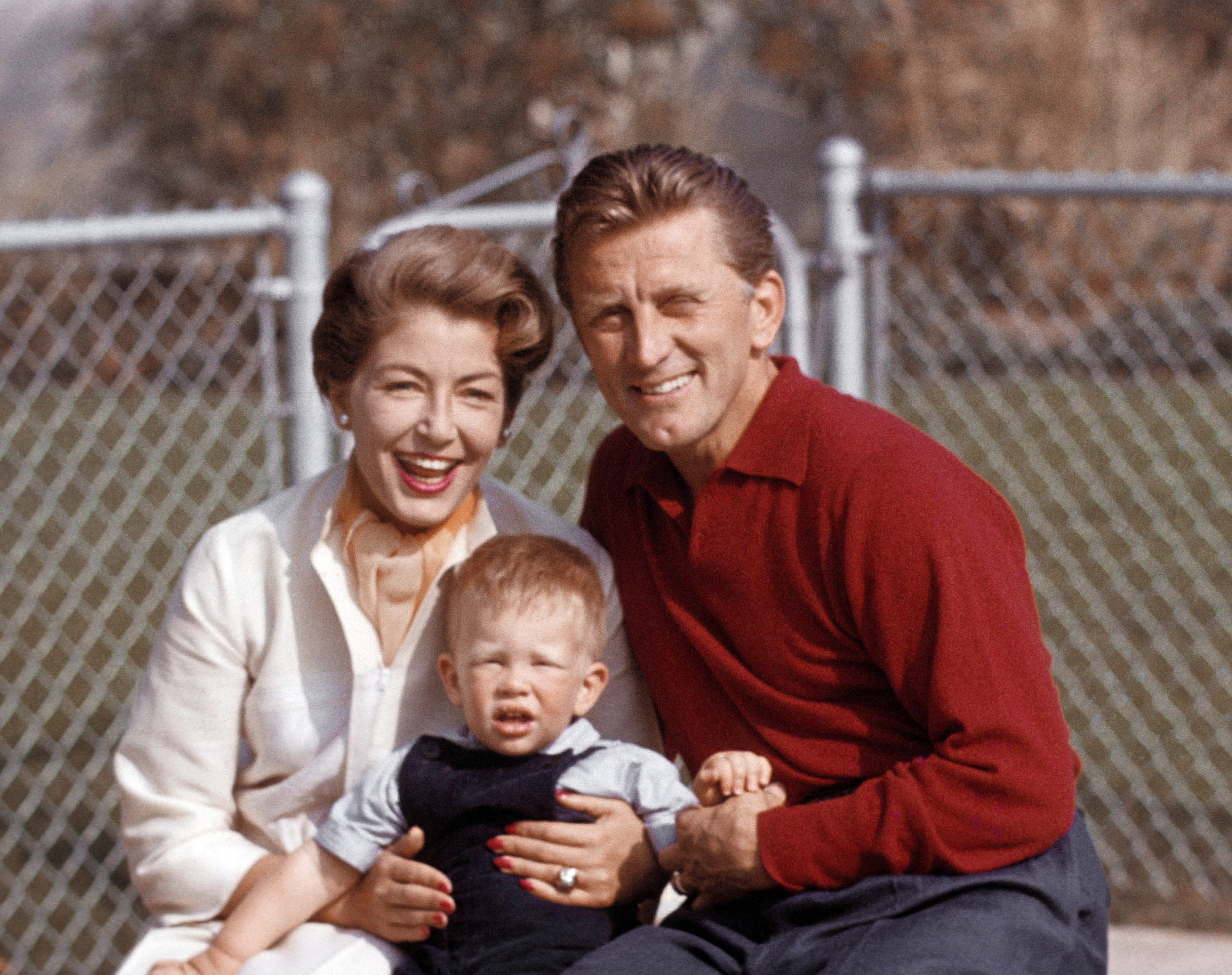 Kirk Douglas at home with his spouse Anne Douglas their son Peter Vincent Douglas in Los Angeles on February 14, 1957. | Source: Getty Images
The Start of an Enduring 65-Year Marriage
Kirk and Buydens became man and wife one year after their memorable meeting. The two wasted no time starting a family as they welcomed their first child in 1955.
Their union did not start on an easy stride because Buydens experienced many depressive moments when her spouse was not home. Nevertheless, she would often keep up with him, penning letters and sharing her plight.
There were times she bemoaned being with a five-month-old child and enduring the couple's impoverished situation. Buydens was from a high upbringing, but she had to deal with an "impossible telephone," "strong coffee, and toilet paper that was too hard after marriage."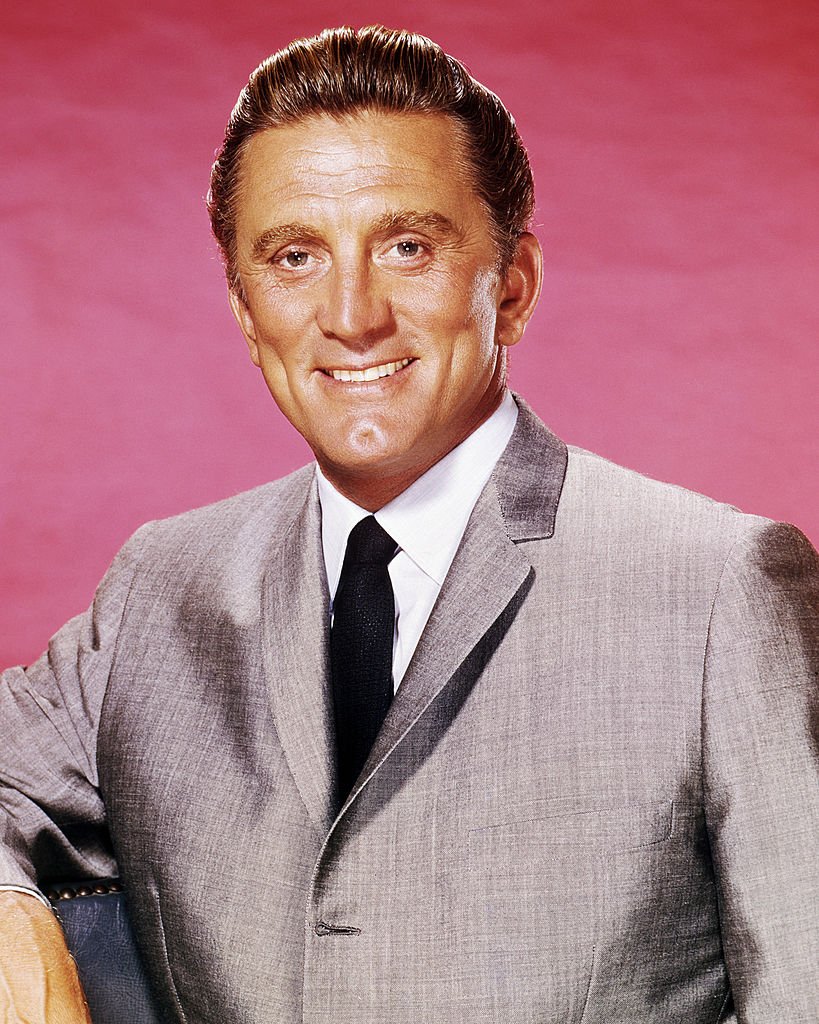 Portrait of Kirk Douglas in 1963. | Source: Getty Images
Kirk was a famous actor, and it was a given that he would be wealthy. But that was not the case because his finance manager had mishandled the funds, leading the "Ulysses" star to be, in fact, "flat broke."
Buydens shared in their joint interview that it was at this point that the business education she got from her father rose to the surface. She took charge of her husband's finances and helped him invest his salary until it became a fortune.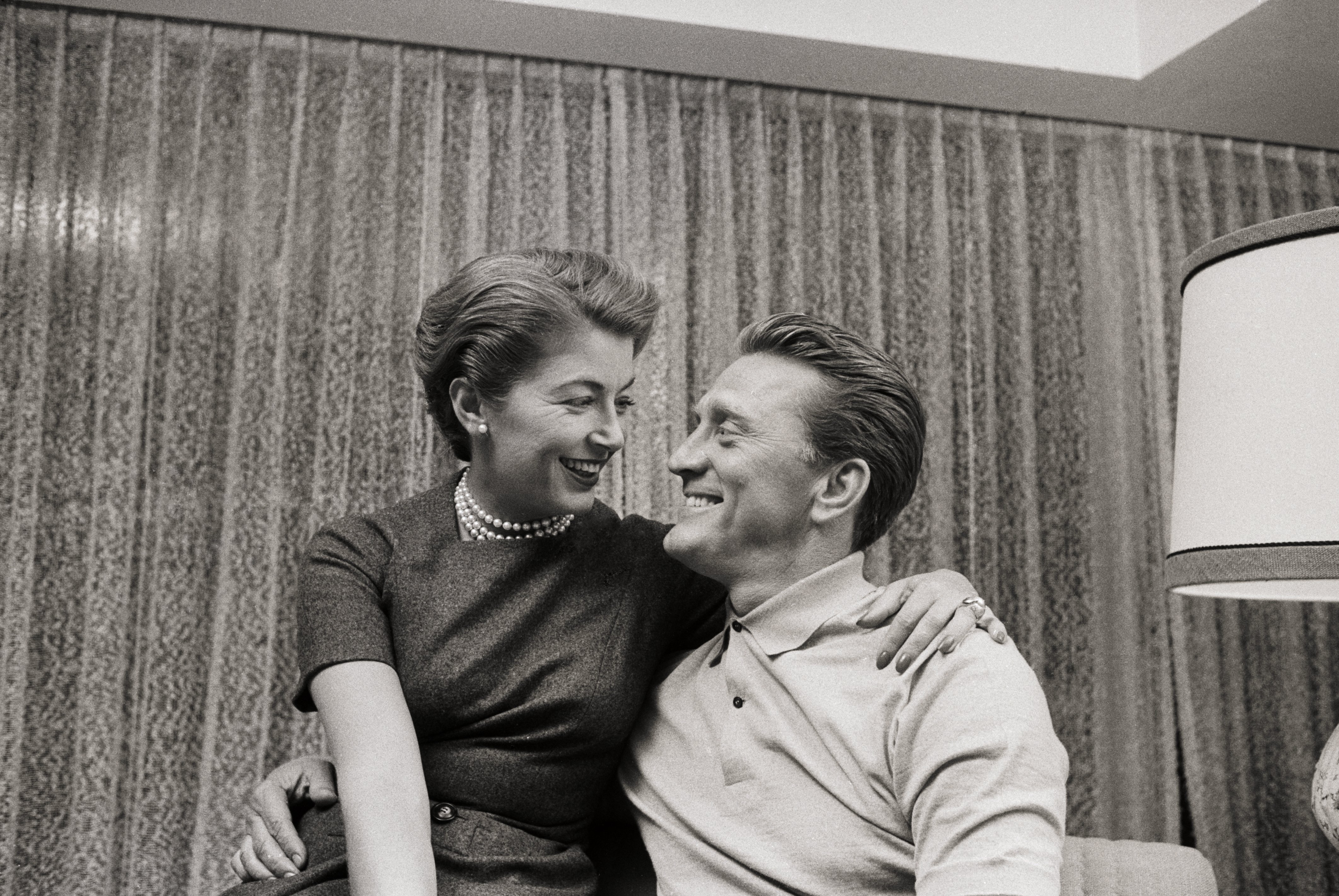 Kirk Douglas and his spouse Anne Douglas gaze at each other in a portrait photo. | Source: Getty Images
Kirk Continued His Extra-Marital Affairs, but She Turned a Blind Eye
Buydens was indeed the backbone that her famous husband needed even though he was the family star. The couple who had two sons, Eric and Peter, lived their jolly lives in the public eye.
However, the bane of their marriage was Kirk's cheating streak. The revered movie star had scores of affairs, and Buydens was aware of most of them. In their joint book, Buydens shared that Kirk never tried to hide his affair. She penned:
"As a European, I understood it was unrealistic to expect total fidelity in a marriage."
In today's world, Buydens' acceptance of her spouse's infidelity could be considered unusual and unconventional, but that state of mind helped their love bloom through a lifetime.
Kirk sought her permission to include the stories of his extra-marital affairs in his 1988 book, "The Ragman's Son," which she agreed to. She stated in their joint book that "his candor" made the book a bestseller.
While Kirk went on a row with his affairs, his wife remained friends with an ex, who was still in love with her. She recalled a time when she visited the ex-lover, and things almost turned ugly.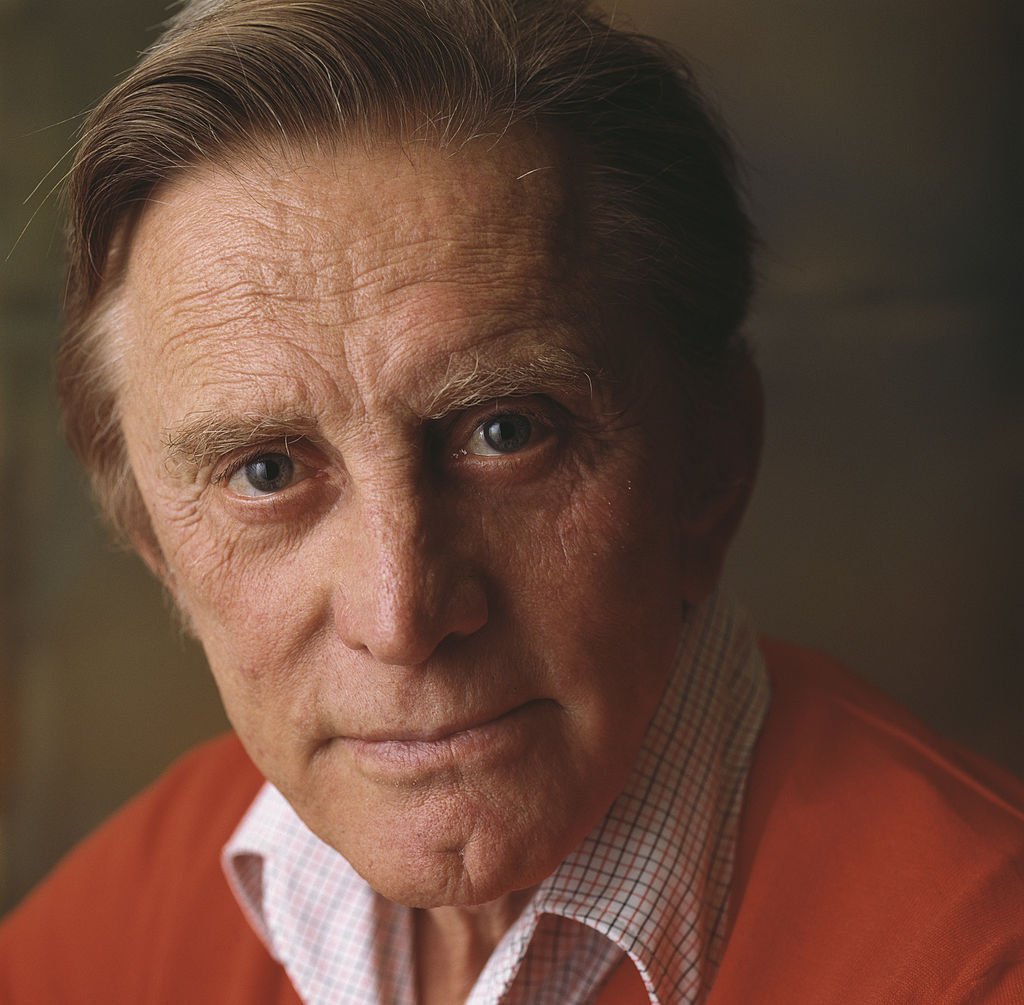 Portrait of actor Kirk Douglas, circa 1990. | Source: Getty Images
A Strong Love until Death
During Buydens' visit to her former lover, he begged not to return to Kirk and even became hysterical at a point. Finally, the man in question launched to the window, threatening to jump down if Buydens returned to her husband.
She recalled how she tried to calm him, but things only escalated. The ex-lover launched an attack grabbing her and squeezing a lit cigarette into her face. He aimed to damage her face so she would be unattractive to her husband.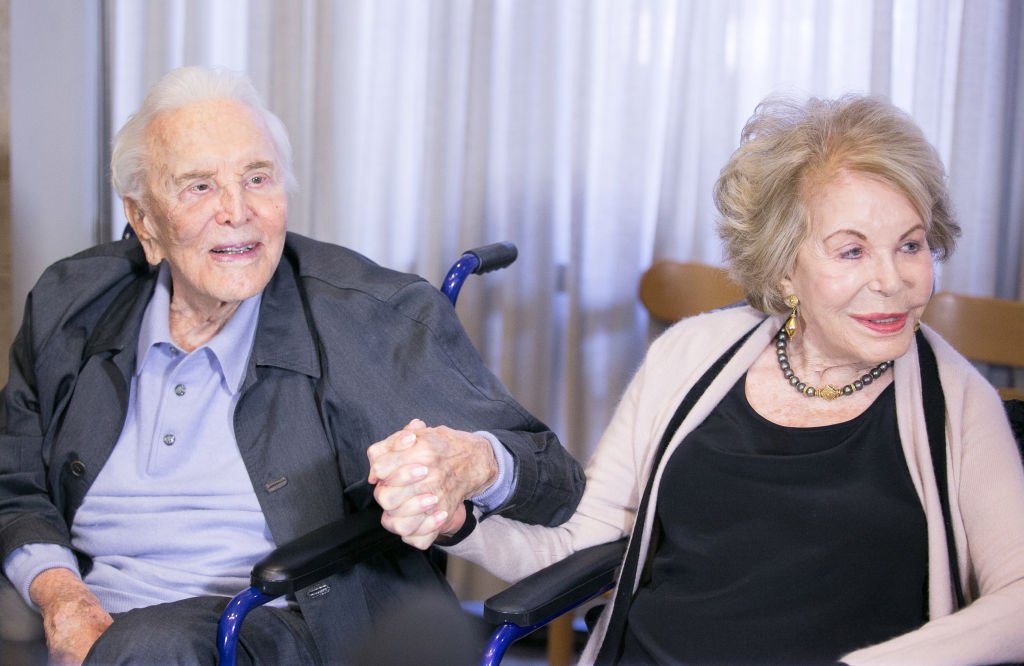 Kirk Douglas and his wife Anne Douglas holding hands. | Source: Getty Images
Buydens managed to get out of there alive, and after Kirk saw her, he took her into his arms and made a promise to keep her out of harms' way as long as he lived. She recalled:
'I promise, Anne, 'as long as we both shall live, I will keep you safe' It's been sixty-two years as I write this, and Kirk has always kept his word."
Through all the cheating issues and endurance, Kirk and Buydnes were married for 65 years until their deaths. Kirk passed on in February 2020 at 103, while Buydens followed a year later, in April 2021.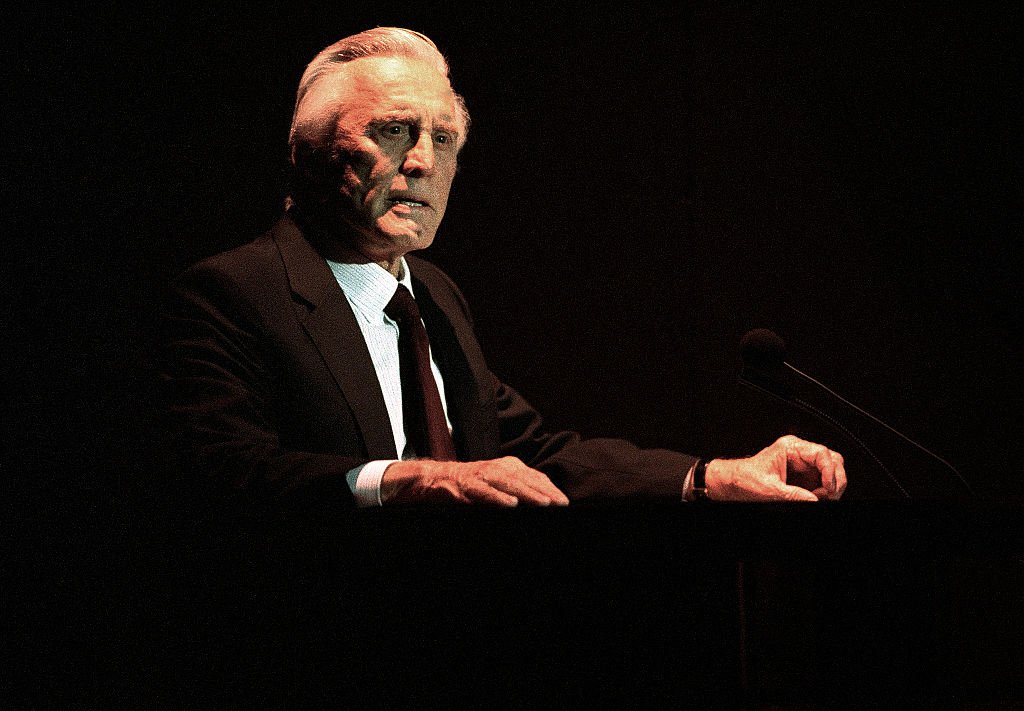 Kirk Douglas attends Former President Jimmy Carter surprise 70th. birthday party at The Carter Presidential Center in October 1994. | Source: Getty Images
Buydens passed on at her Beverly Hills home, with no cause of demise given. On the other hand, Kirk died from a severe stroke that plagued his life as far back as 1996.
Until the time of death, the couple watched Peter and Eric, who died in 2004, become parents. Buydens and Kirk also had grandchildren through his sons, Michael, and Joel Douglas.
Please fill in your e-mail so we can share with you our top stories!