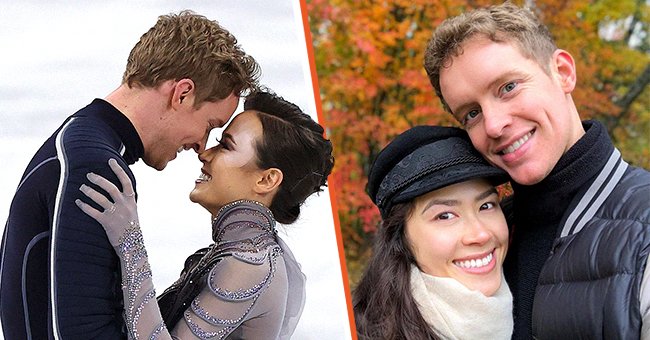 instagram.com/chockolate02 | Getty Images
Are Madison Chock & Evan Bates Married? Inside the Figure Skaters' Off-Ice Relationship
The ice-dance-skating-duo Chock and Bates recently revealed their plans for the future of their relationship, but they are waiting for retirement to walk down the aisle.
Ice dance skaters Madison Chock and Evan Bates have had an impressive career dancing together, which has spanned over ten years and seen them participate in three Olympics together.
They have won three gold medals, six silver medals, and a bronze medal at the US National Championships during their skating career. While internationally, they won two gold medals at the Four Continents Championships and three silver medals at the Grand Prix Final.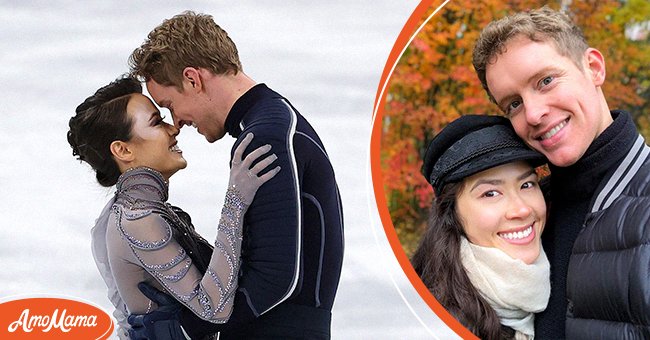 Madison Chock and Evan Bates during the Pair Skating Free Skating Team Event at the Beijing 2022 Winter Olympic Games on February 07, 2022 in Beijing, China. [Left] Chock and Bates posed for a selfie together in Finland, 2019 [Right] | Photo: Instagram/chockolate02 & Getty Images
However, one of the more sentimental accolades the ice dancers have accomplished is their loving and romantic off-ice relationship that developed a few years into their professional partnership.
Ahead of their performance at the 2018 Olympics in Pyeongchang, Bates opened up to Today's Craig Melvin and explained that he confessed his feelings to his skating partner the year before:
"Well, I pretty much told Maddie that I loved her. Last year I told (her) how I really felt and that changed things a lot."
The couple then started dating, and their romance led to a new perspective on their ice skating. The pair are smitten and have gushed about each other during various interviews.
Bates once shared he loves Chock's personality and zest for life. While Chock says she loves everything about Bates, including how smart he is. Chock also revealed that their romantic dynamic made their performances more powerful genuine and made them closer.
Their bond has also helped with their training as Chock explained that they cannot always talk to each other while skating. So they have to read each other's signals and understand them, so being together for over five years has helped.
Their off-ice relationship was not entirely out of the left-field because as young skaters skating together in a close-knit community in Michigan, they went on a date together for Chock's 16th birthday.
Although Bates described their date as a childhood romance, they are much more serious about their relationship now and spend much of their time together. Bates once recalled that he does not see anything changing between them:
"99% of the time, we are together... this is my best friend. We seriously have each other's backs and haven't gotten sick of each other after six years,.. and I don't see that changing."
Chock and Bates's professional relationship has also helped their off-ice relationship because they have experienced highs and lows together, which allowed them to have such deep support for each other and excellent communication skills.
Now, the skaters are wondering about their future together. Although there is no set a date for a wedding and Bates has not proposed yet, Chock and Bates have discussed the details of a future wedding.
While talking to People, the couple admitted they have looked at where they might have it and will research when they find a fitting venue. However, Chock revealed that they would likely have a wedding when they retire.
Please fill in your e-mail so we can share with you our top stories!