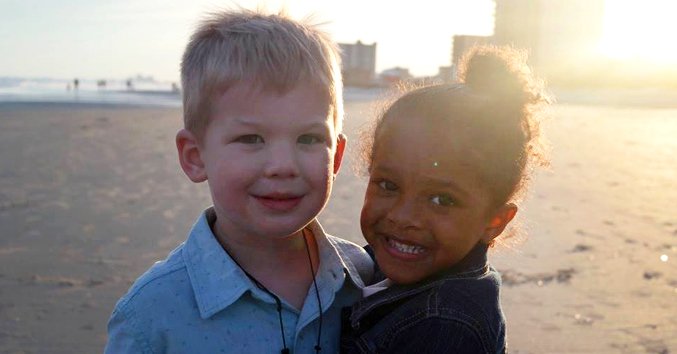 facebook.com/ayannatoye.barrows
White Boy Runs up to a Black Girl on the Beach and Gives Her a Necklace
A little white boy proved that race should not be a criterion in establishing a relationship after he approached a random black girl on the beach and formed a connection.
On April 12, 2016, a woman identified as Ayanna Toye Barrows took to her Facebook page to share an emotional story of how her little black daughter was approached by a strange white boy, who greeted her warmly.
The woman posted a snapshot of her daughter and the young boy, who formed an unexpected friendship while the mother-daughter pair took a sunset walk at Myrtle Beach. Here's the story of how the little boy captured Barrows and her daughter's heart.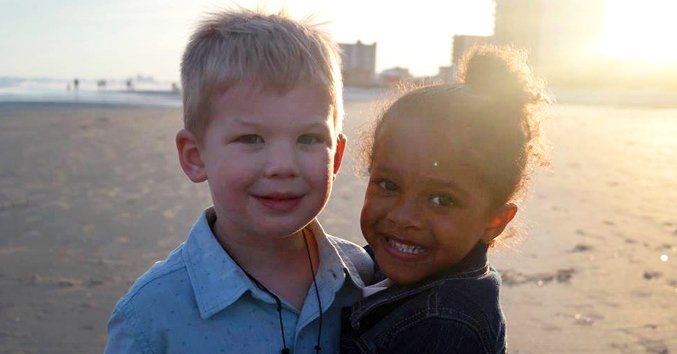 A snapshot of Ayanna Toye Barrows' daughter and the white boy who approached her at the beach. | Source: facebook.com/ayannatoye.barrows
Barrows explained that the boy first approached her daughter and showed her the shark tooth around his neck in the Facebook post. Next, the kids exchanged names and formed an unusual connection, after which they said their goodbyes before walking in opposite directions.
Not long after, the boy came running back and yelled out Barrows's daughter's name. When the little girl turned, the boy greeted her with a warm smile. The both of them engaged in sharing quick words, mainly about the neckpiece which "gave him powers."
After their conversation, the diminutive duo walked together, talked a bit more, and even raced against each other, enjoying each other's company. Barrows also sought permission from the boy's mom to capture the beautiful moment.
She revealed that no one instructed the children to pose or smile at each other, but their innocence prompted them to give way to a nice pose without hesitation. Then, after spending time together, it was time for the kids to part ways.
So, they hugged each other for a long time before exchanging about 20 goodbyes. Although the kids might have just been friendly towards each other, Barrows saw a special message in the affection they showed.
She mentioned that it was a moment that saw no color lines, no race, no judgment, no shades, and hate. To Barrows, their show of affection was pure and worth emulating.
MAXWELL AND FINNEGAN GO VIRAL
In a similar story, two years olds Maxwell and Finnegan warmed hearts when a video of them hugging each other, irrespective of race, broke the internet.
The adorable moment on Facebook captured the toddlers running into an embrace on a New York sidewalk. According to Maxwell's dad, Michael Cisneros, the boys lived in the same neighborhood and had been best friends for over a year.
Notwithstanding, the boys could not help but embrace each other when they saw themselves. Cisneros said it was a beautiful moment and had to capture it.
Ordinarily, the man was a private person, but the sight of Maxwell and Finnegan hugging warmed his heart, and it needed to be shared with the world.
After Cisneros shared the video, it was only a matter of time before it went viral. Maxwell's dad attributed the video's virality to the fact that the boys were racially different.
However, he did not mind; he was okay with it as long as it changed someone's mind. This story proves that love can still thrive in a world where racism and hate are common. In conclusion, people should not establish relationships based on skin color.
Please fill in your e-mail so we can share with you our top stories!