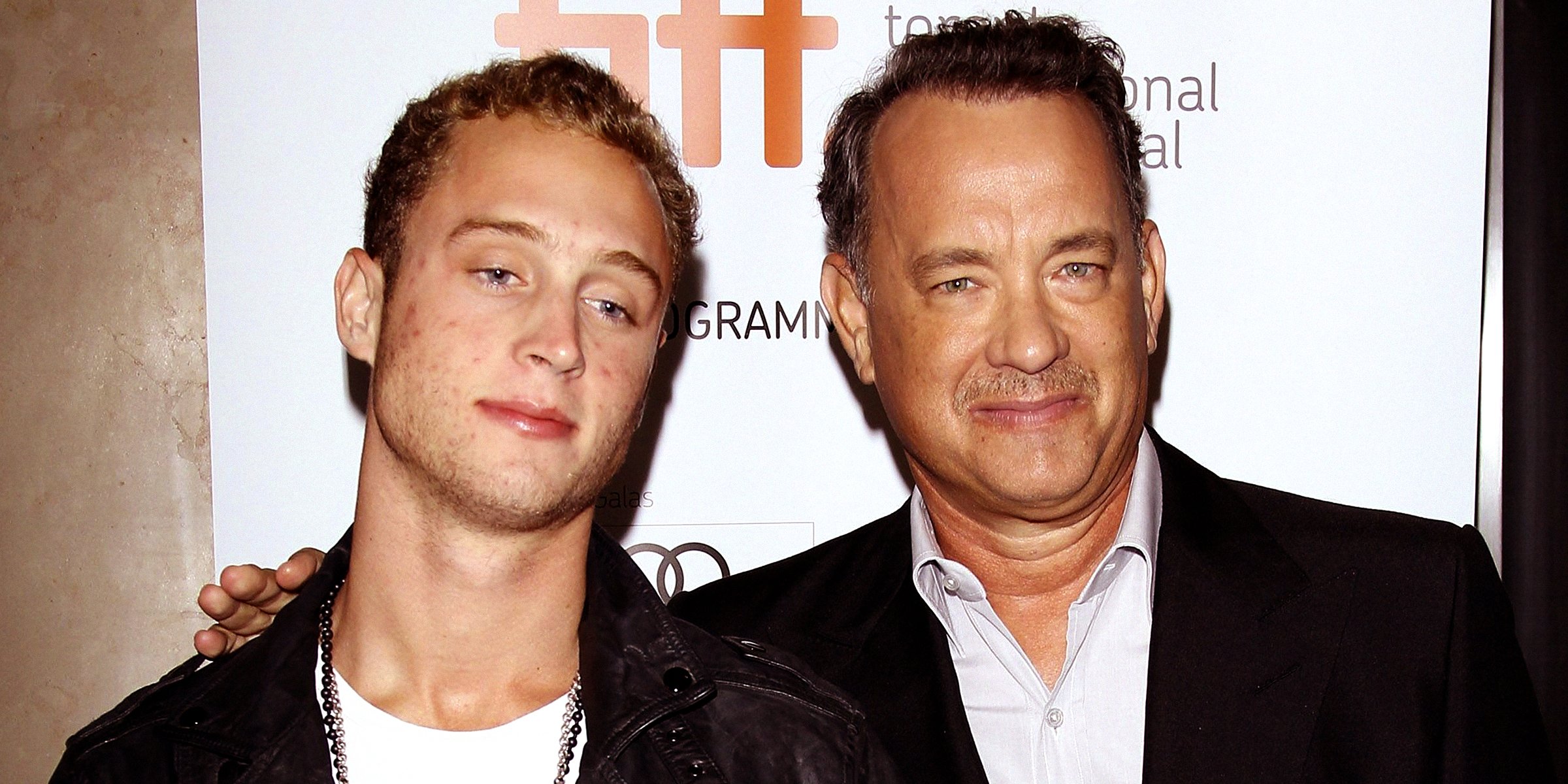 Getty Images
Tom Hanks' Son Chet Said Growing up with Dad Was 'Weird' while Sharing 'Truth' about His Childhood
Chet Hanks, the child of beloved Hollywood couple Tom Hanks and Rita Wilson, revealed that growing up as the kid of celebrities made him walk around with a chip on his shoulders.
Tom Hanks is a veteran Hollywood star who rose to fame when he headlined popular movies like "Big," which earned him his first Academy Award nomination for best actor.
He appeared in the movie "A League of Their Own" in 1992 and then a year later in "Sleepless in Seattle," a romantic comedy, and "Philadelphia," which won him his first Academy Award as best actor.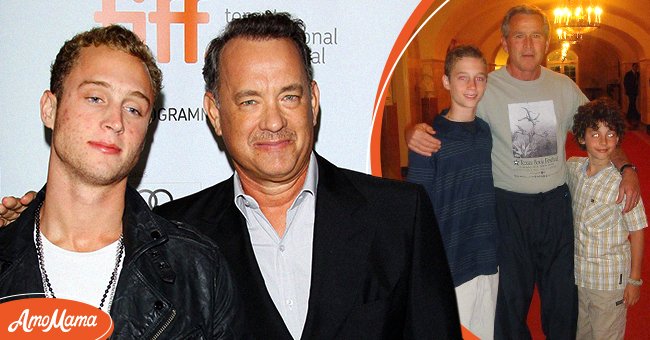 Tom Hanks and son Chet Hanks arrive at "Cloud Atlas" premiere during the 2012 Toronto International Film Festival on September 8, 2012. [Left] | Chet Hanks and his brother in a photo with George Bush. [Right] | Source: Getty Images
Tom's performance in the box office hit "Forrest Gump" won him his second straight Oscar award for best actor, and he became the first person in 50 years to accomplish that feat.
In 1995 he starred in the movie "Apollo 13" which made more than $500 million at the box office. The actor has followed this with countless appearances in top movies like "Toy Story" and "Bridge of Spies."
In November 2016, Tom received the Presidential Medal of Freedom from President Barack Obama for his contribution to the arts. Behind the scenes, however, the actor has been married to his wife Rita Wilson for more than three decades, and he is also a father to four children.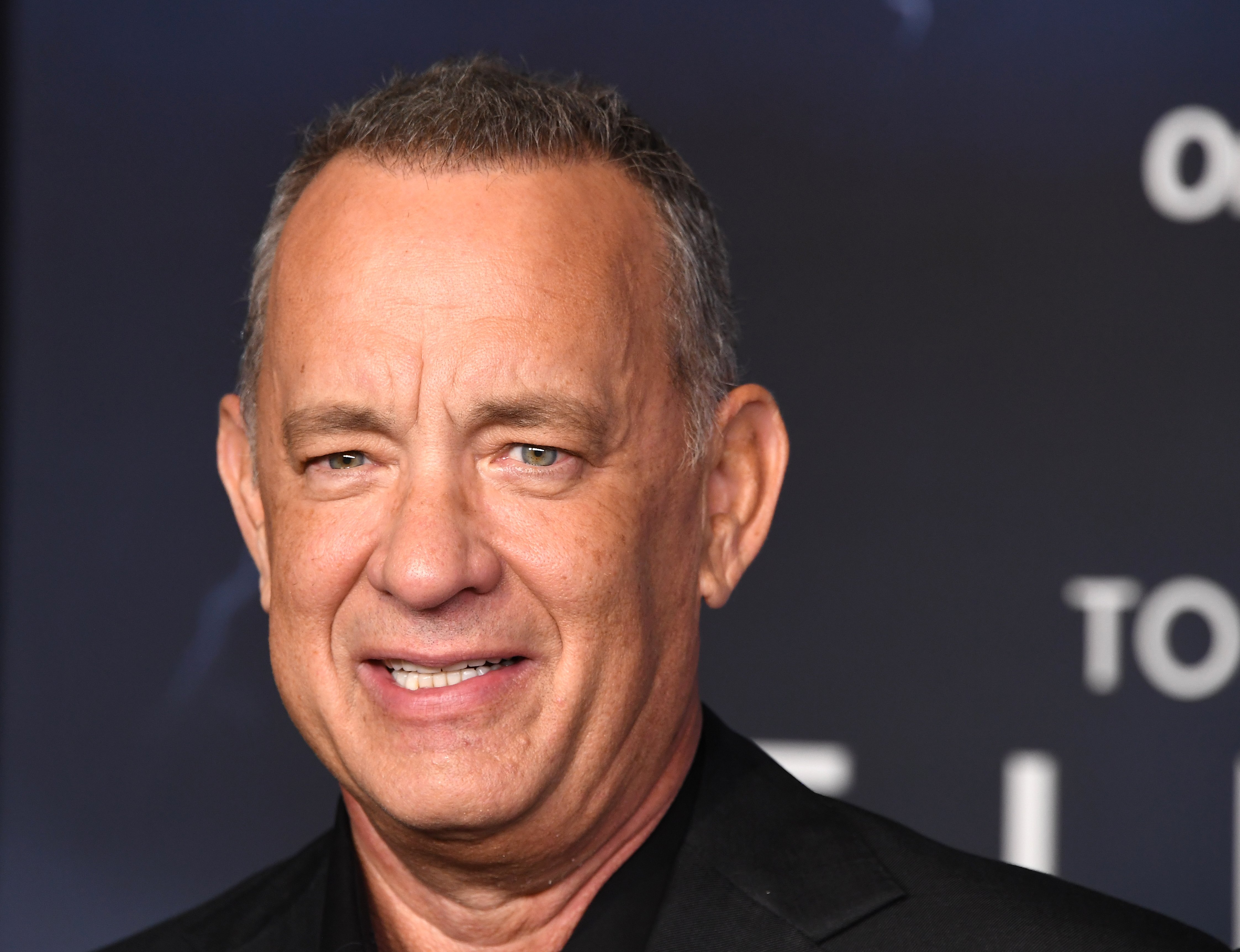 Tom Hanks at Pacific Design Center on November 02, 2021. | Source: Getty Images
TOM HANKS AND RITA WILSON
Tom Hanks and Rita Wilson have one of the longest marriages in Hollywood. The couple, also beloved among their colleagues, have been married for over 30 years.
Their love story started in 1972 when Rita made her TV debut in the series "The Brady Bunch," where she played cheerleader Pat Conway. 16-year-old Tom watching the series developed a crush on Rita, but nothing materialized between the two until the 1980s.
In 1981 the pair met for the first time while filming the ABC comedy, "Bosom Buddies," that Tom appeared in for two seasons. Rita, meanwhile, guest-starred on an episode about a video dating service.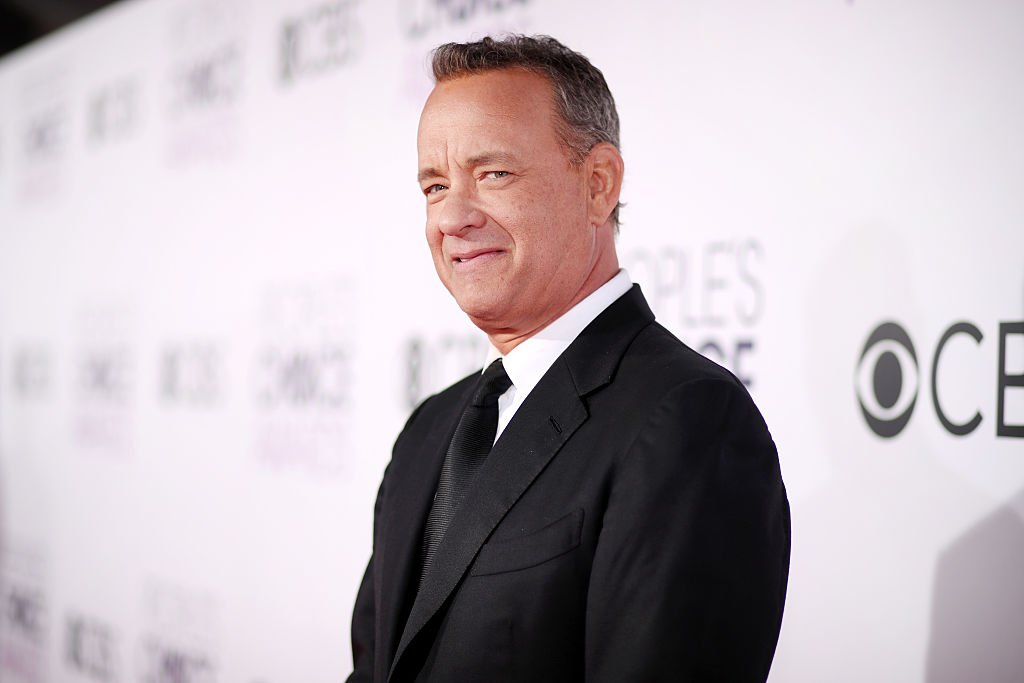 Tom Hanks attends the People's Choice Awards 2017 on January 18, 2017 in Los Angeles, California. | Source: Getty Images
The pair developed a connection and afterward confessed their feelings for each other. Not long after, in 1985, they were both paired together in the comedy "Volunteers."
Their chemistry was evident throughout the movie, and after finishing the film, Tom heavily complimented Rita. The pair, however, decided not to act on their onscreen connection.
At the time, Tom was also married to his college sweetheart Samantha Lewes, so he and Rita opted to be just friends. Everything changed in 1986, however, as Tom separated from Samantha, with whom he shared two kids, Colin and Elizabeth.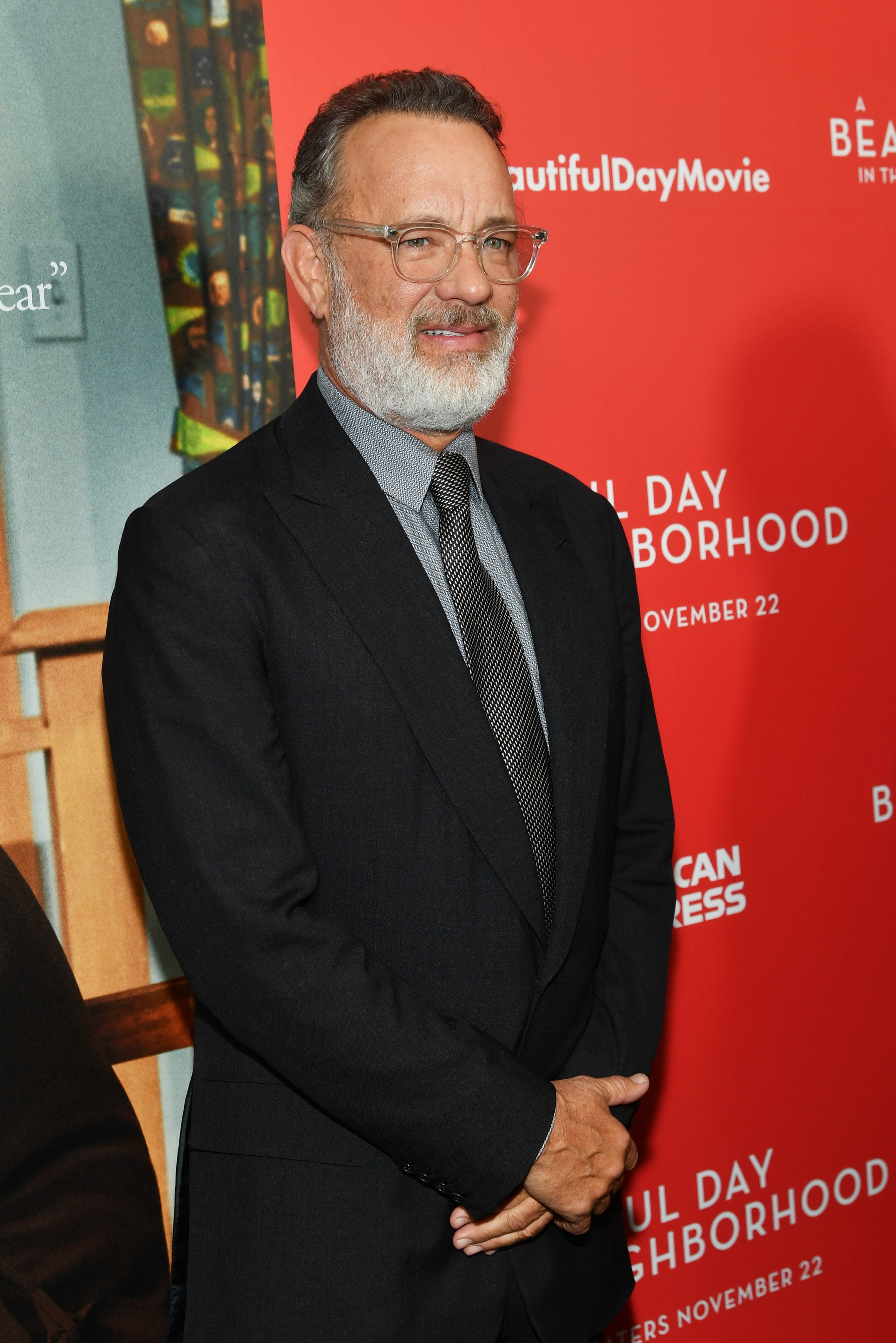 Tom Hanks attends "A Beautiful Day In The Neighborhood" New York Screening at Brookfield Place on November 17, 2019 in New York City. | Photo: Getty Images
Even though he was legally married to Samantha, Tom and Rita made their first appearance as a couple during the premiere of the movie "Three Amigos."
Just a year later, in 1987, Tom's divorce from Samantha was finalized. Reflecting on his decision at the time, the actor explained he was too young and insecure for marriage.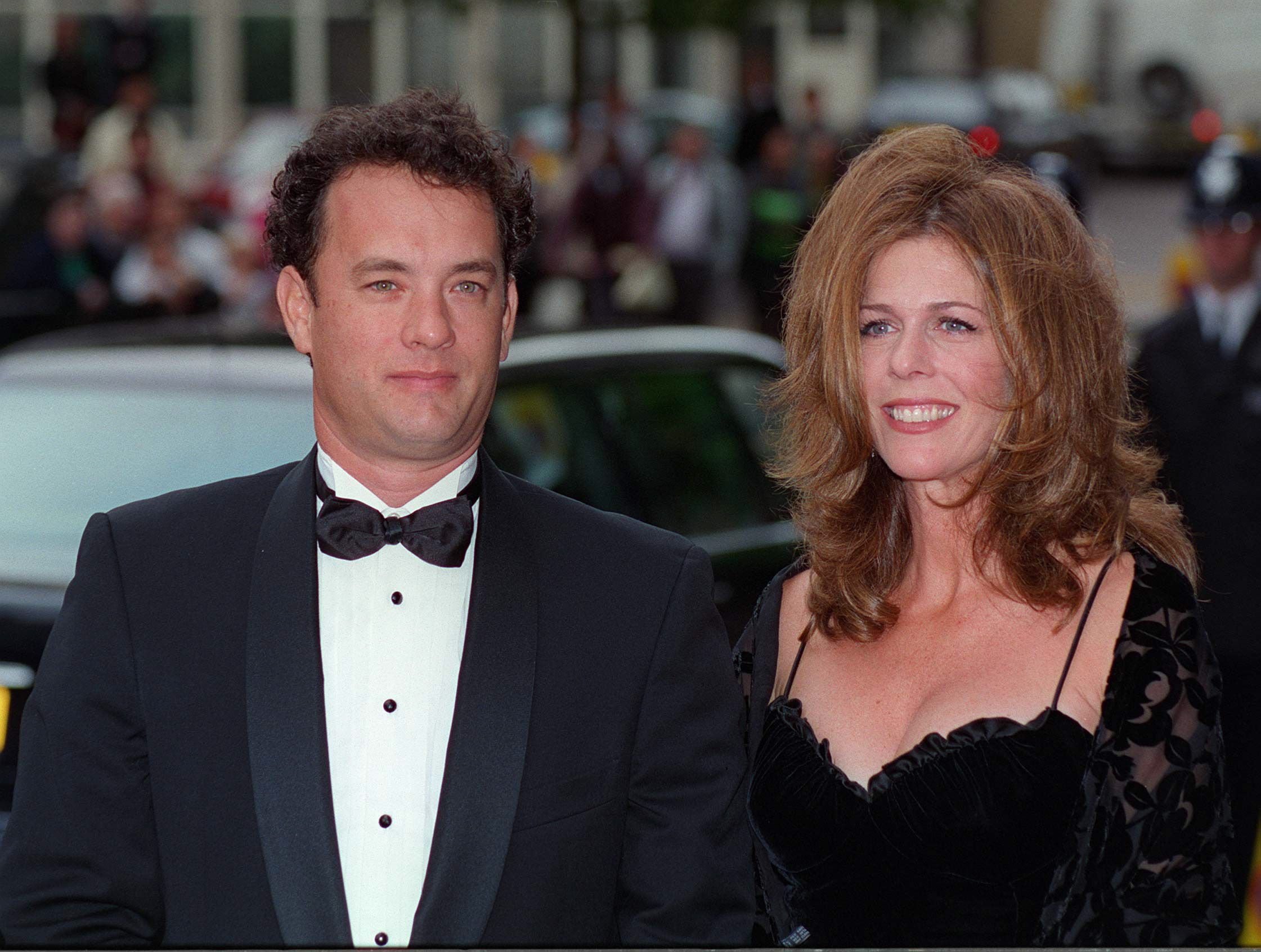 Tom Hanks and his wife, Rita Wilson, at the film preview of "Apollo 13" in London on September 7, 1995. | Photo: Getty Images
On April 30, 1988, Tom and Rita exchanged marital vows. A year after, in January 1989, Tom gushed over his wife at the Golden Globes while accepting the award for Best Actor in a Musical or Comedy for the movie "Big."
They walked the red carpet together two months later at the Academy Awards. Their marriage came full circle when they became parents to son Chester "Chet" Marlon Hanks in 1990.
Tom Hanks has been very supportive of his kids, and he praised the courage of son Chet for going through rehab.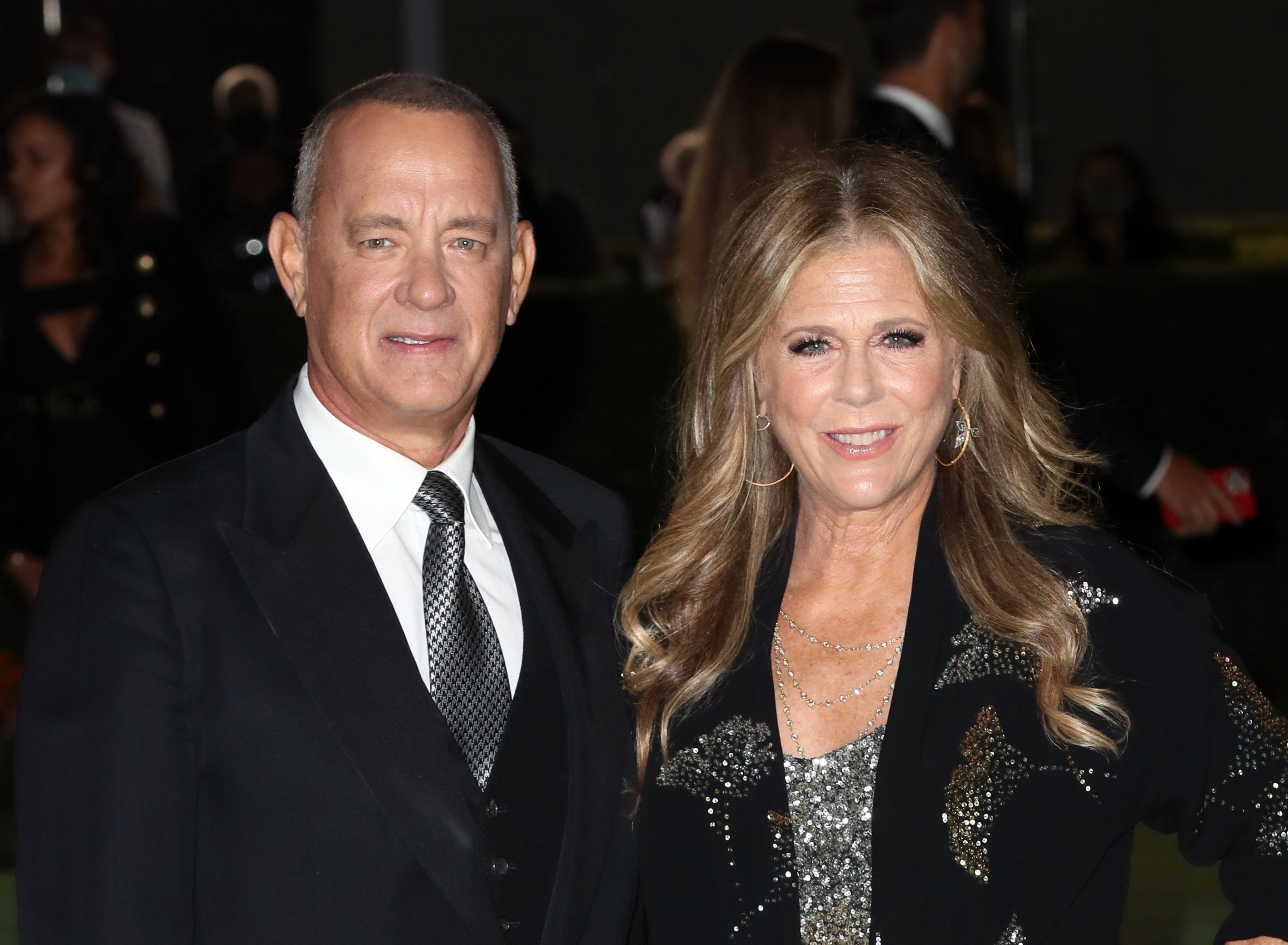 Tom Hanks and Rita Wilson attend The Academy Museum of Motion Pictures Opening Gala at Academy Museum of Motion Pictures on September 25, 2021. | Source: Getty Images
On August 4, 1990, Chet was born in Los Angeles, California. The youngster decided to follow in his father's footsteps and become an actor.
He has subsequently appeared in movies like "Indiana Jones and the Kingdom of the Crystal Skull" in 2008, "Larry Crowne" in 2011, and "Project X" in 2012.
However, his life has not all been smooth sailing, as he announced in September 2015, after a brief absence from social media, that he had spent the summer in a rehabilitation center due to cocaine addiction.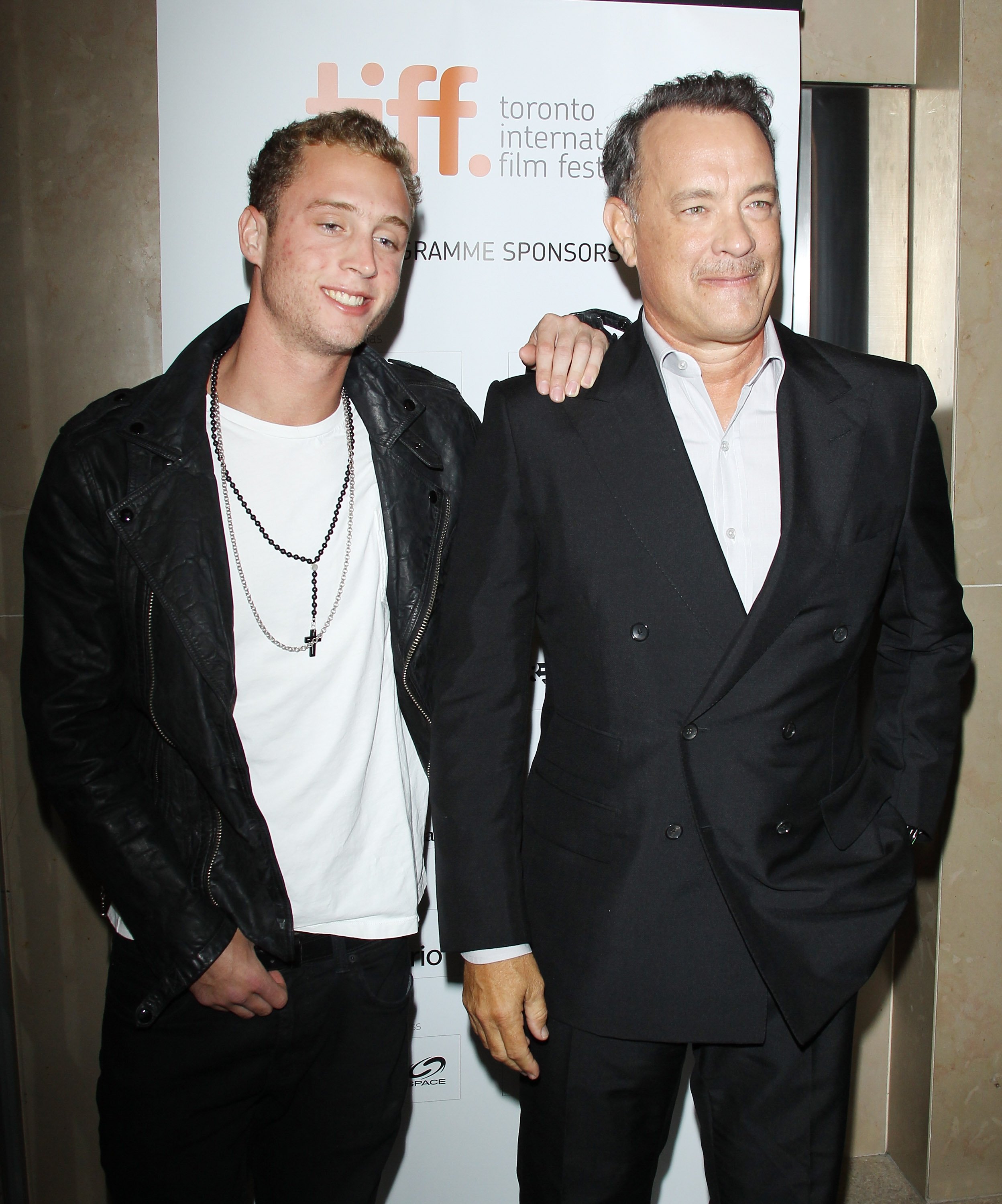 Tom Hanks and son Chet Hanks arrive at "Cloud Atlas" premiere during the 2012 Toronto International Film Festival on September 8, 2012. | Source: Getty Images
The young actor explained he took a deep look at his life, the wrong decisions he had been making, and realized it was not working, and it was not who he wanted to be. Chet could get his life back on track with his family supporting him and afterward landed some acting gigs.
In April 2016, Chet became a father for the first time when he welcomed his daughter Micaiah with his ex-girlfriend Tiffany Miles. He revealed the birth of his daughter also helped him focus on getting sober.
In 2020 the young actor piqued interest online after sharing a video clip of himself speaking with a Jamaican accent at the Golden Globes.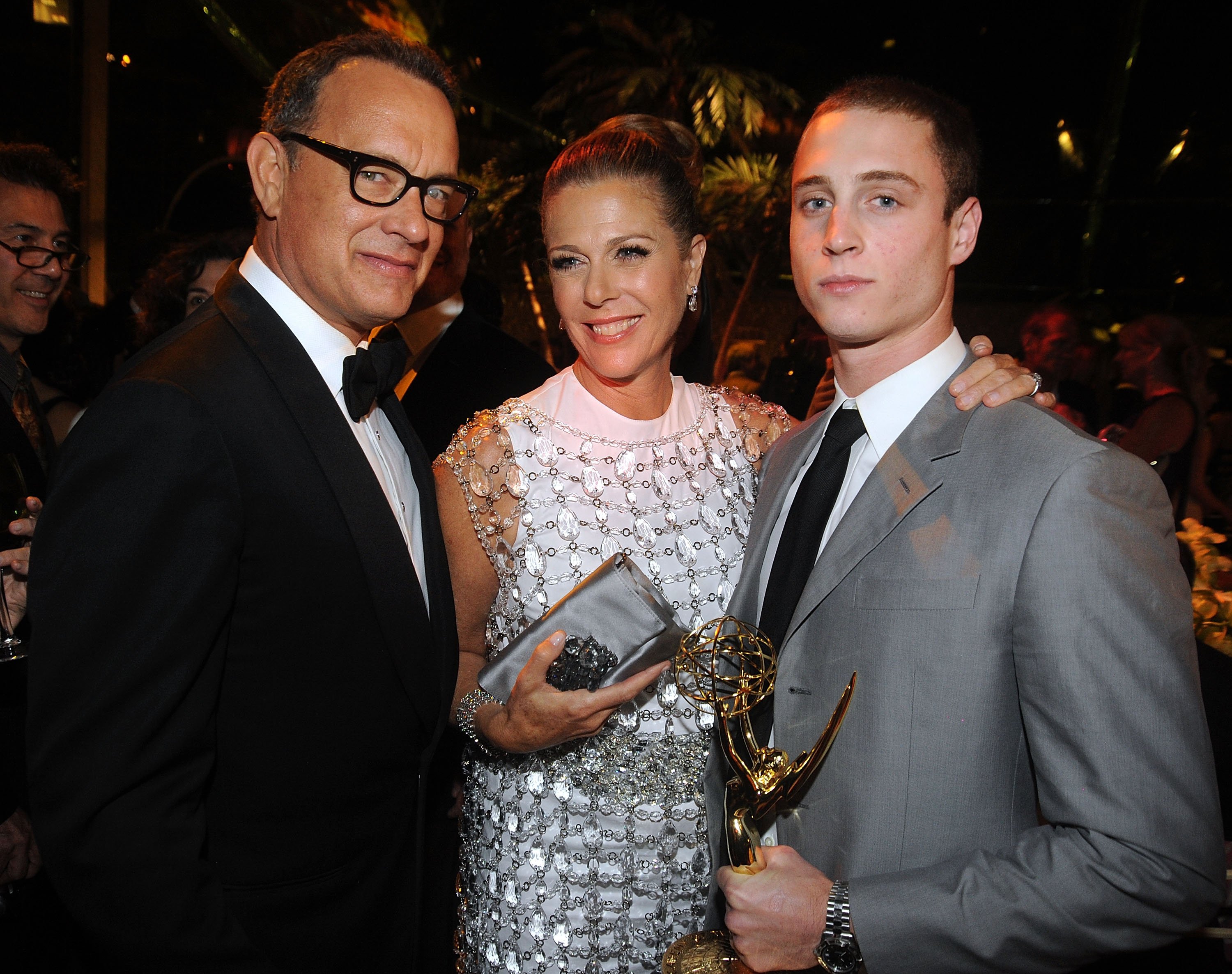 Actor Tom Hanks, actress Rita Wilson and actor Chet Hanks attend HBO's Annual Emmy Awards after party at the Pacific Design Center on August 29, 2010. | Source: Getty Images
A year later, on March 27, 2021, he released his version of Megan Thee Stallion's "Hot Girl Summer" single, a track titled "White Boy Summer."
The actor's interest in music began ten years earlier, in 2011, when he released a song inspired by the Northwestern school colors, white and purple. The song paid homage to Wiz Khalifa's "Black and Yellow." On the track, he used the stage name Chet Haze.
He also partnered with his friend Drew Arthur to release two singles under the name FTRZ in 2018. Two years later, they changed their name to Something Out West.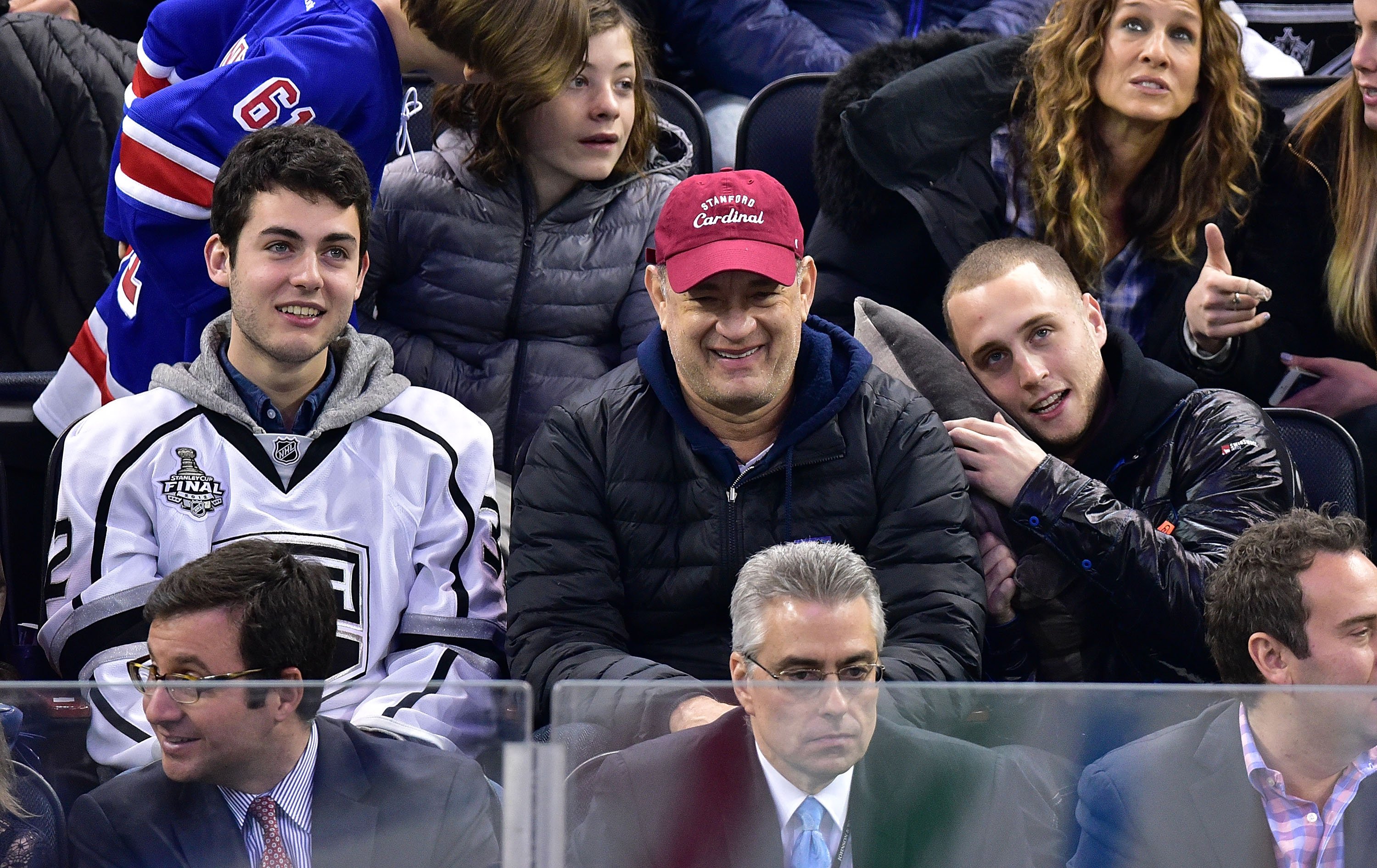 Truman Hanks, Tom Hanks and Chet Hanks attend the Los Angeles Kings vs New York Rangers game at Madison Square Garden on March 24, 2015. | Source: Getty Images
THE TRUTH ABOUT GROWING UP AS A HANKS
Recently Chet Hanks appeared in a video clip where he discussed details about his childhood and what shaped him as a kid.
Chet recalled meeting former US President Bush, who asked him about growing up with a famous father, and the youngster replied that even though it has its advantages, it could sometimes be weird. He said:
"There's a lot of advantages, but sometimes it can be pretty weird. I got to do a lot of cool s–t that a lot of people don't get the opportunity to do."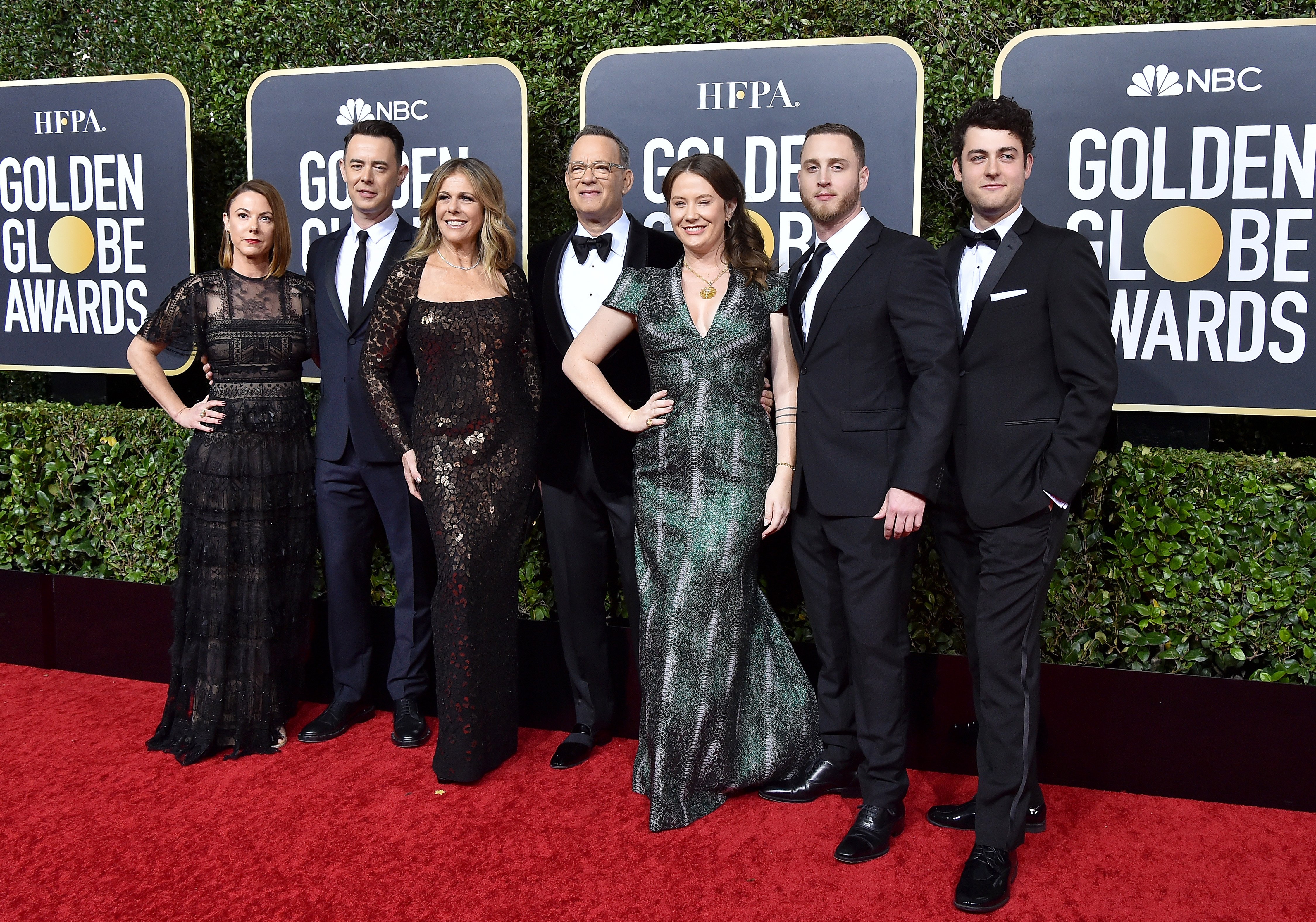 Samantha Bryant, Colin Hanks, Rita Wilson, Tom Hanks, Elizabeth Ann Hanks, Chet Hanks, and Truman Theodore Hanks attend the 77th Annual Golden Globe Awards on January 05, 2020. | Source: Getty Images
He tagged it as a double-edged sword and explained that because famous people are put on a pedestal, and he was the son of a popular actor, people expected him to be a spoiled, arrogant child.
It was hard to break that notion in high school because people had already made up their minds before they even got to meet or know him.
As a teen, this made him walk around with a chip on his shoulders, and it also made him angry. He also distrusted people because so many got too close to him because of what he represented and would always gossip behind his back.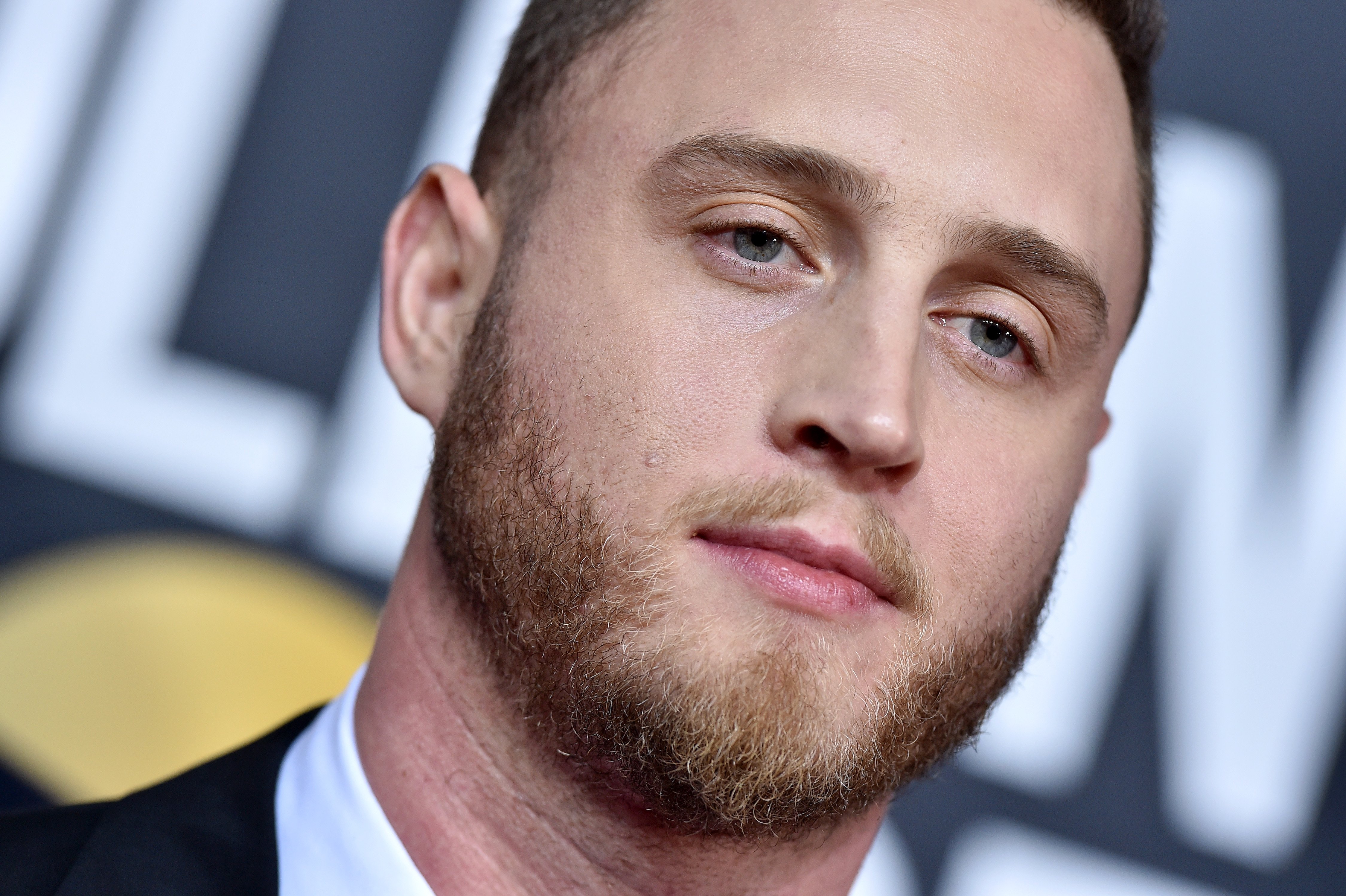 Chet Hanks attends the 77th Annual Golden Globe Awards at The Beverly Hilton Hotel on January 05, 2020. | Source: Getty Images
He led most of his life believing he had something to prove, which ultimately led him down the wrong path. The father of one decided he would rather be the intimidating person, which led him to drugs.
In contrast to what people thought about him, Chet explained he worked and earned everything he was given. However, his parents never gave him an allowance. As an adult, he has realized that people were just jealous and projected their insecurities on him.
But unfortunately, the actor also did not have a male role model to tell him that as a kid. However, he still feels privileged to have very famous parents and is grateful for how they raised him.
Actor Chet Hanks attends the Screening of the BET Series "Tales" at DGA Theater on June 26, 2017. | Source: Getty Images
UNCONDITIONAL LOVE FROM DAD
Tom Hanks has been very supportive of his kids, and he praised the courage of son Chet for going through rehab and telling the story. He explained:
"As a parent, you love your kids unconditionally. You support them every step of the way."
Speaking about his kids, the veteran actor is father to Actor Colin Hanks and Elizabeth from his marriage to Samantha Lewes and Chet and Truman with Rita.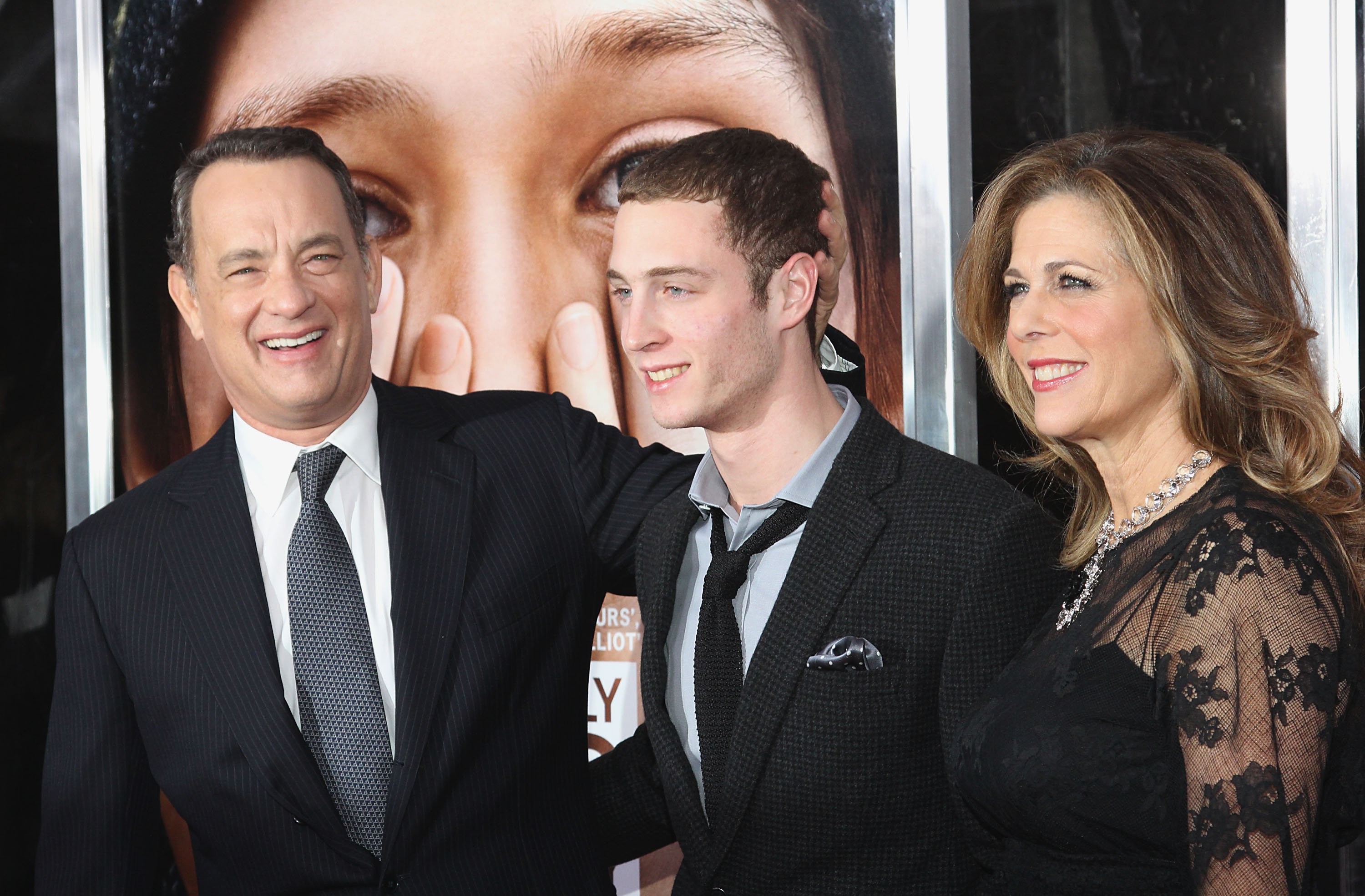 Tom Hanks, son Chester Hanks and Rita Wilson attend the "Extremely Loud & Incredibly Close" New York premiere at the Ziegfeld Theater on December 15, 2011. | Source: Getty Images
He explained that the difference between their upbringing and that of Chet and Truman is because he was very young when he had Colin and Elizabeth and, at the time, was still struggling to pay rent.
But his younger kids, Chet and Truman, were born when he had already become successful, and their lives were different. Nevertheless, he loves all four of his children.
Please fill in your e-mail so we can share with you our top stories!