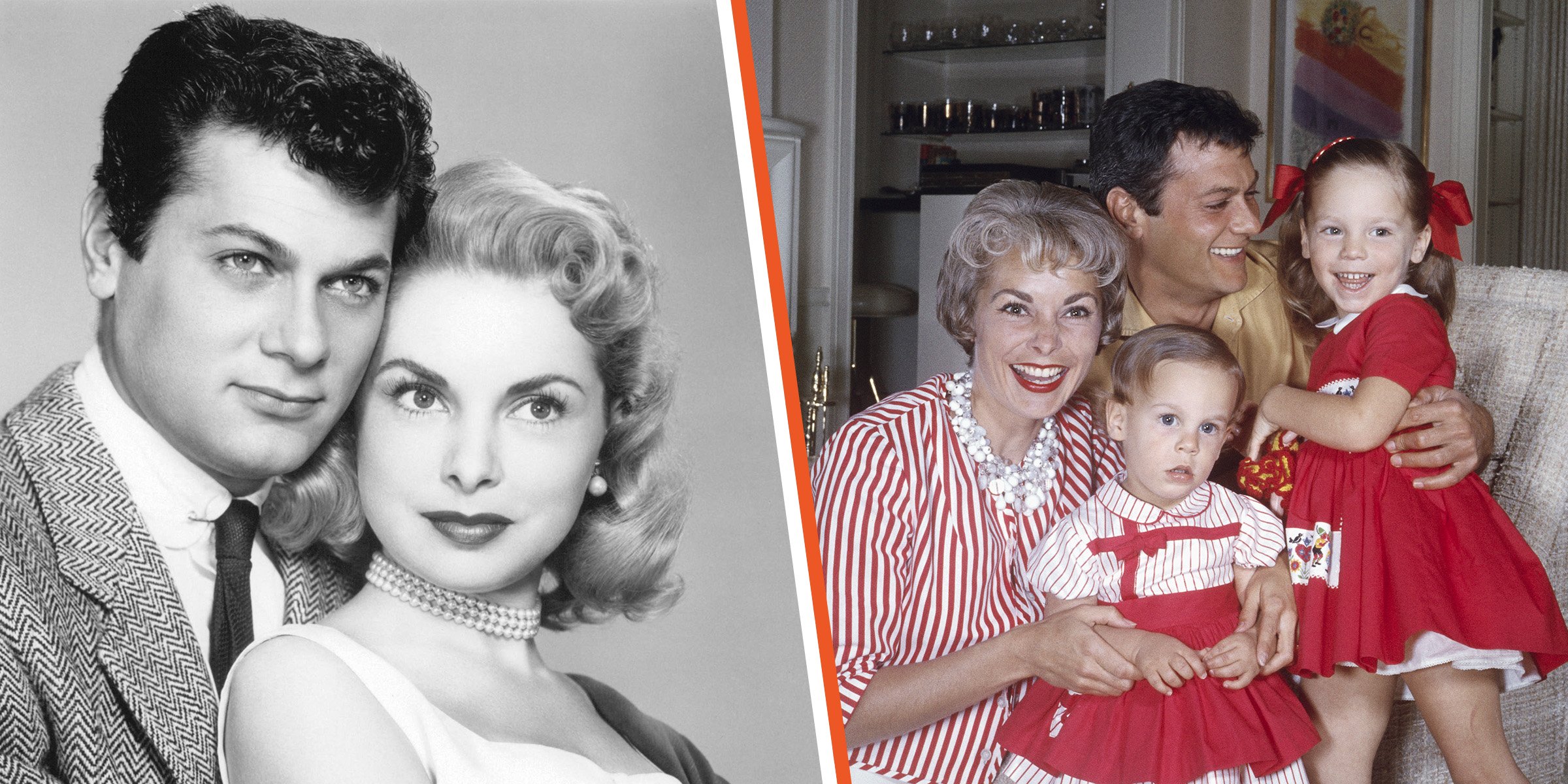 Tony Curtis and Janet Leigh | Tony Curtis and Janet Leigh with their kids | Source: Getty Images
Jamie Lee Curtis Was 'The Product of 13 Divorces' Who Was Raised in a 'House of Hatred'
Tony Curtis and Janet Leigh were one of the biggest celebrity couples of the '60s. However, their marriage is often remembered for the bitterness and hatred that plagued their final years together.
Hollywood is a community of glamor and style. A huge part of the flamboyant culture of the movie industry is the romance between some of its top stars.
However, Tony Curtis and Janet Leigh were the true Jack and Rose of the '60s. The couple defied all odds to be together, including staking their careers, but the end was far from perfect, and they soon got a divorce.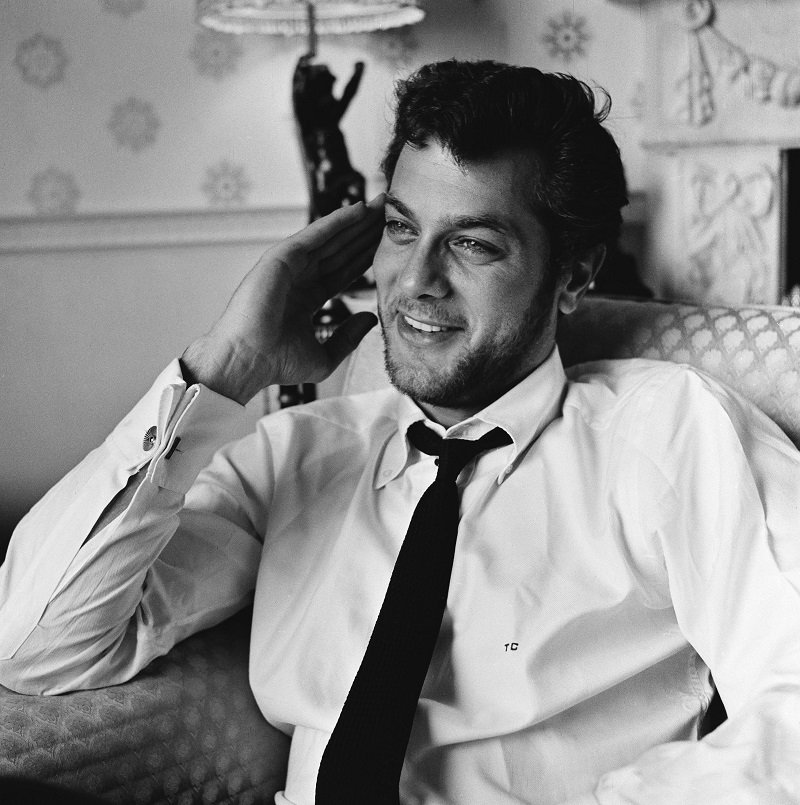 Tony Curtis at the Dorchester Hotel, in London, England, circa 1957 | Source: Getty Images
GIVING BIRTH TO JAMIE LEE CURTIS WAS A FINAL ATTEMPT AT PEACE
Tony Curtis was famous for his flamboyance as much as his talent. Tony was among the celebrities who characterized what it meant to be a superstar actor in a stylish and charming manner.
Tony, like other A-listers, has been associated with a number of women during his life and has had multiple marriages, but each was a failure. However, his romance with Leigh was one of the most remarkable things in his life.
The attractive couple was the center of attention throughout their time together, and their relationship even flowed over into their professional lives, as they appeared in five movies together.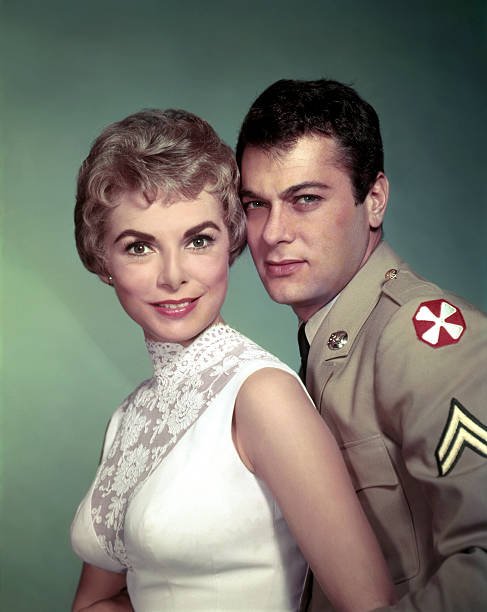 Promotional portrait of American actors Janet Leigh and Tony Curtis for the movie Strictly for Pleasure directed by Blake Edwards | Source: Getty Images
Leigh's fame was already established when she met her future husband, Tony, at a publicity party in the 1950s. It was a few years after her breakthrough role in the late '40s. She was beautiful and had a reputation for her pitch in movies.
The actress was more popular than Tony by the time they met. She had appeared in successful movies such as "The Romance of Rosy Ridge" and "Little Women." but Tony was yet to have his big break.
Things progressed quickly for the couple, and they fell in love. Despite the many obstacles they faced, the couple tied the knot, and many expected things to last forever, but things went sour as quickly as they began.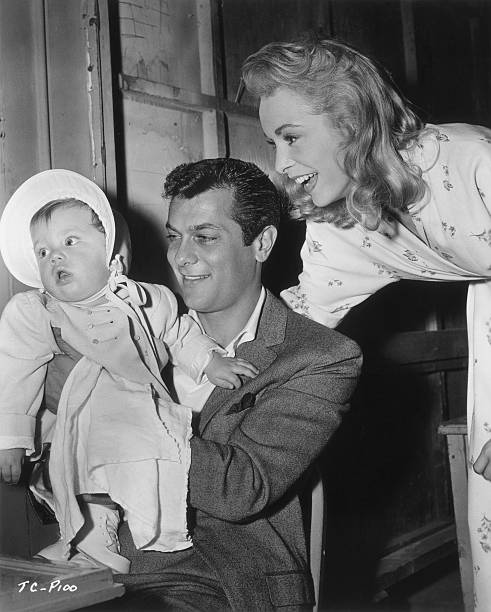 American actors Tony Curtis and Janet Leigh smile at their daughter, Kelly Lee | Source: Getty Images
After welcoming their first child, Kelly, the couple realized their love had lost its spark. Later on, they welcomed their daughter Jamie in a bid to save what was left of their union. Jamie later described herself as a "save-the-marriage baby." However, her parents still went on to divorce despite her arrival.
Speaking of her experience with her embattled parents, Jamie said, "By the time I came along… my parents' bond had deteriorated precipitously as their stardom grew. And like any other save-the-marriage baby, I failed." Tony filed for divorce in 1962. Leaving his family divided.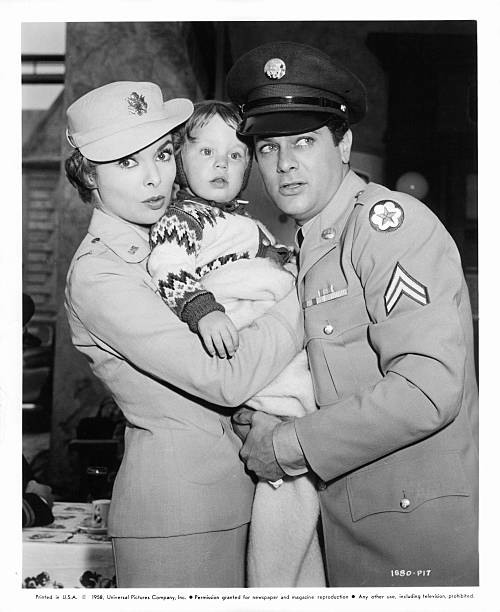 Janet Leigh and Tony Curtis posing with child in publicity portrait for the film 'The Perfect Furlough', circa 1958 | Source: Getty Images
Leigh had always had the affection of both fans and co-stars. By the time she met Tony, she was already in league with the high powers of Hollywood. Hollywood tycoon Howard Huges was one of the names backing her career. Hughes was romantically interested in Leigh, but she did not seem to share in his interest.
Her heart was already given to Tony. Both stars were seriously in love with each other and enjoyed an intense physical relationship. The duo was willing to cross any hurdle that would fight their love, even if it meant despising the people who backed their career.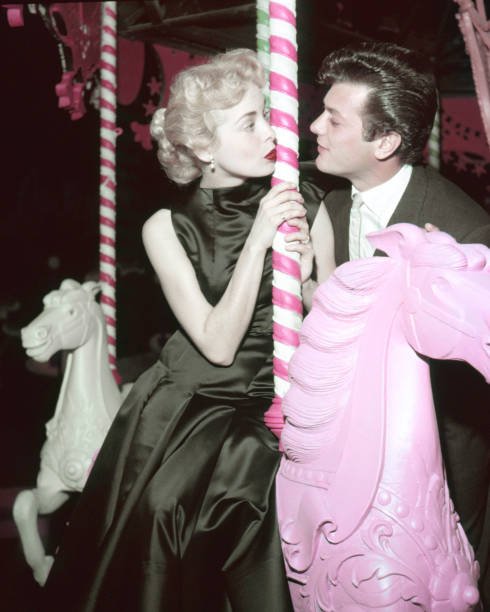 Married American actors Tony Curtis and Janet Leigh on a carousel, circa 1955 | Source: Getty Images
Like Leigh, Tony's love for the actress was equally tested by Universal's huge offer of ten thousand dollars to wed co-star Piper Laurie. The union was seen as a much-needed boost for his career. However, money could not take him away from his heartthrob.
Tony became a familiar figure on most of Leigh's film sets, and their relationship soon became public news. Universal grew more concerned over Tony's affair with a rival actress and hoped he would side with them by marrying Laurie.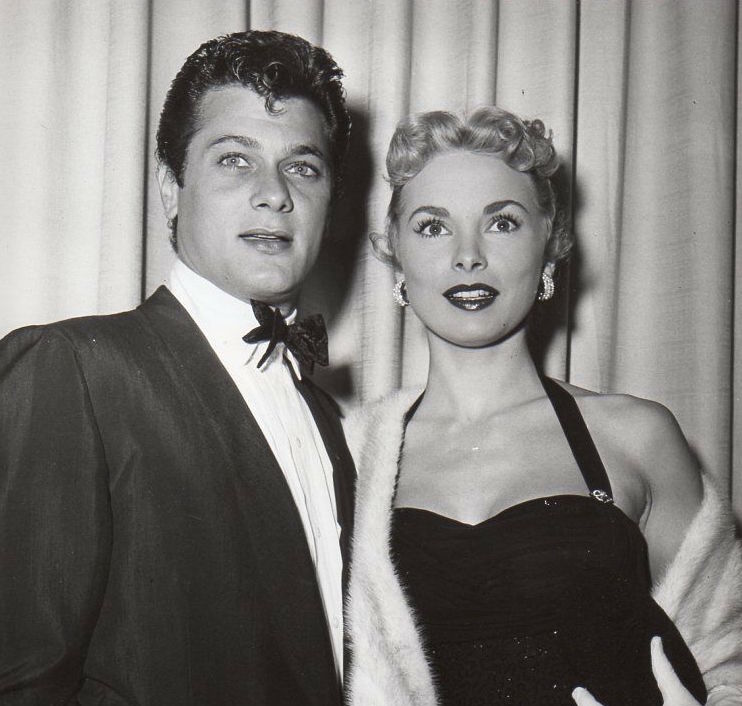 Tony Curtis and Janet Leigh at 25th Annual Academy Awards on March 19, 1953 | Source: Public Domain, Wikimedia Commons
Tony shocked his employers when he proposed to Leigh in 1951. She said yes without wasting time, and they were wed on a small but glamorous occasion. Before their wedding, Leigh's friends advised her against marrying the actor, but their love seemed more real than their concern.
Life with Tony seemed to be perfect, but such happiness was made short-lived by privacy issues. On the surface, the couple looked like the best, but they struggled to stay on the same page.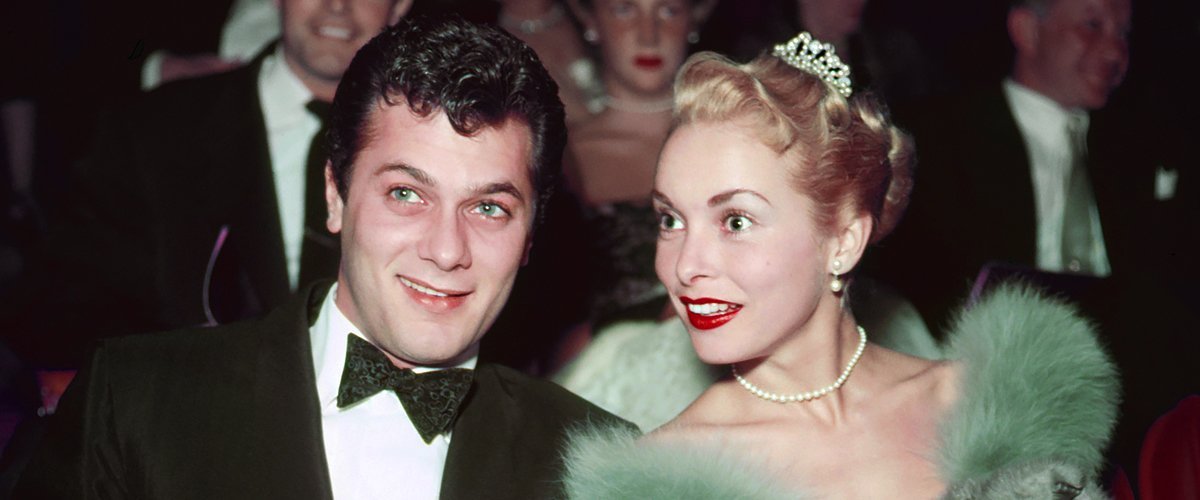 Tony Curtis and Janet Leigh at a formal event, circa 1955 | Source: Getty Images
Tony grew increasingly insecure about his wife's success and was also jealous of her relationship with other men. The actor felt that she sometimes used her greater star power against him. He said, "I could see signs in myself that I was becoming subservient,"
Tony soon entered into a dark space and became embroiled with drug and other substance abuse. He was also rumored to have had affairs with actresses Gloria DeHaven and Natalie Wood.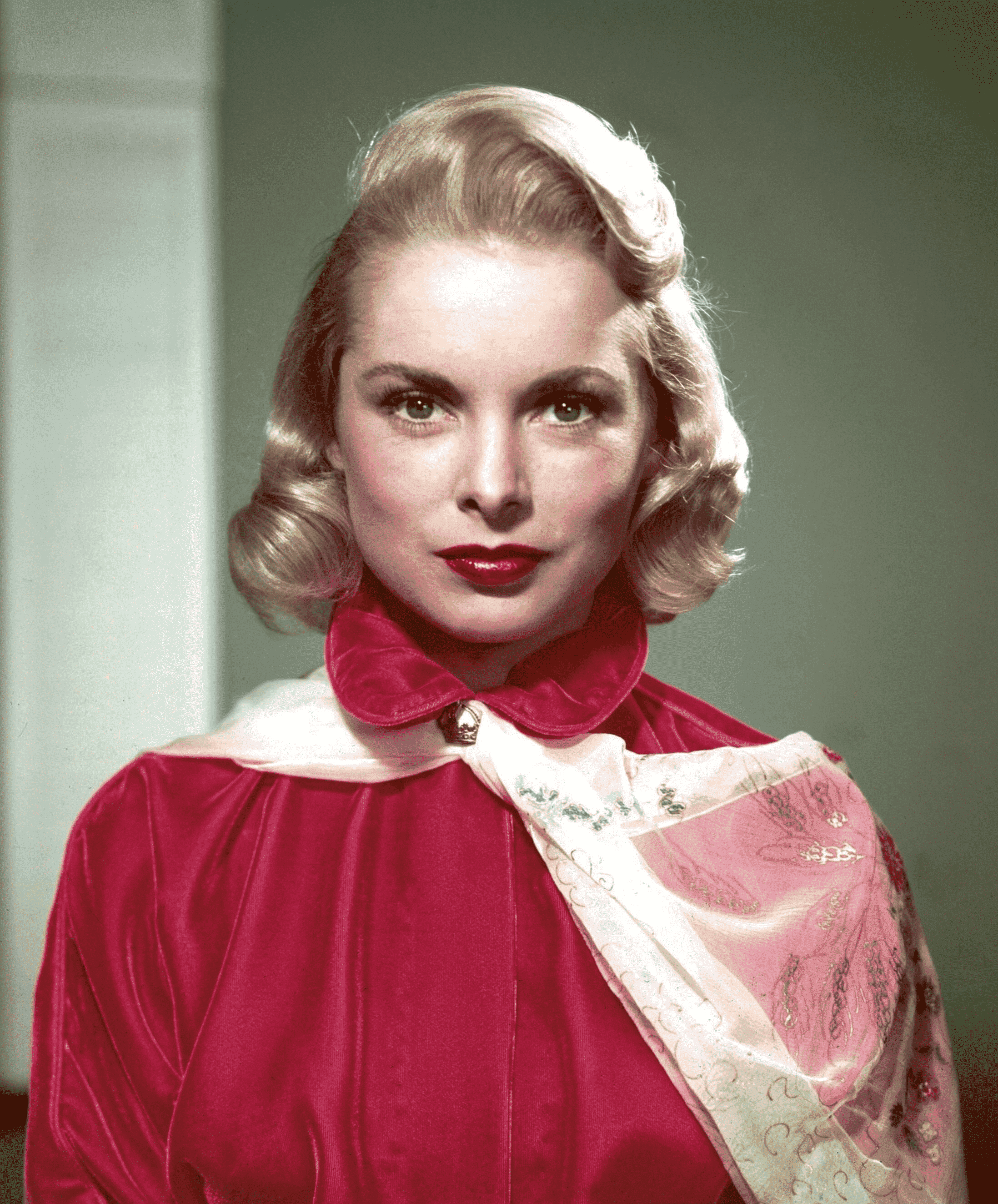 Portrait of Janet Leigh for Photoplay circa 1954 | Photo: Public Domain, Wikimedia Commons
The couple began to grow increasingly distant. Speaking of the state of their marriage, Tony recalled, "We settled into a functional but unromantic marriage, the kind of life that was less unusual in Hollywood than you might think."
Tony eventually left Janet for Christine Kaufmann, a 17-year-old actress, but the couple separated in 1968. Before his death in 2010 from congestive heart failure, the actor married four more women.
Being raised by famous parents did Jamie more harm than good. The actress often referred to herself as a "product of 13 divorces." The 64-year-old confessed that her parents' split affected her and made it difficult to believe in true love.
Jamie and her sister grew up in a home of resentment, competition, and jealousy. The "Halloween" actress also observed the demands of a successful career in Hollywood and learned from her parents' lives.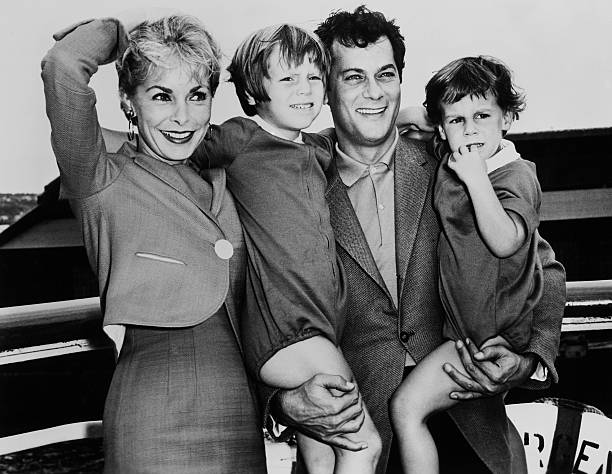 Tony Curtis, Janet Leigh and their two daughters Kelly and Jaimie Lee | Source: Getty Images
Growing up with Tony and Leigh as their parents, Jamie and Kelly had to deal with the expectations and frequent comparisons that came from the public. Jamie once shared a picture of her family alongside her thoughts on growing up with famous parents.
She wrote: "I was born to famous parents. My birth and subsequent growing up was documented for public consumption. My parent's fame and beauty preceded me. The comparing. The measuring up. Everywhere I went. Everything I did."
Jamie had two father figures growing up: her enigmatic biological father, Tony Curtis, and Leigh's fourth husband, stockbroker Robert Brandt. According to her, Tony passed on creativity to her while Brandt showed her love.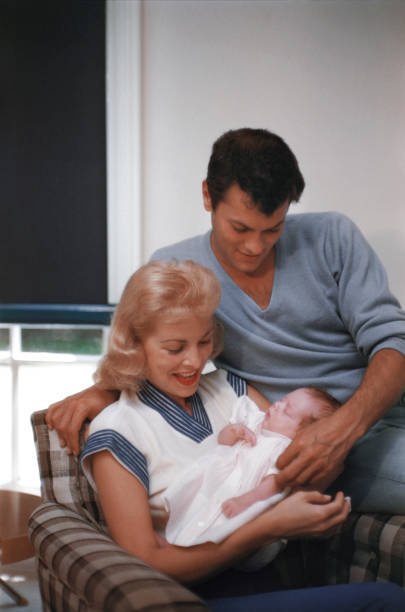 Actors Janet Leigh and Tony Curtis pose for a portrait with their baby daughter Kelly Curtis at home on August 4, 1956 in Los Angeles, California | Source: Getty Images
The actress still recalls her parents with fondness, especially for their roles in her career. Jamie once shared a post praising Leigh, who passed on in 2004 as a beautiful and talented actor. Although things were not smooth with Tony, she had no doubt he was an amazing talent.
Jamie's older sister, Kelly, has amazing things to say about their late mom. She once revealed that their famous mom taught her to be grateful and content.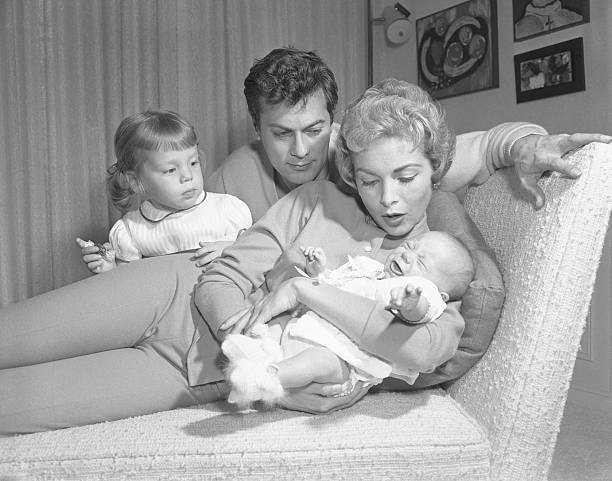 Kelly Lee Curtis, Tony Curtis, Janet Leigh, and Jamie Lee Curtis at home in Hollywood on January 16, 1959 | Source: Getty Images
Tony fathered six children in his multiple marriages. However, at his death, the actor was hated by his kids for robbing them of a penny from his inheritance. The former Hollywood star shared a fractured relationship with his children from his first marriage.
Jamie, however, followed in his steps and became a remarkable actress. Like her parents, the 64-year-old has enjoyed the limelight and has featured in a series of high-ranking movies alongside notable awards.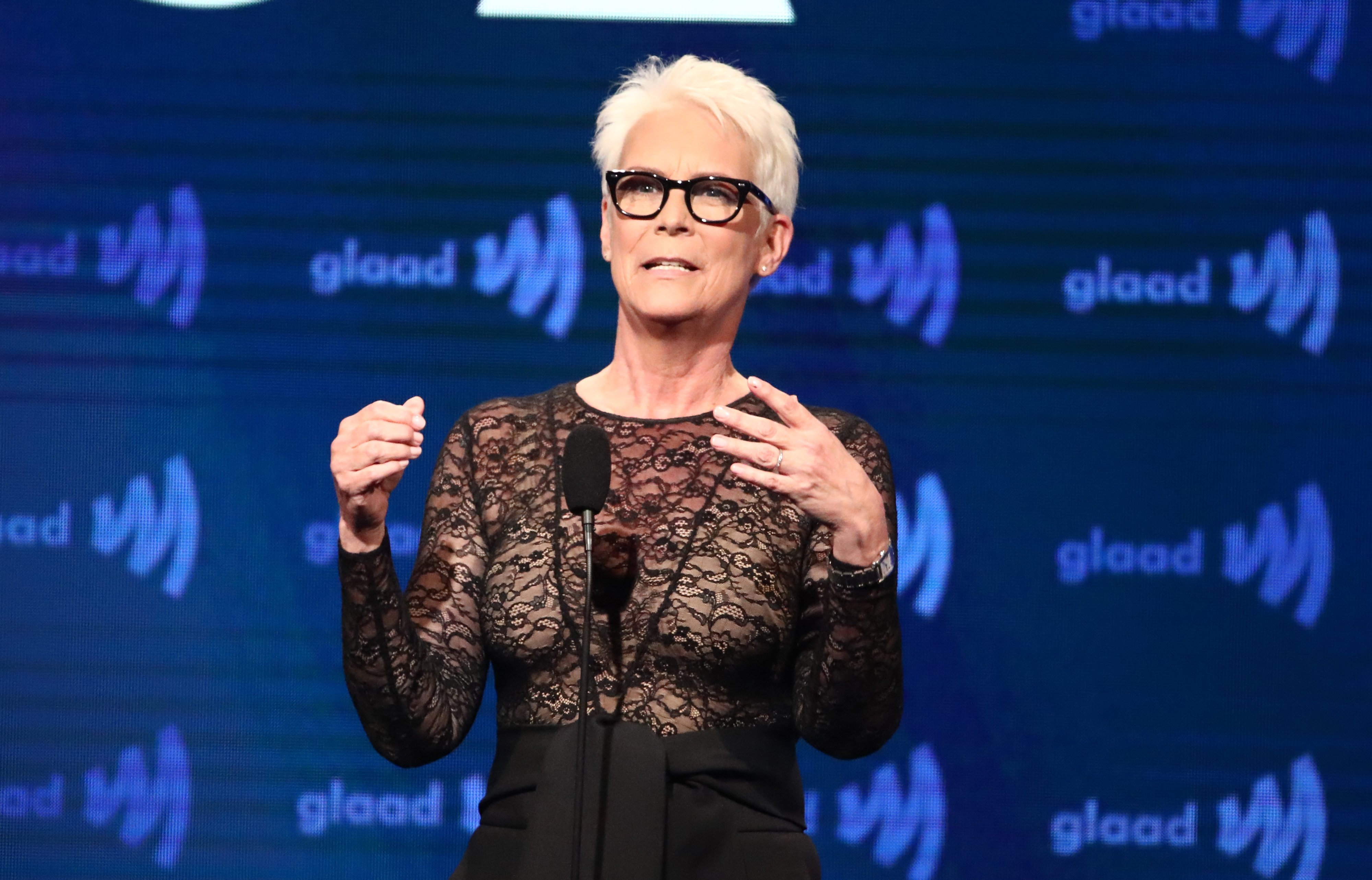 Jamie Lee Curtis speaks onstage during the 30th Annual GLAAD Media Awards Los Angeles at The Beverly Hilton Hotel on March 28, 2019 | Source: Getty Images
Kelly is also a Hollywood star and has featured in movies such as "Magic Sticks" and "The Devil's Daughter." Her first appearance in the movie world was in the action-adventure "The Vikings," which she played alongside her parents.
Years after Tony and Leigh's death, their children have kept their legacies and are also successful in their craft. Tony might not have been the best of fathers, but he was once Hollywood's best actor.
Please fill in your e-mail so we can share with you our top stories!