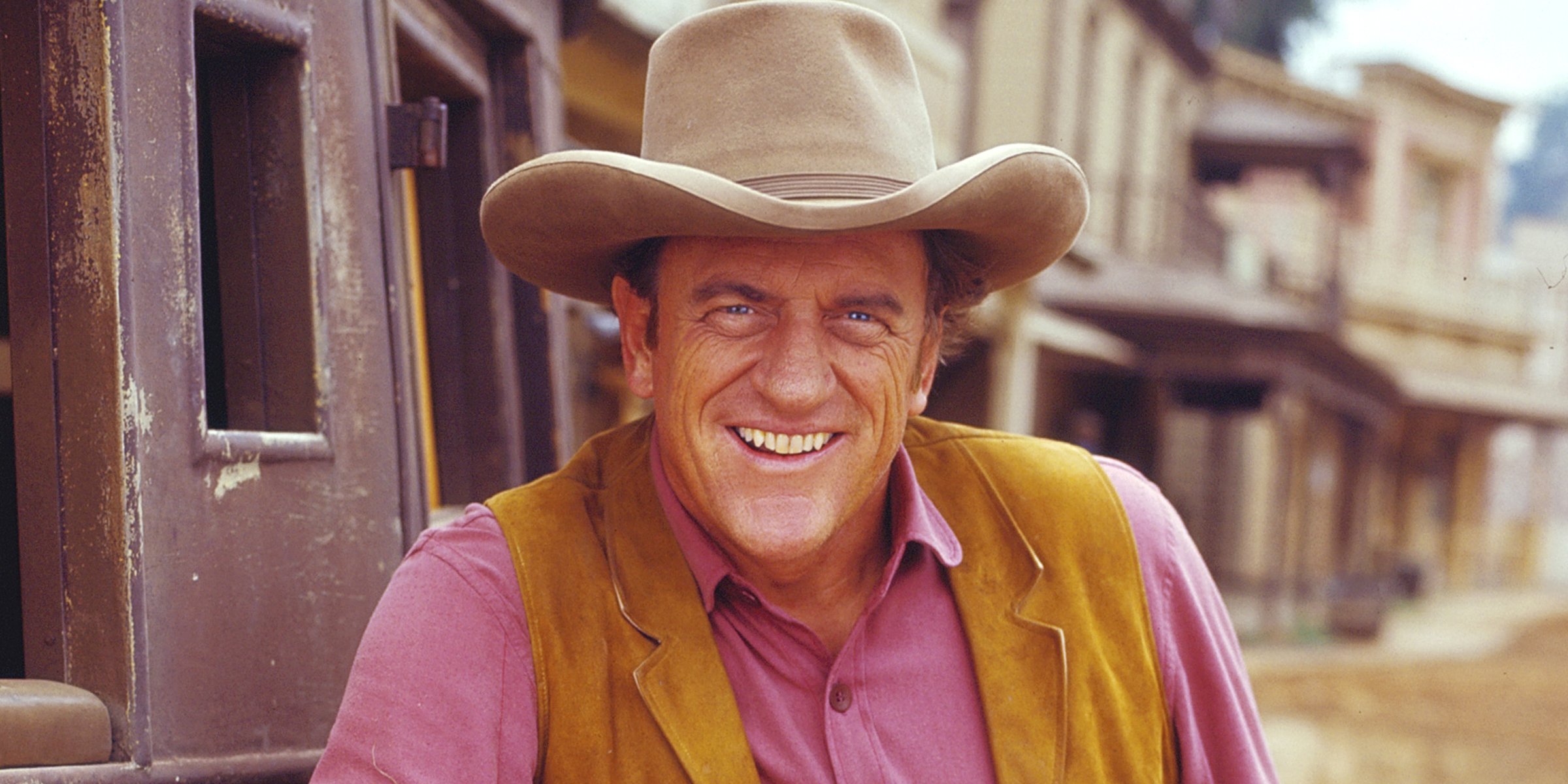 James Arness | Source: Getty Images
James Arness' 1st Wife Left Behind the Glitz After Their Split - His 2nd Wife Stayed by His Side Until the End
James Arness married two women in his lifetime — the first, a woman with whom he shared three kids, faded into obscurity after their divorce, but the second lady stood by his side till death parted them.
James Arness, famous as the star of one of the longest-running shows in U.S. television history, "Gunsmoke," was born to Rolf Aurness and Ruth Duesler Graves.
His father was a vendor for surgical instruments while his mom stayed home to tend the house and raise the kids — she later became a newspaper columnist, and her marriage with Rolf ended in the 40s.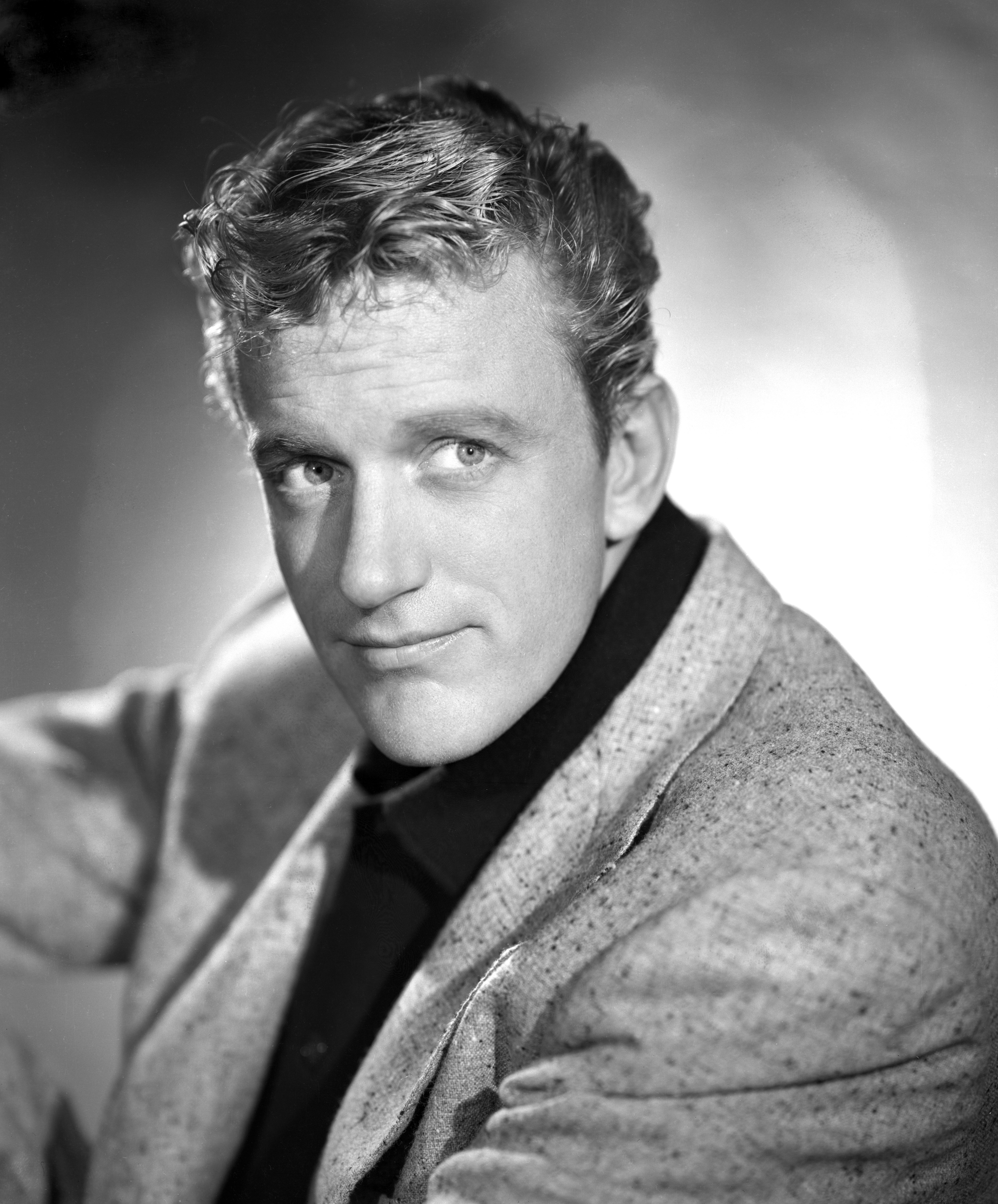 Portrait of James Arness (portrays Marshal Matt Dillon). He stars in the CBS television western, Gunsmoke. April 22, 1955 | Source: Getty Images
James had a rich background as he was of Norwegian, German, and English descent. In high school, he appeared in school plays, but he showed no interest in performing — instead, he yearned to go to sea.
He had a young brother named Peter — who later gained fame as an actor named Peter Graves. Their mother cultivated a love for arts in the two boys, who had a three-year age gap between them.
In 1943, James received his draft notice, joining the army and training. He and his brother participated in the Second World War, but he didn't come out of it unscathed.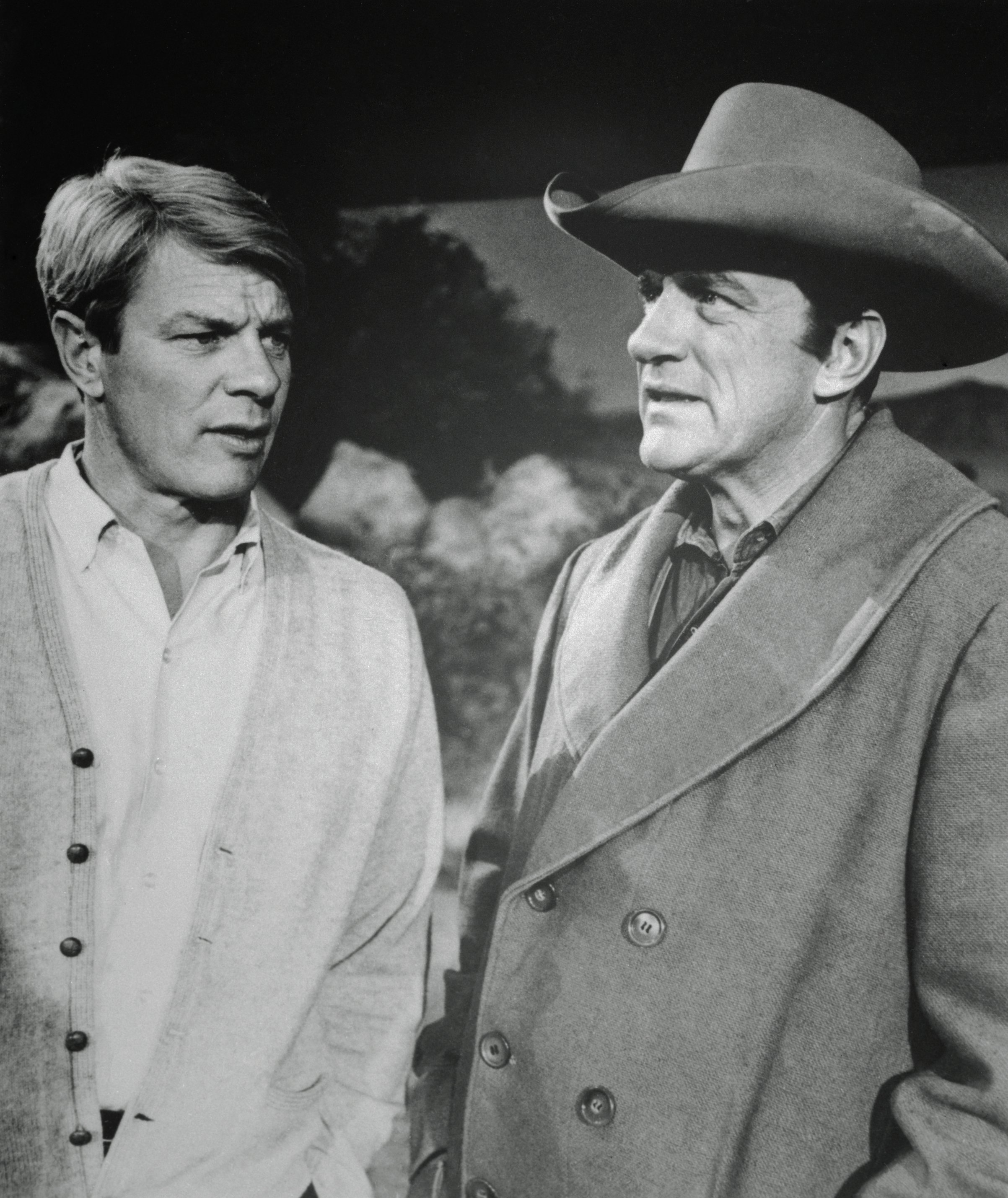 Actor James Arness (right) with his brother, actor Peter Graves. | Source: Getty Images
He was an infantryman and was wounded in the battle of Anzio, Italy, but his brother was posted to the Army Air Force — which later became a separate branch of the U.S. military.
James was medically discharged from the army because of his injury, which he got from a German machine gun. It plagued him for the rest of his life.
JAMES MARRIED HIS FIRST WIFE, AND TOGETHER THEY WELCOMED THREE KIDS
Virginia Arness and James Arness at home. Image date July 23, 1955. | Source: Getty Images
James returned home from the second World War an injured, decorated, and jobless veteran. He tried to make ends meet by taking up menial jobs while collecting veteran benefits as he drifted towards Hollywood.
He even worked as a radio announcer before moving to Los Angeles in 1946. He started acting in an amateur theater; then, he caught the eye of an agent who linked him up with producer Dore Schary, who gave him a few roles in 1947.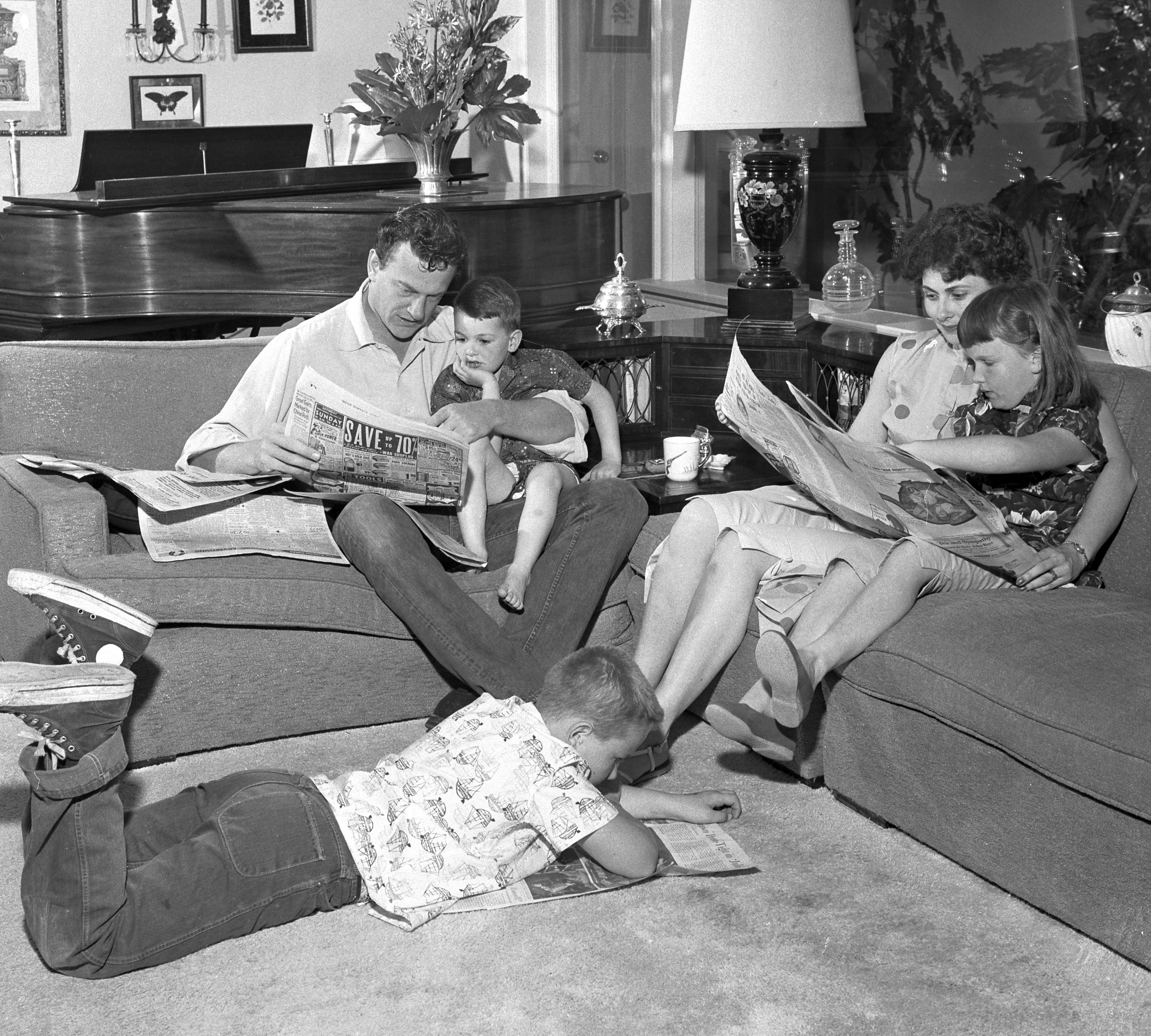 The Arness family at home. (From left) James Arness with Rolf (age 5), Virginia with daughter Jenny Lee (age 8) and Craig (age 10) on the floor. Image date May 4, 1957. | Source: Getty Images
He drifted around Mexico for some time; then, he returned to Hollywood with a burning desire to become an actor. In 1948 he married Virginia Chapman and adopted her child from Craig's previous marriage.
They went on to have two more children, whom they named Jenny and Rolf but were divorced by 1963.
After their divorce, Chapman, a white woman, picked up her things and moved to San Bernadino, California — an area Blacks had dominated.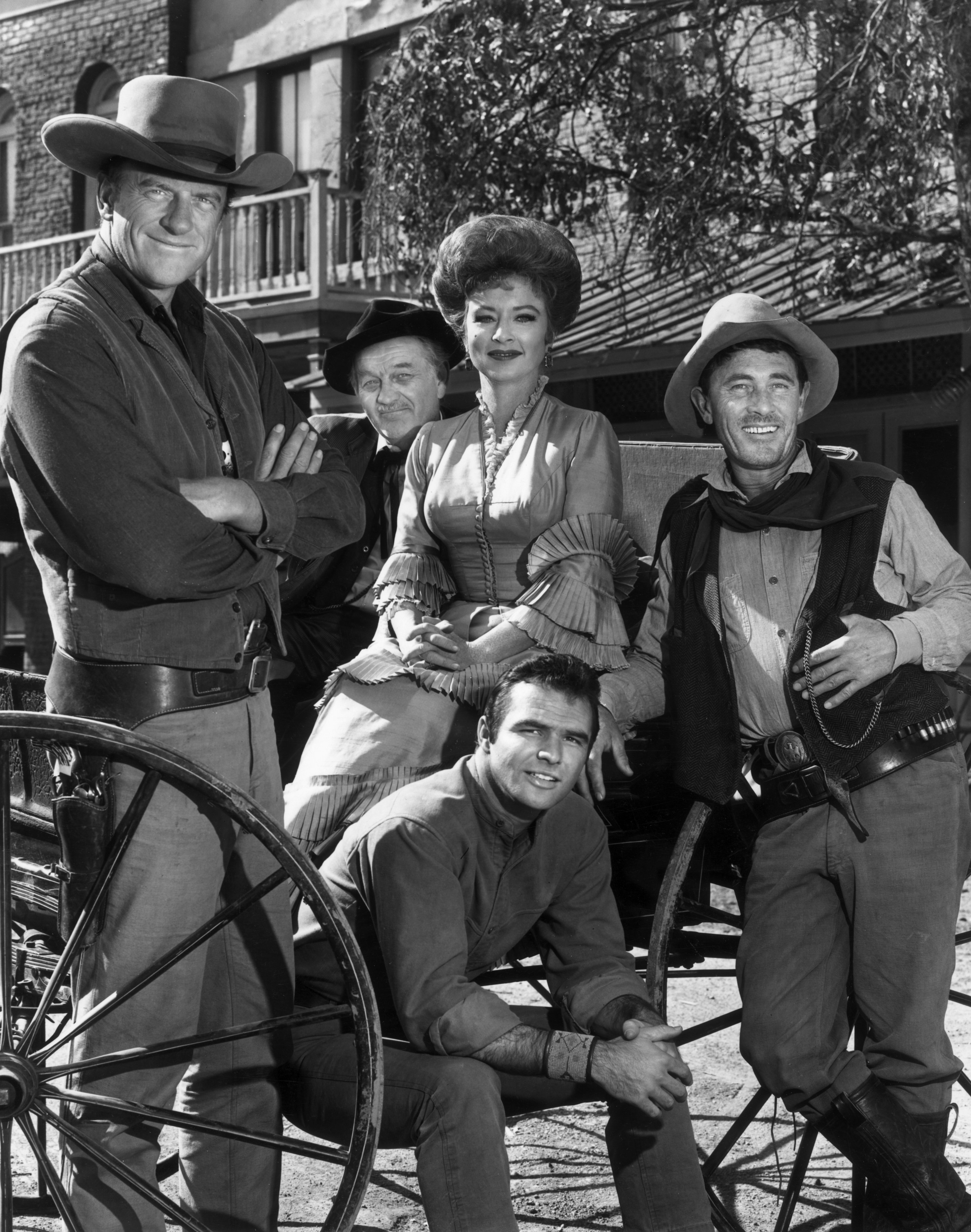 The cast of 'Gunsmoke' poses around a wagon in a promotional portrait for the Western television series. L-R: Actors James Arness, Milburn Stone, Amanda Blake, Ken Curtis and Burt Reynolds (seated). | Source: Getty Images
It effectively removed her from the "in" society which her husband, thanks to his role on "Gunsmoke," had become a part of. She would later admit that she lost him to his work, describing him as a comet that left her lonely on earth.
The move was a fulfilling one for Chapman, who started a motel service opened to all in California because she believed integration could only happen when white people, especially those at the top, stepped forward to mix with the black society.
On a Friday in 1977, she died from an accidental overdose of sleeping pills at her home in Malibu, California.
MEETING JANET SURTEES AND THE SURPRISE THAT MADE HER REALIZE JAMES IS THE ONE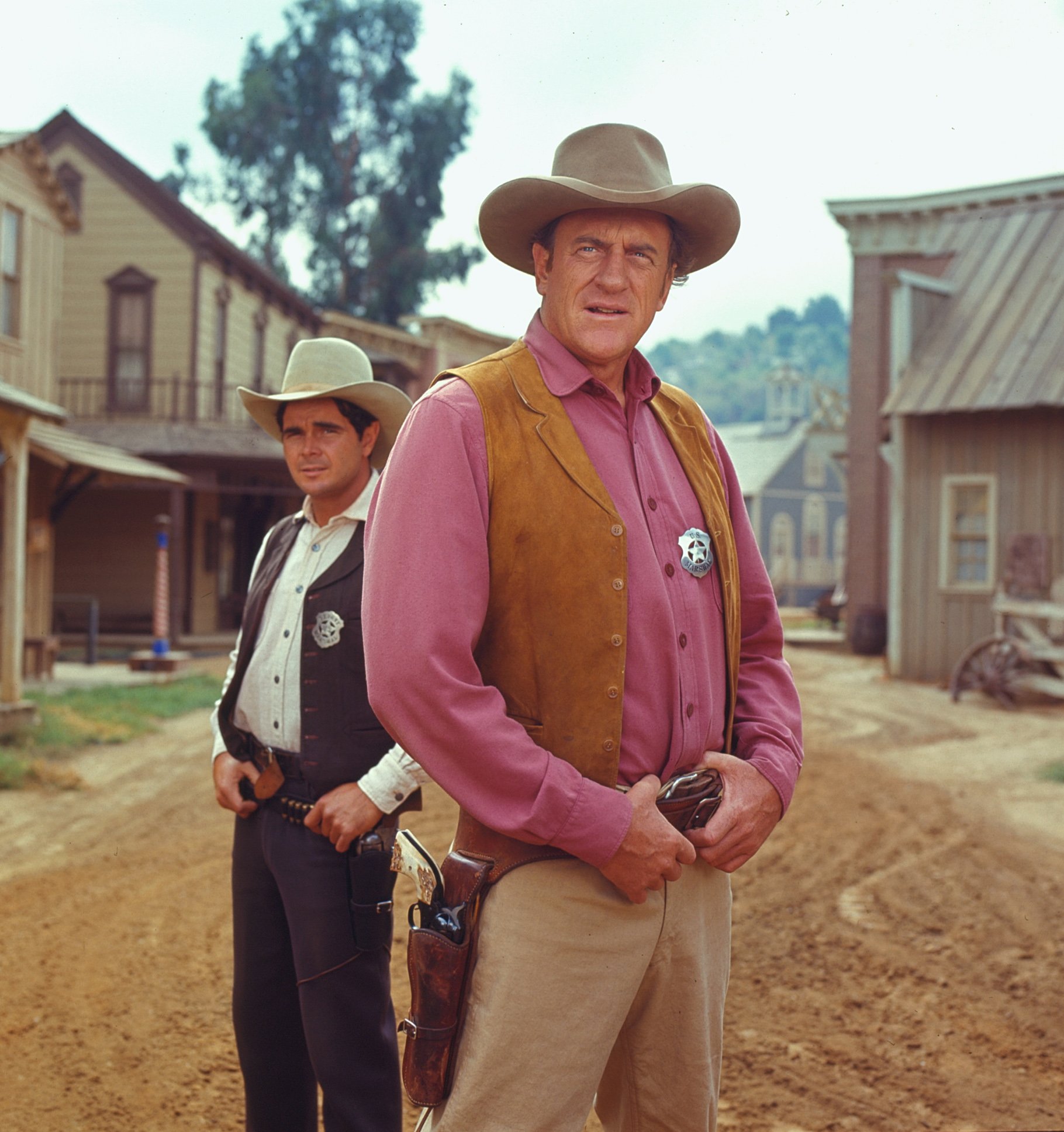 Promotional portrait of American actors James Arness (as U. S. Marshal Matt Dillon) (foreground) and Buck Taylor (as Newly O'Brien) from the television series 'Gunsmoke,' 1970. | Source: Getty Images
James met his second wife, Janet Surtees, thanks to his makeup artist Glen Alden, who had a wife that managed a dress shop where she worked.
Surtees worked about six to seven years with the lady, during which time she was told about their adventures. At some point, Alden's wife urged her to join them for dinner since James would also be there.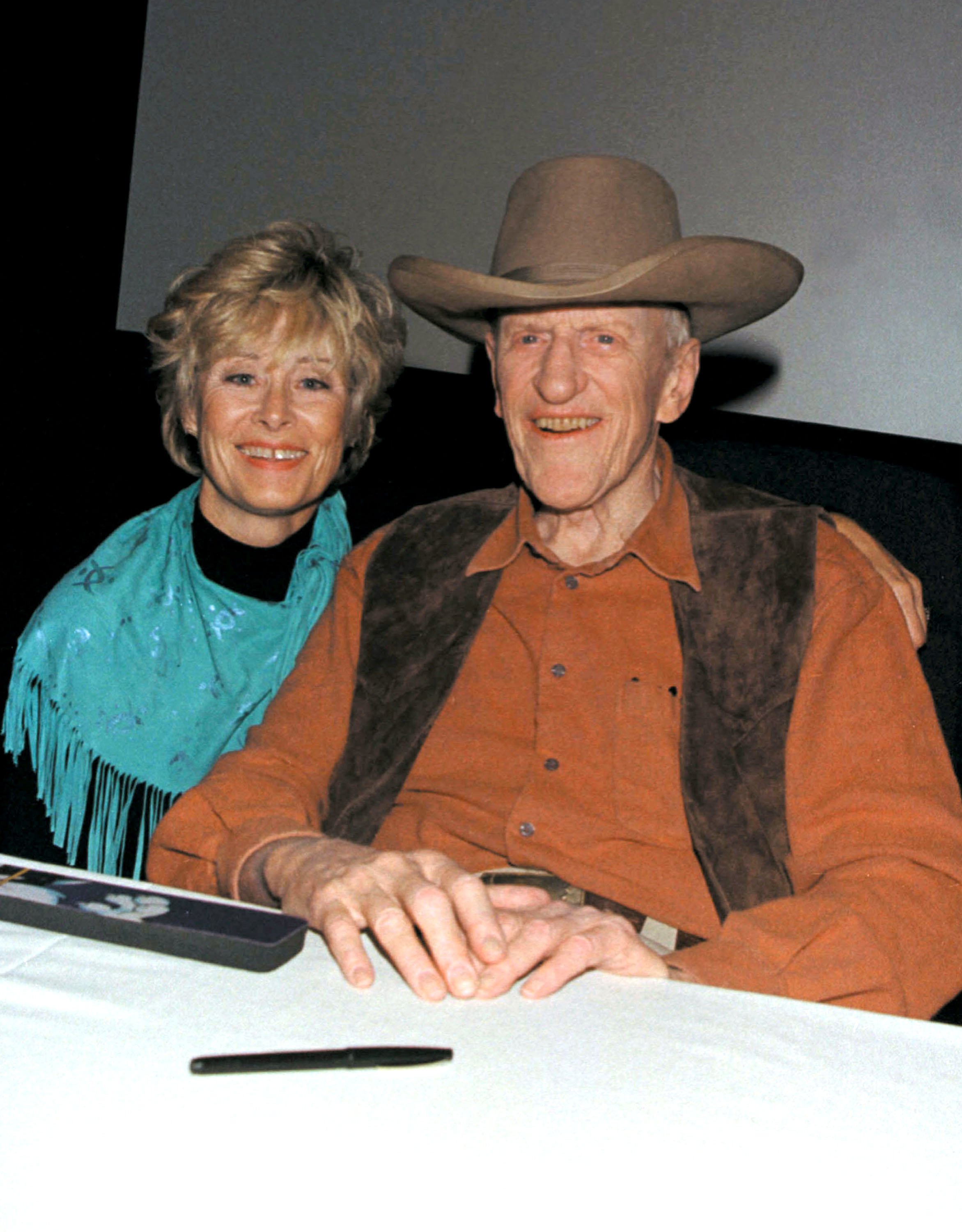 James Arness poses with his wife Janet during a signing of his new book "James Arness: An Autobiography" at the Gene Autry Museum November 3, 2001 | Source: Getty Images
Surtees was reluctant, but her son was a "Gunsmoke" fan, so she went just so she could tell him she had met his favorite actor. Of course, she was charmed by his politeness and friendliness, so they got to talking.
She told Alden's wife that he probably had a lot of ladies calling him.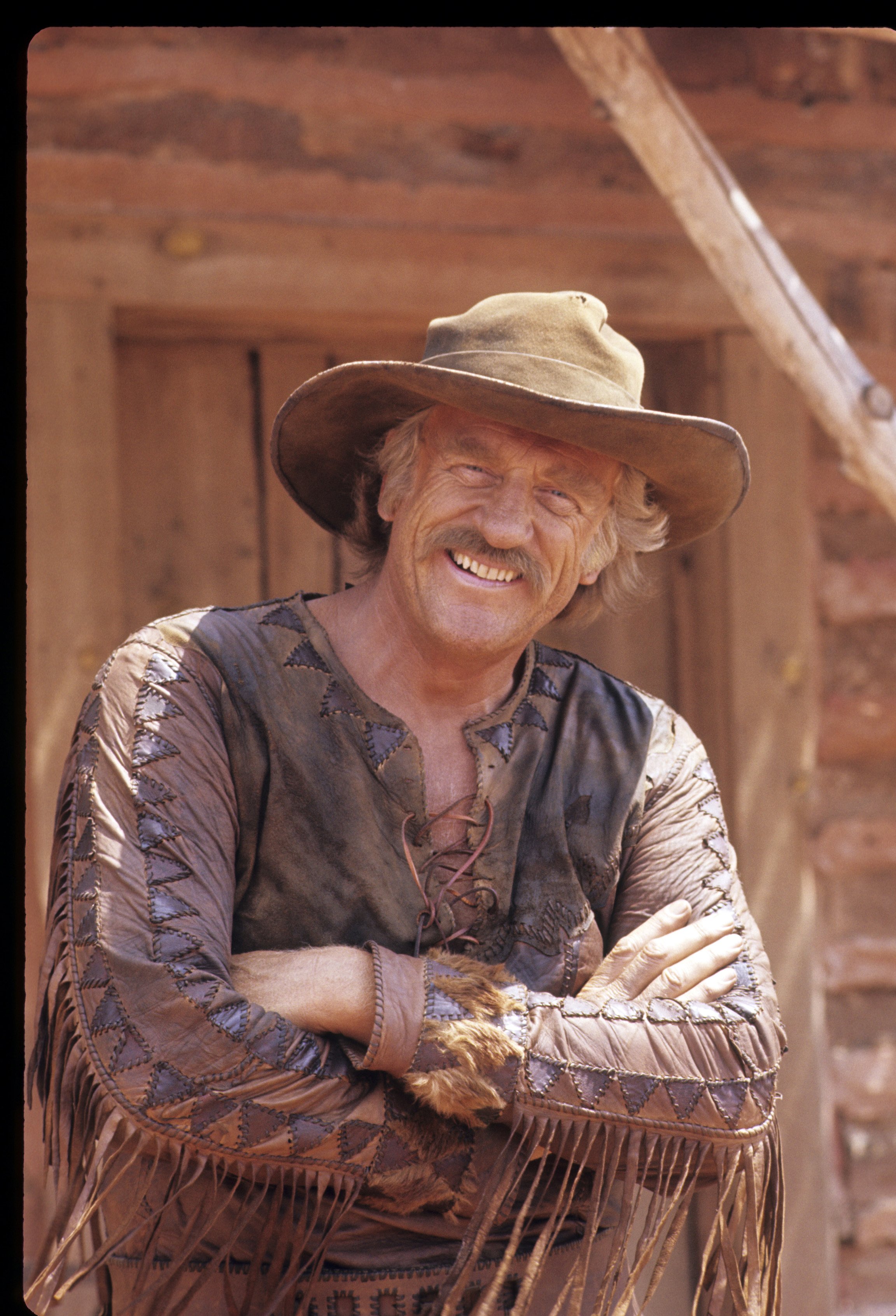 The Macahans on setfor the episode aired on January 19, 1976 | Source: Getty Images
They found out they had a common interest in skiing, and it led to a date at an old miners' cabin he owned. They went horse riding and stopped at a remote camping area where other people had also settled to rest.
There they had food and spoke about their families. By the time they were finished, others had left, but their litters remained scattered around. Surtees was surprised when she saw James pick up all the trash and stuff it in his saddle and is convinced he was a "cool guy."
After that day they didn't meet again for about three months. He had warned her he would be away for a few weeks but that he would reach out upon his return.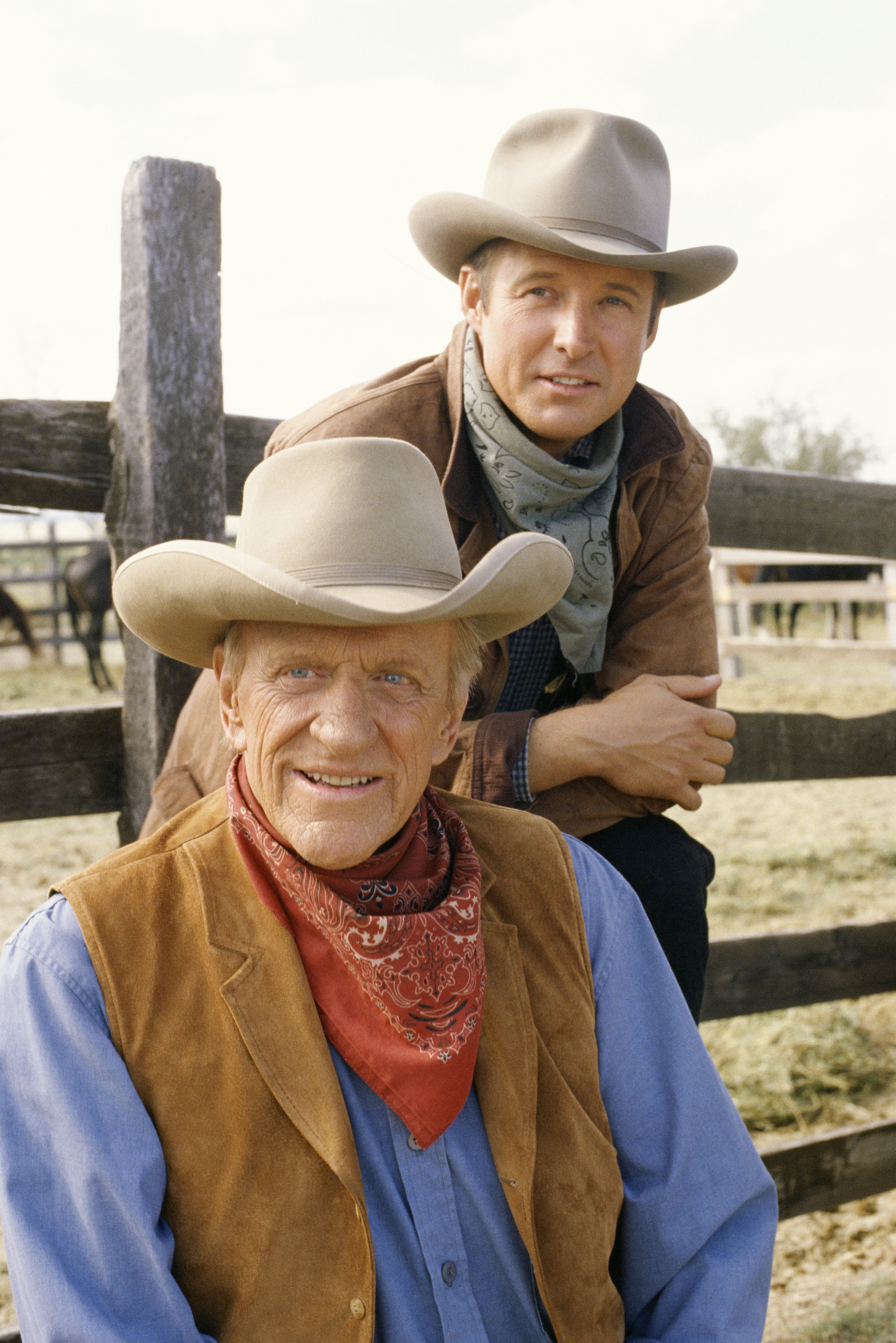 ne Mans Justice, a made-for-TV movie, featuring (from top) Bruce Boxleitner (as Davis Healy) and James Arness (as Matt Dillon). Image dated September 27, 1993. | Source: Getty Images
That didn't happen until after three months, and she had been reluctant to call him because, as she told Alden's wife, he probably had a lot of ladies calling him.
He eventually called her and asked her on a dinner date that led to the relationship that lasted till his death. They tied the knot in 1978 and lived in Brentwood, Los Angeles.
Their love was genuine, and it endured until his demise at the age of 88. Before his death, he penned a letter that expressed his deep feelings for her, his fans, and his family.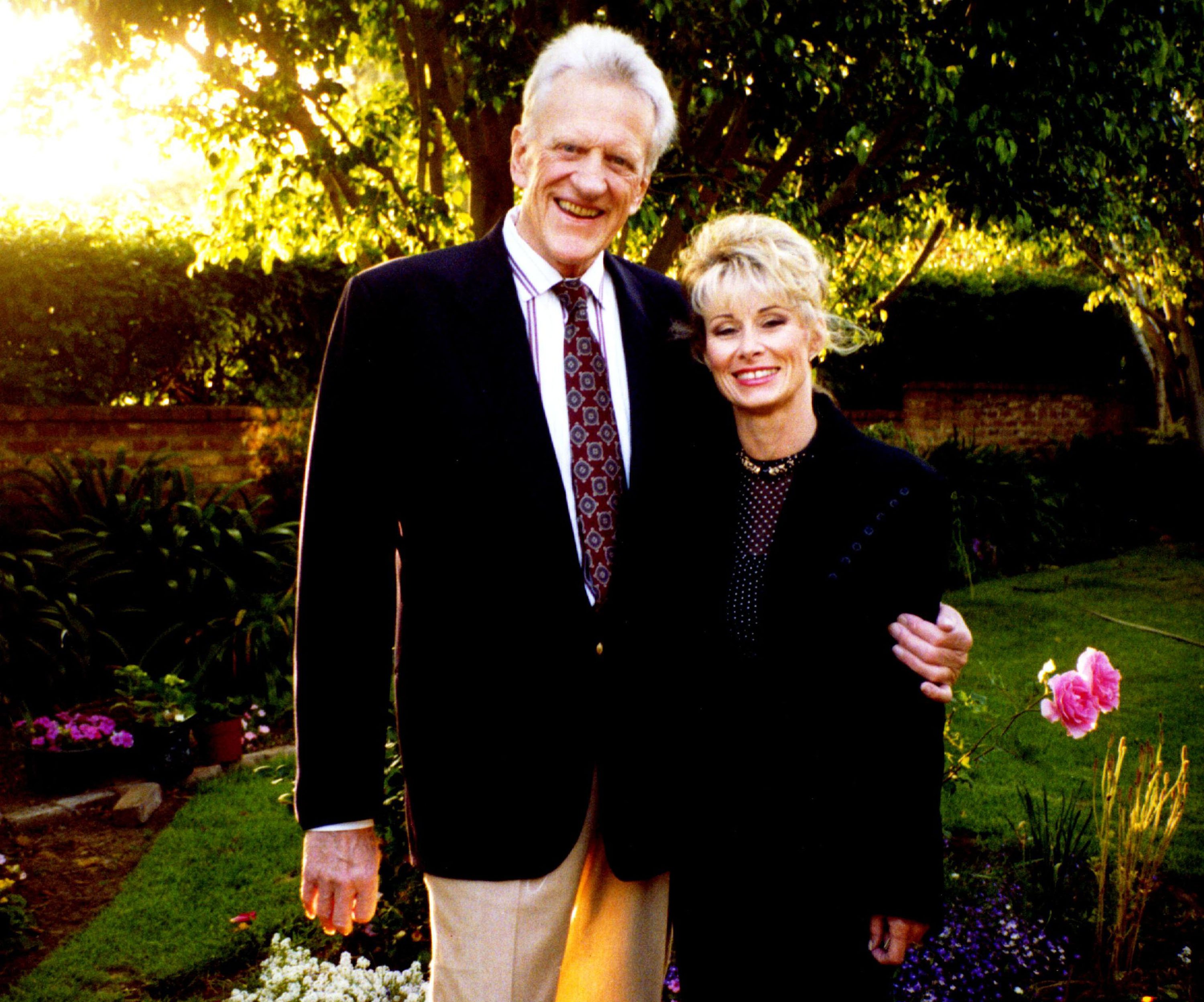 James "Jim" Arness And Wife Janet Pose For A Photograph In Their Garden In 1995 In Brentwood, Ca. Arness Became Famous In Hollywood In 1955 | Source: Getty Images
Along with Rolf Arness, his stepson Jim Surtees, six grandchildren, and a great-grandchild, she survived him. Jim is Surtees's first child from a previous relationship.
Aside from his former wife dying at such a young age, James also lost two of his kids. One was named Craig, a photographer, while the other, Jenny, was an actress and they died in 2004 and 1975 respectively.
Please fill in your e-mail so we can share with you our top stories!