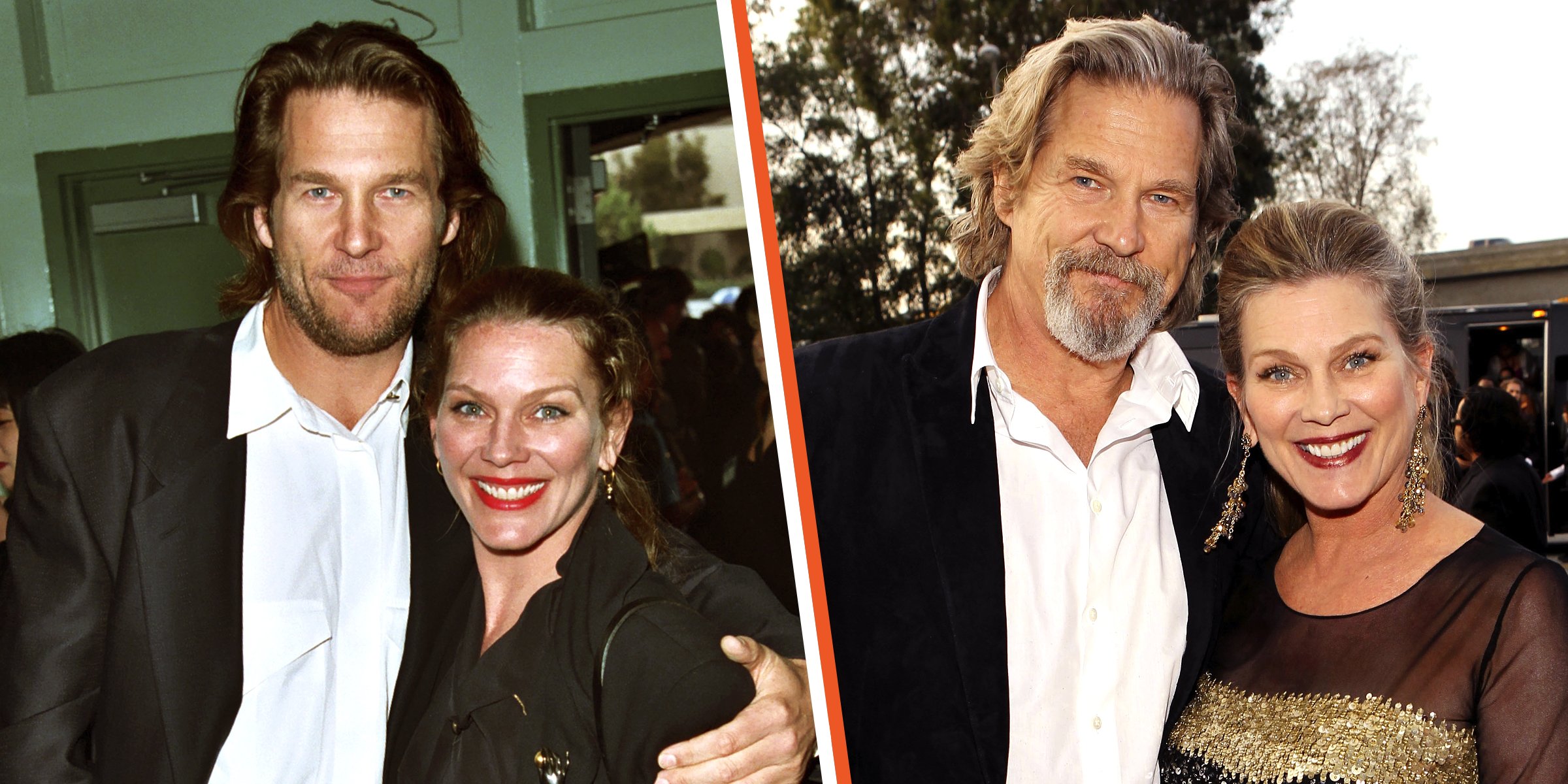 Jeff Bridges and Susan Geston | Source: Getty Images
Jeff Bridges Was Kept Riveted by Wife's Beauty Although She Had Facial Injuries When They Met
Although Academy Award-winning actor Jeff Bridges admitted he was not "real good" at romance, he and his wife, Susan Geston, have been married for over four decades.
Born in December 1949, Jeff Bridges is a multi-awarded actor best known for working in "The Big Lebowski" and "Hell or High Water." He might not be "real good" at romance, but his relationship with Susan Geston is one of a kind.
Bridges revealed buying clothes for his wife was not his style. He knows Geston deserves much more, but he rubs her back at night and carries her picture everywhere. "That's kind of romantic, isn't it?" he said. The truth is their love story is very romantic.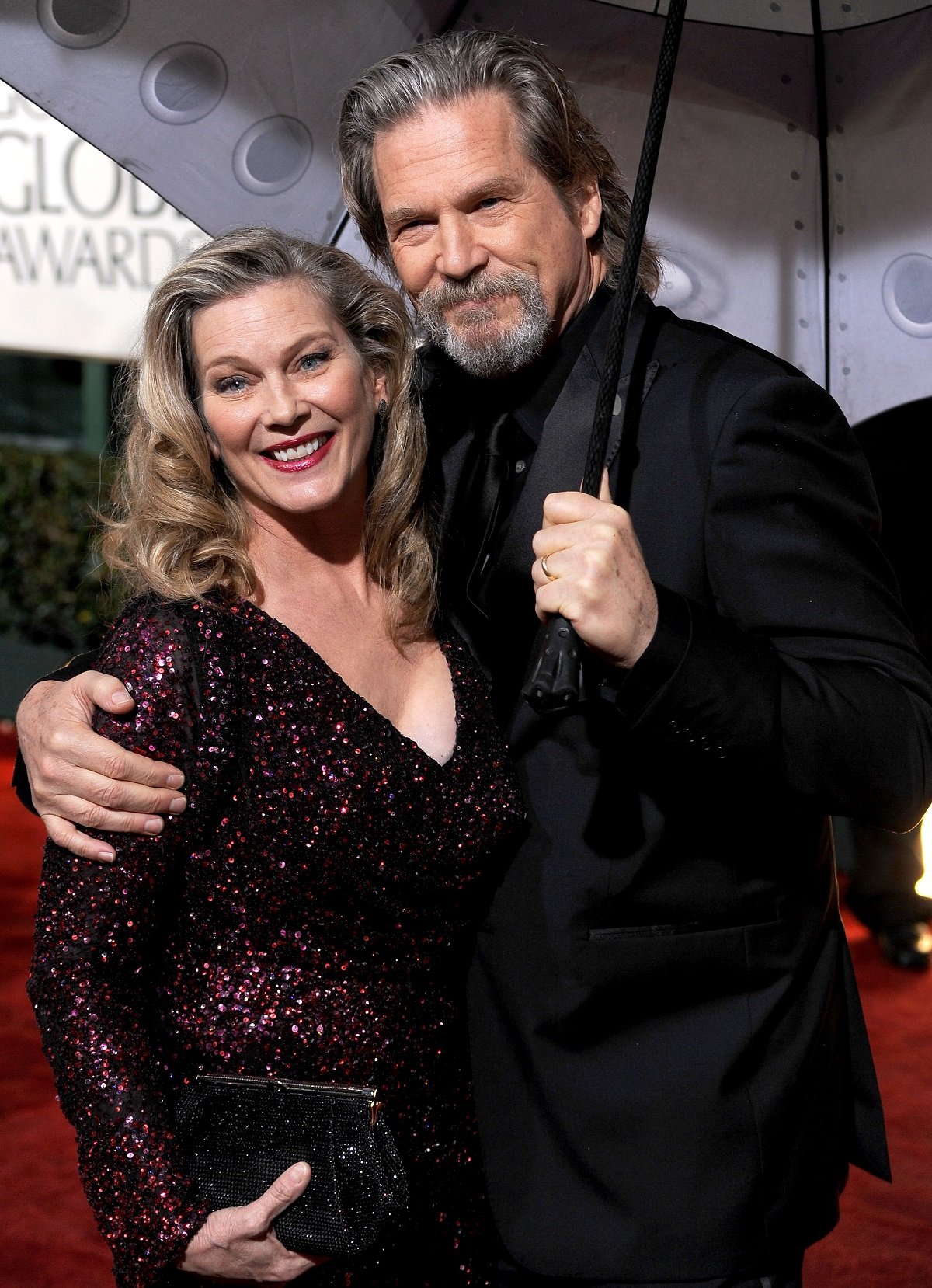 Susan Geston and Jeff Bridges on January 17, 2010 in Beverly Hills, California | Source: Getty Images
JEFF BRIDGES' FIRST DATE WITH HIS BETTER HALF
Most relationships in Hollywood are pretty similar – two actors work in a project together, fall in love, and tie the knot. Bridges and Geston's case was different, though.
They met in 1975 while he was filming "Rancho Deluxe" in Paradise Valley, a small town in Montana. Geston was not an actress but a waitress of a place called Chico Hot Springs, and as soon as Bridges saw her, he couldn't take his eyes off her.
The actor confessed it was love at first sight. Geston was undoubtedly gorgeous, but she also had two black eyes and a broken nose Bridges later learned resulted from a car accident. Bridges admitted:
"Something about her beauty and disfigurement kept me riveted. Every time I snuck a peek, she'd catch me."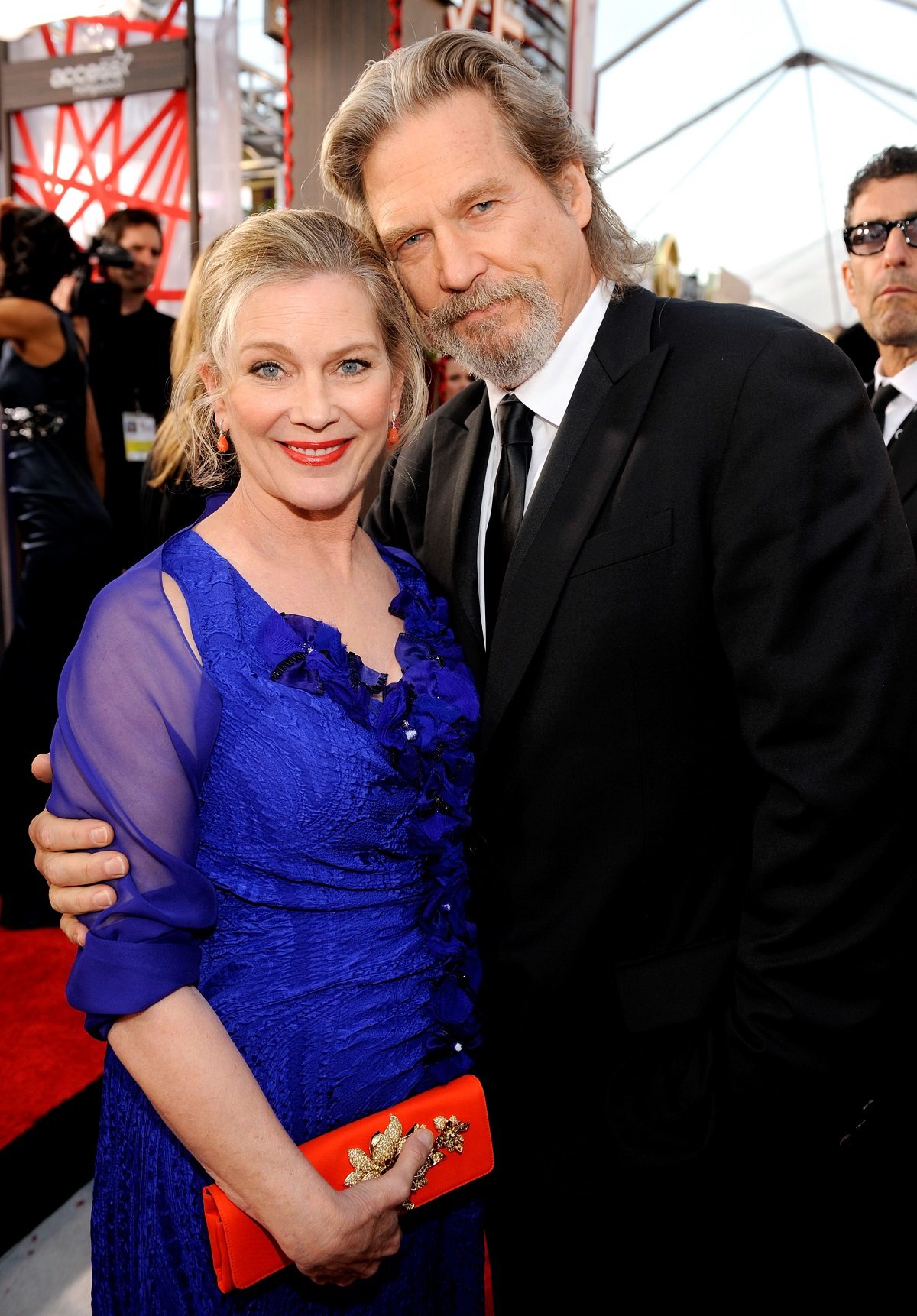 Jeff Bridges and Susan Geston on January 23, 2010 in Los Angeles, California | Source: Getty Images
When Bridges finished working, he asked her out, and she said no. He tried to convince her, but Geston kept refusing his request.
She eventually told him it was a small town, so they could probably run into each other later. One night, they had a chance encounter. After dancing with her, Bridges fell in love.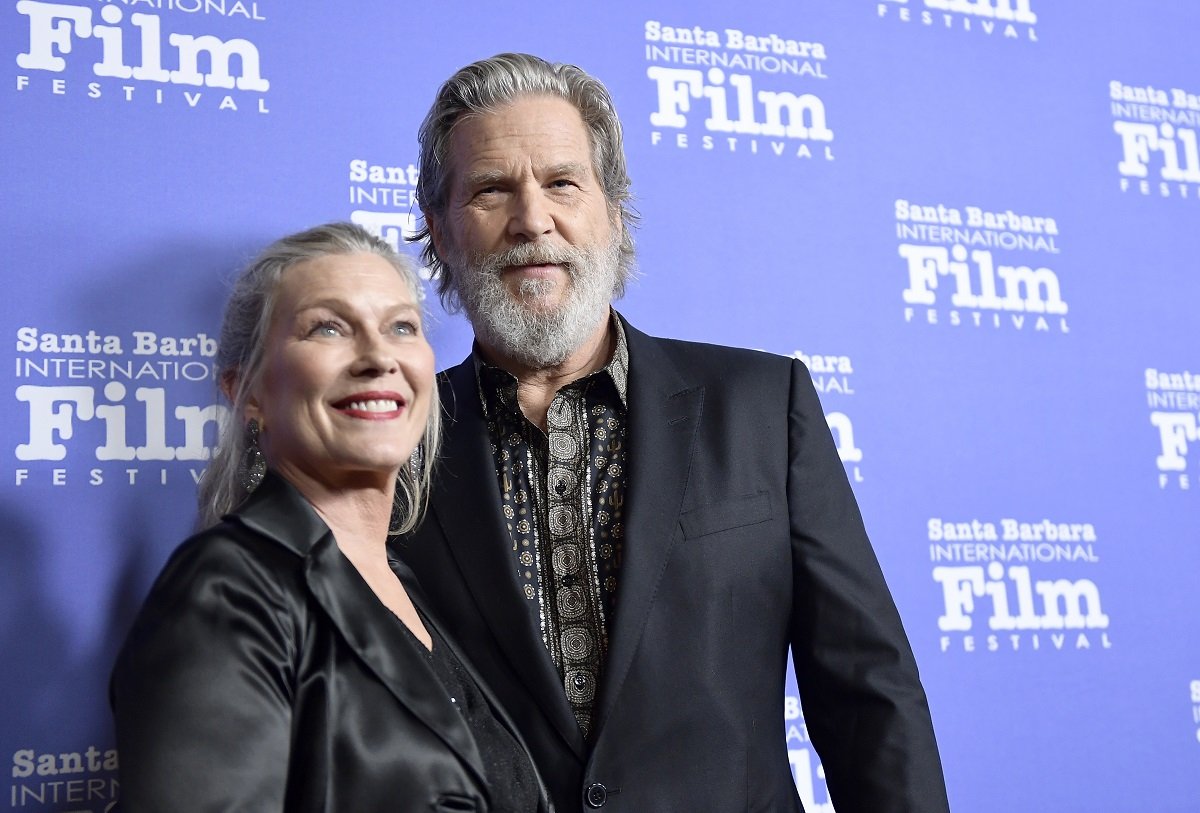 Susan Geston and Jeff Bridges on February 9, 2017 in Santa Barbara, California | Source: Getty Images
Their official first date was out of the ordinary. Bridges had a meeting scheduled with a real estate agent the day after dancing with Geston, so he asked her to come along.
While walking around the ranch house, he kept thinking he was looking at a home with his future wife. "Oh, no, let me out of here," Bridges thought, mainly because he was afraid of marriage.
Marriage did close one door but opened many possibilities.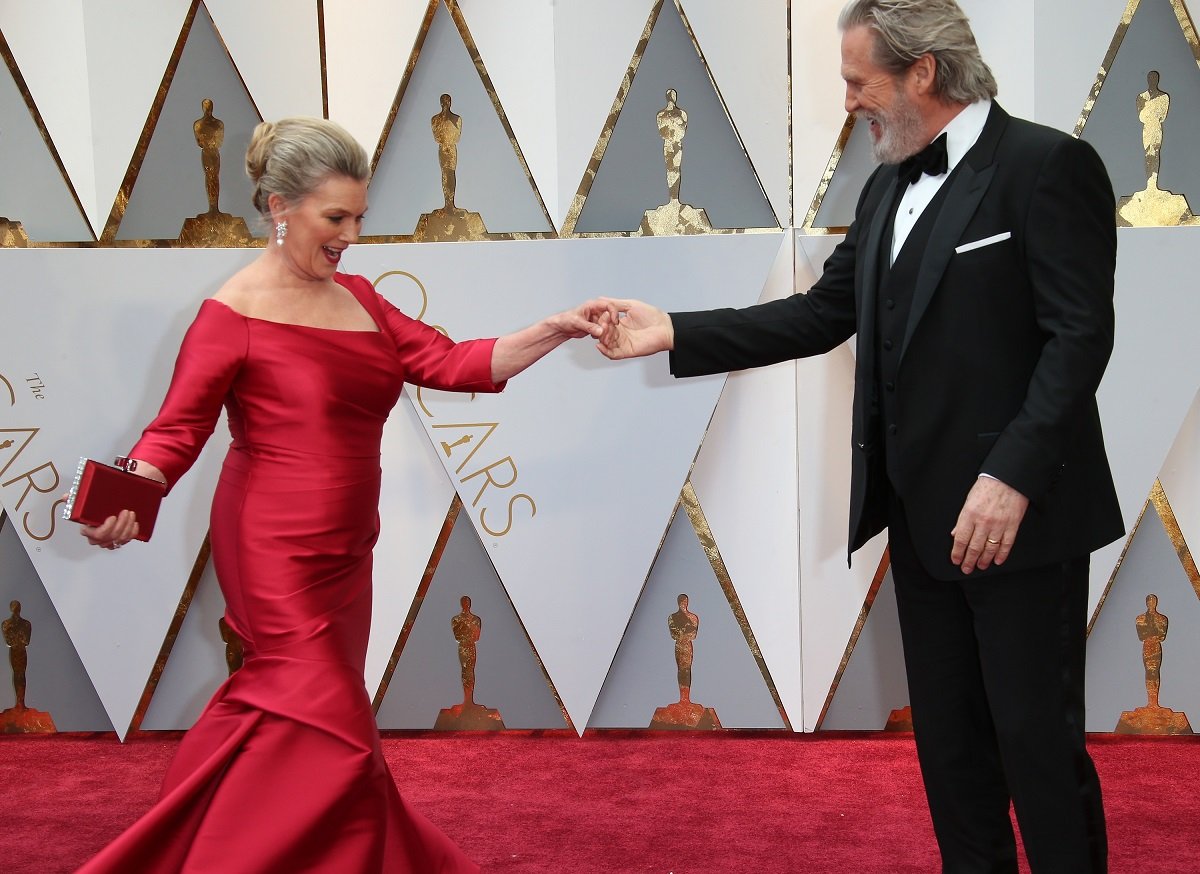 Susan Geston and Jeff Bridges on February 26, 2017 in Hollywood, California | Source: Getty Images
BRIDGES' FEARS ABOUT MARRIAGE AND EVENTUAL LEARNINGS
Even though Bridges recognized he was crazy in love with Geston, he felt cornered. He was unwilling to let the love of his life slip through his fingers, but he was also afraid to acknowledge she was "the one."
In part, his famous parents ("Seinfeld" actor Lloyd Bridges and actress and poet Dorothy Bridges) were to blame. The "Iron Man" star confessed he came from "such great parents" that he was unsure if he or Geston had it in them.
Apart from that, Bridges didn't want to lose his freedom, so they dated for two years before he got up the courage to propose. However, the idea of divorcing if things didn't work out was at the back of his mind.
Geston and Bridges tied the knot in 1977, and they have been together ever since. The actor admitted marriage did close one door but opened many possibilities, including:
"Children, grandchildren, deeper intimacy with your wife, and so many other things that would not be available to you without marriage."
While getting married was frightening, Bridges eventually felt he deeply opened his heart. The movie star has also learned a lot from Geston, especially because she points out ways he "defeats himself."
Geston taught him to look at challenging situations differently and not worry too much about new projects he gets involved. Bridges confessed their relationship was the most precious thing for them.
INSIDE THE COUPLE'S "ANCIENT WAR" AND RELATIONSHIP
Although Geston and Bridges have been married for more than 40 years, their relationship still faces challenges. The actor admitted they had an "ancient war" that goes:
"You just don't get me; you don't know me; you don't understand."
Bridges said he didn't entirely know his wife and never will. The same happens with Geston – she will never know her husband completely. However, they realize with each battle that the lack of knowledge about each other is what they have in common.
The fact that doctors had a favorable prognosis made everything less somber.
After being in a relationship for so long, Bridges and Geston understood that conflicts were impossible to avoid. Luckily, they've found solace knowing that they'll go through them together and will end up loving each other even more.
The couple has been asked about the secret to keeping a marriage going in showbiz, and Bridges said it was not getting divorced. He added that the significant challenges in marriage were opportunities to know each other, become more intimate, and see what makes one another tick.
MEETING THE COUPLE'S THREE CHILDREN
Nowadays, Geston and Bridges share three daughters, Isabelle, Jessica, and Haley. Over the years, the girls have made frequent appearances on red-carpet events next to their parents, and Bridges pointed out that he was grateful for his family.
When he was diagnosed with lymphoma in October 2020, his three daughters and wife were very supportive. Their love lifted his spirits, and the fact that doctors had a favorable prognosis made everything less somber.
Bridges' daughters have successful careers, too. Born in August 1981, Isabelle briefly pursued an acting career at 19 by taking a role in 1989's "Termini Station." That was her first and only acting credit. Isabelle married Brandon Boesch in 2007 and is raising two children.
Jessica joined the brood in June 1983. Instead of pursuing an acting career like her father, she became a singer-songwriter. It is unclear if she is still making music – the last time she posted on Instagram was February 2020.
Bridges and Geston's youngest daughter, Haley, was born in October 1985. She is a famous interior designer in Santa Barbara, California, and married Justin Shane in September 2021. What a beautiful family!
Please fill in your e-mail so we can share with you our top stories!