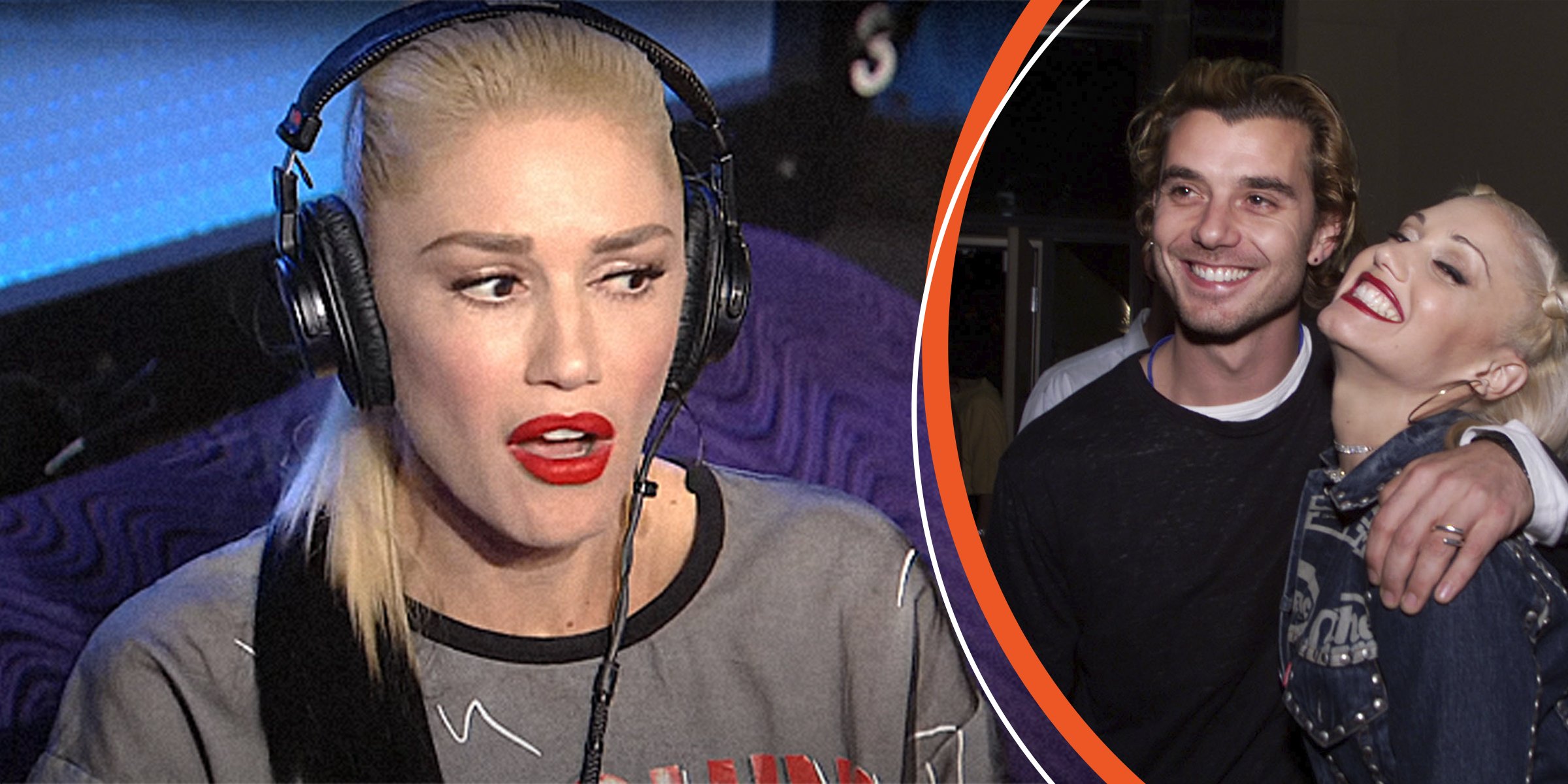 YouTube.com/The Howard Stern Show | Getty Images
Gwen Stefani Went through 'Brutal' Split 6 Years before Marrying Allegedly Cheating 1st Husband
Gwen Stefani finally found happiness with country singer Blake Shelton. However, before she met her knight in shining armor, her love journey was full of heartbreak and two highly publicized breakups.
"Underneath It All" singer Gwen Stefani had quite the tumultuous love life before meeting and finding love with Blake Shelton. The couple met on "The Voice" in 2015, and at the time, they were fresh divorcees.
Stefani was not actively looking for love, but they hit it off almost immediately, bonded and comforting each other over their heartbreak. By November 2015, they were already officially dating.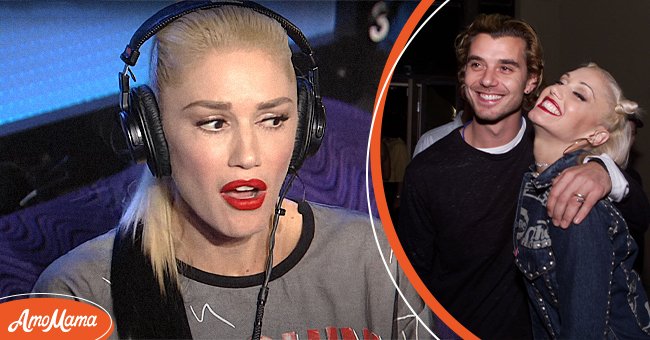 Left: Singer songwriter Gwen Stefani on "The Howard Stern Show" | Source: YouTube/The Howard Stern Show. Right: Stefani with her first husband Gavin Rossdale during happier days. | Source: Getty Images
By the time 2016 was clocking in, they began walking the red carpet as a couple. After four years together, Shelton finally popped the question. They had their beautiful wedding at Shelton's Tishomingo, Oklahoma ranch.
They are happily married and raising Stefani's three boys, Kingston James McGregor, Zuma Nesta Rock, and Apollo Bowie Flynn. Stefani shared that her marriage to Shelton is a "blessing" and a "miracle."
Shelton enjoys being a step-dad to the boys, and the marriage is undoubtedly a source of happiness for Stefani. However, she has not always been as lucky in love.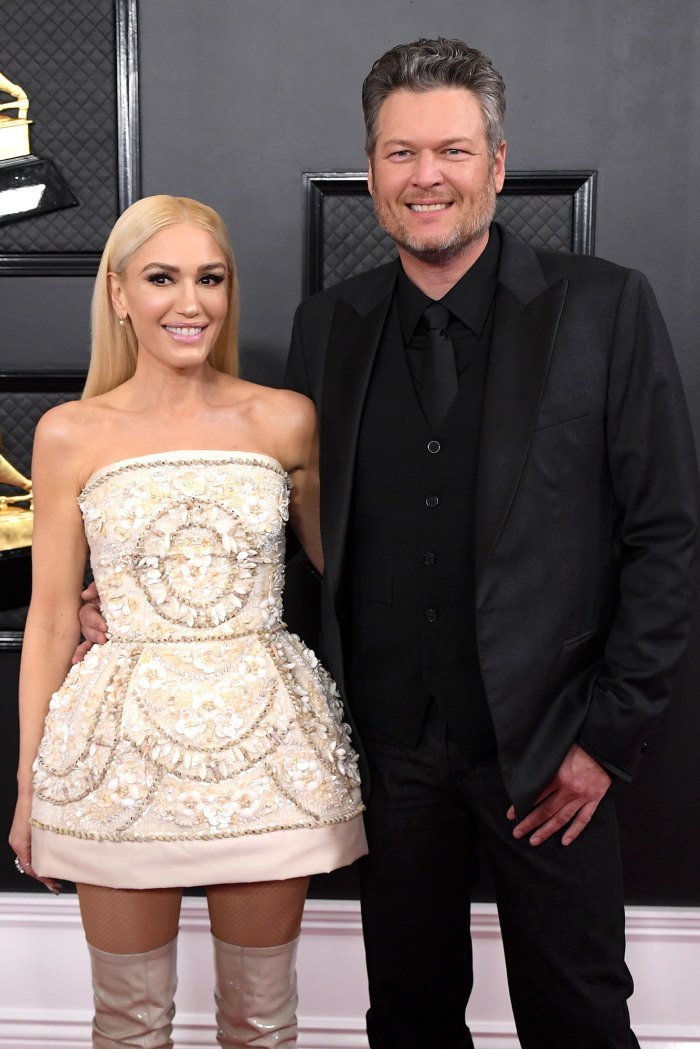 Gwen Stefani and Blake Shelton at Staples Center on January 26, 2020 in Los Angeles, California. | Source: Getty Images
Her first marriage to Gavin Rossdale was not the fairytale happily-ever-after she hoped for when she walked down the aisle, and it would end up in a nasty and overly publicized breakup.
A HAPPILY-EVER-AFTER THAT NEVER WAS
Before they parted ways over a decade into their marriage, Stefani and Rossdale were one of Hollywood's most extraordinary couples. They met back in 1995 when Stefani's band, No Doubt, opened for Rossdale's band, Bush, in London.
When the "Hair Up" singer first met Rossdale, she recalls that she had been in a rebellious place and was feeling rejected from her first relationship with Tony Kanal failing. She says of Rossdale:
"Somehow, he got my phone number, and that was that. He stalked me, I think."
The pair began a long-distance relationship, and in 2002, after seeking permission from Stefani's father, Rossdale proposed. Nine months later, the lovebirds walked down the aisle at a 17th-century churchyard in London in a ceremony attended by 150 guests.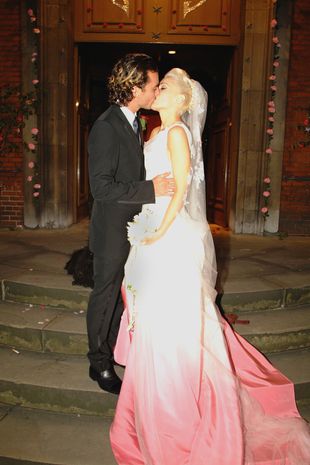 Bush frontman Gavin Rossdale and Gwen Stefani, on their wedding day on September 14, 2002 in London. | Source: Getty Images
However, their "beautiful" marriage dealt with an appalling blow when revelations arose that Rossdale had fathered a child in 1989. Following a series of legal letters, the "Comedown" singer finally agreed to a paternity test.
In 2004, two years after his wedding to Stefani, the test came back, and Rossdale was the father to then-15-year-old runway model Daisy Lowe. Despite the complicated nature of the revelations, Stefani and Rossdale managed to keep their marriage on track.
Two years later, they welcomed their first child, Kingston James McGregor. They had their second, Zuma Nesta Rock, in 2008, followed by Apollo Bowie Flynn in 2014.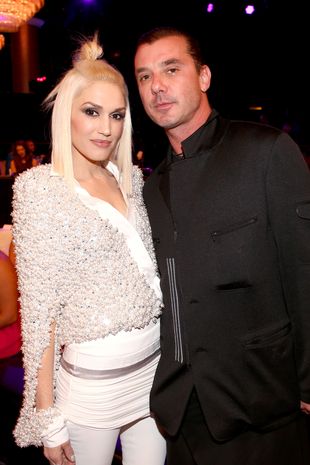 Gwen Stefani and Gavin Rossdale at The Beverly Hilton Hotel on December 18, 2014 in Beverly Hills, California. | Source: Getty Images
And while Stefani referred to her marriage as a "huge accomplishment," she was candid about how much work a marriage needed to stay afloat. Unbeknownst to many, a storm had been brewing in the Stefani-Rossdale household for a long while.
THE SCANDAL THAT BROKE STEFANI
Now, Stefani and Rossdale's marriage appeared like a match made in heaven, and many revered and hoped for one just like that. It was thus a shock when the two announced they were parting ways back in August 2015.
Reports later revealed that the 13-year marriage ended due to infidelity. According to Us Weekly, Stefani opened up about the cheating in February 2015, saying that Rossdale had had a long-term affair with Mindy Mann, a nanny who cared for their three sons.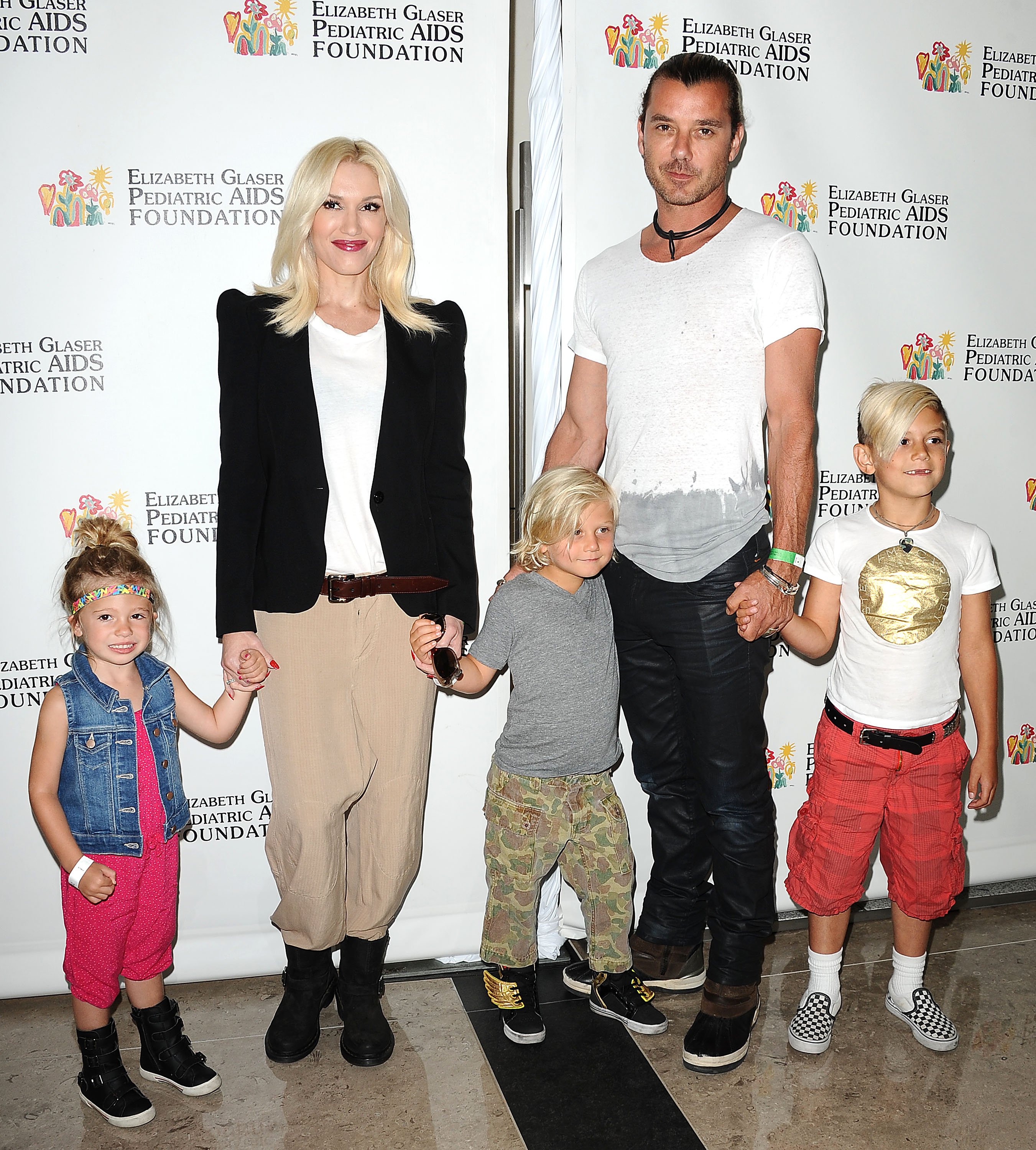 (L-R) Stella Stefani, Gwen Stefani, Zuma, Gavin and Kingston at Century Park on June 2, 2013 in Los Angeles, California. | Source: Getty Images
Stefani reportedly discovered some compromising text messages exchanged between Rossdale and Mann, evidence that the two were involved sexually and planned on continuing with the alleged affair.
Stefani could not believe that the affair had been going on for the last three years, including when she had been pregnant with their youngest son, Apollo. And all right under her nose!
Rossdale initially denied the accusations, saying there had been nothing more to the "flirtatious" exchange. However, months later, he reportedly admitted to the affair, completely devastating Stefani.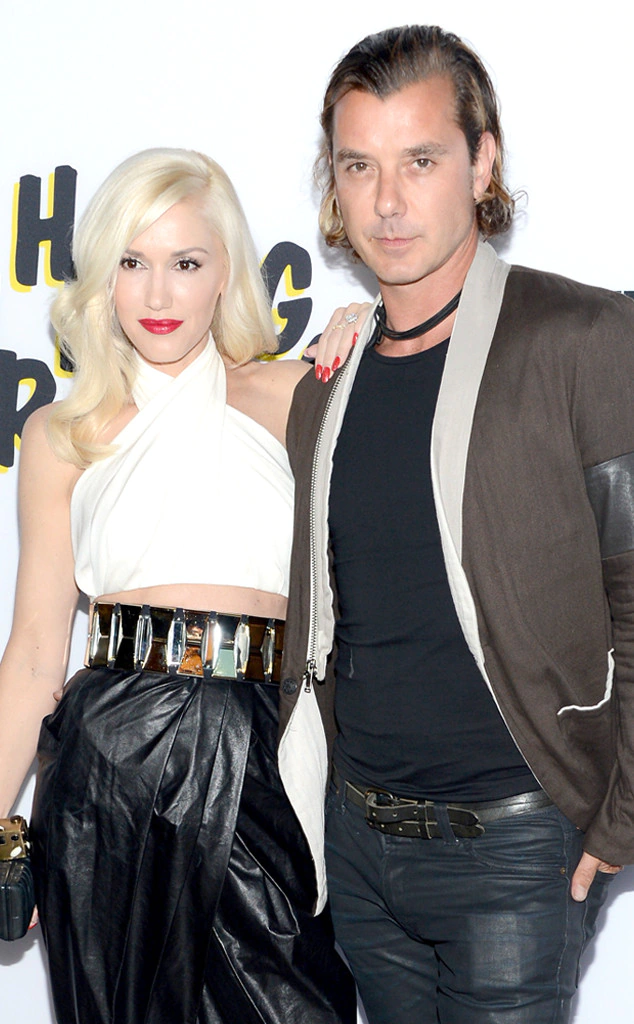 GwenStefani and Gavin Rossdale at Directors Guild Of America on June 4, 2013 in Los Angeles, California. | Source: Getty Images
She decided to end the marriage, and a few months later, in August 2015, they announced their split. The "Used to Love You" singer was heartbroken. A source told US Weekly:
"She was mortified, livid, and embarrassed."
Years after their divorce, Rossdale says his children make him the happiest and emphasizes the importance of not dwelling on the past. One thing the two agree on is that the divorce was embarrassing for them both.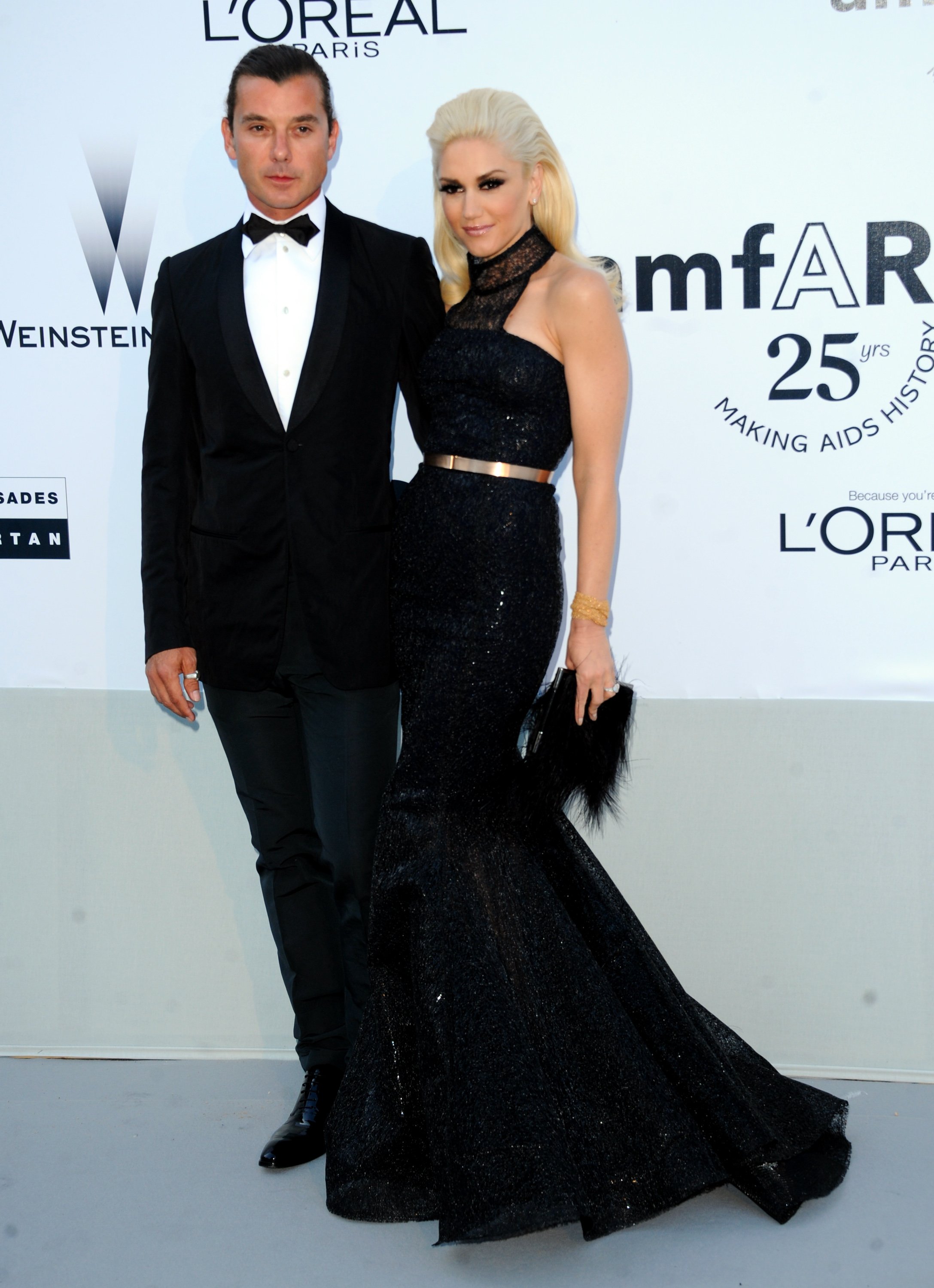 Singer Gwen Stefani and Gavin Rossdale at the 64th Annual Cannes Film Festival at Hotel Du Cap on May 19, 2011 in Antibes, France. | Source: Getty Images
STEFANI'S FIRST LOVE AND HEARTBREAK
Rossdale and Stefani's highly publicized divorce was not the "Ex-Girlfriend" singer's first public heartbreak. Before she met the Bush frontman, Stefani had been nursing a heartbreak from the first man she ever truly loved-- British singer Tony Kanal.
Stefani met Kanal when he first joined Stefani's band as the bassist in 1987. She immediately fell in love. The "Hollaback Girl" songstress had this to say about her first love, as E! News reports:
"I was in love and obsessed with Tony Kanal, and he knows that. As soon as he opened the car door, I was like, 'I love him. I don't know why.'"
She had been doing backing vocals at the time, but even as she became the band's lead singer in 1989, she often prioritized her future with Kanal.
She recalls being "passive" but happy to be in the band. She had no dreams whatsoever, apart from wanting to marry Kanal. However, Stefani's world came crumbling when the bassist broke things off with her.
"MY HEART STILL KIND OF IS BROKEN"
To help her cope with the pain, Stefani started focusing more on her album "Tragic Kingdom," which included songs such as "Spiderwebs," " Just A Girl," and "Don't Speak."
Shadowed by loss and breakups, No Doubt channeled their emotions into genre-busting pop anthems and created an album that would become a cultural phenomenon, selling more than 20 million copies worldwide.
However, as Stefani and Kanal were still bandmates, it meant that, despite the breakup, they still worked and lived together as they figured out their complicated situation.
It did not help that they had to tour together to promote their album. The public nature of their breakup made it challenging to wade through the separation. They both agree that trying to get through it was brutal.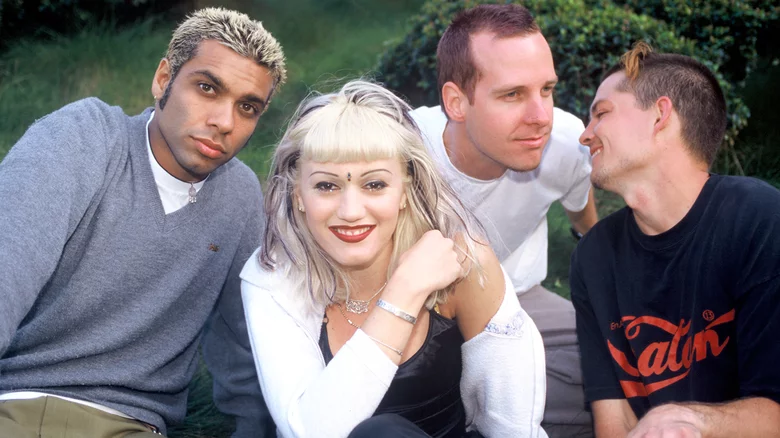 No Doubt band members (L-R) bassist Tony Kanal, singer Gwen Stefani, Tom Dumont and Adrian Young at Shoreline Amphitheatre on June 14, 1996 in Mountain View, California. | Source: Getty Images
They had to open up about their still-raw wounds in every interview, making it difficult to move forward. Kanal admits he does not know how they made it through.
Decades later, Stefani says listening to the album still stirs up a lot of emotion in her. She spoke on Jimmy Kimmel Live! as People reports: "The whole purpose for the Tragic Kingdom is the breakup, the heartbreak. There's a lot of feelings."
"Even in that record, when you say the words 'tragic kingdom,' my heart still kind of is broken."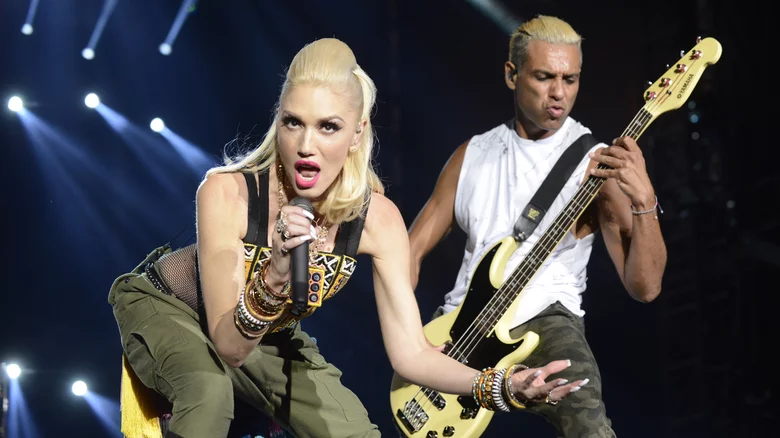 Gwen Stefani and Tony Kanal perform at Del Mar Fairgrounds on September 18, 2015 in Del Mar, California. | Source: Getty Images
Kanal and Stefani eventually put the pain behind them and developed a strong friendship that has often translated into making music together.
Please fill in your e-mail so we can share with you our top stories!