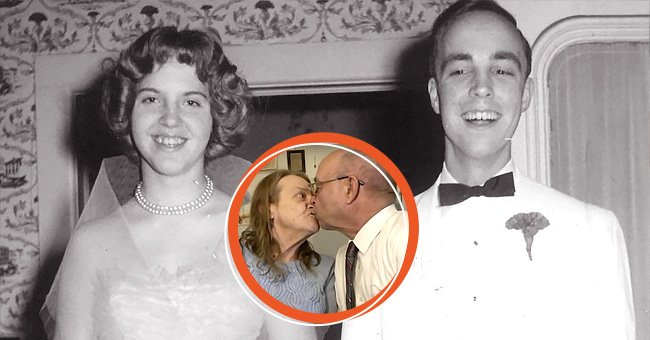 twitter.com/nypost | youtube.com/InsideEdition
Couple Separated for 57 Years Never Stopped Loving Each Other, Finally Get Married
Barbara Cotton and Curtis Brewer's romance prevailed despite the years that passed, distance, and life circumstances. Once they reconnected after fifty-seven years of separation, they finally tied the knot.
Barbara Cotton and Curtis Brewer shared a teenage love that never died during their years in Hartford. However, these feelings were kept aside and cherished following a conversation.
Years later, thanks to the power of the internet, and their undying love, they were able to reunite and live the lives of their dreams. In 2019, the extraordinary love tale between these former high school sweethearts and prom dates was retold, leaving many in tears.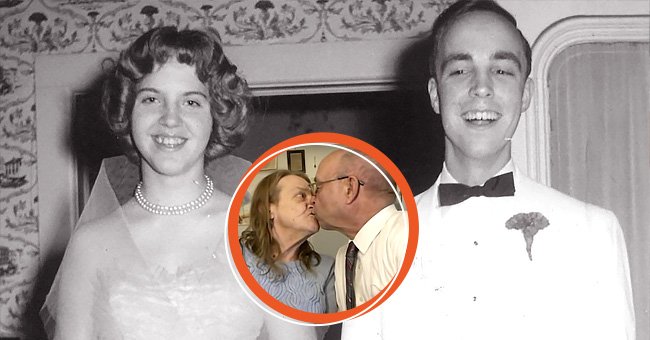 [Center] Barbara Cotton and Curtis Brewer on their High School prom day; [Bubble] Barbara Cotton and Curtis Brewer sharing a kiss 57-years after losing touch | Source: twitter.com/nypost || youtube.com/InsideEdition
BARBARA COTTON AND CURTIS BREWER'S YOUNGER YEARS
Cotton and Brewer had genuine feelings for each other as teenagers. A throwback photo showed them smiling from ear to ear as they attended their school prom.
Sadly, after graduation, they lost touch, and due to personal struggles, they remained disconnected. Cotton lost her mother and took up the responsibility of caring for her five younger siblings.
Cotton later moved to Milwaukee, and Brewer furthered his education and soon relocated outside Tampa. Despite the separation, they never forgot about each other, making their reunion more phenomenal.
After fifty-seven years of living different lifestyles, the pair reconnected on Classmate.com. Cotton hurriedly reached out to Brewer when she found him, and he returned the gesture. In no time, they rekindled their love story and dated for a few years.
According to Brewer, "She saw me on classmates.com. I answered her back. I answered her real quick." Cotton confessed that she never felt unconditionally loved by anybody throughout her time away from Brewer after the reconnection. In her words:
"No one really loved me as much as Curtis loved me. It was such an unconditional loving relationship, and no one could ever match that."
After dating for a few years, Brewer summoned the courage to propose to his lost love on July 15, 2018. He revealed that he was nervous about getting the word "marry out;" still, that did not deter him. Once Cotton heard the words "will you," she wasted no time agreeing to be his bride.
A few days after the new year, they had an intimate wedding ceremony in Wisconsin, with friends and family in attendance.
For the big day, the bride looked good in a long dress, as she exchanged wedding bands with the groom, who complemented her outfit in a sharp-looking black suit. Cotton believed that God ordained their reunion. She said:
"We know that God is in charge. No one could have planned this. We know this was meant to be."
A HAPPY-EVER-AFTER FUTURE
Following their wedding, the couple mentioned their plans of traveling together and enjoying the scenery of different places. They began to save money for their RV, and a GoFundMe account was created for them.
Their story is shared through the account set up by family friends. The details on the website showed that after many years apart, it was easy to reignite the spark. In the end, it read:
"On July 15th 2018, they became engaged! It's still hard for them to actually believe they are together and will be getting married very soon."
During their interview, the couple held hands and even shared passionate kisses while visibly gushing over each other. Cotton confessed that she admired her husband when they were younger because of his handsome looks and physique.
a framed photo of their prom outfits, adding that Brewer remained the same sweet guy, even though he was not as tall as she had thought. Hopefully, the couple enjoys the rest of their married lives, with more wonderful tales and adventures.
Please fill in your e-mail so we can share with you our top stories!