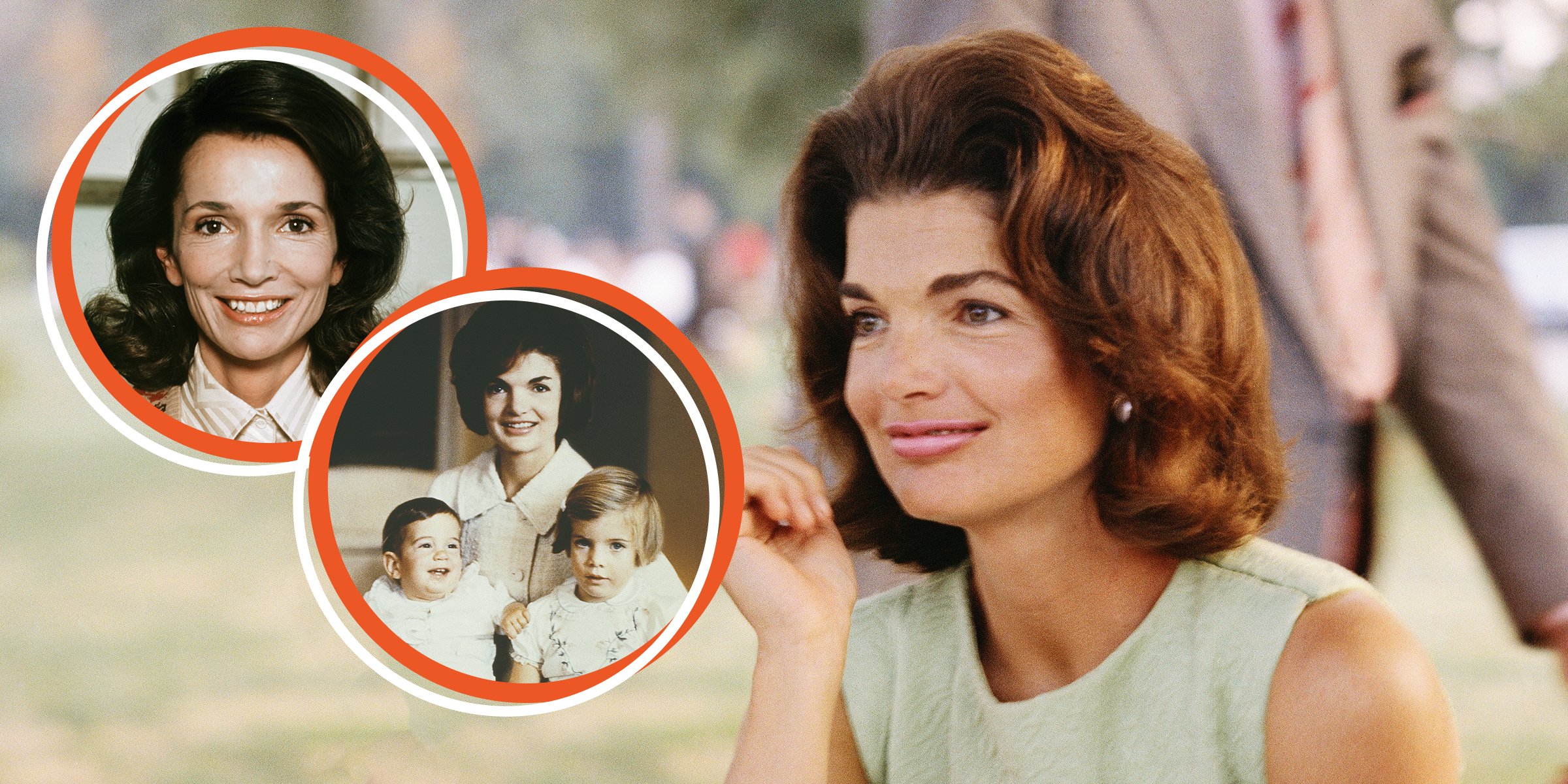 Getty images
Jackie Kennedy Did Not Leave Sister Lee Radziwill a Penny From $43.7 Million Fortune - Inside Her 36-Page Will
While sibling rivalry is not uncommon in many households, it often ends as adulthood sets in. However, Jackie Kennedy Onassis and her sister Caroline Lee Radziwill's feud became a decades-long affair, which saw Jackie leave her sister nothing in her will.
Jackie Kennedy Onassis and her sister Caroline Lee Radziwill had the typical childhood, spending their summers on Long Island's East Hampton and winters at their Park Avenue apartment. As children, the sisters were close, but that was soon to change.
After marrying John F. Kennedy, Jackie became one of America's most admired and beloved first ladies. On the other hand, Radziwill grappled with escaping the shadow cast by her sister and struggled with her identity for years.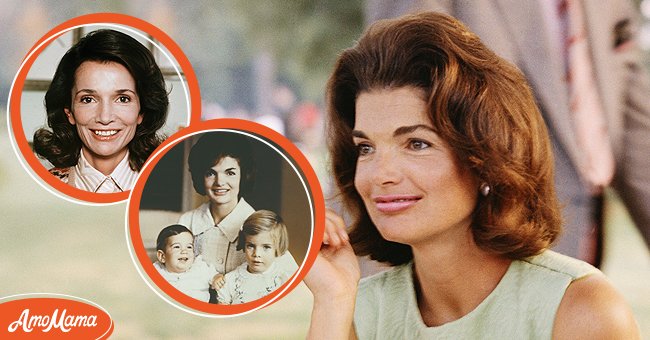 A photo of Jackie Kennedy during a picnic in the 1960s. Insets: Jackie's sister Caroline Lee Radziwell [Left] and Jackie with her two children J. F. Kennedy Jr. and Caroline Kennedy [Middle] | Source: Getty Images
Desperate to make a name for herself, Radziwill tried becoming a socialite, an interior designer, a public relations executive for Giorgio Armani, an actress, and even obtained the dubious title of Princess from one of her husbands.
While all this was in a bid to find the spotlight, she would forever stain her relationship with her sister when she had an affair with her sister's husband, John. F. Kennedy.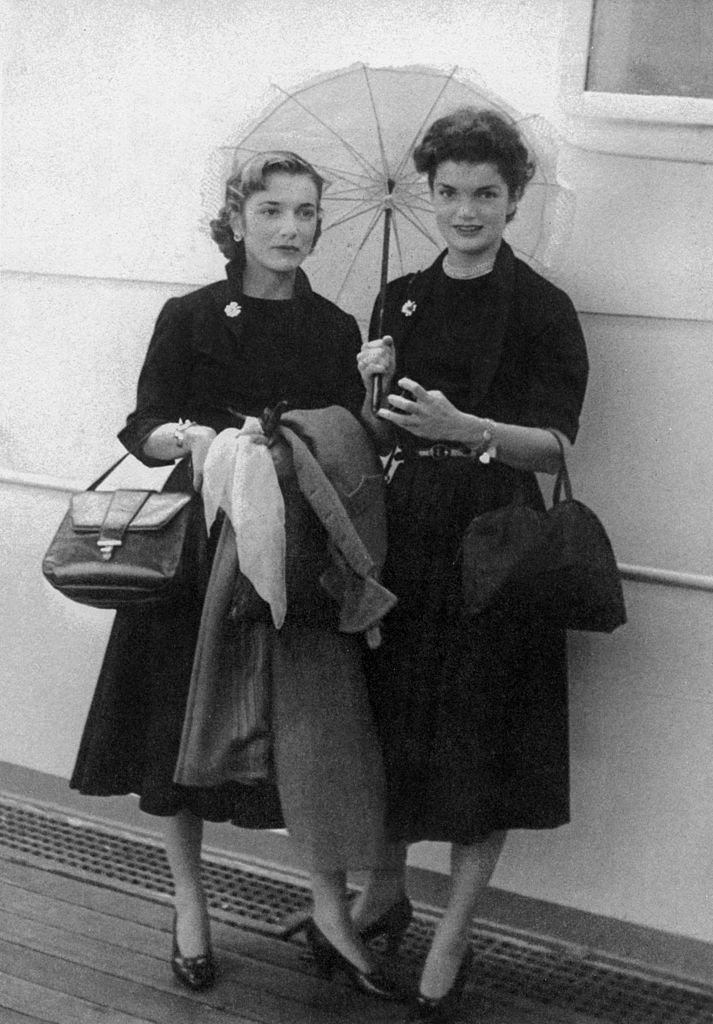 Caroline Lee Bouvier (Lee Radziwill) and her sister Jacqueline Bouvier (future Jackie Kennedy) on September 15, 1951. | Source: Getty Images
Authors of the book "The Fabulous Bouvier Sisters: The Tragic and Glamorous Lives of Jackie and Lee" wrote of the sisters' relationship, as DailyMail reports:
"The relationship between the two was extremely close yet threaded with rivalry, jealousy, and competition. Yet it was probably the most important relationship of their lives."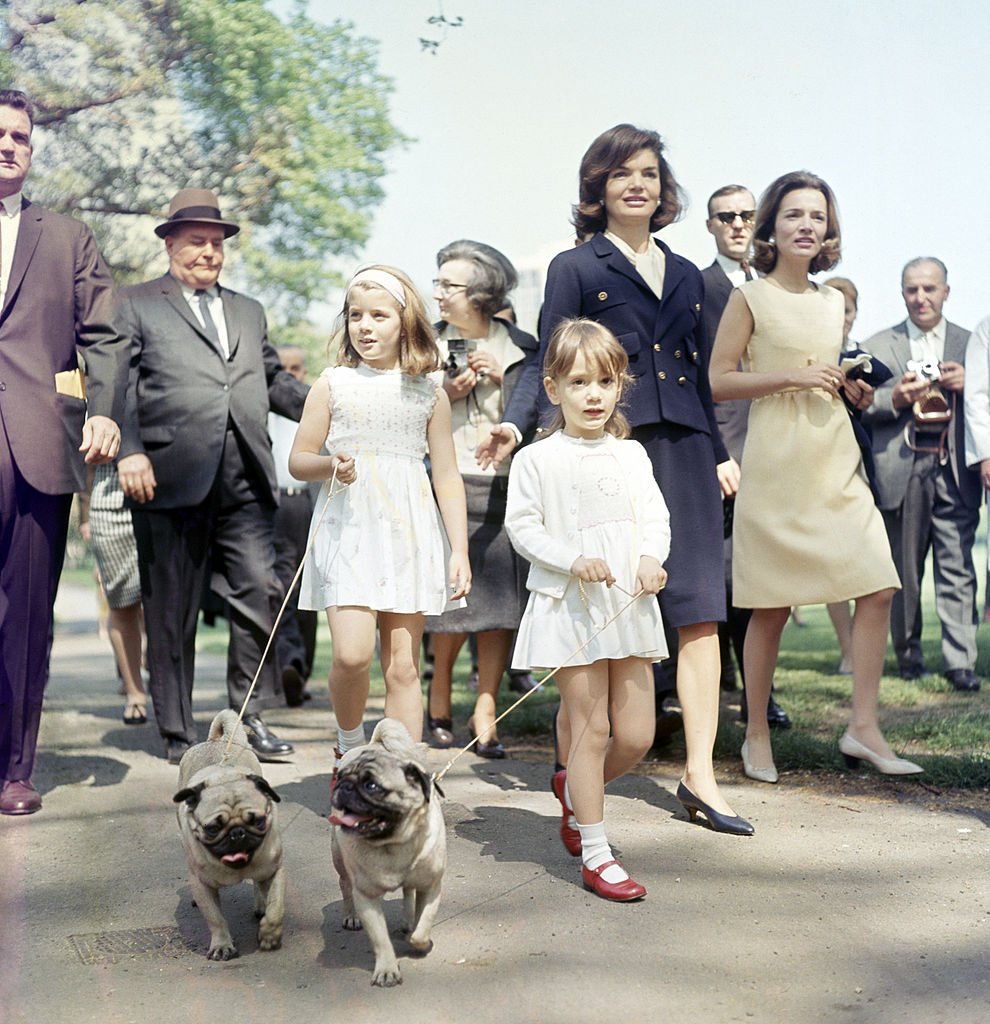 The Bouvier sisters, Jacqueline Kennedy (in blue), and Caroline Lee Radziwill (in beige), and their respective daughters, Caroline (left) and Anna walking dogs in St James' Park in London on 13th May 1965 | Source: Getty Images
Their relationship became strained, a bitterness that would last the rest of their lives. When Jackie passed on in 1994, her will revealed that she did not leave her sister anything in her estimated 100 million dollar estate.
RADZIWILL RECEIVED NOTHING FROM JACKIE — NOT EVEN A MEMENTO
Upon her demise in 1994, many news reports claimed that Jackie's estate was worth an estimated $100 million. Other publications say that some of her estates had previously auctioned for fantastic prices, prompting the Internal Revenue Service to audit the property, which they then estimated to be close to $73 million.
Eventually, her executors valued the estate at only $43.7 million. And while the former first lady's bulk of the estate unsurprisingly went to her two children, Jackie's disinheritance of her sister shocked many.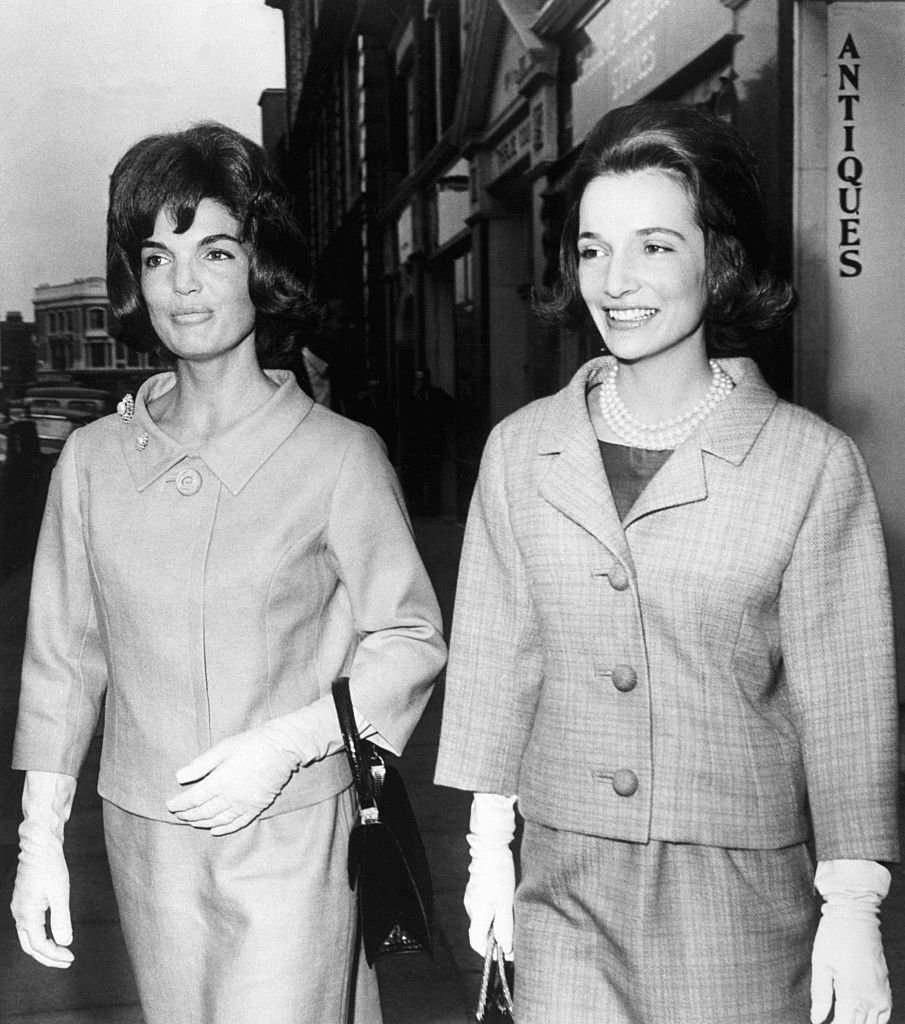 Jackie Kennedy and Caroline Lee Radziwill walk through the streets of London. | Source: Getty Images
Over the years, the sisters had only grown apart. After Radziwill had an affair with Kennedy, Jackie was furious but kept her cool for years, silently planning her revenge.
Following Kennedy's death, Radziwill invited Aristotle Onassis to the funeral. Initially believed to have been Radziwill's idea, contrary reports say that it was Jackie's idea to invite him over in her bid to execute her plan.
U.S. President John F. Kennedy and First Lady Jacqueline Kennedy pose with their family on Christmas Day at the White House, Washington, D.C., December 25, 1962. [Left-Right]: Caroline Kennedy, unidentified, John F. Kennedy Jr., Anthony Radziwill, Prince Stanislaus Radziwill, Lee Radziwill, and their daughter, Ann Christine Radziwill. | Source: Getty Images
Jackie and Radziwill knew Onassis back in 1963 when he had received them with unmatched hospitality at the Greek isle where Jackie had gone to recover from the heartache of her son Patrick's passing. Kashner and Schoenberger, who co-authored the book on the siblings, wrote of Onassis:
"His presence introduced an element of levity in those somber days, and even Jackie was seen walking arm in arm with him down White House corridors."
Radziwill was in love with Onassis, and in inviting him to stay at the White House after Kennedy's death, she'd hoped to rekindle old flames. She hoped to become Onassis' wife.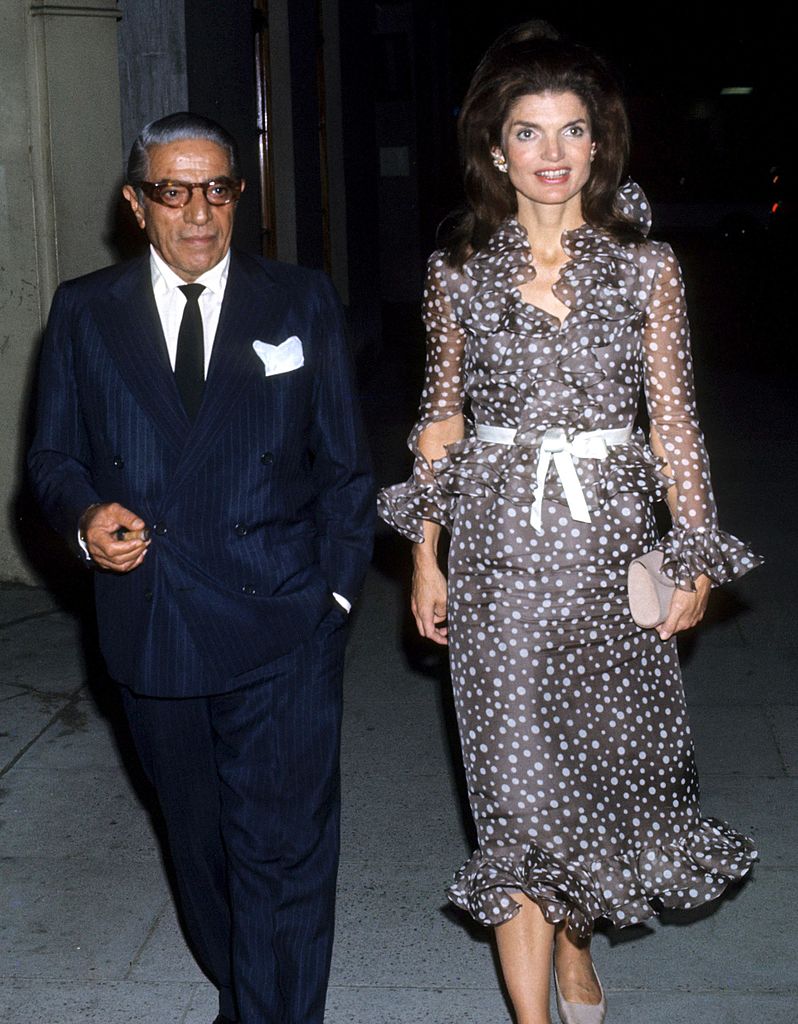 Jackie Onassis and husband Aristotle Onassis on September 10, 1970 | Source: Getty Images
However, Jackie beat her to it and married the man of her sister's dreams, further driving the wedge between them. This hostility would eventually lead to Jackie leaving "not even a memento" to her sister. Jackie stated in her will:
"I have made no provision in this my Will for my sister, Lee B. Radziwill, for whom I have great affection because I have already done so during my lifetime."
WHO GOT TO INHERIT JACKIE KENNEDY ONASSIS'S ESTATE?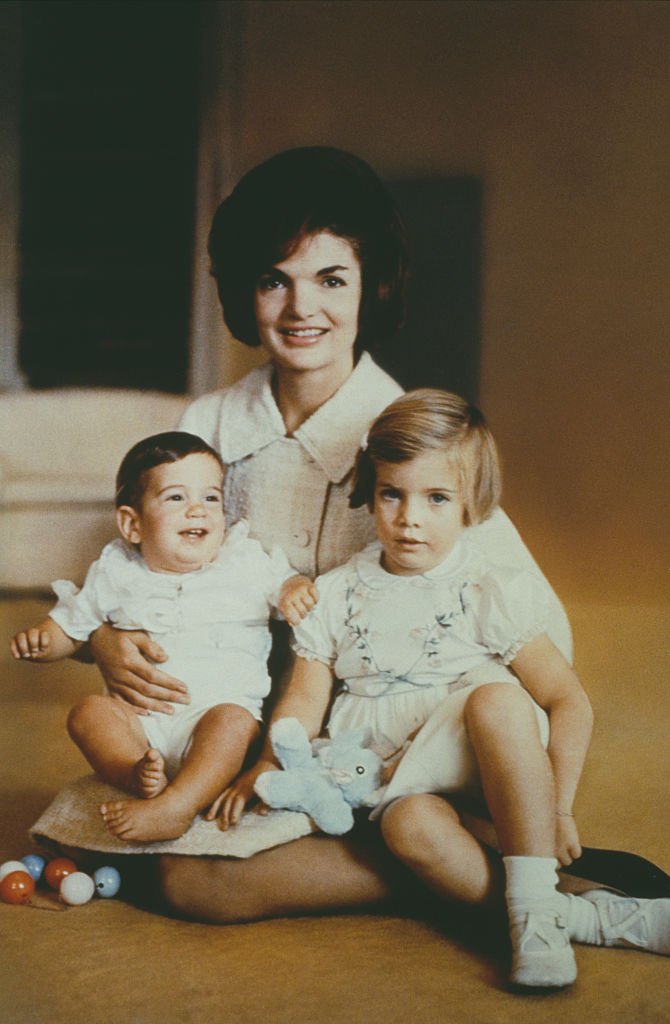 First Lady of the United States, Jackie Kennedy posed with her children John Fitzgerald Kennedy Jr. and Caroline Bouvier Kennedy circa 1961. | Source: Getty Images
When Jackie's estate was estimated at more than $100 million, there had been widespread speculation that charities would receive as much as $192 million while the grandchildren would inherit perhaps $98 million.
However, following her death from non-Hodgkins lymphoma in 1994, and her estate now estimated at only $43.7 million, she left most of her wealth to her children and some to her other close family and friends.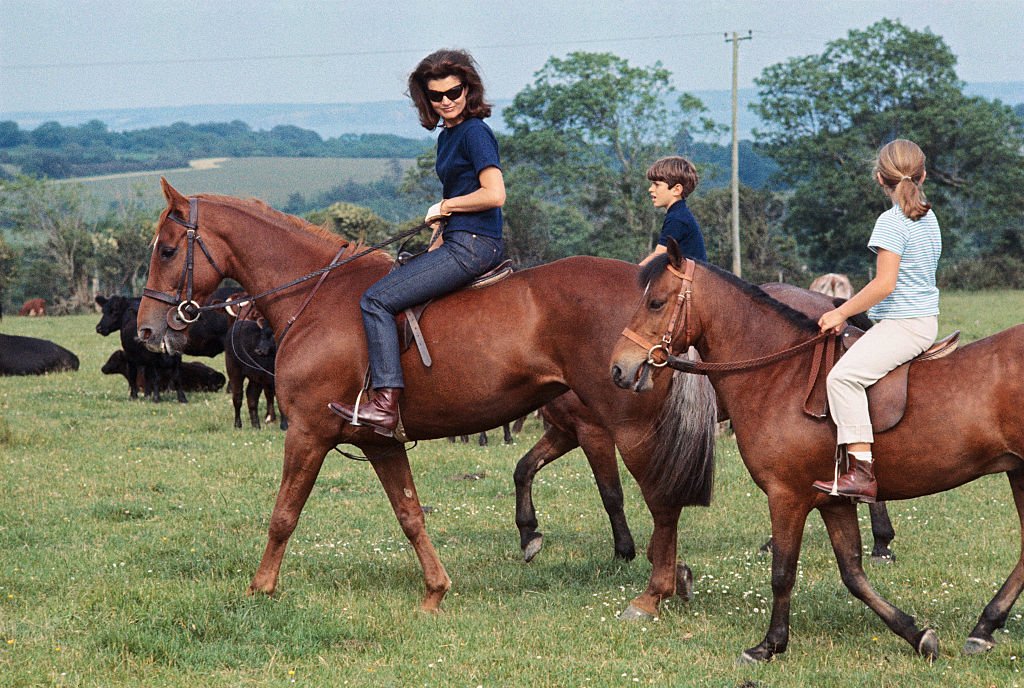 Jackie Kennedy accompanied by her children, Caroline and John. F. Kennedy Jr., in Ireland during a six-week holiday. | Source: Getty Images
By default, most of her fortune went to her two children, John. F. Kennedy Jr. and Caroline Kennedy Schlossberg. The two received the 15-room apartment on Fifth Avenue, which Jackie shared with her longtime partner, Millionaire Financier Maurice Tempelsman.
In addition to keeping all the contents of the apartment, including furniture and other valuables, they also got $250,000 in cash each plus the principal from a trust fund established by their father.
They also became the proud owners of two pieces of property in Martha's Vineyard and got to keep Jackie's papers. They were required to "take whatever action warranted to prevent the display, publication or distribution in whole or in part of these papers, letters, and writings."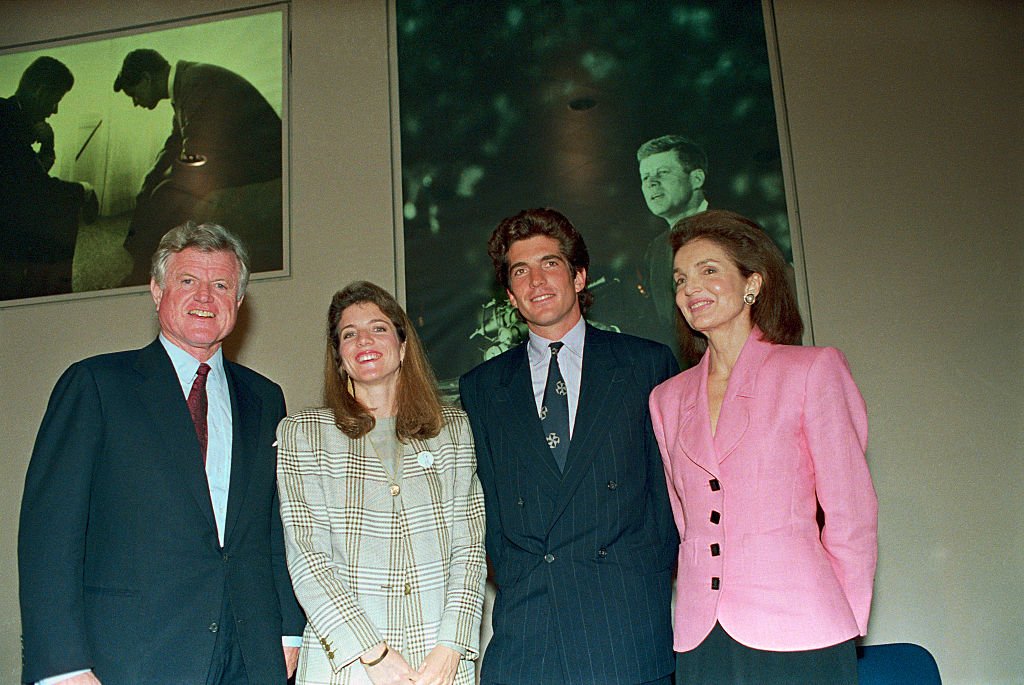 Edward Kennedy, Caroline Kennedy Schlossberg, her brother John F. Kennedy Jr., and their mother Jacqueline Kennedy Onassis at the J.F.K. Library | Source: Getty Images
And while Jackie did not leave her sister anything, she did leave Radziwill's children income from a $1 million trust. She left Nancy Tuckerman, her "close friend, and confidant" and longtime spokeswoman, $250,000.
Rachel Mellon of Middleburg received two Indian paintings "in appreciation of her designing the Rose Garden in the White House." Jackie left another of her friends, Attorney Alexander Forger, a signed copy of JFK's inaugural address by famous poet Robert Frost.
Jackie's stepbrother, Hugh Auchincloss, got the Hammersmith Farm in Newport, Rhode Island, which she inherited from her mother and where she and Auchincloss had spent plenty of their childhood.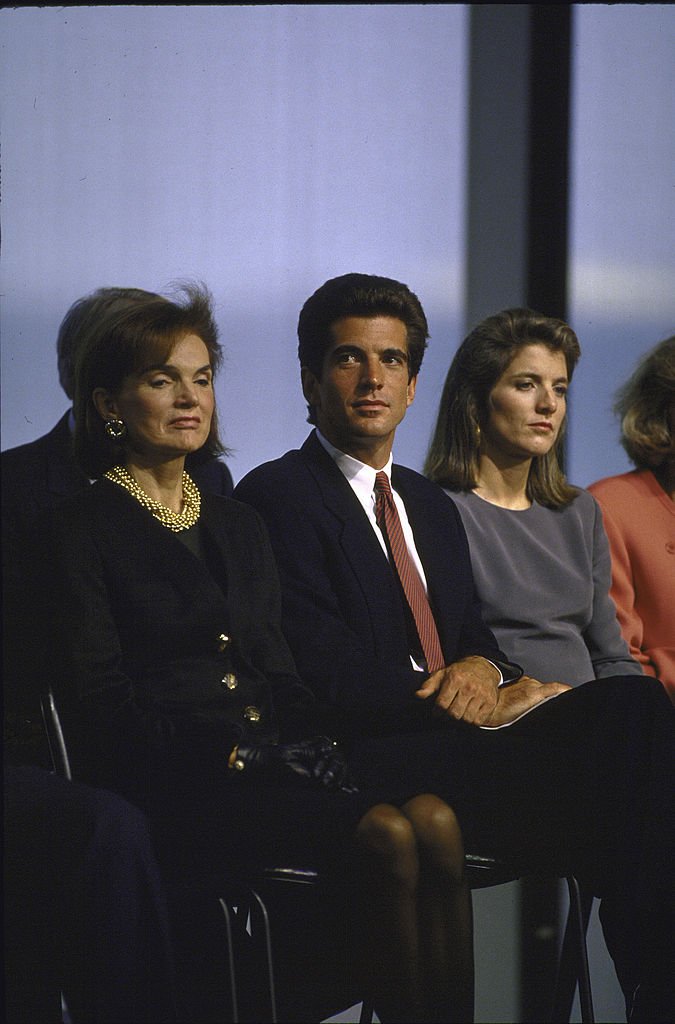 Jacqueline Kennedy Onassis with her children John Jr. and Caroline Kennedy attending the opening of renovated John F. Kennedy Library. | Source: Getty Images
Jackie named her longtime partner, Tempelsman, as the estate's executor. He got a Greek statue, which Jackie described as "my Greek alabaster head of a woman."
The rest of the estate went to the C&J Foundation, a charitable trust that would be dissolved after 24 years and would go to Jackie's grandchildren — Rose, Tatiana, and John Schlossberg, all of who were from daughter Caroline Kennedy Schlossberg.
Even though Jackie's estate was estimated to have been worth much more because she inherited millions from Onassis, reports say she had already given considerable amounts to charitable courses before her death.
Please fill in your e-mail so we can share with you our top stories!