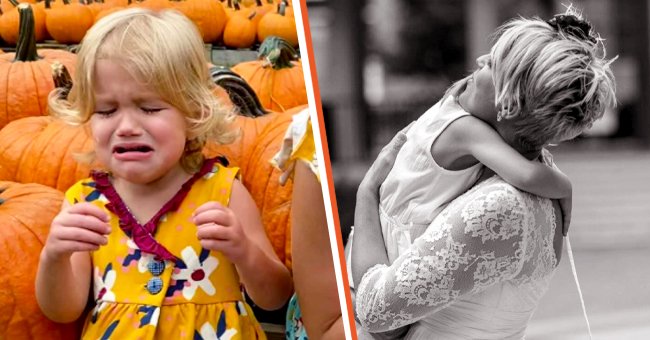 facebook.com/becca.goedecke
Husband Kicks Wife and 3-Year-Old Daughter Out of Their Home, Abandons Them in a Parking Lot
A woman's entire life fell apart when she discovered that her husband turned his back on her and their daughter, leaving them to fend for themselves. Her life was in ruins from that moment on, but would she be able to put it back together?
Love is the most powerful feeling in the world, but sometimes, it might cloud people's judgment and prevent them from clearly seeing things. Ironically, a similar scenario befell a woman from Memphis, Tennessee, turning her world upside down.
Becca Goedecke was married and lived in a beautiful gated neighborhood in the suburbs, only four miles inland from Jackson Beach, Florida. She had an adorable three-year-old daughter and worked as a pediatric nurse practitioner.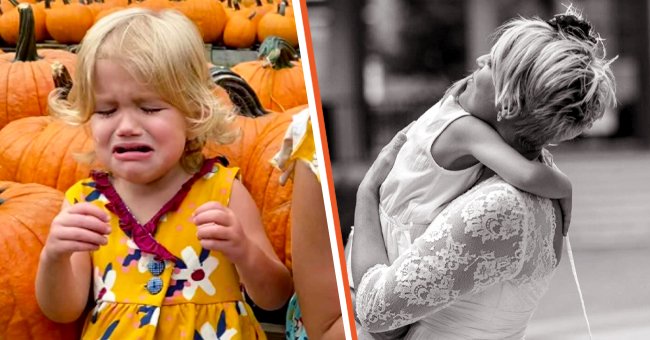 [Left] Becca's youngest daughter, Junebug pictured crying; [Right] Becca shares a hug with her daughter on her wedding day. | Source: facebook.com/becca.goedecke
A LIFE-ALTERING REVELATION
Her job took her to Nashville, Kansas City, and she ended up on the beach. Everything was almost perfect in her life, until one day, something unexpected happened.
One afternoon in 2015, and only two days after her daughter's birthday, Becca was headed home from work when she realized she had been evicted. Her belongings were thrown out like trash, including her daughter's birthday gifts.
Even worse was that she wasn't permitted to enter her house because the locks had been changed. Becca felt utterly shocked and miserable, and after talking to her husband and the landlord, she learned that the rent and bills hadn't been paid for three months.
Nothing made sense to Becca, who vividly remembered sending money to her husband for the living expenses. Even shocking was that her husband couldn't explain where the money went.
Brad revealed he returned wholly changed from his experience and went home to his wife, who had prayed for him to find the right path.
Moreover, his odd sleeping patterns, weight consciousness, and continuous disappearances also raised questions. Becca also discovered unread mail worth several years, empty pill bottles, and beer cans in his car.
Soon, everything became crystal clear — her husband was living a double life and kept her and their daughter in the dark. Becca's darkest fears came true when her husband abandoned her and their daughter at a Target parking lot.
Later, she realized that her husband had taken out personal loans in her name and had another daughter. He also lied about his education, job, and being in the Marine Corps. But the most tragic part was how he turned his back on his girl and his wife of seven years.
Becca was writhing in insurmountable pain but knew she had to be strong for her daughter. The then-32-year-old woman drove to her parents' house in Tennessee, who warmly received her and their granddaughter.
She told her daughter they were on vacation to see grandpa and grandma and began working diligently to get her nursing licenses sorted. In the meantime, Becca felt alone and depressed and yearned to have friends to keep her company.
She turned to Facebook and reached out to an old male friend from high school. Amidst their conversation, she jokingly asked him if he knew any attractive single fathers. She was stunned when her friend replied in affirmation and gave her a name, Steven Goedecke.
Becca hesitated briefly, knowing she had a daughter to take care of and was newly divorced. She turned to Facebook again, searched the name, and noticed that the single dad had a daughter the same age as hers.
She was so overwhelmed that she shared the information with her mom, who told her she knew the man's daughter. Becca was taken aback when her mother said that Steven's ex-wife's sister often did her hair.
Soon afterward, Becca sent him a message on Facebook, and he immediately responded. The pair shared their contact numbers and began talking like over-excited teenagers. Two days later, they had a lunch date.
Becca borrowed her mom's wardrobe but noticed how Steven was dressed in his police gear. It was her first date in ten years, and she was immediately taken by him. Becca spent days thinking about Steven, but a part of her feared for the future.
Was she ready for a new relationship? Did Steven feel the same way about her? Becca's nagging questions were automatically answered when Steven called her again and went on their second date.
Soon afterward, Becca and Steven introduced their girls, who instantly became best friends. On Mother's Day 2015, Steven confessed his love to her, and she was over the moon. He also gave her a key to his house. Becca recollected:
"He was an open book. He did not have a thing to hide. He showed me his credit score, his bank account, and his up-to-date mortgage payments. He was a genuine, honest, open, loving person."
Becca gushed when she saw Steven showering her daughter with love. In June 2015, Steven proposed to her with a gorgeous sapphire ring and asked her to be his forever life partner. Becca accepted his proposal and saw her daughter's face light up.
On August 15, 2015, the couple eloped only four months after their first date. After surviving a failed marriage and moving in with her family as a single mom, Becca felt lucky to find a man who loved her and wanted her to be his wife.
Becca and her daughter initially moved into Steven's three-bedroom, two-bath bachelor apartment, but they bought a bigger house after getting married. In 2017, after her 35th birthday, Becca and Steven discovered they were pregnant with a baby girl, Junebug.
Life was still challenging for the couple, but they chose to make the most of their time together. In an interview with LoveWhatMatters, Becca shared that whenever people ask her about her story, her classic reply is:
"We met on a blind date and got married 4 months later. In the end, love wins."
Undoubtedly, Becca survived a holocaust while living with her cheating ex-husband, and like her, a woman named Paige experienced something similar with her husband, Brad. Despite covering his tracks, Brad was shocked when Paige found out about his infidelity.
After seven years of marriage, Brad began lying to Paige and lost interest in their relationship. During the week, he stayed in Wisconsin and only returned home on weekends. Paige found out about his secret affair, and to his dismay, everything fell apart. Brad recalled:
"I have great success financially and professionally, owned all the right things, drove the right cars and, I wasn't happy, and the things I had done were supposed to make me happy."
At that moment, he called upon God and shared he had experienced something supernatural. Brad revealed he returned wholly changed from his experience and went home to his wife, who had prayed for him to find the right path.
Then onwards, Brad and Paige turned over a new leaf, and Brad expressed his entire perspective changed toward life, marriage, and his love for Paige.
Miracles happen, and if anything, these stories prove that love always finds a way. Here's another story that you might like, and it's about three children who were happy for their mom's new husband after living with their abusive dad. Click here to read the whole story.
Please fill in your e-mail so we can share with you our top stories!