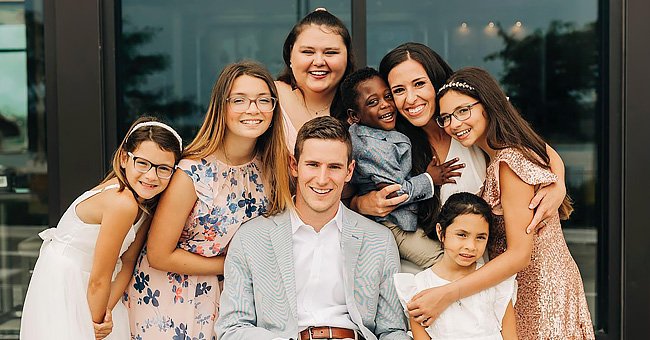 facebook.com/chrisanorton16
Paralyzed Man Who Walked Down the Aisle after 7 Years in a Wheelchair Adopted 6 Kids
After suffering an injury while playing football, a young man was left paralyzed and in a wheelchair. Despite the obstacles, he didn't give up and defied all odds when he walked down the aisle. But that wasn't the only remarkable thing he did.
At AmoMama, we love sharing stories of real-life heroes who never fail to inspire us with their determination, courage, and kind-heartedness. In times marked by sheer disarray and uncertainty, championing love and hope can make a huge difference in our lives.
And one such story is that of Emily and Chris Norton. Please keep reading to discover more about this power couple's phenomenal journey, their beautiful family, and how they continue to motivate people to choose fostering and adoption.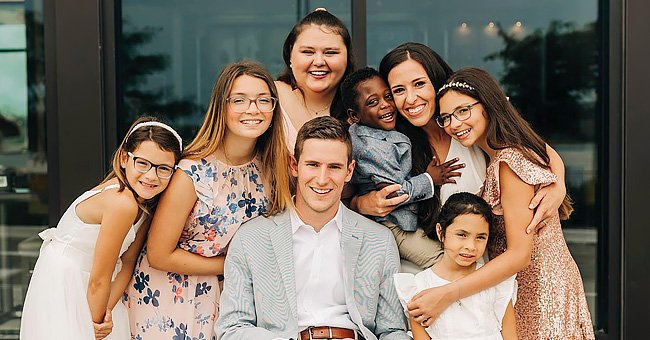 Chris and Emily Norton pictured with their six adoptive children. | Source: facebook.com/chrisanorton16
A YOUNG GIRL WITH A BIG HEART
Emily grew up in a middle-class neighborhood in Muscatine, Iowa, with her two brothers and a sister. She attended church every Sunday, and her parents taught her to live with faith and strong values and be a conscientious person.
She was still a young girl when she saw a television show about international adoption that altered her life one night. The sight of the suffering children deeply moved Emily, and she asked her parents if they could adopt them.
Her parents empathized with her, but Emily agreed she was too young to comprehend the challenges of international adoption. With time, her desire to help children in need intensified.
But what she didn't know then was that there were kids in her own country who needed love, care, and protection. Emily grew up watching children around her living in miserable conditions, devoid of a family and home.
The couple shared their journey in a memoir, "The Seven Longest Yards," released in July 2019.
She knew she had to do something to rectify the situation and make an impact. Fortunately, she met someone just as motivated as her to help others, Chris. The couple shared they were initially drawn to each other's tendency toward deep conversations.
In October 2010, Chris was only 18 when he suffered a severe spinal cord injury while playing football at Luther College, Iowa. The doctors gave him a three percent chance of moving or feeling anything below his neck again.
Unlike others who saw him in a wheelchair and unable to walk again, Chris said Emily saw him for who he was, and he instantly fell in love with her. On the other hand, Emily said she loved his attitude and was impressed by his willingness to help others. She also added:
"I was instantly connected to Chris and his positive attitude. We very quickly fell in love. I saw Chris for who he was as a person and didn't focus on his wheelchair."
WALKING DOWN THE AISLE HAND-IN-HAND
Over time, the pair realized they were meant to be and got engaged. In 2015, the couple made headlines when Chris walked across the stage at his graduation ceremony with his fiancée's help to receive his diploma. He said his next goal was to walk at his wedding.
After many years of physical therapy, rehab, and encouragement from Emily, Chris walked seven incredible yards down the aisle in April 2018, holding his lovely bride's hand. Regarding the momentous occasion, he told Good Morning America:
"It was unbelievable because I was doing it with Emily. Emily is the love of my life. We did it together as a team and as a couple and to know that I'm going to have her by my side forever and that we're going to take those next steps as married in love, it was just unbelievable."
The Nortons continued to inspire millions of people. Chris started a foundation for children in wheelchairs, and Emily worked in kids' group homes. From the beginning, they shared a strong desire to help kids in need, so they embarked on their journey as foster parents.
The first child they fostered was Whittley, a 17-year-old girl who Emily met through volunteering in high school. She called Emily one night and said she had been kicked out of her foster home with only one year left before turning 18 and aged out of the foster system.
Because she had been in too much trouble, no other family was available to take her in, and the authorities told her the only option she had was a juvenile detention center. Whittley then asked Emily and Chris if they could be her foster parents.
WELCOMING FOUR MORE CHILDREN
When the Nortons took in Whittley, they were engaged and in their early twenties. Things didn't always go smoothly, and there were times when they had to step forward and resort to strict measures. But it was all worth it when Whittley graduated on time.
A year after welcoming Whittley, the couple fostered a sibling group of four young girls, Ava, Lilliana, Isabella, and Ariana, who lived with their aunt after their uncle passed away. Having five children in their home felt crazy, but they loved it.
However, there were times when Chris and Emily struggled to be the best possible role models to the children. The couple admitted to battling severe bouts of anxiety and depression, but they overcame all obstacles together.
Emily and Chris officially adopted Whittley in December 2018. At the time, Whittley was only about six years younger than her adoptive parents. The couple also adopted the four siblings in February 2019. Through the beautiful gift of adoption, their family became complete.
The Nortons continued fostering children and adopted their sixth child, Keondre, in June 2021. The couple also revealed they never thought they'd become parents in their early 20s, but they embraced the experience wholeheartedly. Emily expressed:
"Even though it's never going to be the right time, you kind of just have to push through it and do it anyway when it's there."
"THE SEVEN LONGEST YARDS"
Emily and Chris and their beautiful family have been featured in renowned publications like Good Morning America, Fox, MSN, and People. The couple shared their journey in a memoir, "The Seven Longest Yards," released in July 2019. Chris also mentioned:
"The seven yards comes from my goal to walk Emily seven yards down the aisle on our wedding, to do it side by side, and it took seven years in the making. All the way from spinal cord injury to that wedding day."
The book was later adapted into a Netflix documentary, "7 Yards: The Chris Norton Story." Chris, the founder of the "Chris Norton Foundation" and a motivational speaker, received the Adopt America Network's 2021 Ransom Award in November 2021.
In June 2019, the Chris Norton Foundation hosted a wheelchair champ for 25 children with spinal injuries and their families. Regarding the joy of becoming a father to six exceptional children, Chris remarked:
"We went into it thinking that we would be the blessing to these kids, but they're the blessing to us."
We are in awe of this phenomenal couple and their beautiful family, and we hope they continue to motivate others out there to choose fostering and adoption. What are your thoughts on this story? Please don't forget to share this heartwarming story with your loved ones.
Please fill in your e-mail so we can share with you our top stories!
The information in this article is not intended or implied to be a substitute for professional medical advice, diagnosis or treatment. All content, including text, and images contained on news.AmoMama.com, or available through news.AmoMama.com is for general information purposes only. news.AmoMama.com does not take responsibility for any action taken as a result of reading this article. Before undertaking any course of treatment please consult with your healthcare provider.