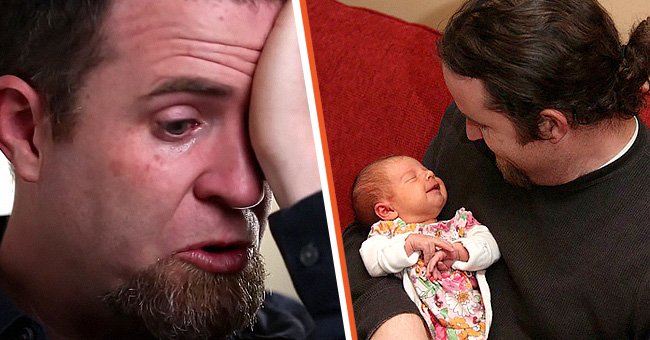 Walt Manis | Walt Manis with his daughter | Source: Facebook.com/annie.manis | Youtube.com/c/movingworksfilm
Man Can't Become a Dad for Years, Refuses to Adopt until He Sees the Kid from His Childhood Vision
A man who received a vision of his future child when he was a kid himself was stunned when he found it hard to welcome a child with his wife. After many trials, she suggested they adopt, but he refused adamantly.
Many people these days will scoff at the mention of buzzwords like the supernatural, fate, and destiny. However, now and then, humans are reminded that technology and science are just as real as magic and destiny.
This story is about a man who, as a young guy, received a vision that could only have been divine because years later, that very divination was realized in a way that humbled him and his wife.
A DIVINE VISION AND A FATED WIFE
Walt Manis was born and raised on an Arkansas farm, and as a child growing up, he was a nature lover who enjoyed being outdoors. Walt said:
"I loved being in nature, I would just go out there by myself and I'd have all this time, and I would be talking to God."
It sounds pretty unusual, but the boy had no idea and considered it normal. However, at the age of 12, he had a vision that told him he would raise a girl child named Chloe.
It was a clear dream that saw him swinging her around in his parent's yard, and even after he woke from it, the image and child's name were ingrained into his memory.
Soon after he had the vision, Walt moved to a new area where he met a little girl named Annie. The two live across the street from one another, and within a short period, they became best friends.
Their families lived on the opposite pasture, and it was their closeness that facilitated the bond between Walt and Annie, even though he did not really pay attention to her because she was just a "little munchkin."
Of course, Annie thought he was terrific and would always tell herself how great it would be to marry a man like Walt when she grew up.
She eventually got into a university that was 30 minutes away from where he had been schooling, and he had been nice enough to come over to help her set things up and link her up with a church.
They started spending more time together until one day they were talking, and Annie told Walt about her desire to start a family. She even shared the perfect name she had in mind for when she had a daughter — Chloe.
It was the name Walt had heard in his vision, and the two could not believe the coincidence. Indeed, it wasn't very clear for the pair because Walt had been expecting a woman with the child's attributes in his vision.
But Annie had none of them even though she had also been thinking of the name Chloe. Nevertheless, their relationship kept growing, and eventually, the two fell in love and went on to tie the knot. Annie said:
"Walt felt like home to me from the very beginning."
STRUGGLING WITH INFERTILITY
After their marriage, Walt and his wife decided to wait a while before actively trying to have a child of their own, instead choosing to go traveling while doing some work with mission agencies. However, when they decided it was time, the two had no luck.
The first year passed, and soon, they had spent four years struggling to conceive with nothing to show for it. Annie quickly started losing hope, but Walt, who had received a vision as a child, refused to give up on the promise of a child they both felt God had given.
Annie would later admit that she struggled with her faith during that time because she felt it was "mean." It started affecting their relationship with God, with Annie wondering if he was really good when he was doing things she didn't see as good.
The pair watched their friends welcome kids, and Walt even admitted that his wife had to sometimes fake a cheesy smile while congratulating people. At some point, they started to think of themselves as "fools who wanted kids."
However, somewhere along the line, Annie felt a shift within her as she started coming to terms with the fact that they may never welcome a child of their own and that it was just fine. They began to accept it but could never deny that constant urge to become parents.
They kept praying among themselves and also had other people, including strangers, praying for them. They tried and tried, but when it seemed like nothing would change, Annie suggested that they adopt a child.
Walt flat out refused — there was simply no way he would agree to raise a child that was not his flesh and blood, especially when he was so confident the promised child was coming.
He held out for as long as possible but eventually caved into his wife's request to look into adoption. The way he saw it, God had promised him a child, and he didn't want just an adoption; he wanted what he had been promised.
After Walt agreed to consider adoption, they chose to name their child something else, deciding that the vision was a "fluke." Then one day, Annie received a mail from the adoption agency claiming an unborn baby was looking for a mother.
Walt was still unconvinced that they were on the right path, but he joined Annie when it was time to meet the birth mother. It was there he came face to face with a woman who looked like the grownup version of the little child he had seen in his vision.
It was a shocking realization, but there was more. After speaking to the mother for three hours, they were asked what name they would love to name the child. Before they could talk, the child's birth mom revealed that she had always called the child Chloe.
The couple were stunned because the mother told them she had never thought of any other name even before she found out about Walt and Annie.
They both broke down right there and then because they had chosen to abandon the name but had traveled all that way to meet it waiting for them. Annie said:
"I don't even remember what we did exactly, I just know that I was ugly crying."
It erased all their doubts that the child they wanted to adopt was truly the one they were destined to raise and reminded them of the privilege they enjoy as believers.
They felt God's presence that very day and Annie realized how narrow her perspective had been while she waited to have a baby. Eventually, the delivery day came, and the couple got united with their child. It was a miracle for them, and nobody can convince Walt and Annie it was anything else.
Please fill in your e-mail so we can share with you our top stories!