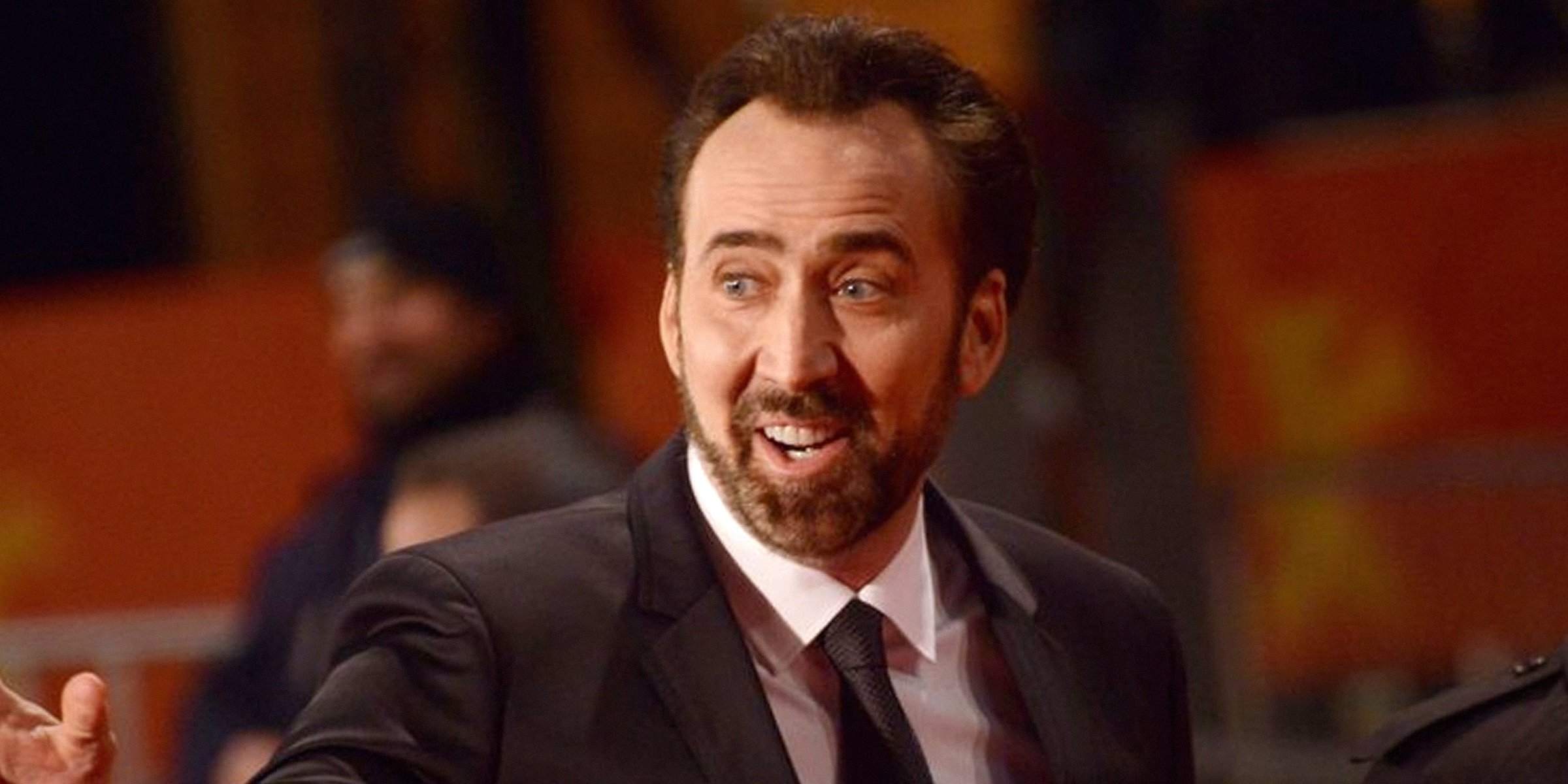 Shutterstock.com
Nicolas Cage Wed Waitress 20 Years His Junior despite Her Family's Objection to Their Age Gap
Nicolas Cage has been involved in many relationships and marriages, but his romance with his third wife, Alice Kim, put his name on people's lips. Initially, the woman's family objected to the union. Find out why.
American Actor and Filmmaker Nicolas Cage is one of Hollywood's most talented and famous actors. He has received several awards and has featured in many productions such as "Birdy," "Racing With the Moon," "Vampire's Kiss," "Honeymoon in Vegas," "Raising Arizona," and many others.
Indeed, the movie star has enjoyed much success in his career. However, the same cannot be said about his romantic relationships.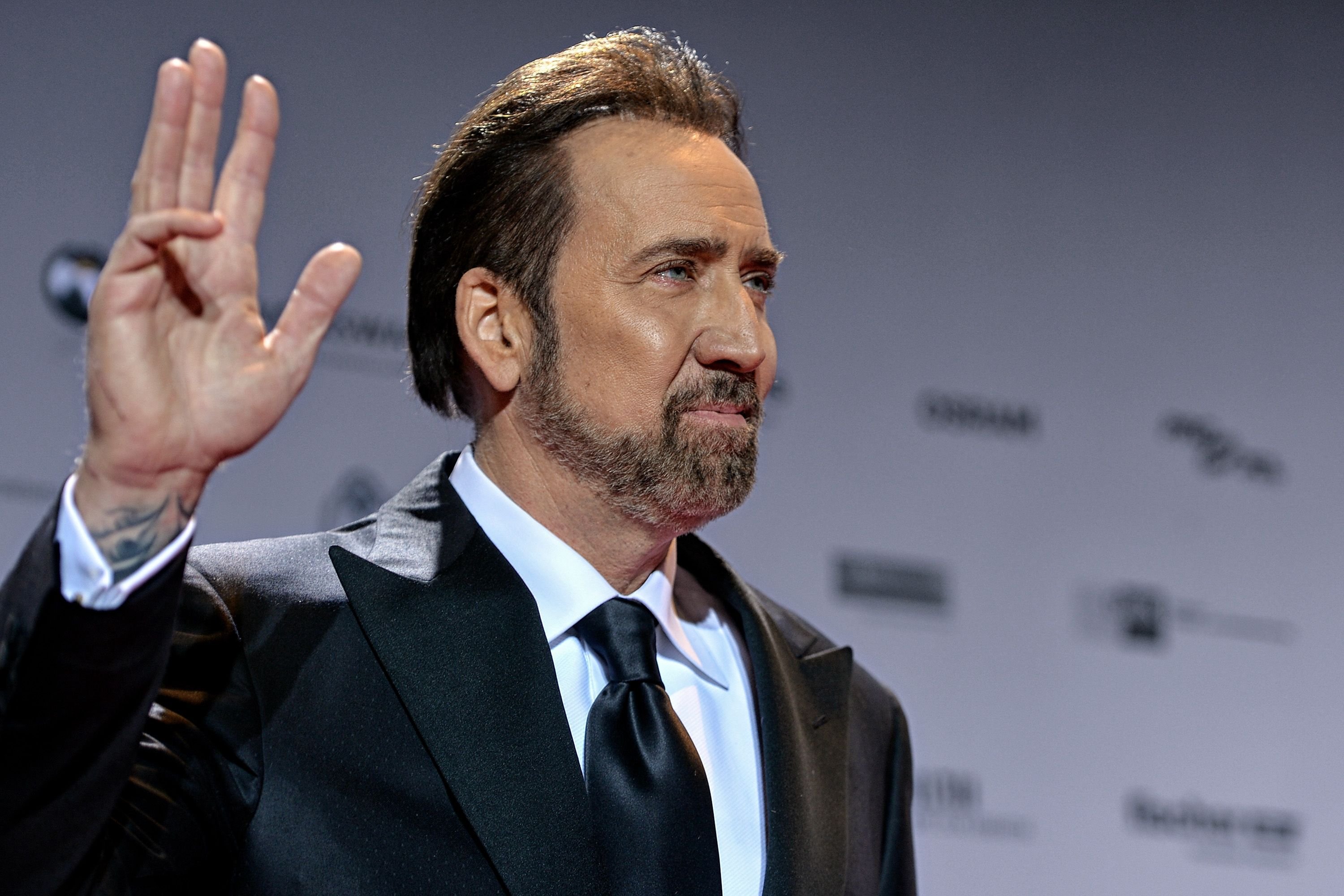 57-year-old actor Nicolas Cage at the German Sustainability Award 2016 ceremony (Deutscher Nachhaltigkeitspreis) at Maritim Hotel in Duesseldorf, Germany | Source: Getty Images
Cage has been married five times in his lifetime, and his first marriage was to actress Patricia Arquette. The pair first met in a restaurant in 1987, and on the spot, Cage told the actress he would marry her.
Later, the actor asked Arquette to provide a list of things for him to find and bring to her to prove his worthiness as a husband.
The actress played along, and according to her, Cage began bringing everything on the list, even though she never expected it. Eventually, the pair tied the knot in 1995, but the union ended in 2001.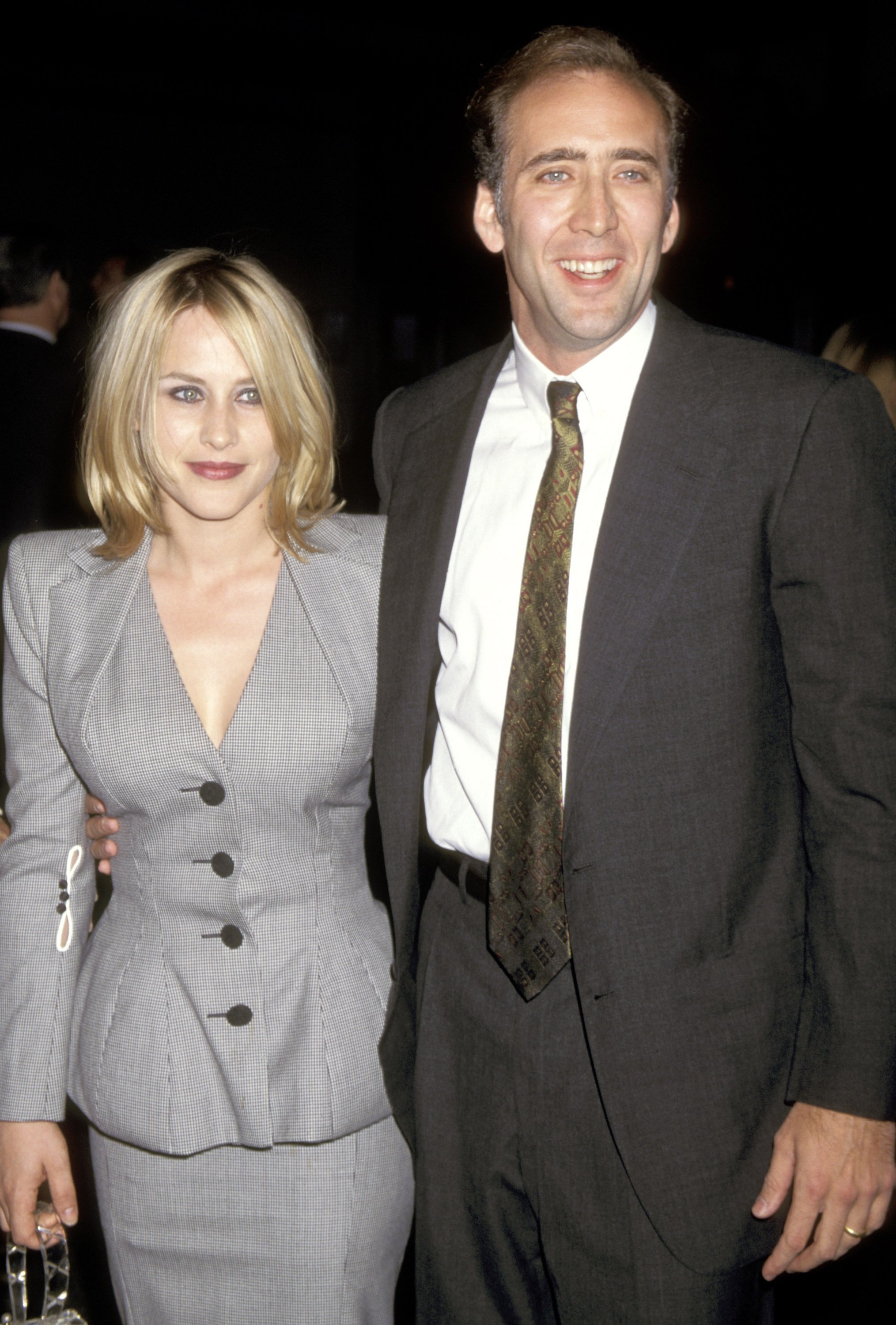 Patricia Arquette and Nicolas Cage at the premiere of "Beyond Rangoon" on August 22, 1995. | Source: Getty Images
The filmmaker's second marriage was to American Singer and Songwriter Lisa Marie Presley. The former lovebirds met in 2000, and in August 2002, they walked down the aisle.
Unfortunately, their marriage was short-lived, as they filed for divorce three months after the wedding. They finalized the divorce in May 2004.
INSIDE CAGE'S RELATIONSHIP WITH ALICE KIM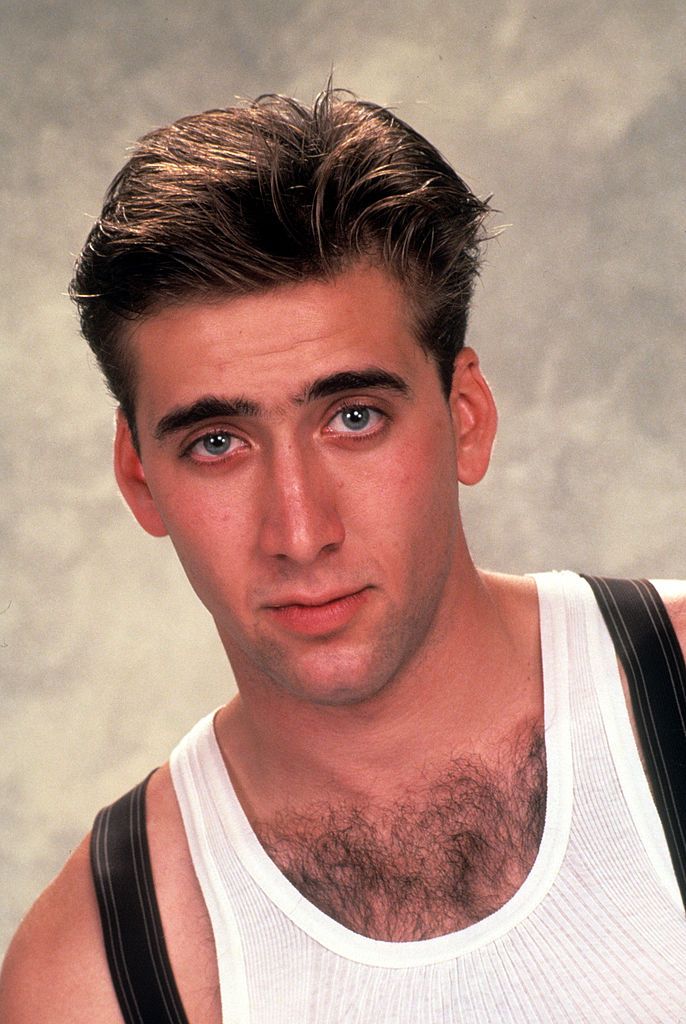 Nicolas Cage in publicity portrait for the film "Racing With The Moon" in 1984. | Source: Getty Images
After his second divorce, Cage found love again in the arms of Actress Alice Kim. The pair are said to have met when Kim worked as a waitress in a Los Angeles restaurant.
Not long after, they started dating, and in 2004, they got married. Later, Cage would reveal that they married out of love. In his words:
"And we did it because we loved each other."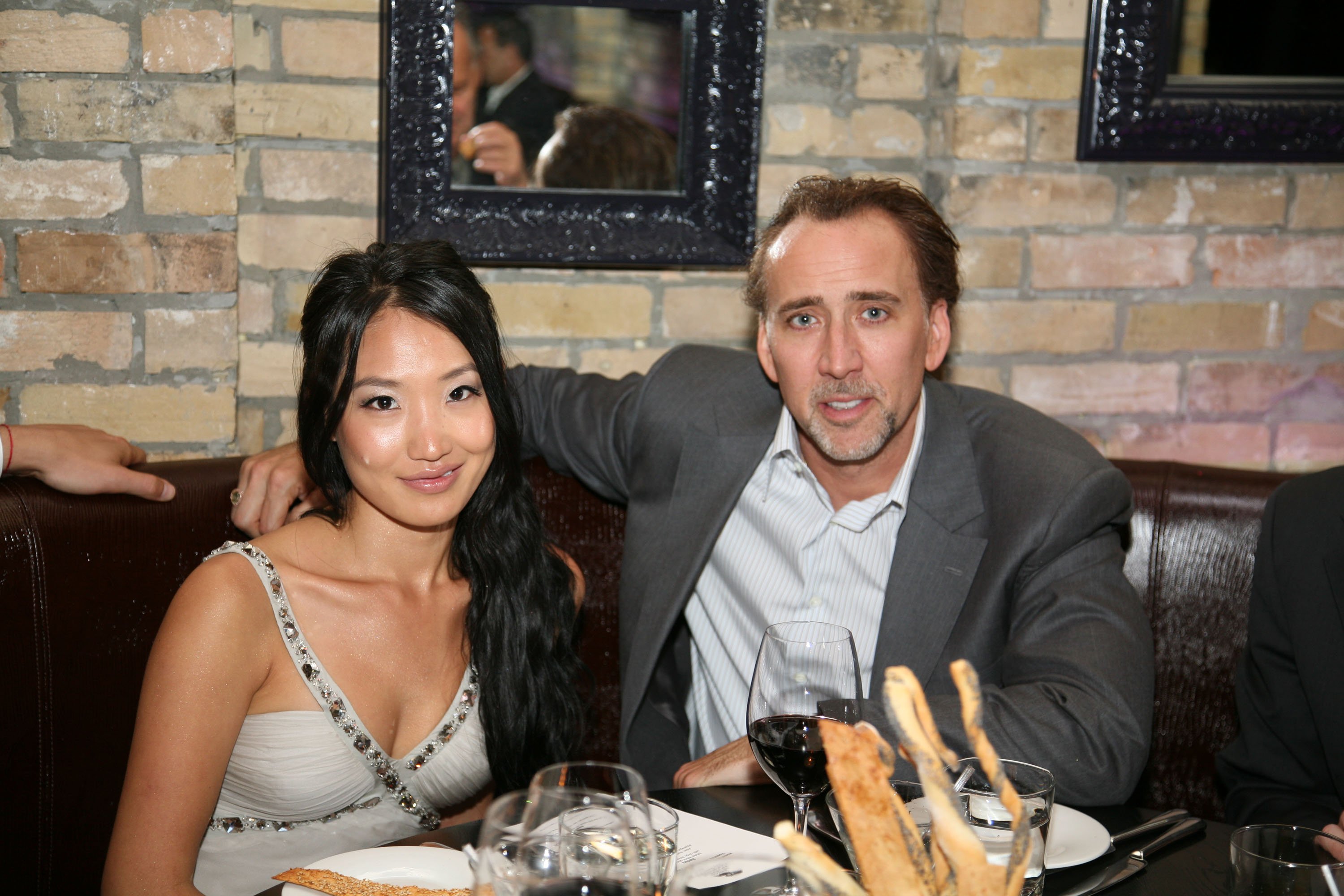 Actor Nicolas Cage and Alice Kim Cage at the "Bad Lieutenant" Premiere After Party at Ultra on September 15, 2009 in Toronto, Canada. | Source: Getty Images
Even though Cage and Kim appeared to be suitable for each other, not everyone supported that union. The actor's mother-in-law initially objected to their marriage due to the vast age gap — Cage was 20 years older.
However, it was only a matter of time before Cage won over Kim's mother and the rest of her family. The "Racing With the Moon" star felt happy to be accepted by Kim's family.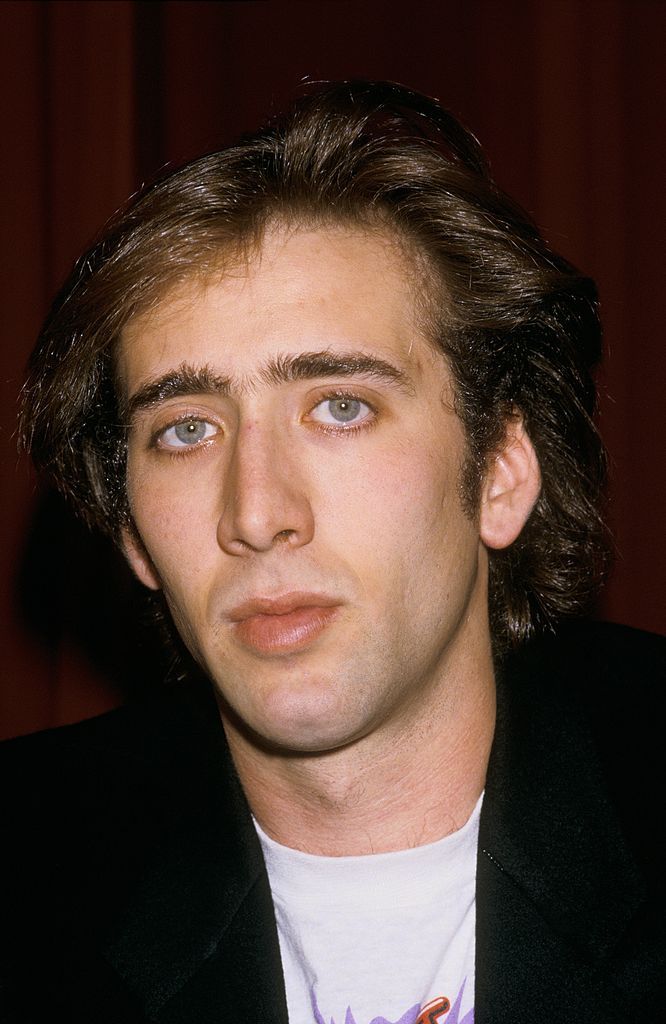 Nicolas Cage at the 38th Festival in Cannes, France in May 1985. | Source: Getty Images
As time progressed, he spoke candidly about marrying someone from a different culture. According to the Hollywood icon:
"I made a very clear decision to marry out of my own zip code. I mean, way out of my own zip code. I married into another culture, and it's interesting because, in Korea, they call me the Son in Law."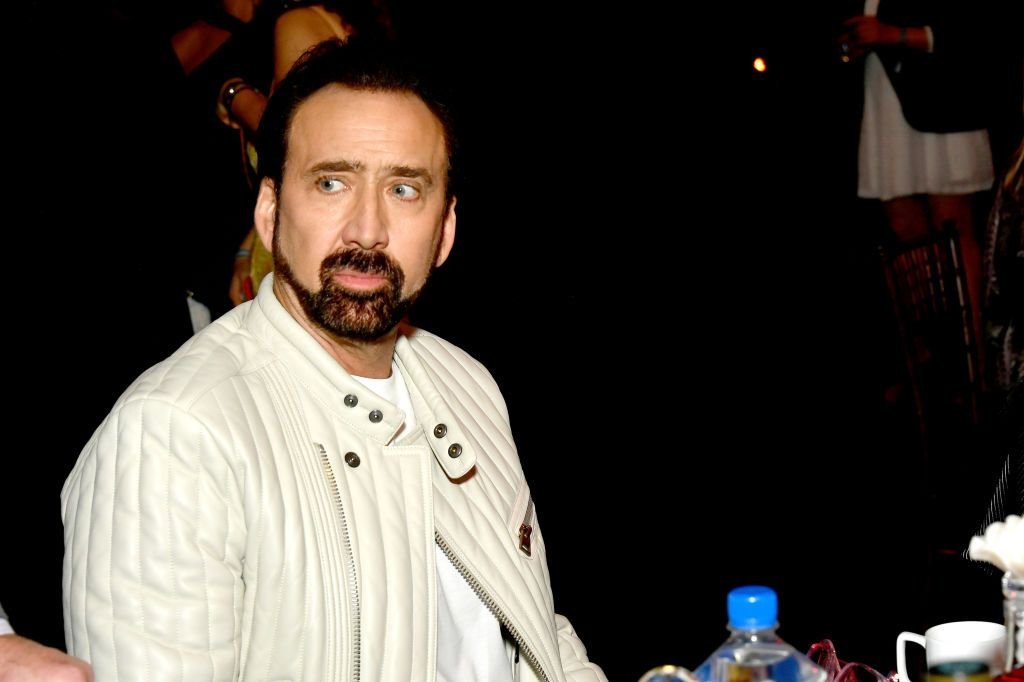 Nicolas Cage at the Film Independent Spirit Awards on February 8, 2020, in Santa Monica, California. | Source: Getty Images
In addition to marrying into an interesting culture, Cage also mentioned that his life was stable because of Kim. In due time, the former couple welcomed a son, and the actor made sure to be available for the little boy.
It was revealed that the filmmaker never spent more than four days away from his son and even contemplated taking him out of school for three weeks when he filmed in China.
DETAILS OF CAGE AND KIM'S SPLIT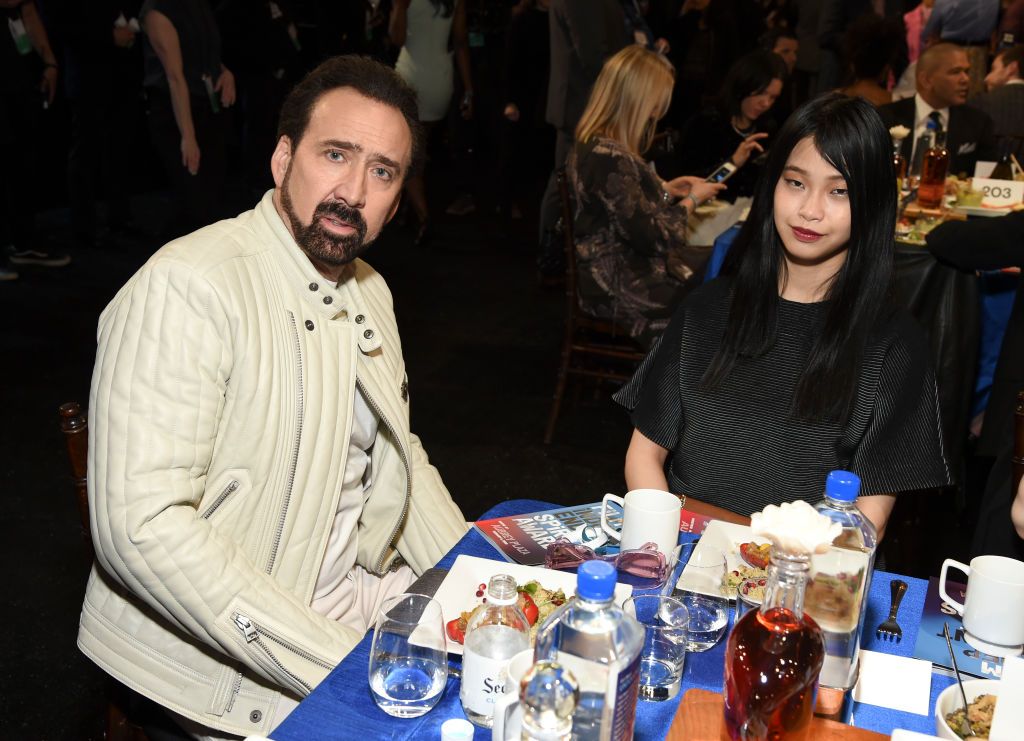 Nicolas Cage and Riko Shibata at the 2020 Film Independent Spirit Awards on February 08, 2020 | Source: Getty Images
After being married for 14 years, Cage and Kim's marriage ended in 2016, but it remains the actor's longest relationship. Two years after the divorce, Cage opened up about how he felt. He said:
"It was a shocker for me – I definitely didn't see it coming, and those feelings had to go somewhere, so they went into the performance."
Irrespective of what happened, the actor made it known that he was willing to remain friends with Kim, as he did not have negative feelings toward her. Apart from speaking about the divorce, Cage also relayed how it felt to be 54 and single.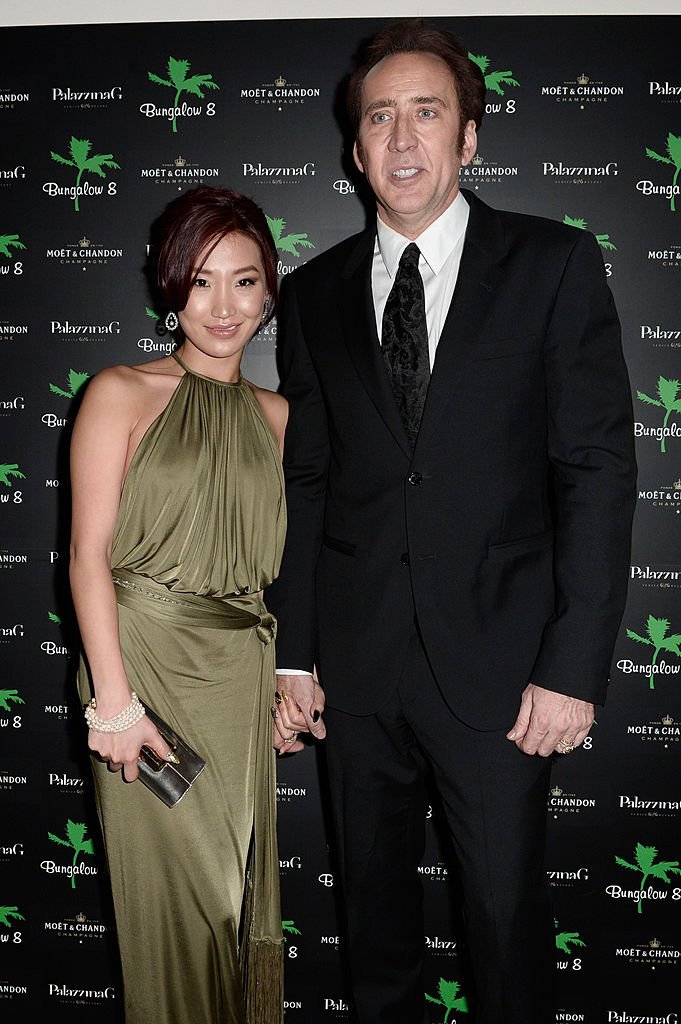 Alice Kim and actor Nicolas Cage at 'Bungalow 8 Pop Up at theVenice Film Festival' during the 70th Venice International Film Festival at Palazzina G on August 30, 2013 in Venice, Italy. | Source: Getty Images
According to him, he did not see it coming, and it was quite grim. Cage also mentioned that he had no interest in looking for a match on Tinder because he was not on social media.
However, the star admitted that he needed to work on wooing women. Cage recalled an incident where he invited a female friend to his house and showed her the horror movie "Vampire's Kiss." The actor said his friend was scared after seeing the movie, and she left.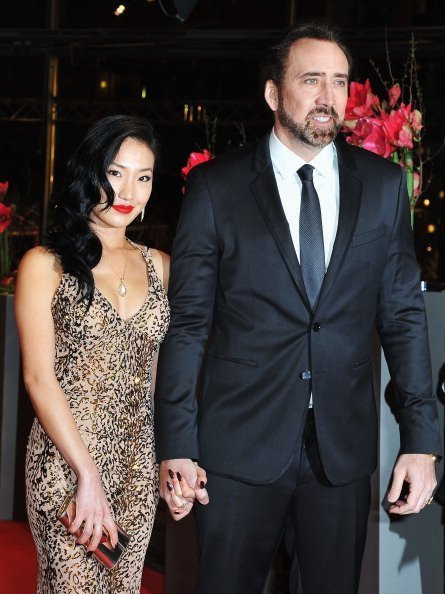 Nicolas Cage and Alice Kim attend 'The Croods' Premiere during the 63rd Berlinale International Film Festival at Berlinale Palast on February 15, 2013, in Berlin, Germany. | Source: Getty Images.
CAGES ' FOURTH AND FIFTH WIVES
Cage's fourth and shortest marriage was to Makeup Artist Erika Koike in March 2019. The pair had dated for a year before marrying, and four days after their wedding, the actor asked for an annulment.
According to court documents, the actor claimed he was too drunk to get married and did not comprehend the ramifications of the marriage to the extent he could not consent to it.
Cage also claimed that Koike never told him about her criminal history and additional criminal proceedings.
Riko Shibata and Nicolas Cage at the Neon Premiere of "PIG" on July 13, 2021 in Los Angeles, California. | Source: Getty Images
Although the makeup artist reportedly opposed the annulment, Cage was finally granted a divorce in June 2019. He became a married man for the fifth time on February 16, 2021, after exchanging vows with Riko Shibata.
The couple first met over a year before their wedding in Shiga, Japan, and were first photographed together in February 2020.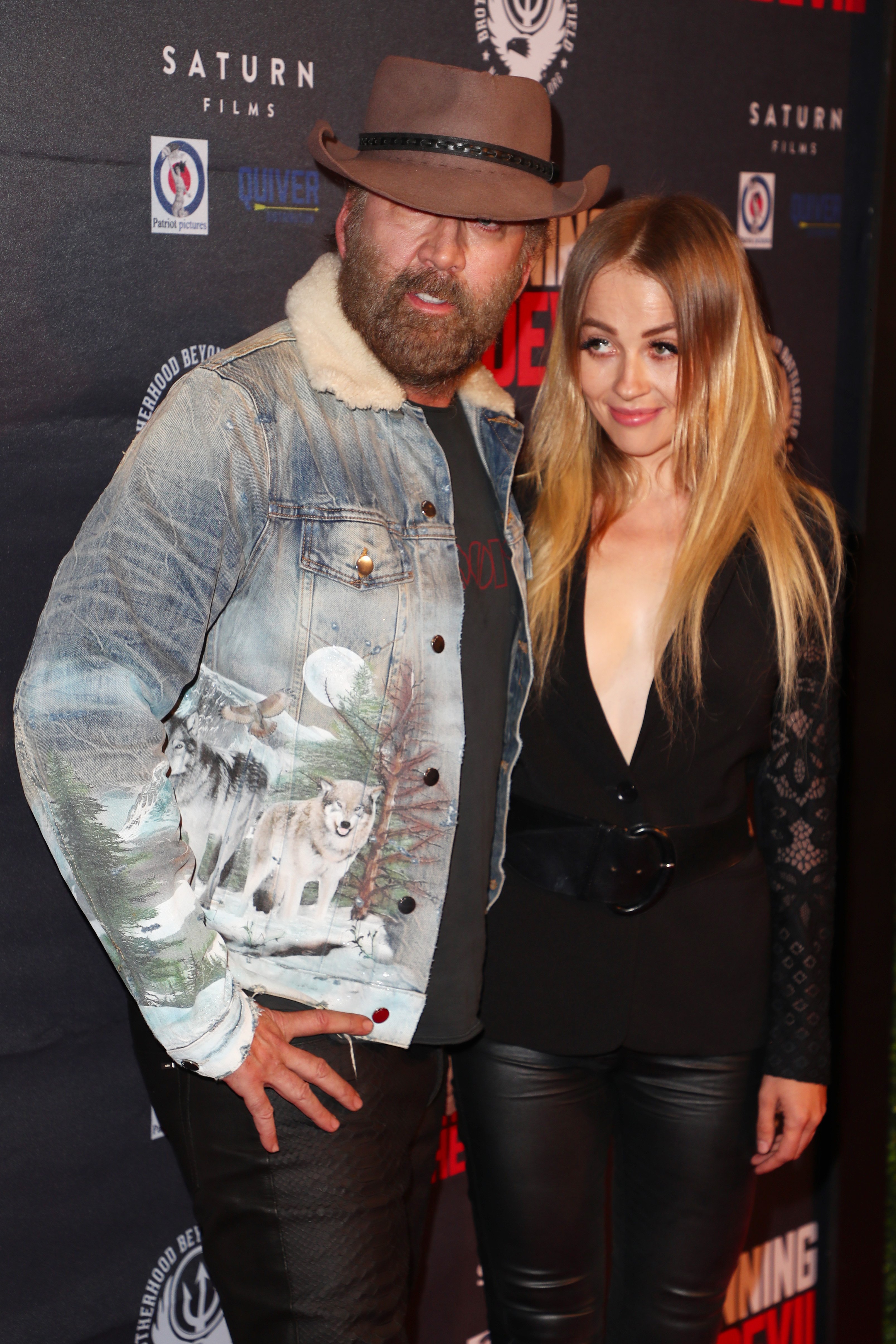 Nicolas Cage and Erika Koike at the Premiere of Quiver Distribution's "Running With The Devil" at Writers Guild Theater in Beverly Hills, California | Source: Getty Images
After they tied the knot, the "Birdy" star declared that his marriage to Shibata would be his last. He declared: "I mean, this is not happening again. This is it. This is it."
Cage also explained that he happily married because he got it right with Shibata. Cage noted: "I'm really happily married. I know five is a lot, but I think I got it right this time."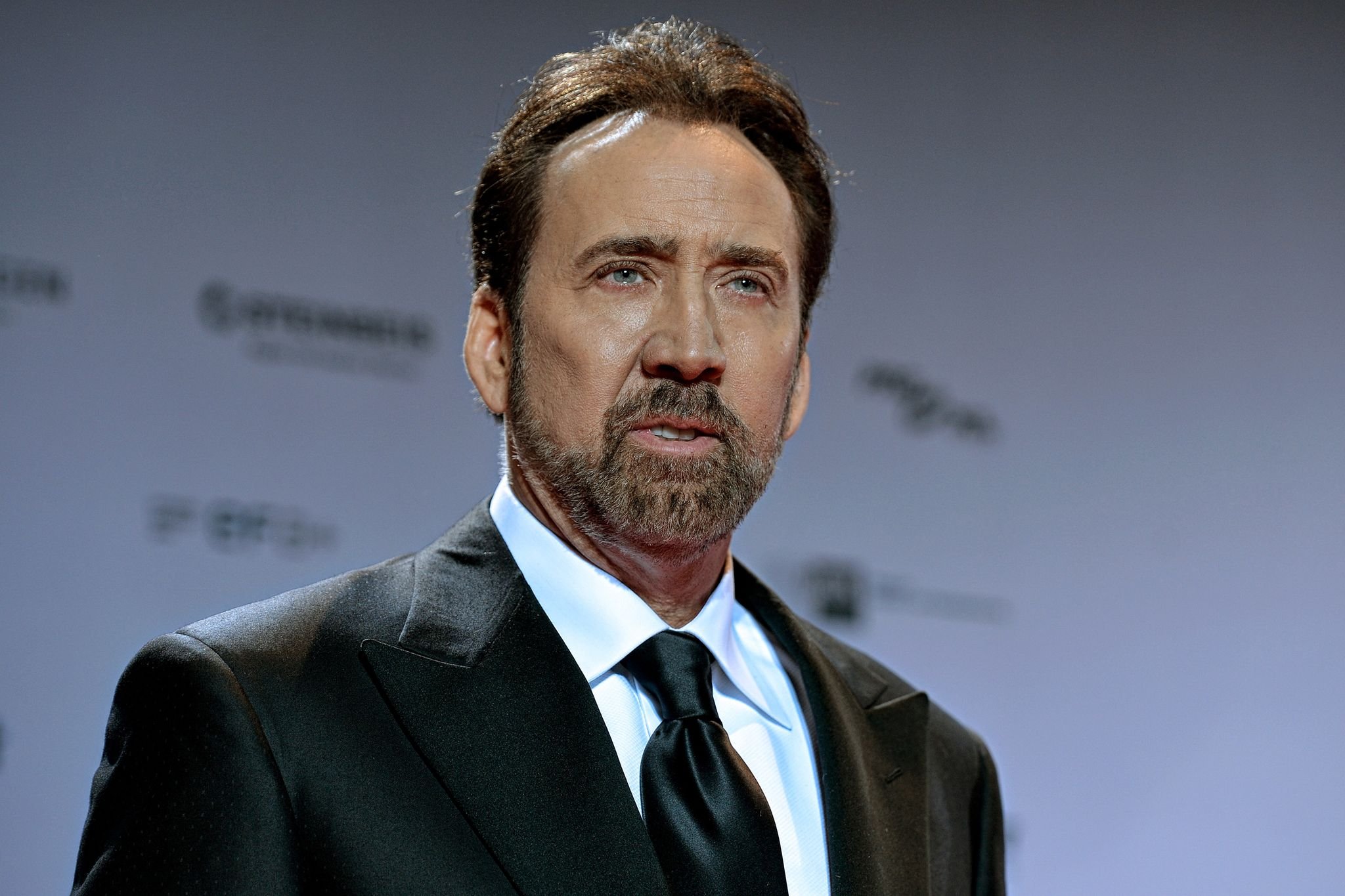 Nicolas Cage attends the German Sustainability Award 2016 at Maritim Hotel on November 25, 2016 in Duesseldorf, Germany | Source: Getty Images
Congratulations are in order for Cage and Shibata, as they are expecting their first child together. For a long time, the actor was hoping for a child, and now, he is looking forward to experiencing fatherhood again.
During an interview, Cage relayed that he missed watching a child grow, singing lullabies, and having beautiful moments with an infant. So, he believes it will be great to experience it again finally.
Apart from his unborn child, Cage is also a doting father to two children — his son, Weston, from his relationships with his ex-girlfriend, Christina Fulton, and his second son, Kal-El, whom he shares with his third wife, Kim.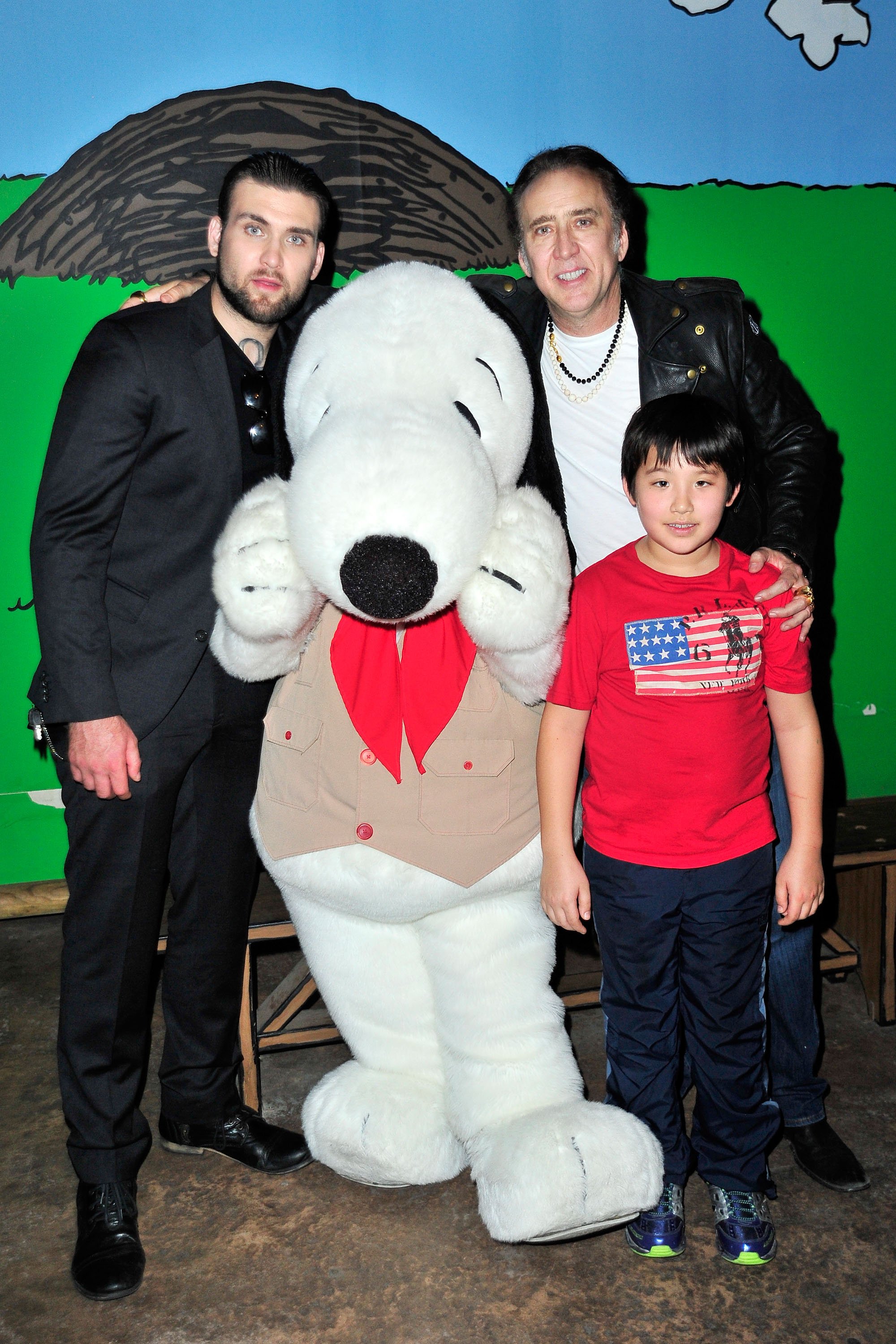 Actor Nicholas Cage visits Knott's Berry Farm with sons Weston and Kal-El on September 12, 2015 in Buena Park, California. | Source: Getty Images
The actor is also a grandfather to Weston's son, Lucien. He loves being a grandpa and has revealed that his favorite thing about Lucien is his smile. On the other hand, Weston says his father is a great dad and grandfather.
According to him, Cage is extremely loving, down to earth, and very intellectual. Weston also says that his dad loves his son and does not mind babysitting him. Overall, Cage is phenomenal and will be an amazing father to his unborn child.
Please fill in your e-mail so we can share with you our top stories!