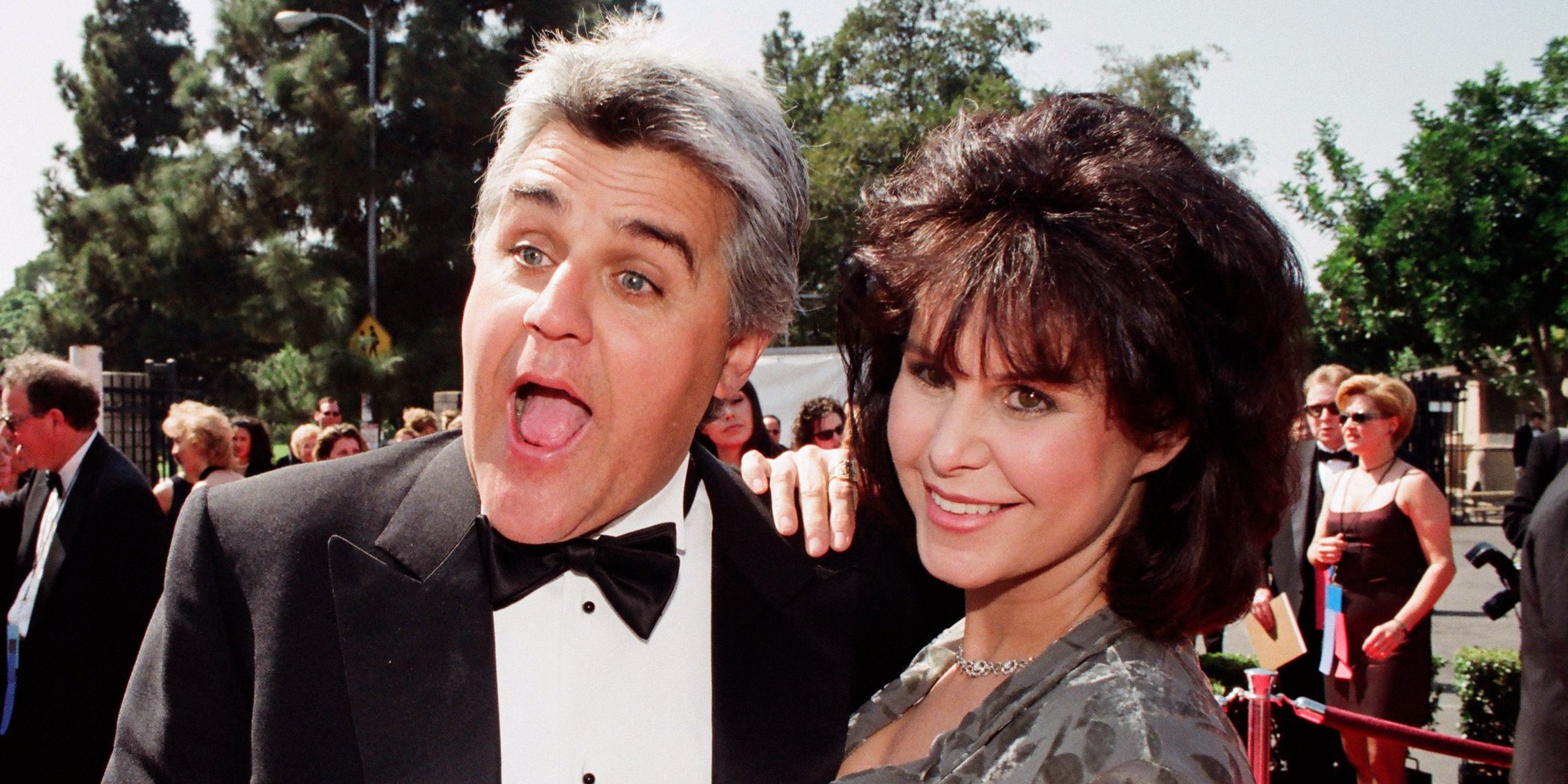 Jay and Mavis Leno | Source: Getty Images
Jay Leno's Wife of 42 Years Never Wanted to Marry & Ensured They Had No Children
Jay Leno met Mavis while performing and didn't know she didn't want to get married. Another thing he had to live with was that they wouldn't have any children, but they still managed to stay with each other for decades.
In September 2014, Mavis Leno confessed to The Los Angeles Times that she met the love of her life, Jay Leno, in January 1976. At the time of the interview, the couple had been together for more than 33 years.
Mavis recalled how she thought Jay was gorgeous when she saw him at a Comedy Store with a girlfriend. She was at the venue because she was writing a comedy with some of her partners.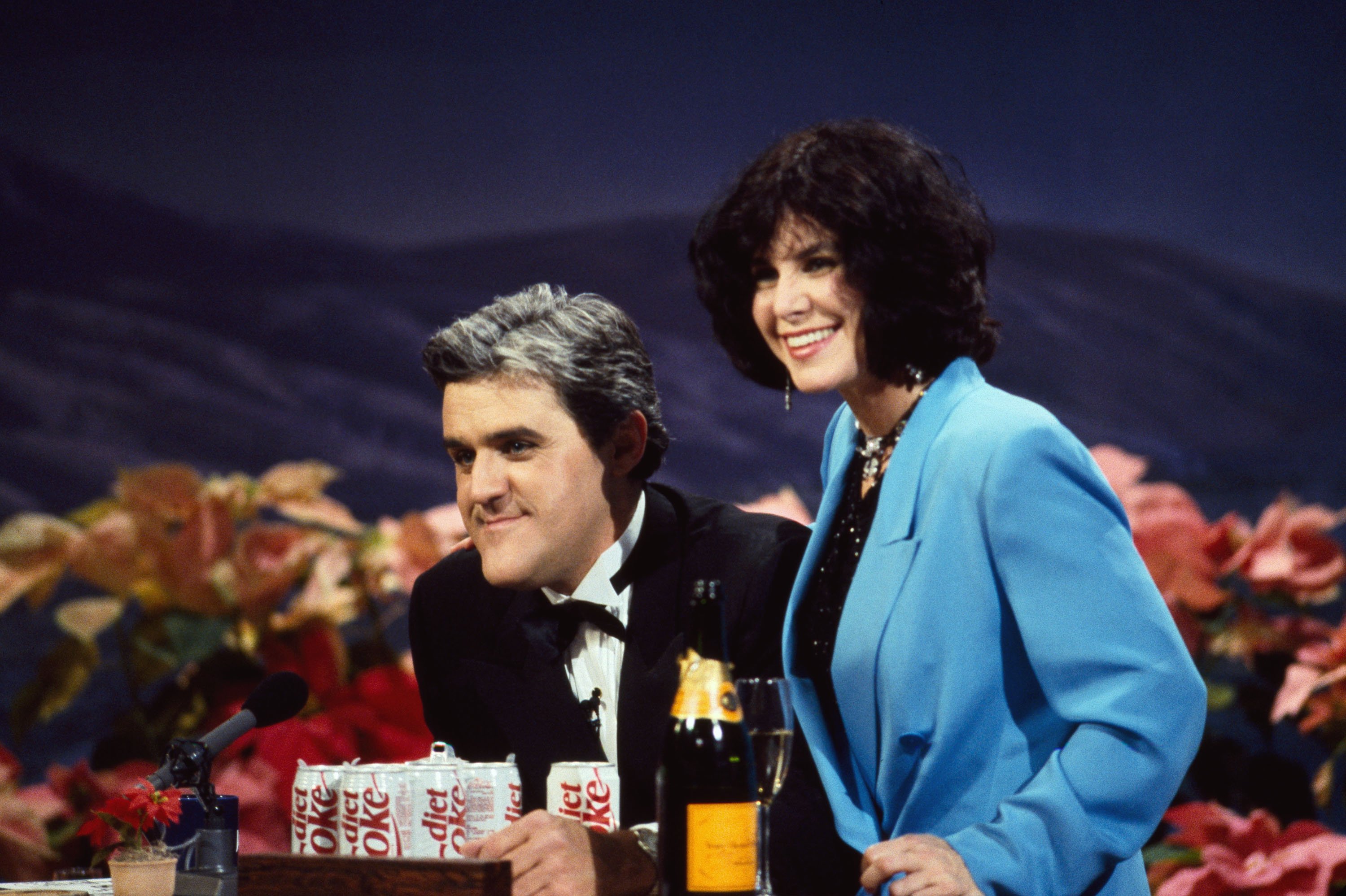 Jay and Mavis Leno on "The Tonight Show with Jay Leno" on December 31, 1992. | Source: Getty Images
It was the first time she'd gone to the event, hoping to meet people who could give her jobs. The first artist she saw on stage was Jay, and she was sitting in the front row center and wasn't that far from the comic.
Interestingly, Jay had the uncanny ability to guess that his dates were born on September 5 correctly. He'd previously gone out with five other women born on that date without searching for them specifically.
After Jay finished his set, he hung out by the toilets with other comedians and came across Mavis as she left the ladies' room. He asked her, "Are you that girl in front?" and Mavis confirmed she was.
Jay then questioned if her birthdate was September 5, and lo' and behold, it was! What made the two have a connection was that Mavis felt seen and understood by the television personality, with her stating:
"I remember saying that I often felt I was from another planet, that I connected to people, but I wished I could meet somebody from my own species. The first time talking to Jay, I said, 'Oh! You're one, too! Hi!"
MAVIS MOVED TO BE WITH JAY AND DISCUSSED MARRIAGE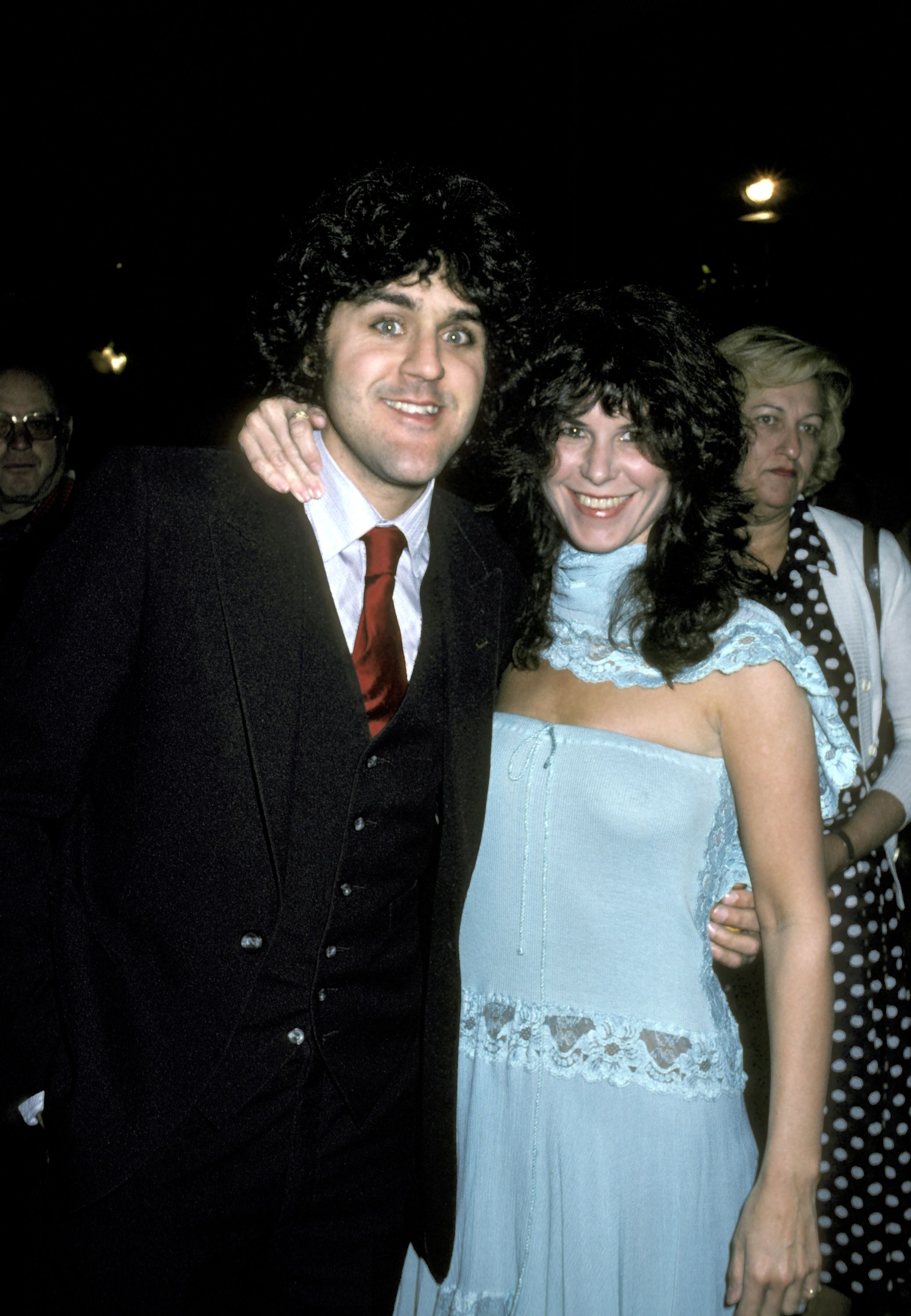 Jay and Mavis Leno during Johnny Mathis' 25th Anniversary Party, in New York on January 9, 1981. | Source: Getty Images
Soon enough, Jay and Mavis were dating, and a year before they tied the knot, the comedian got a chance to be in a New York show. The couple had been living together for that year when Jay made his nervous request.
He asked his girlfriend if he could take the job and could move together to the new city. Mavis calmed him down by informing him that she would because she was really with him at that point.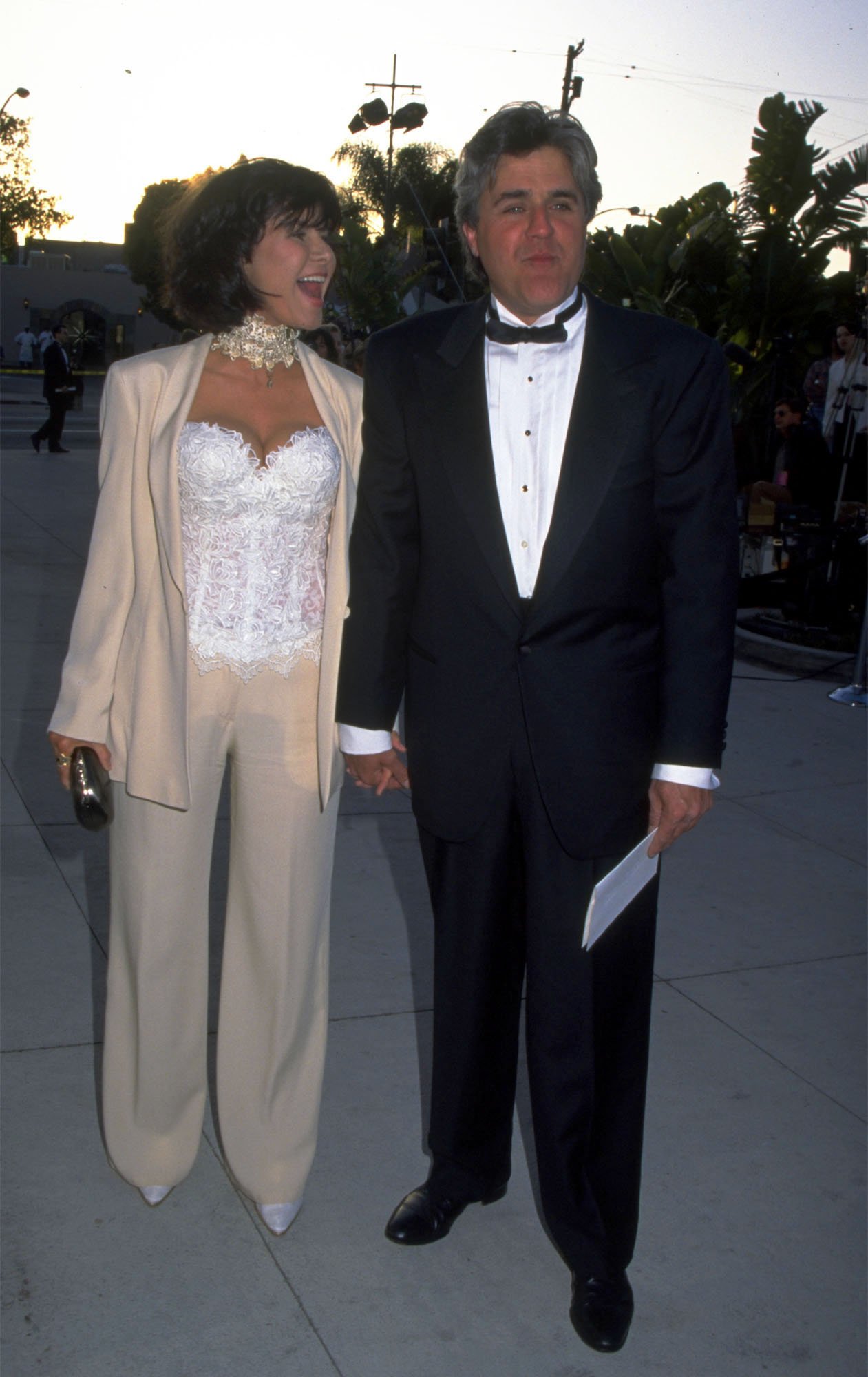 Mavis and Jay Leno posing for a photo on March 5, 1999. | Source: Getty Images
When Jay relaxed, his girlfriend asked if he wouldn't have taken the post if she didn't want to move. The television personality became serious as he explained that his career and everything he did was for the both of them, leading Mavis to confess:
"And the last wall inside me fell. I knew he would be on my side in everything."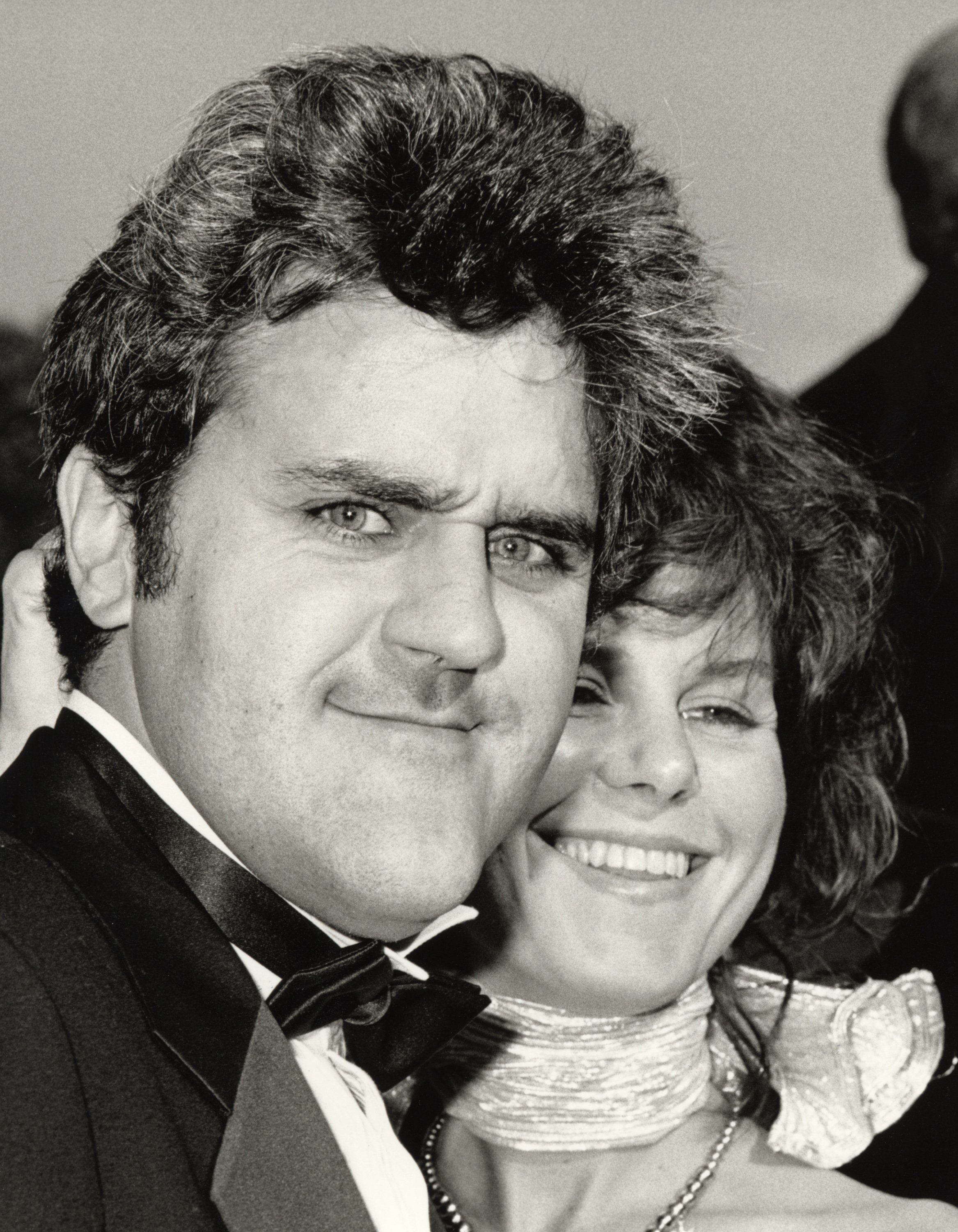 Jay and Mavis Leno at the 38th Annual Primetime Emmy Awards on September 21, 1986. | Source: Getty Images
Mavis' family was impoverished, and Jay had an insurance policy and worried that she wouldn't get a cent if something happened to him. He figured that they would both be covered in the insurance if they married.
The proposal wasn't that romantic, and his fiancée didn't receive an engagement ring. So the couple married and bought a house, and in 2004, Jay finally bought her a diamond wedding ring.
WHY MAVIS CHANGED HER MIND ABOUT MARRYING JAY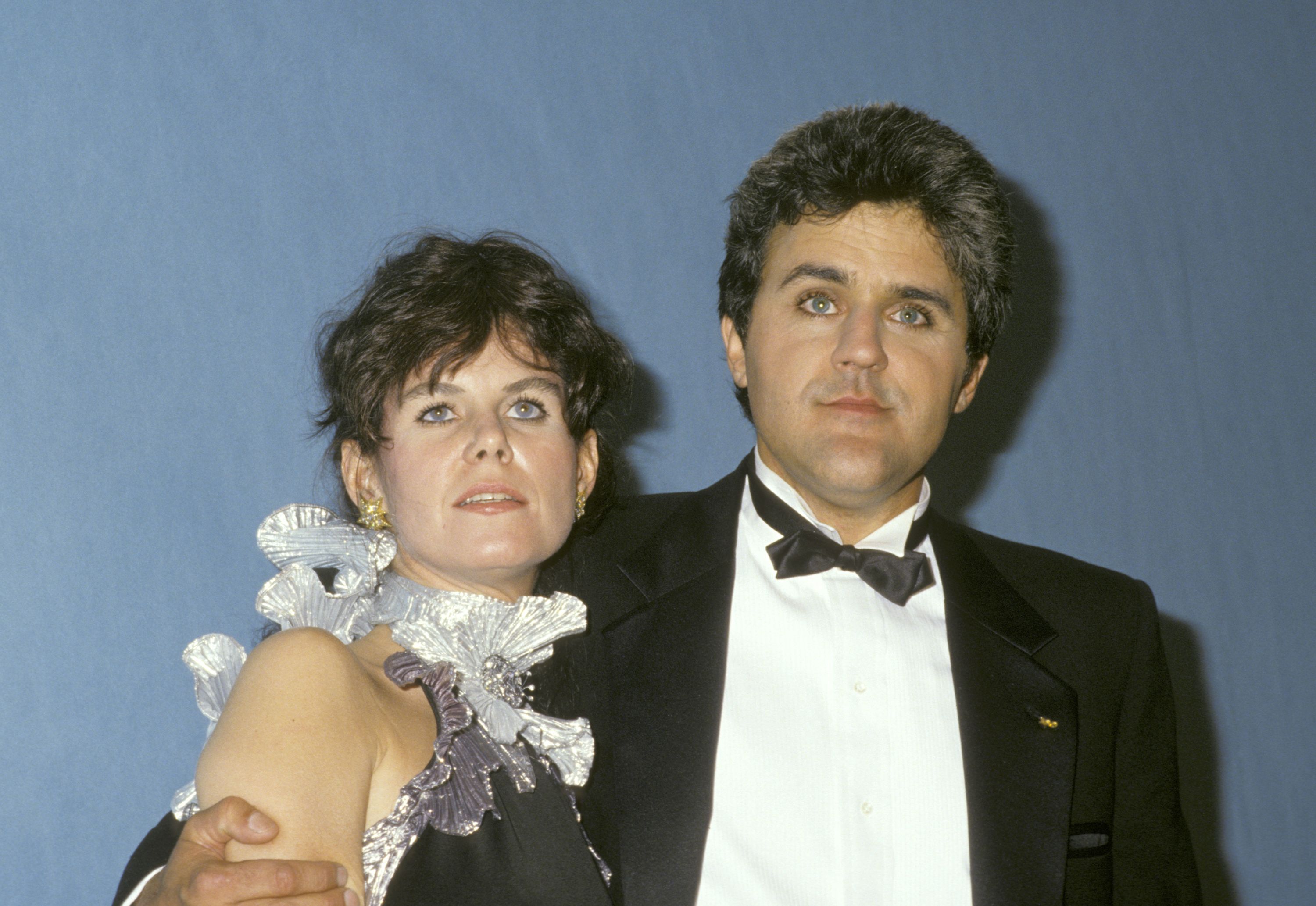 Mavis and Jay Leno during the 39th Annual Emmy Awards on September 20, 1987, in Pasadena, California. | Source: Getty Images
The couple married on the same day as Jay's parents, on November 3 but in 1980. It was a small ceremony held at a friend's place with a few pals in attendance, and nobody else was informed about it.
Ironically, Mavis hadn't wanted to get married at age 34. She had been a feminist for years but realized "that fight was won, you know?" She had moved past it even though she knew she could live without marrying someone.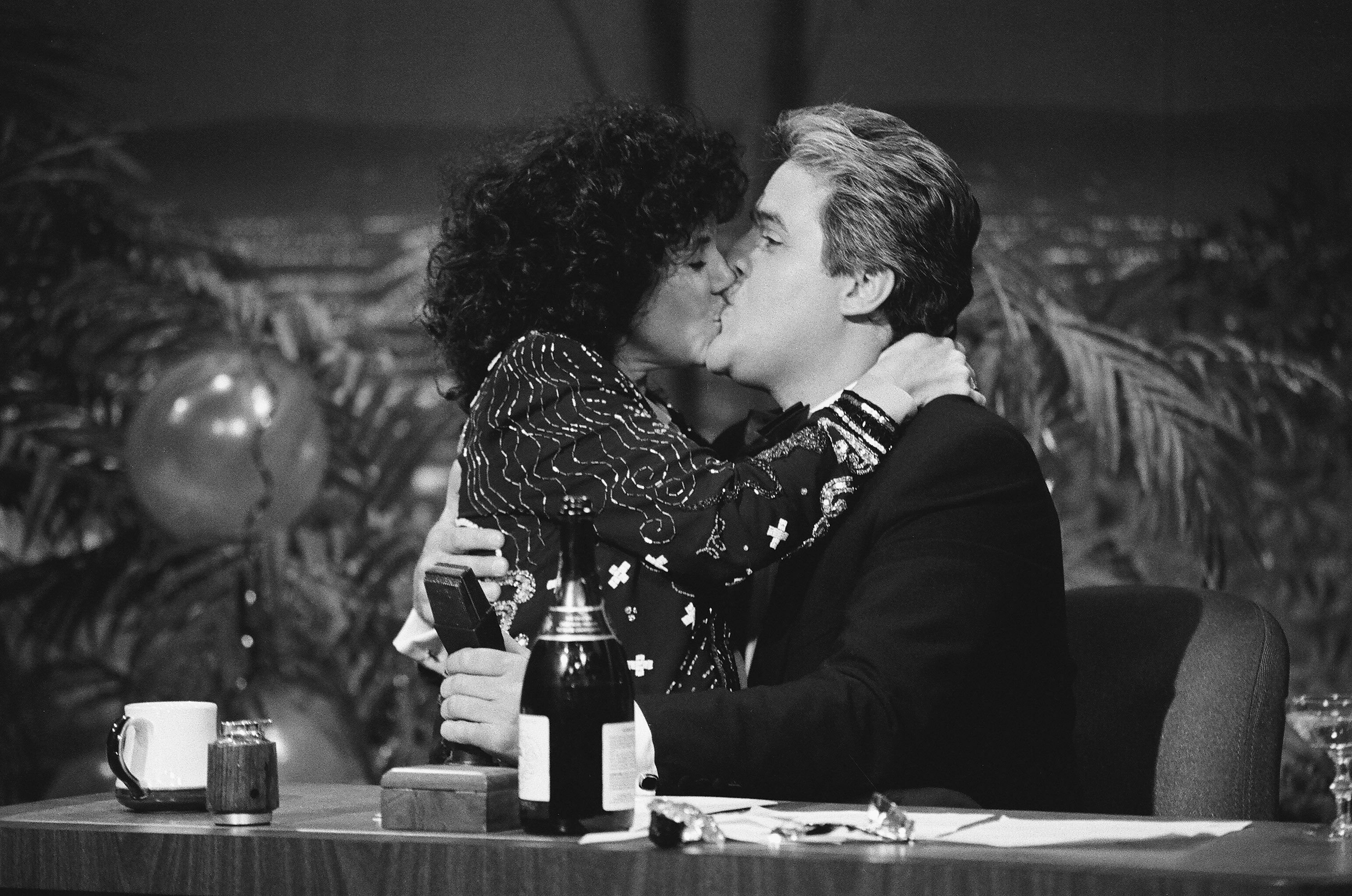 Mavis and Jay Leno on season 29 of "The Tonight Show Starring Johnny Carson" on December 31, 1990. | Source: Getty Images
What changed Mavis' mind was how she felt about her boyfriend, with her saying: "I was insanely in love with him, but I had had a long relationship before and never for one minute thought about marrying that guy."
Jay's wife further explained, "My belief was that I was a voyager, that I was just going to spend some time on this island and sail along and spend some time on that island." She added: "But with Jay, I realized all this time I'd been sailing, he was the destination."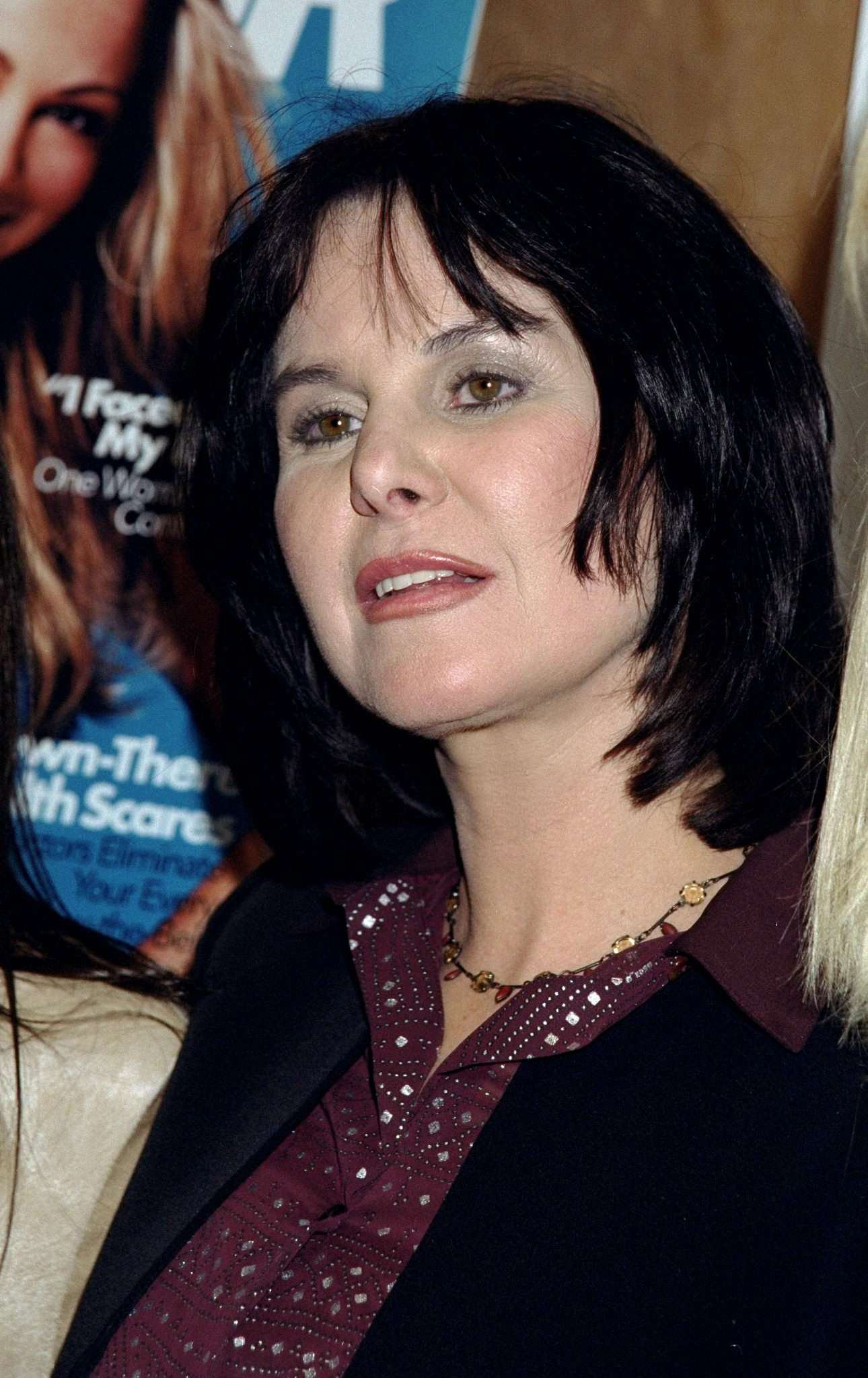 Mavis Leno at a benefit held by Glamour magazine and the Feminist Majority Foundation on October 19, 1999. | Source: Getty Images
Mavis reasoned that marriage didn't require work but that people had to work on themselves instead. Jay's then-manager was a lawyer when the pair got married and wanted them to sign a prenuptial [prenup] agreement.
Mavis brought it up to Jay to preempt the conversation and told the comedian she was happy to sign it. The star got upset and questioned her purpose for bringing up the prenup, asking:
"What? You're already planning we're going to get divorced?"
The television personality felt he and Mavis trusted each other in a much deeper way. So the couple went ahead with their marriage without getting a prenup done, and although they've had good times, they have experienced some challenges in their marriage.
Mavis revealed to The Los Angeles Times that one of the difficult times was when Jay started working on "The Tonight Show." The first few years were hard for his wife because he was in high demand with people requesting things from him.
Mavis settled herself not to ask her husband for things because of it, leading him to find relief at home. However, the change also felt like distance between them, but his wife wasn't sure he was aware because he was always working and pressurized.
THE REASON WHY THE LENOS DIDN'T HAVE KIDS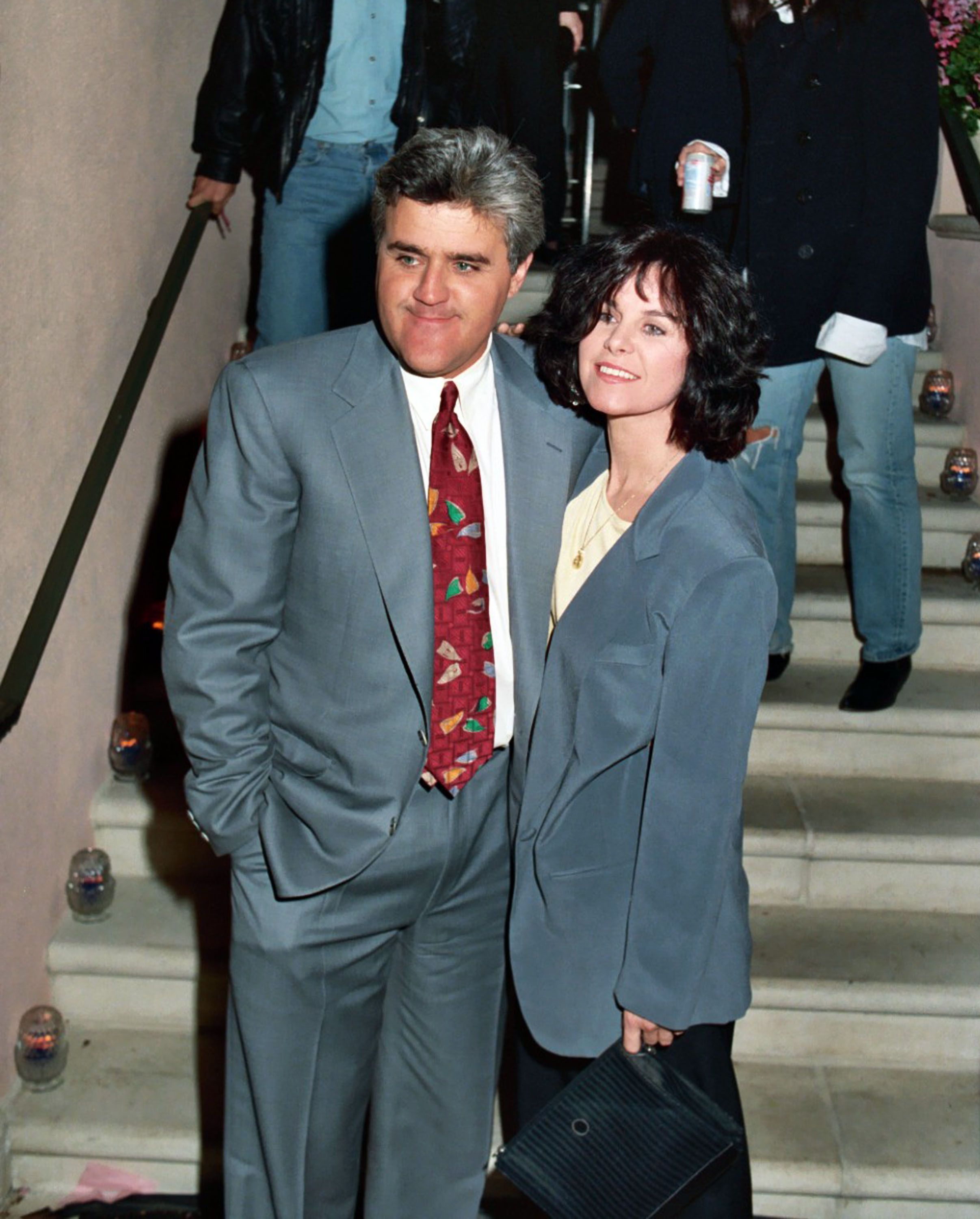 Jay and Mavis Leno during Poolside Cocktail Party for Kelly Klein's Book, "Pools" in Beverly Hills, California, on November 19, 1992. | Source: Getty Images
In October 2014, Mavis spoke to The Washington Post about why she and her husband had no children. She recalled watching "The Honeymooners" when she was a young girl and saw how marriage worked.
The star noted how when the sex was over, the person would still be crazy!
In the film, Jay's wife saw a young, brilliant, and attractive woman, married to a man and living in a dirty house in lousy condition. The second woman she saw was even hotter and married Ed Norton.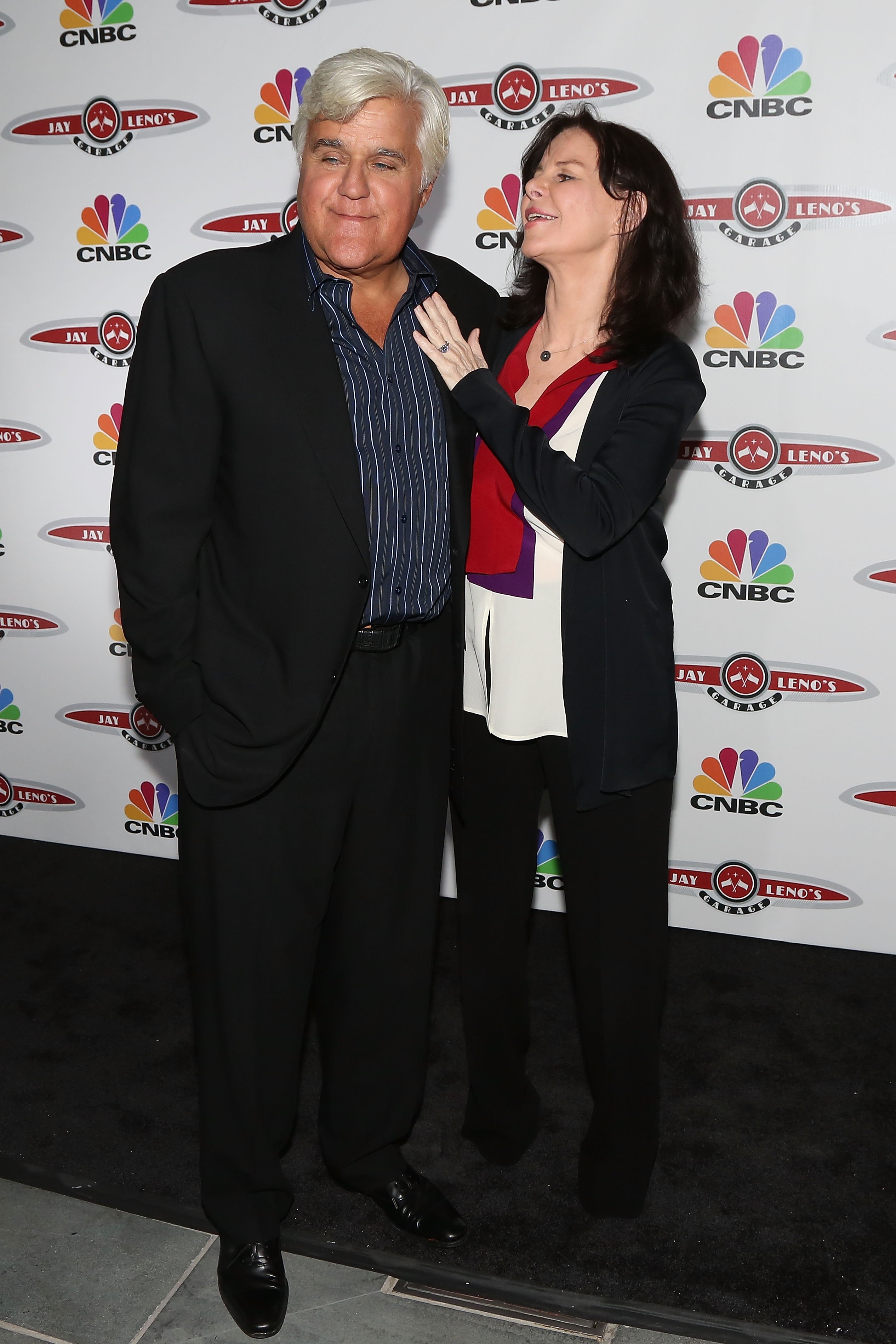 Jay and Mavis Leno at the premiere of "Jay Leno's Garage" on October 7, 2015, in New York City. | Source: Getty Images
Mavis saw the men spending time talking about how their wives were drags and wanting to know how they could get to them. The star's wife noted how the women were the ones who were trapped before making her decision about marriage, recalling:
"I remember telling my mother when I was 7 or 8 that I was never going to get married or have children. To me, this is the way women get caught."
THE SECRET TO THEIR LONG-LASTING MARRIAGE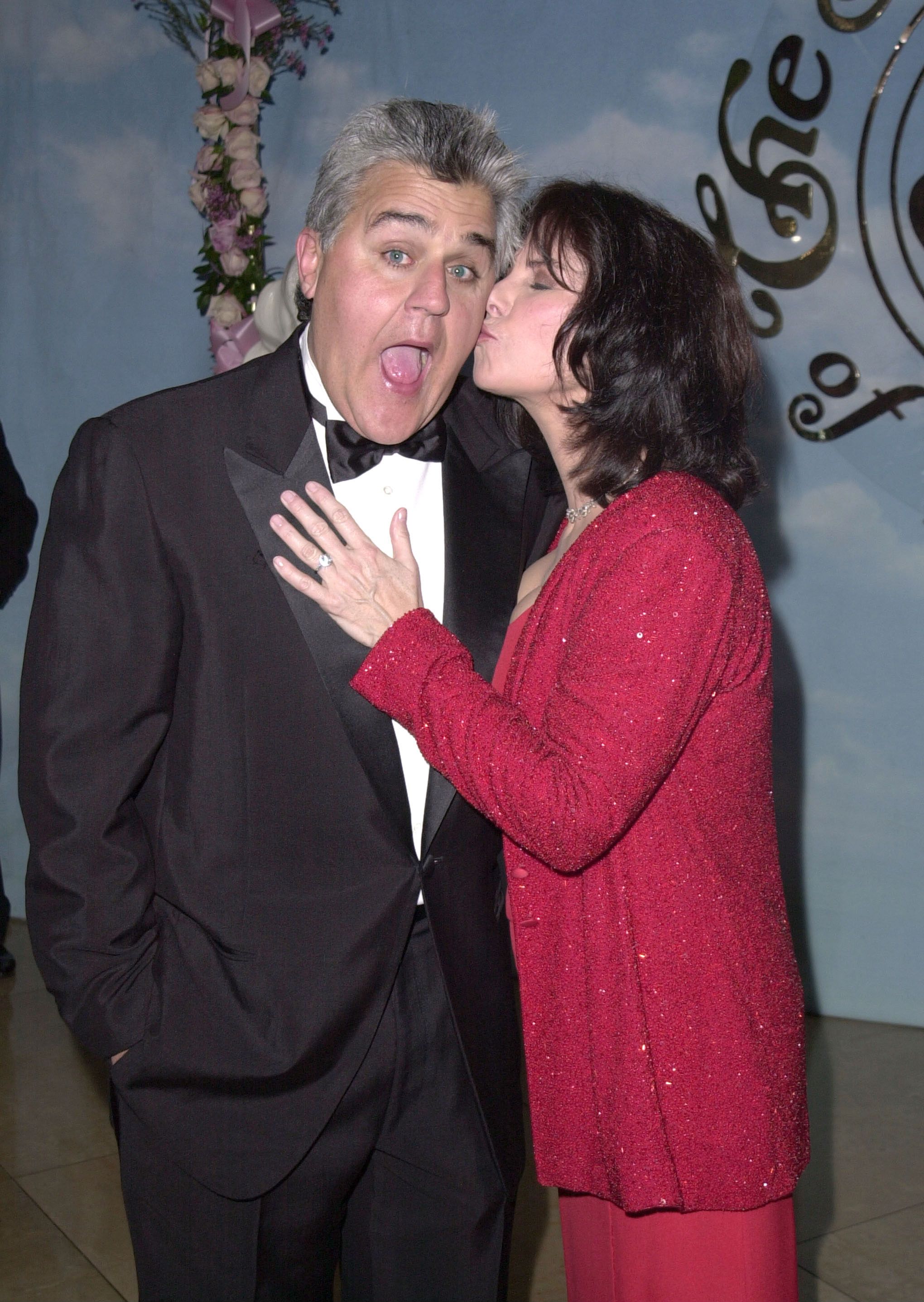 Jay and Mavis Leno during the 14th Carousel of Hope Ball for Barbara Davis Center for Diabetes in Beverly Hills, California, on October 28, 2000. | Source: Getty Images
In 2019, Jay told The Wall Street Journal that people always said one should marry the person you wished you could've been. He said it was a good goal but shared his theory, saying:
"The secret to a long marriage is realizing there's nothing really worth fighting about."
Luckily, his marriage has worked for over 40 years in 2022, and Mavis was happy to be with him. What also probably helped them stay happy for so long was that Jay's wife thought he was one of the kindest people she's ever met.
In a 2019 People interview, the television personality jokingly noted that cheating was another thing to avoid if you wanted a long-term marriage. He said this would allow a spouse to leave their undergarments on the doorknob with no repercussions.
Jay advised that people marry their "conscience" because marrying someone you wish you could be could lead you to partner with someone who gives good sex but is crazy. The star noted how when the sex was over, the person would still be crazy!
Please fill in your e-mail so we can share with you our top stories!