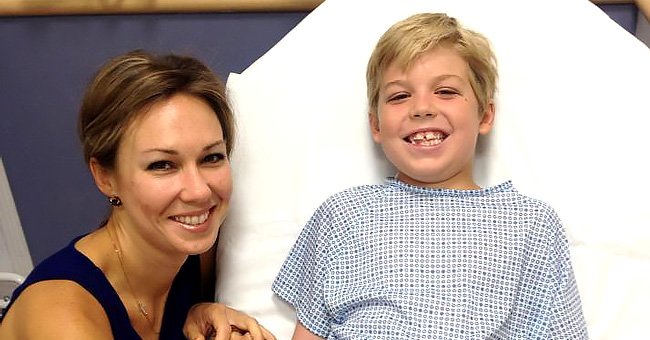 facebook.com/andrew.cromwell.35
Doctors Claim Boy Only Has a Concussion, Mom's Instinct Leads to Another Examination That Helps Save His Life
Kerry Cromwell proved the importance of a mother's instincts after her intuition saved her seven-year-old son from what would have resulted in his death. Continue reading to find out more.
There's no single definition of a mother's maternal instinct. To some people, it represents the desire to become mothers, while to others, it refers to the mothers' moral or emotional compass around what is right and wrong in raising their kids.
Still, others think it is a drive to protect their children from harm, while some consider it a feeling or sensation that something is not right with their child. A famous saying goes, "A worried mother does more research than the FBI."
Many believe that maternal instincts are always correct due to the bond between a mother and child. Most times, if a mom genuinely feels that something is wrong in her heart and soul, it usually is. Kerry Cromwell and her son's story proved this fact.
After her son was believed to have suffered a concussion, the mother was sure it was more than that. Thankfully, her maternal instinct was right, and it saved her son's life. Here are the details of the jaw-dropping story.
October 7, 2012, will always be a day to remember for Hudson Cromwell and his family after the former suffered a near-death experience. The little boy, seven years old at the time, was playing football with his brothers in the backyard when he fell and began feeling pain in his right arm.
He went back into the house in tears and clutched his right arm. However, Hudson's father, Andrew Cromwell, said he initially thought his little boy was exhausted from playing.
"I was thinking, 'Here's a typical seven-year-old kid who's tired and done for the day," Andrew explained. But things got more intense when Hudson bent over to remove his shoes and fell over.
At first, Andrew was not disturbed; however, when he moved toward Hudson, the little boy's eyes began rolling to the back of his head. Recalling that moment, Andrew revealed to People:
"That moment is burned in my memory. His eyes rolled back. I got panicked. I was holding Hudson, half shaking him. I didn't know how to react; it was so far out of my experience."
In the twinkling of an eye, Hudson became unconscious, and his father panicked even more. Andrew's initial thought was that his son had suffered a concussion, but when his wife Kerry, who is a nurse, came home five minutes later, she sensed it was something more.
Immediately, the couple dialed 911 and rushed Hudson to a trauma center in Fresno, California. There, doctors analyzed the situation, and like Andrew, they assumed it was a concussion. However, Kerry insisted that the doctors carry out further tests.
The doctors did a CAT scan, yet, nothing came up in the results. Still, Kerry was unsatisfied. As soon as she looked at Hudson and spotted a difference in both sides of his body, the mom realized it was a sign of neurological damage.
Immediately, she asked that an MRI scan be done, and the medical practitioners obliged. Kerry called her father to let him know what was happening and he also suggested a stroke.
However, Kerry strongly believed that a child could not have a stroke. After the conversation ended, the result of the MRI scan was released, and the doctor suspected a stroke, but like Kerry, he believed kids couldn't suffer a stroke.
Realizing that Hudson needed special treatment, the doctors sent him to the University of California San Francisco (UCSF) Benioff Children's Hospital. Another MRI scan was conducted as he arrived, and the doctors confirmed that Hudson had suffered a pediatric stroke.
"It was more major than any of us had anticipated. We were in shock," Andrew admitted. The doctors had found out that one of the main arteries in Hudson's brain had malfunctioned, and the stroke was inevitable.
So, Hudson stayed in the hospital for three days, and by the third day, everything seemed to have normalized until alarms started going off. Another CAT scan was performed, and it showed that Hudson's brain had swollen to the point where it affected his breathing and optic nerves.
Immediately, the little boy was taken to the operating room for a procedure that would allow his brain to swell without affecting his nerves. Speaking about how they felt, Andrew said:
"We are people of faith. We were trying to be encouraged, trying to be full of faith, but also face the reality that this boy might die."
Thankfully, Hudson came out of surgery alive and spent the next ten days in a coma. After he awoke, he could not talk, sit up or swallow. His parents had to help him learn his motor skills from scratch.
The medical practitioners transferred the little boy to an in-patient rehabilitation department, where he learned to talk, swallow and walk. Although Hudson found it difficult to use his right hand, his parents revealed that their son was making serious progress.
His healing journey has been shared on the Hudson's Healing Facebook page, and the little boy has received a ton of support and encouragement.
Andrew said his son is working hard each day and has refused to quit. According to him, Hudson is an inspiring young man who attracts everyone because of his fantastic smile.
Please fill in your e-mail so we can share with you our top stories!
The information in this article is not intended or implied to be a substitute for professional medical advice, diagnosis or treatment. All content, including text, and images contained on news.AmoMama.com, or available through news.AmoMama.com is for general information purposes only. news.AmoMama.com does not take responsibility for any action taken as a result of reading this article. Before undertaking any course of treatment please consult with your healthcare provider.