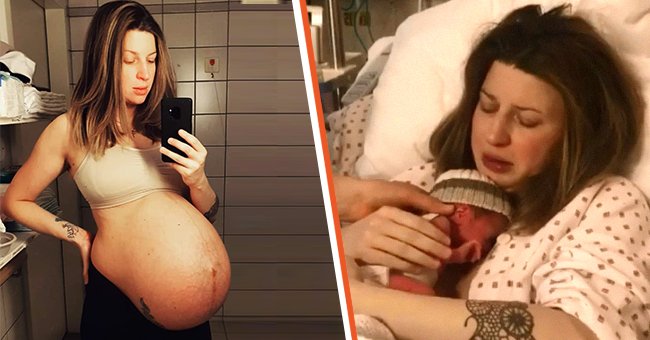 instagram.com/triplet_with_triplets
Woman Told to Terminate One of Three Babies Because of Her Weak Heart Refuses Doctor's Advice
A woman chose to take a terrifying path, ignoring the advice of medical professionals. What would the consequences be? There would be two polar-opposite outcomes: beauty or utter devastation.
Judit Agota and her partner Glenn from Oslo, Norway, were joyous when they found out she was pregnant. Agota made sure to book an ultrasound as soon as possible.
In this ultrasound, the doctor told the couple what Agota admitted was worrying news to her at the time. This is because it was not what she and Glenn had planned. But, they had no idea that this was only the first shock in a crazy journey.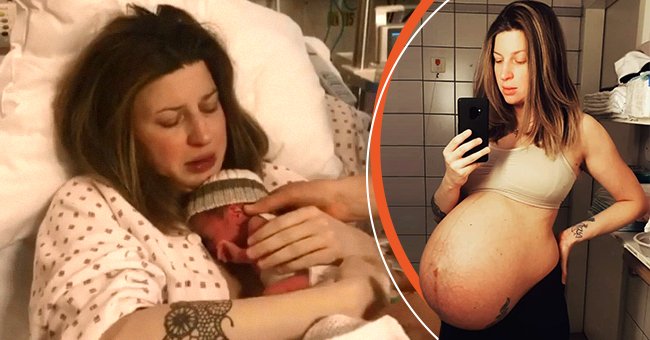 [Left] Judit Agota lying in the hospital with a baby on her chest; [Right] A pregnant Judit Agota. | Source: instagram.com/triplet_with_triplets
During this first sonography, the pair found out that they would be having twins. Then, a fortnight rolled around, and the doctor hit them with a bombshell at the next ultrasound​​​​.
THE CRAZY NEWS FINALLY COMES OUT
They were told that they were not having twins but rather triplets. Agota, a triplet herself, was in disbelief. She remembered her reaction at that moment:
"Two had already sounded like a heap of work, but three?! It was not possible at all! 'A triplet simply cannot have triplets.'"
She claimed that it was so rare that only 1 in 6 million triplets conceive triplets themselves. Now, the worry had multiplied. The idea of three kids was even scarier than two.
Beyond the stress of looking after three children, Agota also has a weak heart -- something that she was afraid would impact her dangerously if she carried three babies full term.
This was alarming because she could struggle to pump enough blood to all three of the baby's hearts -- a strenuous activity for even those with healthy hearts.
The doctors had the same worries, advising her to terminate one of the three fetuses so that she could have a safe pregnancy. Now she had a mortifying decision to make.
Before these two conceived triplets, Glenn and Agota met on a dating site, immediately clicking when they met in person. Their relationship moved quite fast as two months after their first date; they moved in together.
The mom-to-be found that this was a huge influence on her decision.
After a while, the pair decided it was time to have a baby. But, they never imagined they would be stuck in a car together, with red eyes, discussing whether or not they should terminate one of their little ones.
WOULD SHE GO THROUGH WITH IT?
She and her husband were on their way to the clinic to go through with the termination. But, the hours-long drive ahead proved to be an emotional experience for the pair. Agota remembered:
"When we got in the car and started our journey to Trondheim, another Norwegian city, both Glenn and I started crying."
They carried on driving, but eventually, it became too much for them, and they chose to stop the car and talk about what they should do.
Agota spoke about her deeply valued bond with her two triplet sisters, Szilvia and Sofia. The mom-to-be found that this was a huge influence on her decision, recollecting:
"I told Glenn that I felt these babies had to be together, as me and my sisters were. That I could never imagine my life without Sofia and Szilvia, and we must keep our three babies together, too [sic]."
They also spoke about their shared fear of losing their babies alongside the fear of having all three of them. Ultimately, this brave couple chose to ignore medical advice and hoped for a miracle.
DID THEY CHOOSE THE RIGHT PATH?
Sadly, for Agota and Glenn, there were some stumbling blocks. But, ultimately, the pregnancy was successful. In January 2019, Filip, Amelia, and Henrik were born.
The babies found themselves in the NICU, but the parents could eventually take them home. Now, they had new challenges to face -- looking after three newborns. Although it was hard, the mother expressed:
"Anything and everything is about the babies. Yet, even though it can get really tough at times, we have never once regretted our decision."
There comes a time in everyone's life when we need to make life-changing choices. Whichever road we choose is up to us, but we must always be prepared to face the consequences.
Agota and Glenn are one of the few couples who had to walk down this challenging road. Many other partners face extreme problems with risky pregnancies.
After their first child, LGBTQ+ couple Heather Langley and Priscilla Rodriguez wanted to have more children. They opted for IUI and, crazily enough, found out that they were having five babies!
They were medically advised to terminate the pregnancy because of the many risks of having quintuplets. But, the pair chose to go through with the pregnancy. At 28 weeks, the babies were determined to be born. So, doctors performed a C-section, putting the quintuplets in the NICU after birth.
Eventually, the babies could leave, and ever since, the two women have enjoyed a chaotic yet wonderful family life -- definitely an experience that Agota and Glenn could relate to. "One big happy family" is an understatement for these two loving households.
Please fill in your e-mail so we can share with you our top stories!
The information in this article is not intended or implied to be a substitute for professional medical advice, diagnosis or treatment. All content, including text, and images contained on news.AmoMama.com, or available through news.AmoMama.com is for general information purposes only. news.AmoMama.com does not take responsibility for any action taken as a result of reading this article. Before undertaking any course of treatment please consult with your healthcare provider.