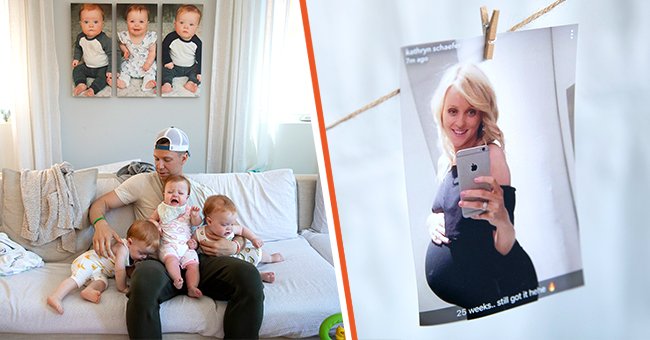 Getty Images
Dad Brings Triplets to Their Comatose Mom for the First Time, Sees Tears Pour Down Her Face
When a pregnant woman developed a severe headache, she knew something was wrong. Doctors delivered her premature triplets successfully, but in a tragic twist of fate, they could not save the new mom's life.
A husband looked forward to starting a family with his beloved wife, but the journey didn't unfold as he always dreamed it would. He became a single father after his spouse passed away shortly after she gave birth.
The Centers for Disease Control and Prevention reported that about 700 women die due to pregnancy-related complications in America every year—tragically, Kathryn Whitmer was one of these women in 2018.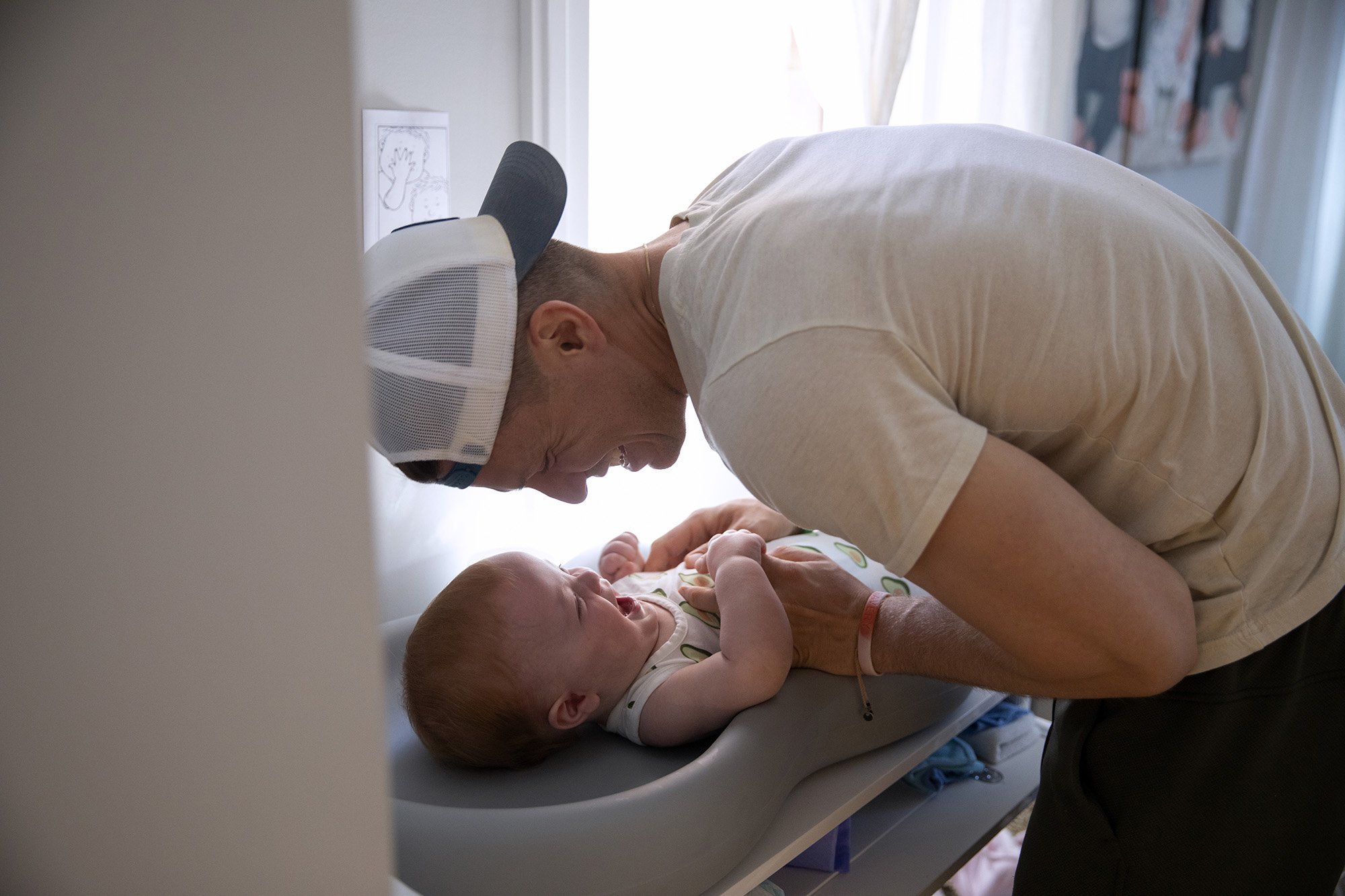 Father, Charlie Whitmer, changes his son's diaper. | Source: Getty Images
THEIR COMPLICATED PREGNANCY JOURNEY
Charlie Whitmer met the love of his life, Kathryn, in 2013, and a few years later, they tied the knot. The couple had a fairytale love story and were thrilled to be growing their little family.
Kathryn's pregnancy began smoothly in 2018, but something went wrong when she was only 27 weeks and six days along. She had a mind-numbing headache and landed up in the hospital.
Charlie saw firsthand how fragile life was and believed there was a reason for his devestating loss.
Doctors provided medication for the mom and hoped the babies would have more time to develop. However, Kathryn went into labor a few days later, and the medical team performed a c-section, successfully delivering triplets, Bobby, J.P, and Arden.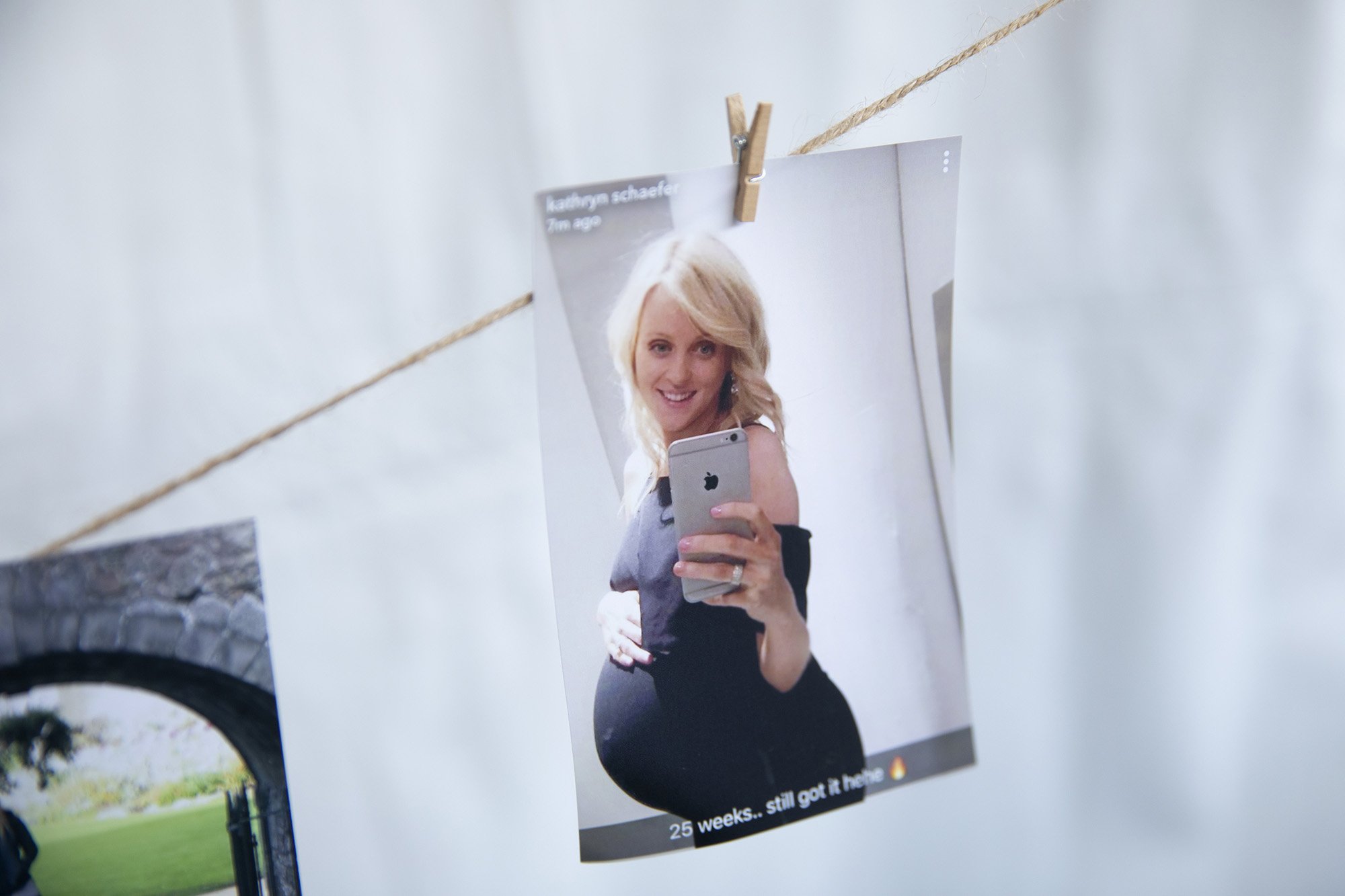 Kathryn Whitmer, who passed away shortly after giving birth to triplets. | Source: Getty Images
HIS WHOLE FAMILY WAS IN THE ICU
The babies were rushed to the neonatal intensive care unit, and doctors informed the dad that they would have health problems. Their mother also remained in the intensive care unit, and Charlie was shattered and anxious.
He revealed that his mind was in a million different places as he waited for news about his family—the dad hoped for the best but couldn't shake the negative thoughts. He shared:
"I was in that waiting room again and thought, what the heck is going on? My entire family is in the ICU. All four of them could die."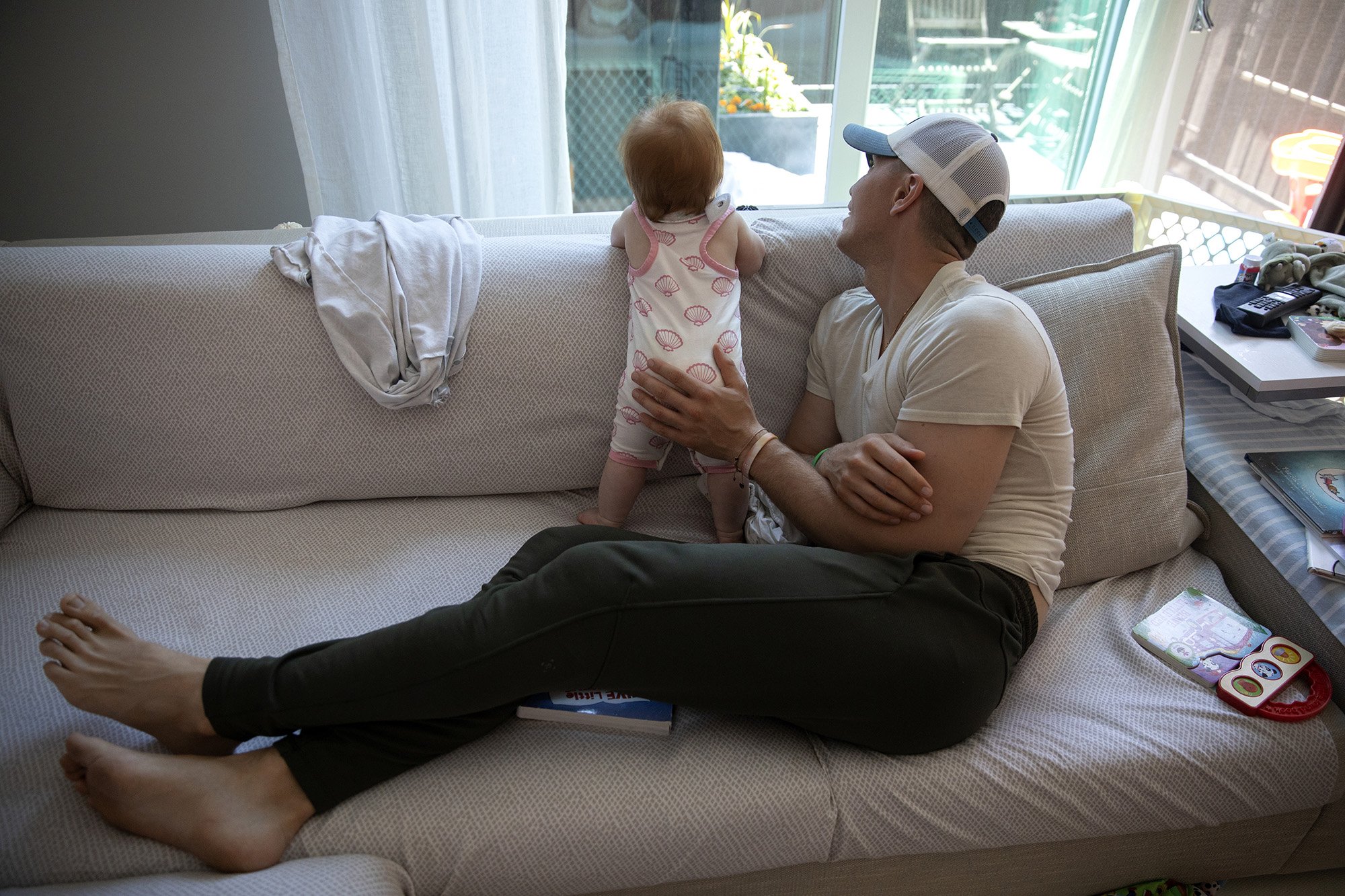 Charlie Whitmer and his daughter, Arden. | Source: Getty Images
THE FATHER CRIED FOR HIS FAMILY
Charlie sat alongside his brother and wept, thinking about his hurting family. He decided he could survive the entire ordeal, but only if his wife was alive. Things started looking up when she woke up after a few hours under anesthesia.
Sadly, their hope subsided two days later when Kathryn's headache returned. Medical personnel performed emergency surgery, but the new mom never woke up.
While she was unconscious, Charlie was allowed to take his premature babies across the hospital to see their mom. The two identical boys lay on her chest, and the next day, the little girl had a chance to visit.
Charlie Whitmer and his triplets. | Source: Getty Images
TEARS UNEXPECTEDLY FELL FROM HER EYES
During the babies' only visit with their mother, something inexplicable and miraculous happened. Tears ran down Kathryn's cheeks despite her comatose state.
Dr. Kim, Kathryn's neurologist, stated:
"I can't explain that medically. But being unconscious doesn't mean she doesn't feel the babies' presence."
On June 8, 2018, Kathryn passed away from what doctors believed were stroke-related complications. There was some mystery surrounding her condition, and while it might have been linked to her pregnancy, doctors were unsure.
HE SAW LIFE'S FRAGILITY FIRSTHAND
Charlie was forced to start his life as a new father without the support of his beloved wife. He saw firsthand how fragile life was and believed there was a reason for his devastating loss.
He said: "You have to find hope, and you have to find some kind of joy. All of this happened for a reason. It's my job to find that." Fortunately, family and friends stepped in to help the single dad as he grieved and raised three babies on his own.
He thanked all of his old and new friends whom he called "blessings" in his life. They carried him and helped him overcome the painful loss no spouse should face.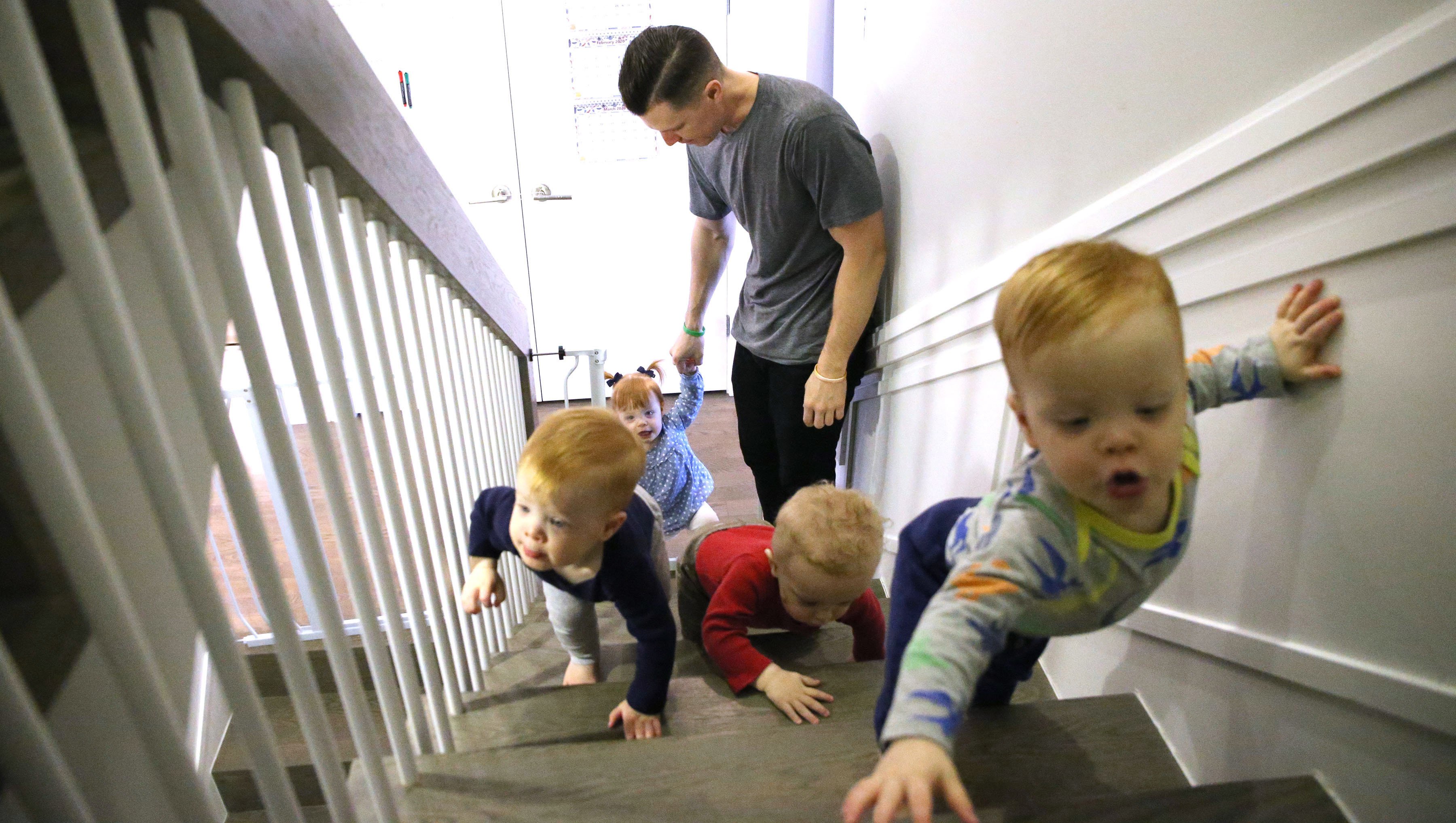 Charlie Whitmer and his children run up the stairs. | Source: Getty Images
THE FATHER LEADS A DIFFERENT LIFE NOW
The single dad stopped working as an options trader and devoted all his time to the triplets. It wasn't the life he envisioned for himself, but all of his dreams changed when Kathryn passed away.
He was happy to share that all three babies were doing well despite their difficult entry into the world. He also decided to live life differently, with more purpose and passion than ever before—he thanked his late wife for opening his eyes to this.
He knew she always lived life to the full, and he wanted to do the same in her honor. He expressed:
"[Kathryn] was investing in her friends and investing in her family. She had figured out the important things in life. There's still more for me to figure out."
FINDING LOVE AGAIN AFTER THE TRAGEDY
Charlie knew he didn't want to be alone for the rest of his life, and he was open to moving on and meeting someone new. It wasn't an easy process, but the father of three was happy when he met a woman who had a lot in common with him.
Brynn Randall was a single mother who lost her husband, Scott, to cancer a few weeks before their son was born. She was devastated by the loss and picked up the pieces of her heart after his passing—much like Charlie.
They instantly bonded over their shared experiences when a mutual friend connected them. They fell in love and married in 2020, choosing to focus on love amid the cracks in their hearts.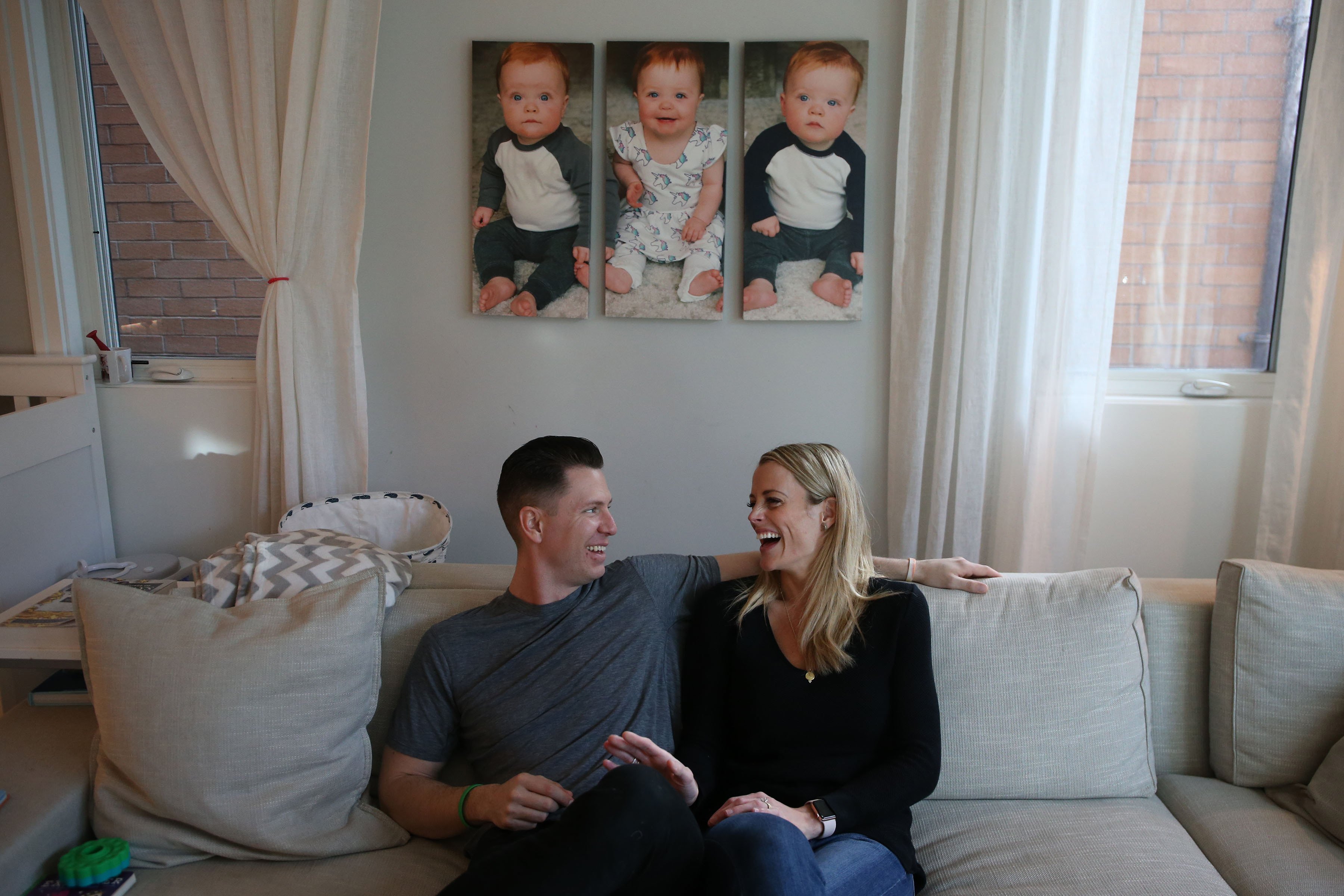 Charlie Whitmer and his second wife, Brynn Randall. | Source: Getty Images
THEY HAVE A BEAUTIFUL BLENDED FAMILY
Charlie and Brynn adore their blended family, which keeps on growing. The couple shared that there was space for both grief and love in their home, and they noted that they experienced many ups and downs along their journey.
"You still feel those emotions. It still hurts. But at the same time … I can feel multiple emotions at the same time. Love is the most powerful emotion. The love trumps everything."
Finding each other has helped the couple heal, and Brynn revealed that speaking to someone who "gets it" felt like a weight was lifted from her shoulders.
THE COUPLE WAS MEANT TO BE
Together, the couple is making the most out of a life that had its fair share of heartbreak. They are devoted to cherishing each moment with their beloved family and friends because they know how fragile life can be.
Charlie and Brynn feel lucky to have found each other, and she noted: "We can connect on so many levels. In that sense, I know we're supposed to be together."
Click here for another heartbreaking story about a father who lost his wife shortly after she gave birth. They had just welcomed adorable quadruplets when tragedy struck.
Please fill in your e-mail so we can share with you our top stories!
The information in this article is not intended or implied to be a substitute for professional medical advice, diagnosis or treatment. All content, including text, and images contained on news.AmoMama.com, or available through news.AmoMama.com is for general information purposes only. news.AmoMama.com does not take responsibility for any action taken as a result of reading this article. Before undertaking any course of treatment please consult with your healthcare provider.